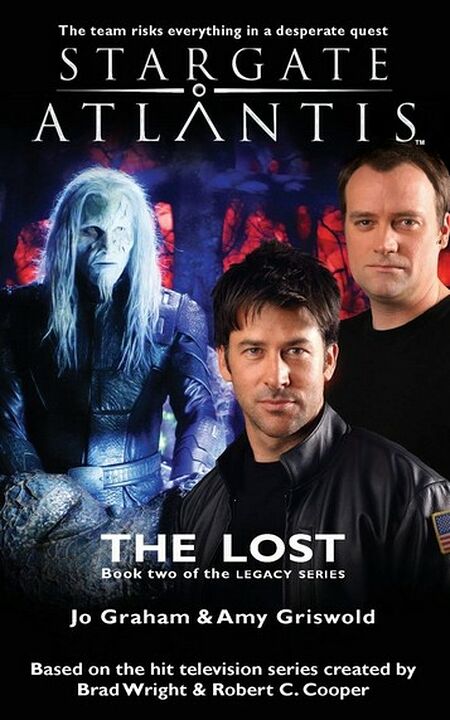 Titre original
The Lost - Book 2 of the Legacy series
Auteur
Amy Griswold & Jo Graham
Date de sortie
16 Avril 2011 (Papier) / 15 Novembre 2011 (Ebook)
Résumé de l'éditeur
Finders keepers...
Reeling from the terrible events of Stargate: Atlantis 'Homecoming', the expedition team are doing whatever it takes to find Doctor Rodney McKay - even if it means turning to their enemies for help.
While Colonel Sheppard and Teyla seek information from Ladon Radim of the Genii - and pay a high price to secure his reluctant cooperation - Ronon and Doctor Keller reopen tense negotiations with their sometime-ally, Todd.
But as the balance of power begins to shift among the Wraith, Ronon and Keller struggle to ensure that they remain Todd's allies and don't become his hostages.
Meanwhile, far away, McKay is facing a fate more terrifying than anyone on Atlantis could possibly imagine...
Extrait de l'éditeur
Extrait du chapitre 2
Ronon dropped into the chair beside Radek, his water in his hand. "Dead world. Nobody lives there, but somebody dialed New Athos three times." He took a gulp of his water. "Where'd they come from? If nobody lives there and they dialed New Athos three times, but nowhere else, those are our guys."

"I don't see..." Woolsey began.

"They came from a hive ship," Teyla put in. "It is the logical conclusion. The ship remained in orbit around an uninhabited world while the Darts attacked New Athos. Once they had what they sought they returned through the gate and rejoined the hive ship. They did not dial anywhere else, and they are not still there."

"Three times?"

Teyla nodded. "Once to scout, once to send the message that lured us to New Athos, and once to seize... their prize." She could not quite bring herself to say, 'to seize Rodney.' That was too raw.

John sat up straight, his eyes meeting Woolsey's down the table. "If we get a jumper and go back..."

Woolsey frowned. "What will that give you?"

Radek glanced from one to the other, addressing himself to John rather than Woolsey. "The hive ship has certainly opened a hyperspace window. We did not detect them in orbit and they have had three days to go anywhere they wish. I do not think there is more information we can gain on M40-P36."

John's hands opened and closed in frustration. "We have to," he began tiredly.

"We have to find another means of intelligence," Woolsey said.

"Rodney..."

"We will find Dr. McKay," Woolsey said. "But if there's no more information to be had this way, we need to find another way."
Chronologie
L'histoire de ce roman prend place après la saison 5 de Stargate Atlantis.