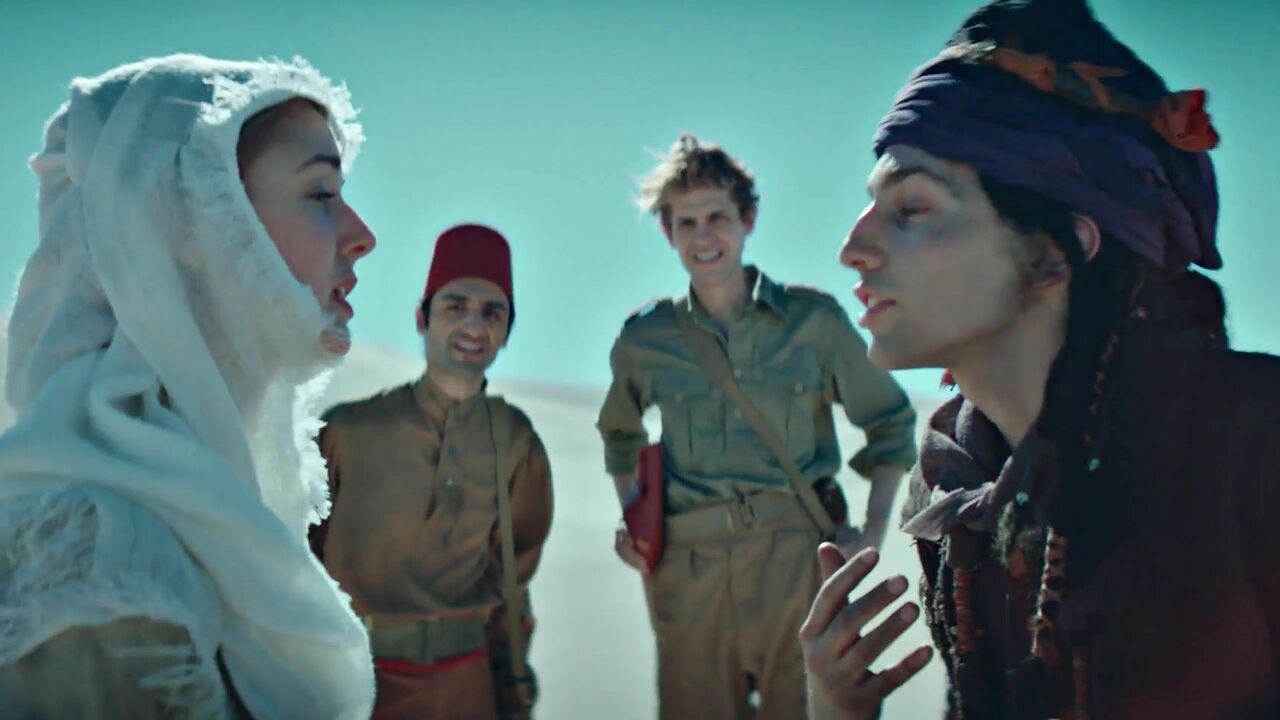 Transcript VO
OPENING TITLE
EXT- ABYDOS, DESERT- DAY
[Catherine, Wasif and James are walking in the desert with the Abydonian. Catherine empties her canteen of water, there is no more]
INT- ABYDOS, TEMPLE, ROOM HALL- DAY
[Aset gives milk to her baby]
ASET They fought you?
SERQET Yes.
ASET The others surrendered so quickly. How strange.
SERQET I will find them for you.
ASET They will come to us.
SERQET Ra will return to learn of the intruders.
[Baby starts to cry]
SERQET And of the Harcesis! That child is forbidden and a threat to our kind. 
[The maid retrieves the baby from Aset's arms]
SERQET Surely Ra would-
ASET Ra will fond guilt in all of us.
[Serqet closes his eyes. Aset stands up]
ASET We need to be bold. If we are to conduct this revolution, we will need outside help. 
SERQET Earthlings? They are unpredictanle if not tamed. You are being reckless.
ASET Serqet-
SERQET Ra's power is-
ASET I will not squander the gift of my resurrection!
SERQET Yes, my queen.
[Serqet leaves]
EXT- ABYDOS, DESERT- DAY
[Catherine, James and Wasif are still walking in the desert with the Abydonian]
JAMES So much like Egypt.
WASIF Yes, very sandy.
CATHERINE Hold on, hold on. Slow down, slow down. Let's start with the basics. I am Catherine.
KASUF Catherine.
CATHERINE  Catherine.
KASUF Catherine.
CATHERINE  Catherine.
KASUF Catherine?
CATHERINE Yeah.
KASUF Catherine.
CATHERINE Catherine.
KASUF  Catherine.
CATHERINE Okay, who are you?
KASUF Catherine.
CATHERINE  Catherine... No, no, no. I am Catherine.
KASUF Catherine.
KASUF He is Beal.
JAMES Beal.
CATHERINE Who are you?
KASUF Is Beal? Is Beal.
CATHERINE  No. No, no. Catherine, Beal...
KASUF  Kasuf.
CATHERINE Kasoof.
KASUF Kasuf.
CATHERINE  Hasuf?
KASUF Kasuf.
CATHERINE Kasuf.
JAMES It's like... Kasuf.
KASUF  Kasuf.  Kasuf. Catherine, Beal.
WASIF Wasif.
KASUF Wasif.
CATHERINE Wait! Kasuf! Kasuf!
JAMES You're doing wonderfully.
WASIF I do hope he takes us somewhere safe. We need to lay low.
CATHERINE Lay low?
WASIF Yes.
CATHERINE What about my father?
JAMES  One thing at a time, Cat. Well, those footprints at the temple could be my father's.
Those could've just as easily been left by that warrior. And I don't know how much your magic stick can do against an army of women like that.
CATHERINE Well, maybe if we...
[Kasuf calls them]
CATHERINE Come on, come on.
KASUF Catherine, Beal. Wasif!
JAMES Tents, how quaint.
[Kasuf shouts happily towards the tent to signal himself, then starts running towards the camp]
CATHERINE Come on.
INT- ABYDOS, ABYDONIAN CAMP- DAY
[Catherine, James and Wasif follow Kasuf into the camp. All is quiet, no one is there]
CATHERINE Father?
WASIF Where is everyone?
CATHERINE Hello? Is there a Professor Langford here?
[Catherine kneels down to look at a pot on the fire. It is boiling. She feels a presence]
WASIF We've lost our guide. I don't like this.
JAMES Stay calm.
[Spear blades encircle the trio].
CATHERINE Okay, okay.
WASIF Dear God, we are...
INT- ABYDOS, TEMPLE PRISON- DAY
STEFAN Doomed.
BRUCKE Nonsense. I brought us here safely, I shall return us home safely.
STEFAN Nobody even knows we are here.
EVA Stefan, calm. Heinrich knows!
STEFAN Yeah.
INT-WAREHOUSE-CATHERINE'S BEDROOM-DAY
[Heinrich desperately searches for Brucke's notebook in Catherine's things. He falls on the bed and hurts himself with a fossil]
INT- ABYDOS, TEMPLE PRISON- DAY
EVA Come, come.
[She takes the camera and starts filming Stefan]
STEFAN Eva, please, turn that camera off.
EVA But you have a good presence.
STEFAN Do I?
BRUCKE  Honestly, Eva, sometimes I question the Fuhrer's election of you.
[Eva stops filming. Brucke opens the transport box]
BRUCKE  She's seized our weapons but left the rest of our equipment.
STEFAN  And all that remains is useless.
[Brucke pulls out a video projector]
BRUCKE This is not useless. The thousand words contained within one image, can charm the hearts of empires.
STEFAN What does that even mean?
EVA  You brought that for a reason.
BRUCKE  Yes. 
EVA The long histories of my work.
BRUCKE  Time for a little demonstration.
[Eva kisses Brucke on the cheek]
EVA Stefan, come help me.
[She gives the instructions for setting up the projection equipment to Stefan]
BRUCKE Why so quiet, Professor?
LANGFORD I was thinking about how I should thank you.
BRUCKE For bringing you on the greatest adventure of your life?
LANGFORD For keeping Catherine out of this Goddamn mess.
INT- ABYDOS, ABYDONIAN CAMP- DAY
[Catherine, Wasif and James are tied to a pole. Guard hover around them, armed]
CATHERINE From now on, I'm in charge.
JAMES And here I thought you've been in charge this whole time.
CATHERINE  The kid was your idea.
WASIF That is my finger you're bending.
CATHERINE Sorry, thought it was Beal's.
JAMES Is anybody here not hostile?
WASIF Even we are fighting, I say no.
JAMES You don't think I can get us out of this mess.
CATHERINE Did I say that? Wasif, did I say...
[The guard puts a spear under James' neck to keep him quiet]
WASIF  I have no opinion. I suggest we all remain calm...
[The guard puts a spear under Wasif' neck to keep him quiet]
WASIF ...and let the solution present itself.
[Someone shouts outside. The guard leaves]
CATHERINE Sit tight and wait? God, he's worse than you!
JAMES  Worse than me? You have no plan, nothing. So we escape, then what?
[Wasif tries to untie himself].
JAMES They still have our guns.
CATHERINE We take them back, obviously.
JAMES Obviously.
[Wasif manages to free himself with one hand].
WASIF Look! Look!
CATHERINE  I'm next, I'm next!
[Wasif goes to free her]
JAMES Not so loud!
[Catherine is released, she turns to James]
CATHERINE Don't tell me what to do.
JAMES Lower your voice.
[Catherine releases him]
JAMES We just have to keep calm, and...
[A guard arrives and threatens Catherine. She yells at him with her stick. The guard drops his stick and Catherine raises her hands in the air. James fights with him. Wasif helps him, but in the struggle, is stabbed. He falls to the ground and everyone looks at him in shock. Kasuf returns and calls for help].
EXT- ABYDOS, ABYDONIAN CAMP- DAY
[Wasif is carried outside. A tear runs down Wasif's face. Catherine presses hard on his wound, there is a lot of blood].
JAMES I told you to be quiet.
[Catherine swallows a sob. The guard speaks to them in his language. A healing stick is brought near Wasif. The guard continues to speak and heals him with the stick. The wound heals itself, the blood returns to his body.]
CATHERINE What is happening?
END CREDITS