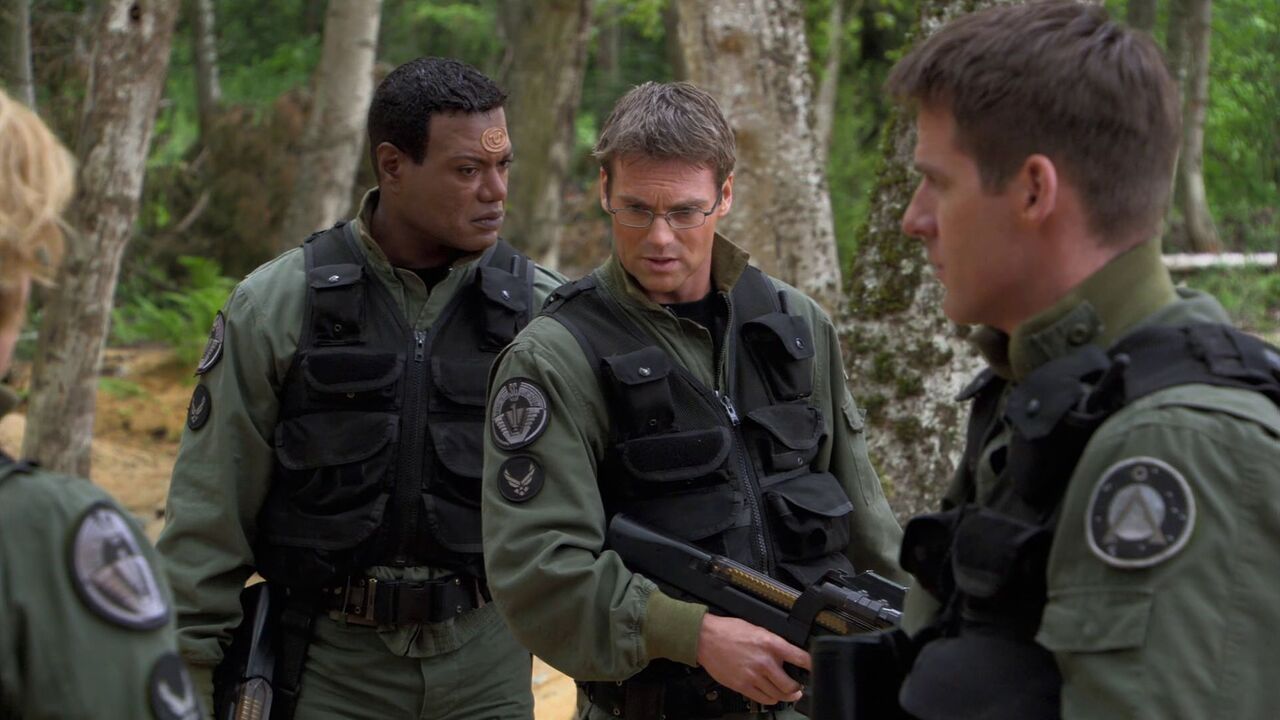 Transcript VO
PREVIOUSLY ON STARGATE SG-1
EXCERPTS FROM 10.07 "COUNTERSTRIKE"
EXT-VILLAGE, DAY
[Adria comes to stand on a balcony overlooking the villagers. They cheer for her.]
TEAL'C
(voiceover)
According to those who witnessed the battle, the enemy is led by a young woman of extraordinary powers.
EXCERPTS FROM 10.04 "INSIDERS"
INT-STORAGE ROOM, LEVEL 16
[Ba'al holds Carter hostage. She works at a computer terminal.]
CARTER
You want Merlin's weapon for yourselves.
BA'AL ONE
A weapon capable of destroying not only the Ori, but the Ancients as well.
EXCERPTS FROM 10.02 "MORPHEUS"
INT-DANIEL'S OFFICE
[SG-1 are in Daniel's office.]
DANIEL
I did find one reference in that library that might prove to be useful-Atlantis.
CARTER
You think the location of Merlin's weapon is hidden in their database?
DANIEL
I think it's worth checking out.
EXCERPTS FROM 10.03 "THE PEGASUS PROJECT"
INT-ATLANTIS LIBRARY HOLO-ROOM
[Daniel and Vala are speaking to Morgan Le Fay.]
DANIEL
We're looking for the names of two planets, known on Earth in ancient times in the dialect of Old English as Castiana and Sahal.
(to Vala)
Satisfied?
MORGAN LE FAY
Taoth Vaclarush, and Valos Cor.
[The planets and their addresses become visible in the map hologram.]
END EXCERPTS
TEASER
INT-DANIEL'S OFFICE
[Daniel sits at a table near his computer monitor. There are several books open nearby, and he is holding a piece of paper. Mitchell and Teal'c arrive in the doorway.]
MITCHELL
Hey, Jackson, what are you doing?
DANIEL
(nonchalant, not looking up)
Oh, just trying to figure out the location of Merlin's weapon so we can find it in time to defeat the Ori, hopefully save our galaxy. You?
MITCHELL
We're going for Szechwan. You want to come?
DANIEL
No, I'll pass.
[Mitchell gestures as if it's Daniel's loss, then starts to leave.]
TEAL'C
How is your search coming, Daniel Jackson?
[He gestures for Mitchell to stop, and he does. ]
DANIEL
Slowly, but I think I'm onto something.
(gesturing)
Here, take a look at this.
[He finally looks over at them in the doorway. Mitchell tilts his head as if reluctant, then he and Teal'c walk over and stand beside Daniel. Daniel changes the display on his computer terminal. A star map appears.]
DANIEL
These are the locations of the planets that Arthur and his knights set off to in their quest for the Sangreal. Castiana, Sahal, and Vagonbrei. Now we searched all three and came up empty, so I thought it was a dead end, until I noticed this...
[He changes the display to show the relative positions of the three worlds. He hits a button that shows equal-length lines between the planets, when projected onto a 2-dimensional plane.]
DANIEL
Their coordinates form an equilateral triangle. Now, add their departure point, the Camelot planet, and you get...
[He taps another key, and a fourth point emerges, offset into the screen on a different plane. A wire diagram of a pyramid appears and spins into place.]
DANIEL
A tetrahedron. A perfect pyramid.
MITCHELL
Well, that's a hell of a coincidence.
DANIEL
Exactly, and it means something. I'm just... not sure what.
INT-VALA'S QUARTERS
[Vala awakens suddenly. She is wearing a green gel mask around her eyes. She throws back the covers and gets up very quickly.]
INT-DANIEL'S OFFICE
[Daniel is still working, putting his glasses back on. Vala rushes in, wearing a robe over her pajamas, and still wearing the gel mask.]
VALA
I have the answer! I figured it out. Whoo.
[She whisks the mask up onto her head. Daniel takes note of her but doesn't really react.]
VALA
Those three planets are part of a puzzle.
DANIEL
(uncapping his pen)
This much I already know.
VALA
The pyramid is a visual representation of "three into one." Three addresses into one. That's what Morgan was trying to tell you.
[Daniel pauses, interested.]
VALA
That the Sangreal is located on a planet, the address of which is made up of symbols from each of those three worlds: Castiana, Sahal, Vagonbrei. It just came to me in a dream.
EXT-CHEYENNE MOUNTAIN COMPLEX, NIGHT
INT-CARTER'S LAB
[Carter works at a laptop, Daniel on her left and Vala on her right. Vala is drinking coffee and still wearing the gel mask atop her head.]
CARTER
Okay, this program will cross reference the addresses in the database with those of Castiana, Sahal, and Vagonbrei, searching out planetary designations made up of symbols from all three addresses.
[Her computer monitor shows the three addresses in three rows. The symbols start rotating through like a slot machine as the search commences.]
CARTER
Given the number of symbols and the amount of addresses in the database, we could be looking at dozens, maybe hundreds of permutations.
[Vala sighs and slumps sleepily against Carter's arm. Carter looks down, surprised. The computer search stops and beeps, and all three look at the display in shock.]
CARTER
Or, maybe just the one!
[The computer screen shows a single address found by the search.]
END TEASER
OPENING CREDITS
EXT-VILLAGE, DAY
[The village has multi-story buildings with steeply pitched roofs and smoking chimneys. Green hills sit in the background.]
EXT-VILLAGE STREET, DAY
[The villagers, dressed in simple but colorful clothing, stop and stare as SG-1 walks down the bricked street. SG-1 is dressed in green BDU's with full vests and weapons.]
DANIEL
The culture and level of technology looks similar to what we found on the Camelot planet.
MITCHELL
Yeah, I'm going to assume that's a good thing... I think some of these folks have figured out we're not from around here.
(to nearby villagers)
Uh, excuse me! I was wondering if we could get some help.
[The villagers stop and listen attentively.]
MITCHELL
A little information?
DANIEL
We've come in search of the Sangreal.
MITCHELL
(gesturing with his thumb and finger)
It's a red thing about 'yay' big.
VILLAGER
We know what the Sangreal looks like. It's been many generations since anyone has come in search of it. And now you're the second group of adventurers in less than a week to take up the quest.
[SG-1 exchanges looks.]
VALA
The second group.
VILLAGER
(stepping toward them)
A number of Jaffa passed through here three days ago.
CARTER
Were they accompanied by anyone?
VILLAGER
Uh, yes. They were led by a man who clearly commanded their fear and respect.
TEAL'C
Ba'al has been here.
DANIEL
And he's got a three-day head start on us.
VILLAGER
If you truly seek the Sangreal, you must consult with the Parchment of Virtues in the village library.
[He points across the square.]
VILLAGER
It will prepare you for the journey to come.
MITCHELL
(pointing the same direction)
Over there?
[The villager nods.]
MITCHELL
Thank you.
[SG-1 starts to walk in that direction. Behind them the villager calls out. SG-1 turns back around.]
VILLAGER
But I should warn you. No one has ever returned from the Quest alive. If you value your lives, you would do well to reconsider.
MITCHELL
We appreciate that, but that is quitter talk.
[Mitchell nods in satisfaction, and SG-1 heads toward the library.]
INT-VILLAGE LIBRARY
[The library is poorly lit; rolls of parchment sit on a shelf. SG-1 approaches the door, which has a window in it. Mitchell opens the door and leads the team cautiously inside.]
MITCHELL
(calling out)
Hello!
[They all come inside.]
VALA
Right. Parchment of Virtues. Do we look under "P" for parchment or "V" for virtues?
DANIEL
I say look for any and all materials related to the Sangreal.
OSRIC
(from another room)
Or you could simply ask me!
[Osric, an elderly man, speaks from a low stairway; they turn to look at him. He walks to the landing just above the team.]
OSRIC
I am Osric, keeper of the village archives.
CARTER
Hi. We're looking for something called the Parchment of Virtues.
OSRIC
(slowly descending stairs)
Ah, another band of stalwart heroes come to tempt fate in the hopes of claiming the legendary prize.
[He sounds quite infirm, and Carter looks dubious.]
TEAL'C
What do you know of the Sangreal?
OSRIC
Only what I have heard from legend. That it is located in a cave beyond the outlying forest. But, that the journey there is fraught with peril.
[He has walked over to a wooden ladder on the floor and begins to climb it.]
OSRIC
Ages ago, Morgan Le Fay enchanted the area with a terrible curse.
[He reaches for and takes a long wooden box. Carter takes it from him, and he descends the ladder.]
OSRIC
Since then it has claimed countless lives.
DANIEL
Well, we don't put much stock in curses, so...
OSRIC
Neither did Phaedra, the cobbler's wife. Several weeks ago, she set off in search of her son who had strayed too far from the village. Neither have been seen nor heard from since.
[As he speaks, he takes the wooden box back from Carter and puts it on the table. He opens it, removing a small parchment.]
OSRIC
This parchment was purportedly left behind by Morgan herself, as a guide for knights of noble spirit, since it is said that only the most virtuous will succeed in claiming the Sangreal.
DANIEL
(reading and translating parchment)
Only those of virtue true may win the prize concealed beyond the reach of the flawed and tainted. The Sangreal shall instead belong to he who speaks the guardian's name.
(confused)
Guardian's name?
OSRIC
They say that the Sangreal is protected by the most powerful of magical beasts - a dragon.
[SG-1 displays skeptical looks.]
DANIEL
Dragon?
OSRIC
(disbelieving)
You doubt the legend?
CARTER
Well, I'm sure the Sangreal is protected by something very powerful, but I don't think it's an actual dragon.
OSRIC
(laughing)
Believe what you will. With luck you may have the opportunity to prove the truth for yourselves.
DANIEL
(translating)
Prudence, wisdom, charity, kindness, and faith. Let these be your guide on this perilous quest.
[He looks around and at Vala as if he was expecting more.]
VALA
(to Osric)
Well, I'm sorry, but I think we're going to need a little bit more than that to go on.
OSRIC
No, all Morgan left behind was this parchment.
[He rolls up the parchment and places it back in the wooden box.]
OSRIC
And... the map.
CARTER
Uh, there's a map?
OSRIC
(laughing)
Yes.
TEAL'C
May we see it?
OSRIC
No!
CARTER
Why not?
[Osric has walked over to the ladder but turns back around.]
OSRIC
(amazed and hurt)
I showed it to the last group of adventurers who came in search of the Sangreal, and they rewarded my trust by trying to take it!
MITCHELL
Yeah, we uh, know the guy that runs that operation. We're not like him.
OSRIC
(waving his hands in dismissal)
Ah ha, well. I'm sorry! It is not for public view.
[Still carrying the box, he walks back to the staircase and starts to climb it.]
VALA
Hey! We wouldn't dream of trying to steal it!
OSRIC
Yeah, heh heh.
[He disappears around a corner, laughing.]
INT-VILLAGE TAVERN
[SG-1 is seated at a long wooden table, Carter at the head. Daniel is eating peanuts from a bowl, discarding the shells on the table.]
VALA
We have to steal it!
CARTER
We are not stealing the map!
VALA
Nightfall. Sneak in under cover of darkness.
DANIEL
Maybe if I can just talk to Osric and convince him that our cause is virtuous.
VALA
Oh, that's brilliant. And while you're distracting him, the rest of us can steal it.
CARTER
For the last time, we are not steal-
[A female barkeep arrives with metal cups of drink for them and start setting them on the table.]
BARKEEP
Are you certain I cannot tempt you with a final meal?
MITCHELL
What is it with this town and the no-can-do attitude? Every time we turn around, someone's trying to write us off or scare us away!
BARKEEP
I apologize. I should have said a final meal before you set off on your journey.
MITCHELL
Now that's better.
BARKEEP
Although it need be said in the many thousands of years that adventurers have been seeking the Sangreal, not one has succeeded.
[There is a disturbance outside. Teal'c gets up and walks over to the doorway to look, Mitchell beside him. Through the doorway they see soldiers of the Ori herding the citizens.]
EXT-VILLAGE STREET, DAY
[Ori soldiers herd weakly resisting villagers down the street toward the square.]
VILLAGER
What is this?! What do you want here?
[A soldier hits him in the stomach with his staff weapon, and he falls to the ground.]
INT-VILLAGE TAVERN
[SG-1 sees this and gets up, readying their weapons.]
EXT-VILLAGE SQUARE, DAY
[A villager comes running at the soldier with a knife. The soldier shoots him with a staff weapon and he falls. The other villager is kneeling beside him, and a third villager comes to the aid of the one who was shot.]
ORI SOLDIER
(loudly, to villagers)
We are soldiers of the Ori.
INT-VILLAGE TAVERN
[SG-1 listens and watches through the windows.]
ORI SOLDIER
And we have taken this village as part of their holy crusade, to rid this galaxy of evil.
EXT-VILLAGE SQUARE, DAY
ORI SOLDIER
Cooperate, and you won't be harmed.
[The soldier walks over to another soldier.]
ORI SOLDIER
Go through the buildings. Bring everyone out.
INT-VILLAGE TAVERN
[The barkeep watches the happenings with SG-1.]
BARKEEP
Who are these men?
MITCHELL
Well, that is a long story.
[They step away from the window.]
MITCHELL
Look, I know you have no reason to trust us anymore than you do those guys.
BARKEEP
I have not see you shoot anyone.
MITCHELL
That's an excellent point.
(placing a hand on her shoulder)
We're gonna need your help.
EXT-VILLAGE SQUARE, DAY
[A soldier brings an armful of books and throws them onto a large pile of other books. The lead soldier adds books to the pile as well. The villagers look on. Included are SG-1, dressed with cloaks over their BDU's and weapons.]
CARTER
They've got a dozen men guarding the gate. Another fifty or so in and around the village.
MITCHELL
Is that what I think it is?
DANIEL
The contents of the library.
[He puts his glasses on. A soldier puts some parchment rolls on top of the mound of books. A box sits on top of the same type Osric had used to contain the Parchment of Virtue. From a balcony overlooking the square and pile of books, a Prior appears.]
PRIOR
You have spent your time ignorant to the truth, stumbling aimlessly through the darkness cast upon your world by the trappings of the past.
[As he speaks a soldier pours a flammable liquid onto the pile of books.]
PRIOR
But now, the path to fulfillment stands revealed, and the time has come to embrace a new faith.
[SG-1 cover their faces, uncomfortable. A soldier puts his torch to the pile of books, and it slowly catches fire.]
PRIOR
Let the light of Origin show you the way!
[The fire grows rapidly. SG-1 looks on worriedly.]
INT-VILLAGE TAVERN, DAY
[The barkeep leads SG-1 into the room. They pull the cloaks off of their heads. The barkeep locks the door.]
BARKEEP
You have encountered them before.
TEAL'C
Many times, and on many different worlds.
BARKEEP
And how did the inhabitants of those other worlds resist them?
MITCHELL
They didn't. They either surrendered or they were slaughtered.
BARKEEP
What, are you saying there's nothing we can do? That we are doomed?
CARTER
No, no, not necessarily. We believe they can be defeated. That's why we're here.
DANIEL
We think that's why they're here as well. To destroy the one thing capable of stopping them.
BARKEEP
(nodding)
The Sangreal.
[There is a pounding on the door. The Barkeep goes to answer, and Mitchell stands behind the door, his weapon ready.]
OSRIC
Please, I know they're here. Please!
[The barkeep lets him in and closes the door behind him.]
OSRIC
(scared and nervous)
I must speak with you. Soldiers are looking for me.
CARTER
Why?
OSRIC
Because they believe I can lead them to the Sangreal.
MITCHELL
Can you?
OSRIC
Well, of course!
DANIEL
What? You saved the map.
OSRIC
No, they unwittingly burned it with the rest of the village archives. But, a copy still exists.
DANIEL
Where?
OSRIC
(tapping his head, smiling)
Here. I will lead you to Merlin's treasure.
[Soldiers pound at the door. Daniel drags Osric aside. The soldiers burst in. SG-1 stands around the edge of the room, Mitchell and Teal'c hidden behind the door, the barkeep in the middle.]
ORI SOLDIER
We want the old man. It is information we seek.
[Mitchell and Teal'c come out into the open, their weapons drawn. Daniel pulls out his machine gun. The soldier sees they are surrounded.]
MITCHELL
Not today, fellas.
[There is a stand-off.]
MITCHELL
Wow, this is awkward.
ORI SOLDIER
Our army has taken this village. If you resist, there will be no escape. Now, stand aside.
[Mitchell and Teal'c keep their weapons aimed. The barkeep shoots the soldier in the back with an arrow from a crossbow. He falls to the floor. SG-1 all fire their machine guns at the remaining soldiers until they all fall.]
MITCHELL
Oh, I think somebody must have heard that!
[He takes off his cloak, as do the others.]
BARKEEP
This way. Come quickly!
[She leads them to an inside passage hidden by a door, which she raises. They all grab their gear and enter.]
INT-ESCAPE TUNNEL
[Daniel and Vala rush through, using flashlights.]
INT-VILLAGE TAVERN, DAY
[Teal'c enters the tunnel, leaving only Mitchell and the barkeep.]
MITCHELL
You should come with us.
BARKEEP
My place is here. I'll be fine. I'll blame everything on you.
MITCHELL
Good plan.
[Mitchell goes into the tunnel. The barkeep closes the door behind him and moves a stool in front of it.]
EXT-MEADOW, DAY
[Led by Osric and walking in single file, the team comes out of some woods and into a grassy meadow.]
OSRIC
Ah, this way!
[Some time later, the team is still walking.]
MITCHELL
What the hell?
[They have come upon a scattered group of people and animals frozen in place. A black bird is suspended in the air. All of the people are facing the direction the team is traveling. Some look as if they are about to fight. A woman has a hand over her mouth, perhaps the mother Osric spoke of. Carter pulls out a hand-held sensor and turns it on. They slowly approach the frozen people.]
MITCHELL
What's the matter with them?
CARTER
I don't know. I'm picking up varying anomalous readings.
(walking parallel to the line of people)
Stronger here... weaker here.. then rising again. Well, this is weird. They're temporal fluctuations.
MITCHELL
Meaning?
CARTER
Meaning these people are trapped in a time distortion field.
VALA
Are you sure? If it's a time distortion field, why are the leaves moving in the trees?
CARTER
It could be an illusion designed to reproduce the standing weather pattern. These readings indicate the time within the field is extremely decelerated. I mean, these people may look like they're standing perfectly still, but in fact they're moving imperceptibly slowly.
TEAL'C
Are they aware of what is happening to them?
CARTER
Doubtful. Several years may pass on our side of the field in the one or two seconds it takes them to take even one step.
MITCHELL
Well, why don't we just go around it?
CARTER
Well, the outer edge of the field extends as far as I can tell in either direction. And it has a slight curve to it. I mean, for all I know, it could form a complete circle. We could walk for miles and never find a way through.
MITCHELL
Sam, if you've got another idea, I'd love to hear it.
CARTER
Well, I'm definitely picking up varied readings. It's almost as if...
[She studies the readout, and Mitchell looks over her shoulder.]
CARTER
I think I may have found a way in. There's a circuitous path of real-time winding through the temporal field.
MITCHELL
It's a maze.
CARTER
Yeah.
MITCHELL
(to the others)
It's a maze.
CARTER
These readings are unmistakable. I can use them to guide us through.
(to everyone)
Follow my lead. If you stray off the path, you could wind up trapped in the distortion field.
[They form a single-file line behind Carter. She uses the sensor to pick a path into the field. She signals them to stop, then turns left, and they follow. After some time, she is consulting the sensor display, and it blinks out.]
CARTER
Uh oh.
VALA
What do you mean, "uh oh"?
MITCHELL
Uh oh, you left your stove on, right?
CARTER
Temporal distortions are affecting these readings. We're blind.
MITCHELL
Okay, here's a stupid question. You did check the batteries in that thing before we left Stargate Command, right?
CARTER
It's not the batteries.
VALA
We could retrace our steps and try our luck with the Ori soldiers.
CARTER
Do you know the way back?
VALA
(vaguely)
That way.
CARTER
We have to be exact. Any deviation from the path of real time and we could end up frozen like the rest of these people.
TEAL'C
If Morgan Le Fay left clues as to the whereabouts of the Sangreal, then it is safe to assume that she believed that someone would eventually reach it. It also stands to reason that our task, though challenging, is far from impossible.
DANIEL
Teal'c's right. She set this trap to weed out those she deemed unworthy. There is a way out. We just have to be resourceful and carefully think it through.
VALA
Well, Arthur and his knights wouldn't have had access to this advanced technology to guide them through. So, presumably, the answer could be deceptively simple.
[They all consider Vala's words. Carter puts away her instrument and bends down to pick up a rock from the sandy ground. She tosses the rock in front of her, and it stops in mid-air with a flash as it hits the field a few feet away.]
CARTER
Follow me.
[She walks toward the rock. She picks up another one and throws it to her left. It hits the field and stops very near to her.]
CARTER
Dead end.
[She throws another rock to the right. It falls to the ground normally, several yards away.]
CARTER
You're right. Deceptively simple.
[They move off in that direction, traveling quite a few steps. Carter throws another rock, and they move forward again. She throws another, which bursts through the field to the other side. She follows it through to safety.]
CARTER
All right, we're through. We'd better pick up the pace if we want to cut into Ba'al's lead.
[Carter moves out. Vala catches up and pats her on the shoulder, and she smiles at Vala.]
EXT-WOODS, DAY
[The team walks through a wooded area with a lot of ground vegetation.]
OSRIC
You say that these Ori are possessed of god-like abilities, and yet they are not gods?
DANIEL
No, they're very powerful beings who would have their followers believe as much because faith is the source of their power.
OSRIC
Faith is something that cannot be won through intimidation and fear. If their followers have faith, then they must truly believe.
DANIEL
No, they only believe because they've been mislead. See, to many less developed civilizations, certain advanced technologies would strike them as supernatural in nature.
(responding to Osric's scoffing grunts)
Merlin wasn't a wizard, and Morgan Le Fay was not a sorceress.
OSRIC
Uh, ridiculous!
DANIEL
They simply used their advanced abilities to fashion seemingly magical creations, like the Sangreal or that time dilation field we encountered.
OSRIC
So you would have me believe that you are possessed of a complete understanding of these amazing feats?
DANIEL
No, but just because I don't know how the trick is done doesn't make it magic.
[They stop at the top of a small hill. Osric rests a hand against a tree, as if tired.]
OSRIC
And I would argue that your inability to comprehend such feats does in fact prove their supernatural nature.
MITCHELL
Their army just ran roughshod over your village, forced you into hiding. Now you're defending 'em.
OSRIC
Hardly! I condemn the actions of their soldiers, but am in no position to judge the Ori or their message. Not yet. Truth is elusive to those who refuse to see with both eyes.
[Daniel looks at him in shock.]
DANIEL
What?
[Daniel stares at him. They hear a voice muttering in the distance. Teal'c, Mitchell and Carter look toward it. Teal'c moves off, and everyone follows. Osric tightens his cloak, looking slightly annoyed.]
INT-CLEARING IN WOODS, DAY
[The team and Osric come upon Ba'al sitting on the ground, a small wooden chest behind him. He is muttering to himself.]
BA'AL
Uh, I can't believe they abandoned me. They're gonna pay. All of them are going to pay.
[Hearing them approach, Ba'al stands up and holds up his hand.]
BA'AL
Wait!
[He doesn't speak in time, and the others walk toward him. The yellow flash of a force field moves upward behind them in a dome-like shape. Ba'al sighs.]
BA'AL
Well, make yourselves comfortable. We're gonna be here a while.
[The team looks around at the situation. Mitchell walks to the edge of the clearing and scrapes his rifle against the force field, which flashes.]
BA'AL
Won't do you any good. Believe me, I've tried. It's a one-way door.
CARTER
How long have you been trapped in here?
BA'AL
Three agonizingly tedious days. Which reminds me, I don't suppose you have any food?
VALA
(pointing at chest)
What's that?
BA'AL
That's bait. When I approached to investigate, I unwittingly triggered the trap.
CARTER
You've had the Ancient database for months. Why did it take you so long to get here?
BA'AL
I can't think clearly on an empty stomach.
[Carter pulls a powerbar from her front vest pocket. She tosses it. Ba'al thinks it is coming to him, but it goes over his hand and Mitchell catches it. Mitchell sniffs at the bar teasingly.]
BA'AL
(laughing, defeated)
I only possessed two of the three addresses needed to complete the puzzle. As a result, I had significantly more possibilities to investigate.
[Mitchell tears the bar's wrapping open and looks questioningly at Carter.]
BA'AL
By a process of elimination, I was left with one prospect, and when I went in search of the planet, it wasn't there.
CARTER
What do you mean, it wasn't there?
BA'AL
It wasn't where it was supposed to be! I calculated its position, I sent my ships to its approximate position, but they couldn't find it. In the end my only recourse was to access it via the Stargate, and secure the device with a handful of my Jaffa. And when I became trapped in here, they set off in search of a means of freeing me. They have yet to return.
[As he speaks, Daniel and Vala open the treasure chest and find it empty. Ba'al looks at the powerbar in Mitchell's hands. Mitchell gestures to Carter, then tosses the bar to Ba'al, who immediately begins eating it.]
MITCHELL
Something must have come up.
TEAL'C
Obviously Morgan must have rendered this planet inaccessible to the ships, to ensure that enemies such as the Ori could not destroy the Sangreal from orbit.
[Daniel moves his hand inside the chest. It is empty.]
BA'AL
(to Daniel and Vala)
You're wasting your time. I've had three days to search for a way out of here. There's nothing inside.
DANIEL
Well, that's the point, isn't it. The Parchment of Virtues told us that we'd have to rely on five things in order to reach the Sangreal.
(counting off on his fingers)
Prudence, wisdom, charity, kindness, and faith.
VALA
You're saying the parchment was intended to be interpreted literally.
DANIEL
Why not? We were able to make our way through the time dilation field by patiently and carefully negotiating the maze. In other words, we demonstrated prudence as opposed to recklessness, which would have stranded us. So ask yourselves, what does this trap exploit?
BA'AL
Curiosity.
DANIEL
Greed. A person approaches a chest expecting to find treasure inside but instead finds nothing and gets trapped for his trouble.
VALA
So in order to reverse the trap, you have to reverse the impetus.
DANIEL
Right. The opposite of greed is charity, one of the virtues mentioned in the parchment.
TEAL'C
Instead of taking something, something must be sacrificed.
[Daniel pulls a pen from his pocket and puts it into the chest. Vala closes the chest. They all look around for the force field to drop, but nothing happens. Mitchell again scrapes his gun against the field; it is still there.]
BA'AL
(laughing)
Well, that was an interesting theory.
DANIEL
Well, we're all trapped, so we all have to contribute something.
[Ba'al chews the powerbar but doesn't move to comply. Mitchell pulls his hat out of his vest and tosses it into the chest. Carter hands a small device, perhaps a voice recorder to Daniel, who places it inside. Osric removes a ring from his right index finger and sets in the chest himself. Daniel looks at it, then up at Osric, questioning. Teal'c tosses something small to Daniel, who places it inside. Vala struggles trying to pull something from her pack. It is a large blow dryer.]
VALA
No...
[Exasperated, Daniel grabs it from her.]
VALA
Wait!
[Daniel puts the blow dryer in the chest, then looks at Ba'al and clears his throat expectantly.]
BA'AL
I have nothing to donate.
[Mitchell aims his weapon at Ba'al. Teal'c approaches and grabs Ba'al's arms, pulling them behind Ba'al's body. Mitchell lowers his weapon and starts to search Ba'al. He moves down his body and finds a dagger in a sheath in Ba'al's left boot. He pulls it out and holds it up in front of Ba'al.]
BA'AL
That particular item holds great sentimental value.
[Mitchell hands the dagger to Daniel, who places it in the chest. He looks around, then closes the lid. After a moment, the force field lowers. They begin to move immediately.]
BA'AL
Well done. Another day in there, I would have gone mad.
MITCHELL
(pointing weapon at Ba'al)
Guess that makes it time to say goodbye.
BA'AL
It would be foolish of you to kill me.
TEAL'C
How so?
BA'AL
Amongst the information I obtained regarding the Sangreal is the name of the protector.
VALA
(to Daniel)
Protector.
BA'AL
The dragon.
OSRIC
You see, I told you there was a dragon.
CARTER
I'm sure there's something guarding the device. Maybe it's a hologram.
MITCHELL
Holograms can be dangerous, you know?
DANIEL
It could be a ship. Flies, breathes fire, has armored skin. It's a mistake a mediaeval storyteller could easily make.
BA'AL
Then if it's based on technology, the name is no doubt a password or a command code. And either way if you want it, you'll have to take me with you.
[They consider his words.]
MITCHELL
(quietly, to his team)
You know I hate to say this, but he could prove useful.
[They look unhappy but don't disagree. Mitchell starts off, and they all follow, Ba'al waiting until they have passed.]
MITCHELL
Come on!
EXT-WOODS, DAY
[The groups walks through the woods. Ba'al walks beside Daniel.]
BA'AL
Yet again we find ourselves the unlikeliest of allies, joined together in common purpose.
DANIEL
You know, the word "allies" implies some sort of partnership, and that just isn't the case here. You see, we are going after the Sangreal, while you are tagging along for the ride.
[Ba'al laughs. They arrive at a grassy clearing. Osric points ahead.]
OSRIC
According to the map, the Sangreal is hidden in a cave beneath a lone mountain.
[In the near distance, perhaps two miles away, is a large grey mountain standing alone. It is cone-shaped as if it were volcanic. Mitchell doesn't stop but just keeps walking.]
MITCHELL
Right, we're getting warm.
[They all follow him.]
EXT-OUTSIDE CAVE ENTRANCE, DAY
[They arrive at an entrance area protected by rocks and surrounded by foliage. Osric walks up to the entrance excitedly. Ba'al stands next to him.]
OSRIC
This is it! The cave entrance. The Sangreal is located within.
MITCHELL
(raising his weapon)
It's too bad you won't be coming with us.
BA'AL
(thinking Mitchell is speaking to him)
I thought I made it clear - you need me.
MITCHELL
I wasn't talking to you.
BA'AL
Ah, well, uh, allow me to get out of your line of fire.
[Ba'al steps away, leaving Osric alone, looking shocked.]
OSRIC
Have you lost your senses?
DANIEL
"Truth eludes he who does not seek it with both eyes wide." That's a quote from the Book of Origin. You paraphrased it earlier today. Now I might not have noticed, but I spent the past year studying the good book, so...
OSRIC
Surely you're not basing your suspicions on this mere coincidence?
DANIEL
And when it came time to give up a possession to free ourselves from the forcefield trap, I noticed the designs on your ring. Not Celtic as one might expect given the cultural background of this planet, but distinctly Ori.
OSRIC
(becoming angry)
The ring was a gift from a traveling merchant. You're making a mistake!
MITCHELL
You're the one who screwed up, now drop the act!
[He looks at them all, and they look back at him, completely skeptical. His demeanor becomes more relaxed and knowing.]
OSRIC
It would have been so much easier if you had remained oblivious. But now things will be much more difficult.
[He quickly transforms into Adria, wearing black leather and her protective necklace. SG-1 all raise their weapons at her.]
ADRIA
(to Daniel, evilly)
Especially for you.
MITCHELL
(noticing her eyes are a normal brown color)
You've done something new with your eyes.
[Adria's eyes flash orange then return to brown.]
MITCHELL
So, the troops in the village, the shootout in the tavern, that was all a set-up.
ADRIA
More than you know. I grew impatient waiting for you to discover the location of the weapon. So, I gave you a little help.
VALA
The dream I had - three into one. That was you.
ADRIA
Yes.
CARTER
So you planted the solution in Vala, knowing it would lead us right to you.
ADRIA
Apparently Morgan put safeguards in place to ensure the weapon could only be secured by, what was the term again? "Those possessing truth of spirit." I can't think of anyone more appropriate than a former Ascended.
(to Daniel)
With your help, I'll secure the device.
MITCHELL
Hate to disappoint.
[She begins to move, and Mitchell fires his automatic weapon at her. Her shield protects her from any harm. Mitchell stops firing.]
ADRIA
(to Mitchell)
You've seen a demonstration of my powers. You know what I'm capable of. So I'm offering you a choice. Either we work together to reach the device, or I'll start killing off members of your team.
(she looks toward Carter)
Starting with her.
DANIEL
All right! We'll work together. For now.
[Adria smiles in victory.]
INT-TUNNEL IN CAVE
[The cave has man-made steps carved into the floor, which the group descends. It is dark, forcing the team to use flashlights. Vala and Adria walk beside each other.]
ADRIA
We thwarted all efforts against us. Crippled your fleet. Met with little if any resistance on the worlds that we redeemed. Opposition to the Ori is clearly hopeless, but you continue to struggle against the inevitable.
DANIEL
Yeah, well, what can I tell you. We're optimists.
ADRIA
Your only hope lies with Merlin's weapon. Once I take that away from you, your defeat will be complete.
VALA
Ha ha. Now look who's the optimist.
ADRIA
You disappoint me, mother. I would have expected you to see reason by now. But it doesn't matter. Eventually you'll have no choice but to accept the truth. And when you do,
(touching Vala on the arm)
I'll accompany you on your path to enlightenment.
[Adria walks ahead. Vala points her gun at Adria's back and wiggles it in frustration.]
[Behind the others, Carter and Mitchell walk together.]
MITCHELL
You know the second we find that thing, she's gonna kill us.
CARTER
Not if we kill her first.
MITCHELL
That could be a bit of a problem.
CARTER
I don't know, we're pretty resourceful, I'm sure we'll think of something.
MITCHELL
Yeah, just don't want to do it too soon. She may not be true of spirit and all that jazz, but she has done her homework. I hate to say it, but...
CARTER
She could prove useful.
MITCHELL
For the moment.
[They arrive at a more open chamber. With their flashlights they see a stone panel set into the cave wall with Ancient writing on it. Daniel approaches it.]
DANIEL
(translating)
Choose the way that is just and true.
VALA
Ooh, it's a riddle! I'm good at these. Umm... the way that is just and true... just and true...
[She faces toward the cave tunnel to their right.]
VALA
(smiling)
It's telling us to go that way! The way that is just and true. That is, the right way!
[She starts to head down that tunnel, but Daniel grabs her arm and drags her back.]
VALA
Wha? Ow!
DANIEL
The writing's in Ancient.
VALA
So?
DANIEL
So in Ancient, the word meaning just and true is very different from the word meaning right, as in opposite of left.
[Carter hears a sound from the tunnel to the left. Teal'c hears it too.]
CARTER
Did you hear that?
[They all hear it. It sounds like a child crying.]
TEAL'C
It sounds like a child.
(starting to head off)
This way.
[The others follow, except for Daniel, Vala, and Ba'al.]
VALA
A child in here... It's obviously a trap.
DANIEL
Or quite possibly a test.
[He sets off.]
BA'AL
A test of what? Our stupidity?
[Vala laughs nervously. They follow the others.]
INT-CHAMBER IN CAVE
[They come upon a boy, perhaps five years old. Seeing them, he cries in fright and ducks behind some rocks to another tunnel.]
MITCHELL
Hey kid! Kid, wait up.
[They follow him into the tunnel.]
INT-DESCENDING PATH IN CAVE
[Mitchell leads them down the stone staircase.]
MITCHELL
Hey, slow down, little guy!
ADRIA
We're walking right into a trap.
DANIEL
No, we're not. The parchment provided us with clues to reaching the Sangreal. It mentioned kindness as one of the virtues that would guide us. So if we show kindness by helping this child it should bring us one step closer to the device.
ADRIA
The parchment also mentioned wisdom, which we would be demonstrating by avoiding this trap.
[They hear a loud clanking noise. It is the sound of an iron gate dropping by metal chains to the floor. It forms a cell door, or portcullis, trapping the boy in the cave behind it. The boy sits on the floor, very frightened and crying.]
MITCHELL
Hang on, kid. We'll get you out of there.
[Mitchell tries to lift the gate by hand. Teal'c and Carter help.]
MITCHELL
Little help, here!
[Vala and Daniel join. They all pull as hard as they can, but the gate does not move.]
BA'AL
He's tiny. Tell him to squeeze through the bars.
TEAL'C
(turning to him)
Assist us, or I will squeeze you through these bars.
[Ba'al moves forward.]
DANIEL
(to Adria)
You wanna use your powers to lift it?
ADRIA
We're wasting our time. Let's go back.
[Vala gives her an admonishing look. She huffs and steps forward to grab the gate. Now all of them are touching it. It begins to lift immediately. The boy smiles at them, then disappears. The false back of the cave also disappears, revealing another tunnel.]
MITCHELL
Well, how about that. We did pick the right way.
[They travel for a bit, but come to an apparent end of the tunnel.]
MITCHELL
It's a dead end.
ADRIA
We have to go back.
CARTER
No, it doesn't make any sense that we would have progressed this far only to come up empty.
[She finds another stone panel with Ancient writing.]
CARTER
Daniel?
DANIEL
It's another riddle.
VALA
Oh, goody!
[She nearly bowls Mitchell over getting to Daniel's side.]
DANIEL
(translating)
I'm struck and cut, shaped and cooled, then bound by rings to release what's stored.
[The cave begins to rumble and shake around them, bits of dust dropping.]
MITCHELL
You might want to pick things up a little bit, here.
VALA
All right, well we have to think it through. What's struck and cut, and shaped and cooled, and then bound by rings.
[The rumbling worsens.]
VALA
(shouting)
Bound by rings!
MITCHELL
Key! The answer is key.
DANIEL
(toward the riddle panel)
Ah, Clavia!
[The panel wall melts away, revealing another tunnel. They rush into it.]
INT-CAVE TUNNEL
[The rumbling continues and worsens. They rush through the tunnels and find another panel.]
DANIEL
(translating)
I shake the earth with booming thunder, fell forests whole and homes complete! I influence ships, topple kings, sweep down swift yet remain unseen!
VALA
Oh wait, I've got this. Uh, it's suggesting a strong yet invisible force... Uh...
TEAL'C
Wind.
DANIEL
Ventio!
[The panel dissolves, and they rush through into another tunnel and up a set of stairs. The rumbling has not abated. They come to a new panel.]
MITCHELL
Ah, for crying out loud!
DANIEL
(translating)
Battle-scarred in times of strife. Resistant to... resistant to...
VALA
To what?
DANIEL
Uh, I don't know. I- I can't translate this section of the text.
VALA
Nevertheless, battle-scarred would suggest...
ADRIA
Contagia!
[The panel disappears. The rumbling stops.]
MITCHELL
Looks like that's done it.
VALA
You know, come to think of it, riddles never were my strong point.
[They enter the new tunnel.]
VALA
Visual puzzles, like "which of these symbols does not belong with the others," or "reconfigure the tiles to make the hidden picture."
MITCHELL
Is it just me, or is it getting hot in here?
VALA
Oh, now that you mention it.
[They arrive at at chamber at the end of the tunnel. There is a wall of fire burning in the doorway in front of them, blocking their path.]
VALA
It is a tad toasty.
INT-CHAMBER NEAR WALL OF FIRE
[Mitchell and Daniel search the room for some clue or device to stop the fire.]
MITCHELL
Hey, you got anything?
DANIEL
No, you?
MITCHELL
No, but I'm gettin' a good tan. Let's take a break.
DANIEL
(agreeable)
Okay.
[They walk back to where Ba'al and Adria are waiting.]
MITCHELL
There are no hidden triggers or secret passages. If there's a way through, we didn't find it.
ADRIA
Then I suppose we should head back.
[Carter and Vala enter from the other direction.]
CARTER
Not an option. The passageways have resealed behind us.
[Vala sighs in frustration.]
ADRIA
Then I was right. We walked into a trap.
DANIEL
No. We made all the right choices to lead us to this point. I know the Sangreal lies beyond that wall of fire. We just have to find a way through.
BA'AL
(to Adria)
Why don't you do something? You're the Orici. You're supposedly possessed of significant powers. So snuff out the flame and get us on our way.
ADRIA
My abilities don't work that way.
BA'AL
(laughing dismissively)
Of course, how does the saying go? "All flash, no photo?"
CARTER
Actually, it's "All flash, no substance."
BA'AL
I prefer my version.
ADRIA
Would you care for a demonstration?
[He looks at her in a challenging way. She stares at him for a moment, then turns her back on him, appearing to back away from a confrontation.]
ADRIA
Taking your life would be a waste of my time.
BA'AL
Which I suppose would be put to better use complaining.
CARTER
Oh, geez, why don't you two just get a room?!
[Carter walks away, annoyed.]
DANIEL
It's the only one left.
[He steps toward the room with the wall of flame.]
CARTER
Daniel?
[He steps nearer the fire. The others gather behind him.]
DANIEL
The parchment told us that five virtues would guide us in our quest for the Sangreal. Prudence, kindness, charity, wisdom, and faith. Now we displayed prudence in finding a way out of the temporal maze, charity in escaping the forcefield trap, kindness by helping the child and finding the hidden passageway, and wisdom in solving the riddles. The only virtue left is faith.
[Daniel pauses for a moment, blinks, then steps toward the fire.]
MITCHELL
Jackson!
CARTER
Daniel!
[Daniel steps through the flame. It immediately dissipates, revealing Daniel unharmed on the other side, in a large tunnel. The others begin to follow, Vala and Teal'c at the rear.]
VALA
Well, after you, muscles.
[They join the others.]
INT-CAVERN OF THE SANGREAL
[Led by Daniel, they arrive at a huge cavern. There is a narrow walkway over an open abyss, which leads to a wider platform with two stone structures on it. On the lower pedestal of the platform is a glowing red object.]
BA'AL
There it is. We found it. Ours for the taking.
MITCHELL
Hang on.
[Mitchell tosses a rock over the edge into the abyss. There is no sound of it hitting anything.]
MITCHELL
Yeah, it's pretty deep.
[They look at the footbridge to the Sangreal on its dais.]
DANIEL
I'll go.
ADRIA
We'll both go.
BA'AL
I think I'll stay here and support you from a distance.
MITCHELL
We should all go.
ADRIA
(threatening)
No. Only Daniel and I will go. The rest of you will stay.
DANIEL
(to Mitchell)
It's all right.
[Holding up his weapon with its flashlight on, Daniel takes the first steps onto the bridge. Adria follows. Mitchell, Carter and Teal'c look on worriedly. They arrive at the platform. There is a tall stone with diamond-shaped blue stones on it, surrounded by Ancient writing. Beside it is the lower dais with the red glowing Sangreal resting on it. Daniel shines his flashlight on it.]
ADRIA
Take it.
DANIEL
After you.
ADRIA
I told you. Morgan put safeguards in place to ensure that someone such as myself couldn't claim the device.
DANIEL
(realizing, challenging)
Is that why you didn't just use your powers from back there?
ADRIA
What are you talking about?
DANIEL
Well, you have telekinetic abilities. I've seen you use them. You should have just snatched the Sangreal off the dais without taking a step, but you didn't. Probably for the same reason you didn't use your powers to lift the portcullis or kill Ba'al the second he stepped out of line. You can't!
ADRIA
(nervously)
Of course I can.
DANIEL
No. My guess is Morgan did put safeguards in place and that those safeguards are neutralizing your Ori-given powers.
ADRIA
You saw me withstand the bullets fired against me.
DANIEL
Yeah, thanks to your personal shield. The only powers you can manifest originate from that pendant and they're purely defensive in nature.
ADRIA
(almost sultry)
Do you really want to test me?
DANIEL
(after a moment)
Yep.
[Adria is shocked. Daniel points his flashlight on her face and takes a ready stance.]
DANIEL
You know what? I changed my mind about helping you. Knock yourself out.
[Adria looks at him nervously and does nothing.]
MITCHELL
(calling to them)
What's the hold-up?
DANIEL
Thought so.
[He steps forward to take the Sangreal. His hand passes right through it, and it blinks, as if it is a hologram. Daniel is surprised for a moment.]
DANIEL
Well, I guess I'm not as true of spirit as you thought I was.
[There is a sound of mechanisms moving, and dust starts to fall from the cave wall behind the team.]
MITCHELL
Jackson, move it!
[Adria rushes back along the bridge, followed by Daniel. They try to leave, but the way out is now closed. They look around in confusion. They hear a sound.]
MITCHELL
What the hell is that?
[There is a sound of large wings flapping.]
VALA
We agreed there's no such thing as a dragon, right?
MITCHELL
Yeah.
VALA
Hmm.
[A large dragon arrives by flight and hovers above them. It has wings and legs but no forelegs. It hisses at them.]
VALA
'Cause that looks pretty real to me.
[It breathes a ball of fire at them.]
TO BE CONTINUED
FADE OUT
END CREDITS

Source : http://www.stargate-sg1-solutions.com/wiki/10.10_%22The_Quest_Part_1%22_Transcript