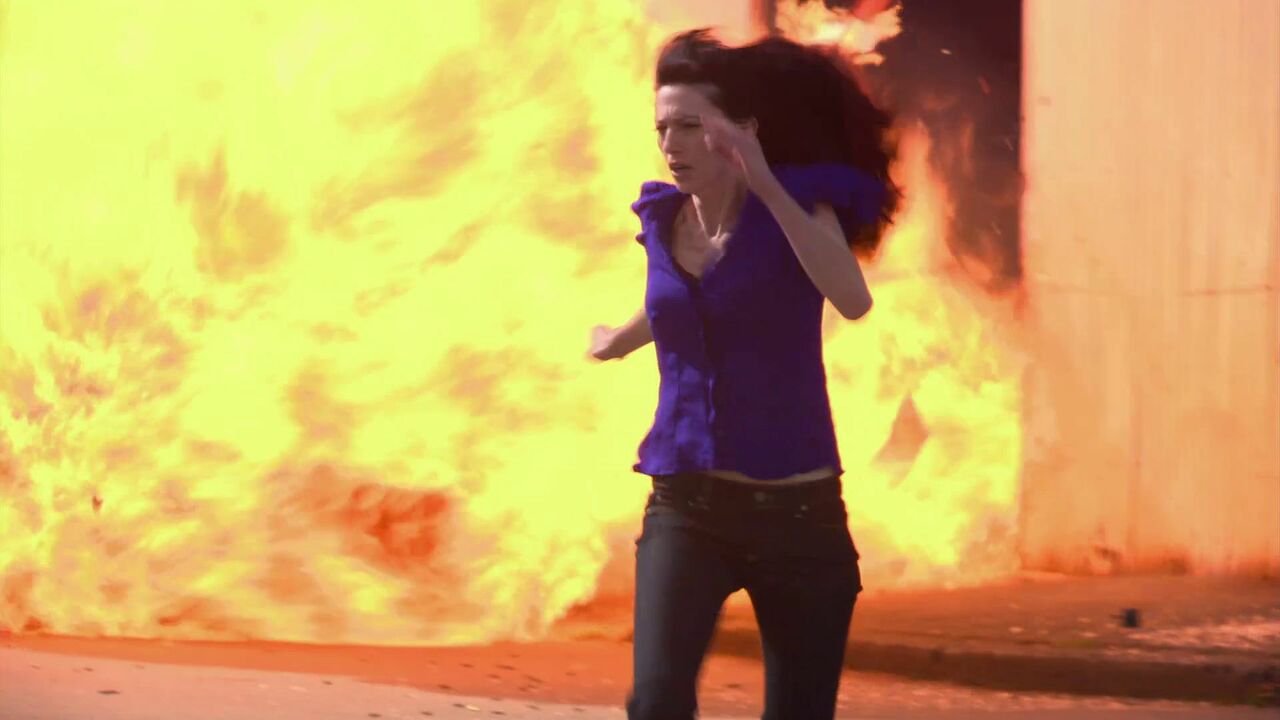 Transcript VO
TEASER
EXT-SOL'S DINER, DAY
[Sol's is a typical small-town-America diner on the corner of two streets. A few pedestrians pass by on the sidewalk, and a man comes out the front door to talk on his cell phone.]
INT-SOL'S DINER
[The diner is busy, and it seems to be lunchtime. A couple with two young boys sit at a table in the middle of the room. The kids are playing with hand-held electronic games. The father looks up as their waitress approaches. It is Vala, dressed in a green and yellow uniform with an apron, and she's wearing matching eye-shadow.]
VALA
Hello, and welcome to Sol's Diner. I'm Val.
(she moves her hair to reveal her nametag)
I'll be your waitress today. Have you had a chance to look over the menu? Might I suggest the meatball sandwich? It's the owner's personal favorite.
[Vala gestures toward the kitchen where the owner, Sal, is plating up the food and rings to bell to indicate an order is ready. He smiles and waves, then goes back to his grill.]
MOTHER
Sounds good.
[Vala nods and writes it on her order pad.]
VALA
(to father)
Sir?
FATHER
Uh, two junior meals for the kids... and I'll have the club sandwich.
VALA
(still writing)
Okay.
FATHER
Oh, and can I get some extra pickles on that?
[Two shady-looking men are checking out the diner through one of the windows. They look at each other and nod before heading toward the entrance.]
VALA
(cheerily)
No problem.
FATHER
Thank you.
VALA
Waters all 'round?
MOTHER AND FATHER
Sure.
VALA
Okay.
[Vala walks away to get them water glasses from a tray.]
MOTHER
(to boys)
Okay, once the food comes that's it for the games.
[The shady men come in the front door; the taller one pulls a gun from the back of his waistband.]
GUY #1
(shouting)
All right, wallets and purses on the tables in front of you, now!
[He pulls a plastic grocery bag out of his pocket and holds it out towards Vala. She looks over her shoulder at him, uncertain.]
GUY #1
Valuables in here.
(pointing gun at Vala)
Hey, you listenin' to me?
[Vala backs up until she's facing him, glancing between the bag and the gun that is now pointed straight at her chest. Suddenly, she grabs his right hand and pushes it aside, then forces the arm back and twists his wrist which makes him loosen his grip on the gun. Vala spins around behind him, pulling his gun hand over his shoulder, and elbows him in the kidney. A blow to the base of his neck keeps him stunned long enough for her to get in a kick to the groin of the other robber who was trying to come at her from behind. When Guy #2 doubles over in pain, she knees him in the face and shoves him away. He lands on the nearest table, which breaks and dumps him to the floor. Vala grabs a napkin dispenser off the counter and whacks Guy #1 on the back of the head. He crumples to the floor, unconscious. Vala spins the revolver into her own hand, gunslinger style, and points it at him, just in case. A single saucer spins on the tile floor as Sal rushes out of the kitchen wielding a meat mallet. The diner's patrons look on in shock.]
SAL
(softly)
What did you do?
VALA
(shaking her head)
I don't know.
END TEASER
OPENING CREDITS
THREE WEEKS EARLIER
EXT-IL FIORE BIANCO RISTORANTE ITALIANO, NIGHT, THREE WEEKS EARLIER
[Valets bring cars in and out on the brick driveway in front of a swanky, glass and metal building.]
INT-IL FIORE BIANCO RESTAURANT
[The restaurant's ambiance is very upscale Italian. Small tables are covered in long white tablecloths and everything is lit by candles and twinkle lights. The hostess seats Vala and Daniel at a table with a single white rose in a vase.]
VALA
Thank you.
HOSTESS
(to Vala)
Your menu.
(to Daniel)
And for you, sir.
[Daniel and Vala begin to look over their choices on the fancy menu. Vala takes a moment to admire the decor.]
VALA
(appreciatively)
Fancy.
DANIEL
Well, I know you don't get off the base much except for official business, so I thought I'd take you somewhere nice.
[Daniel takes his napkin out of his glass and places it in his lap, then pushes the tall vase to the side of the table out of the way.]
VALA
Well, I don't mind telling you, I've been looking forward to this little date all week.
DANIEL
I wouldn't exactly call it a 'date'. It's-
VALA
Oh, I've watched enough of your television to know what a date is, Daniel. It's a romantic event typified by dinner, movie and/or karaoke and, usually, culminating in a night of...
[She shoots him a flirty, knowing look.]
DANIEL
(flustered)
O-okay, this is... this is definitely not a date. It's, it's two friends and coworkers out for dinner.
VALA
Oh. Well, I-
[She's cut off by the arrival of their waiter.]
WAITER
Hi.
VALA
(to waiter)
Hi.
WAITER
Can I start you off with a drink?
VALA
Absolutely.
[Daniel looks slightly nervous at her eagerness.]
WAITER
Well, tonight's featured martinis are the chocolate, passion fruit, and shochu plum.
VALA
They all sound wonderful. So... one of each, then?
DANIEL
(jumping in)
Yeah, I- I think we're gonna pace ourselves. She'll do the... passion fruit.
[Vala gives a playful growl.]
DANIEL
And, um, I'm gonna have the bottled water.
WAITER
Sure.
[The waiter glances between them, amused, as he walks away. Vala and Daniel start talking at the same time.]
VALA
Uh...
DANIEL
Listen...
[Both stop awkwardly.]
VALA
Oh.
DANIEL
Uh... Let me start.
VALA
Okay.
DANIEL
Um... Look, I know it hasn't been easy for you adjusting to your new life here, learning to trust other people and, most importantly, refusing the temptation to fall back on your old ways. But you have worked hard to make a place for yourself with us and- and dinner tonight is my way of saying thank you. Thank you for... for proving me right when I said we could take a chance on you.
[Vala is a pleased and a little embarrassed at the praise. She smiles and ducks her head.]
VALA
I don't know what to say.
DANIEL
(shakes his head)
Just say what you were gonna say before I interrupted.
VALA
Okay. I need to use the bathroom.
[Daniel deflates a bit at her response.]
DANIEL
Yeah, it's-
[He points over his shoulder.]
VALA
Okay.
[She gets up and heads toward the restrooms, giving him a playful poke in the cheek as she passes. Daniel laughs quietly, sighs, and clears his throat as he resumes looking over the menu. Meanwhile, Vala strides down the hallway toward the ladies' room. As she walks past a man at a payphone, he hangs up, spins around behind her and jams a syringe into her neck. She immediately groans and goes a bit limp. He pulls her arm around his neck and quickly starts walking her toward the front door.]
KIDNAPPER
(to waiter)
She, uh, needs some fresh air.
[The waiter looks concerned, but goes about his business. He returns to Daniel's table and sets down their drinks.]
WAITER
Your friend has taken ill.
DANIEL
(lifting his gaze, very concerned)
What? Where is she?
WAITER
Um... she was escorted outside by another gentleman.
[Daniel quickly drops his menu and napkin onto the table and heads for the door.]
EXT-IL FIORE BIANCO, NIGHT
[The kidnapper and his cohort manhandle a drugged Vala into the back of a large white sedan driven by a third man. They burn rubber out of the driveway just as Daniel comes racing out the door. He finds the flower Vala had been wearing in her hair lying on the ground and picks it up, clearly upset.]
INT-TRUST LAB INSIDE WAREHOUSE
[Vala is strapped to a gurney with leather restraints. She awakens groggily and pulls at her left wrist. As she looks down, she notices a large Band-Aid on her upper arm. A blonde woman in a business suit steps toward her.]
ATHENA
I apologize for that. The surgery was performed in a moving car. They were more concerned about removing the subcutaneous transmitter than being gentle about it.
[Vala looks around the room, getting her bearings. There are two men, an operative and Weaver, standing in front of an array of computers and other devices, but little else.]
VALA
(to Athena)
Do I know you?
ATHENA
You did. A long time ago.
(her eyes flash gold - she is a Goa'uld)
Qetesh, the Goa'uld that once occupied your body, was a rival of mine. She was a very intelligent adversary, which is why I eventually decided to partner with her. In retrospect, it's also the reason I should have been more careful about trusting her.
VALA
As the host to her Goa'uld, I was an unwilling participant in many of Qetesh's thoughtless actions, so if this is (laughs nervously)
a revenge thing, your anger is, well, misplaced.
ATHENA
This isn't 'a revenge thing'.
VALA
(disheartened)
Oh.
[Athena nods to Weaver and he comes around the workbench to the other side of the gurney.]
ATHENA
This is a search for answers. My position in the Trust has afforded me considerable resources.
[Weaver presses a Tok'ra memory device into Vala's temple.]
VALA
Ow. OW!
ATHENA
Ever since I heard that you joined Stargate Command, I've been watching and waiting for an opportunity... which finally presented itself tonight.
VALA
What exactly do you want from me?
ATHENA
The code. To an Ancient tablet that I helped Qetesh locate long ago. A treasure map of sorts. She was supposed to share it with me, but instead decided to keep it for herself. From what I understand, she was never able to decipher it. I'd like that opportunity.
VALA
(shrugging)
To be honest, it doesn't ring a bell.
ATHENA
That's because you suppressed many of the details from your time as Qetesh. The full genetic memory of the Goa'uld would drive your inferior human mind insane. Luckily, we have this device to help us find what we're looking for.
[Vala resumes looking around the room for a means of escape. Her attention is drawn to a metallic device that is clearly not from Earth. The operative manipulates its controls.]
OPERATIVE
(to Athena)
This'll take a while.
ATHENA
I'll leave you to it, then.
[She gives Vala one last nasty smile as she leaves. Vala is understandably nervous.]
INT-SGC, LEVEL 16 CORRIDOR
[Personnel go about their business. Daniel and General Landry converse as they walk purposefully through the corridors. Not much time has passed, because Daniel is still wearing his clothes from the restaurant.]
LANDRY
We've got the local authorities searching the area and conducting interviews with every possible witness. So far they've come up empty.
DANIEL
General, there's no question the Trust is behind her disappearance. I mean, they're the only ones with the resources capable of pulling something like this off.
LANDRY
Agreed. I've already put a call through to Agent Barrett. He's got his people working on it. We'll find her.
[Daniel shakes his head in frustration as they walk past the elevator and continue up the hall.]
INT-TRUST LAB INSIDE WAREHOUSE
[Vala moans and struggles against her bonds as images from her time as Qetesh's host play randomly in her mind.]
WEAVER
We're starting to get images from her suppressed memory.
[Short scenes from Qetesh's life flash on the screen of a laptop: the throne room on P8X-412, a sarcophagus chamber, a fleet of death gliders passing in front of a sun. Along the left side of the screen, there are boxes of text in English and Ancient.]
WEAVER
(to Operative)
Dial it down.
[Vala pants and blinks rapidly as she once again becomes aware of her surroundings. Weaver walks around the workbench to her side.]
WEAVER
(conversationally)
How're you feeling?
VALA
A little dizzy. A little tired. And very, very angry.
WEAVER
Oh, that's because the flashbacks you're experiencing are dredging up some long-buried emotions that may be coloring your conscious mind.
VALA
I'm gonna kill both of you in the most painful way possible.
WEAVER
Things'll go a lot faster if you just relax.
(to Operative)
Whenever you're ready.
[The operative reactivates the memory device, and Vala groans and grimaces in pain.]
EXT-CHEYENNE MOUNTAIN COMPLEX, DAY
INT-DANIEL'S OFFICE
[Daniel sits at his workbench, lights blazing and books lying open on top of each other. Daniel has his elbow propped on the tabletop and his head resting on his hand. He's presumably been working all night and fallen asleep where he's sitting. Mitchell walks in, startling him awake.]
MITCHELL
Jackson! Rise and shine.
DANIEL
What is it? Wh- what's, what's goin' on?
[Daniel finds his glasses and slides them on.]
MITCHELL
Barrett, he came through for us. Just sent over a list of suspected Trust safehouses. Hopefully our girl's in one of 'em.
[Mitchell walks briskly out and Daniel hurries to catch up.]
INT-TRUST LAB INSIDE WAREHOUSE
[All is as before. The operative and Weaver watch more random bits of Qetesh's life on the monitor: a troop of serpent guards, someone firing a zat.]
EXT-TRUST WAREHOUSE TWO, DAY
[A heavily armed and armored assault team piles out of a black SUV to join SG-1 outside the warehouse door.]
LANDRY
(over radio)
Team One, what's your status?
[Carter gives Mitchell the thumbs-up.]
MITCHELL
(into radio)
Team One is in position.
INT-SGC CONTROL ROOM
[Landry stands at the microphone next to Harriman, who is in his usual seat at the control board.]
LANDRY
(into microphone)
Team Two?
EXT-ANOTHER TRUST WAREHOUSE, DAY
[More Air Force personnel and another assault team take up their posts.]
LEADER #2
(into radio)
Team Two in position.
INT-SGC CONTROL ROOM
LANDRY
(into microphone)
Team Three.
LEADER #3
(over radio)
Team Three is in position.
INT-TRUST LAB INSIDE WAREHOUSE
[The operative shuts down the memory device. Weaver once again goes to talk to Vala.]
WEAVER
You know what I think the problem is?
VALA
(panting)
That I can't strangle you?
[Weaver laughs at her bravado and leans over her.]
WEAVER
You're fighting the process. In the end, all you're really doing is delaying the inevitable. Why don't we try and keep an open mind? Hmm?
[Weaver nods to the operative, who starts up the device again. Weaver smiles smugly as Vala grunts and writhes.]
INT-SGC CONTROL ROOM
LANDRY
(into microphone)
All five teams are in position.
EXT-TRUST WAREHOUSE TWO, DAY
[Daniel and Mitchell take their places beside Teal'c and Carter, near the door.]
LANDRY
(over radio)
You have a go.
[Teal'c triggers a small explosive on the door lock and the teams prepare to storm the building.]
INT-TRUST LAB INSIDE WAREHOUSE
[Weaver and the operative look up from their instruments.]
WEAVER
What was that? Turn it down.
[The operative reduces the power on the memory device.]
INT-TRUST WAREHOUSE TWO
[The door flies open and Mitchell bursts in, followed closely by Teal'c, Daniel, Carter, and the assault team. Unfortunately, all they find is a flatbed truck with large, tarp-covered crates on it. The assault team fans out to secure the building just in case, but there's clearly nothing here.]
MITCHELL
Damn. Maybe they'll have better luck at the other locations.
EXT-TRUST WAREHOUSE, DAY
[The team blows the hangar-style door in the same manner as SG-1 did the normal sized one, and hurries inside.]
INT-TRUST WAREHOUSE
[The SGC personnel are met with automatic weapons' fire. They quickly take cover wherever they can - behind crates, oil drums, a car - and return fire with P-90s and zats. Men on both sides go down in the firefight.]
INT-TRUST LAB INSIDE WAREHOUSE
[Weaver and the operative hear the gunfire and immediately react.]
WEAVER
(to Devon)
Cover the door.
OPERATIVE
Right.
[He grabs a handgun and moves to do so as Weaver starts undoing Vala's bonds. The operative fires a few shots, but is taken down by a zat blast. Frantic, Weaver moves to the workbench to shut down the equipment, but as he does so, the same airman rushes into the doorway and zats him. The energy runs through his body and into the memory device controls, shorting them out in a cloud of sparks and smoke. The corresponding device on Vala's head surges as well, and she regains awareness after a moment, though she looks confused. The Air Force leader moves to free her feet.]
LEADER #2
(to Vala)
It's all right. We're here to help.
[As Vala rips off the leads to the medical equipment, the airman is shot twice in the back. Weaver has recovered enough to get at his pistol, but promptly passes out on the floor.]
INT-WAREHOUSE
[The Trust minions and Air Force team continue to shoot at each other.]
INT-TRUST LAB INSIDE WAREHOUSE
[Vala springs off the gurney, pulling the memory device out of her temple as she goes.]
INT-TRUST WAREHOUSE
[Another Trust operative is shot down as Vala makes a break for it.]
EXT-TRUST WAREHOUSE, DAY
[Vala crashes through a glass door onto the sidewalk. Two members of the assault team stationed at the larger door recognize her then turn their attention back to the immediate threat. As Vala gets up and starts to run away, a huge, fiery explosion rips through the warehouse and obliterates the guards. She looks around in a panic and heads off down the street.]
EXT-CHEYENNE MOUNTAIN COMPLEX, DAY
INT-SGC BRIEFING ROOM
[SG-1 and Landry are seated at the table in the aftermath of the warehouse strike.]
CARTER
Four out of the five safehouses we hit were empty. Only one, it turned out, was still in play, and that was SG-15's. We lost them and three members of the local team. One Trust operative survived the explosion with minor injuries. He confirmed that the place was rigged to blow in the event it was stormed. He also confirmed that Vala was being held at that location.
DANIEL
So it's possible they moved her before the place was raided.
CARTER
Unlikely. They wouldn't have had the time. Besides, the guy we caught claims he saw Vala making a run for it.
DANIEL
Then she could've gotten out on her own.
[Carter nods.]
TEAL'C
If that were the case, why has she not yet attempted to contact us?
[At a loss for an explanation, Daniel lets out a heavy sigh.]
EXT-SOL'S DINER, DAY
[Vala, looking very lost and a little cold, walks along the sidewalk and stops in front of the diner. She appears a bit more hopeful as she cautiously walks toward the door and goes in.]
INT-SGCSGC INTERROGATION ROOM
[Weaver sits handcuffed at a table. He has some scratches and bruises, but the worst visible wound is held together with just a few butterfly bandages. Daniel sits across from him. An SF stands guard in a corner, while Teal'c backs up Daniel. Carter and Mitchell watch from the observation room above.]
DANIEL
So, what did you want with her? I mean, what exactly was going on in that warehouse?
WEAVER
(exasperated)
Look, I already told you...
(to Carter and Mitchell)
I can't say!
(to Daniel)
It's not that I don't wanna help you, but right now I'm more concerned for my well-being.
DANIEL
We can protect you.
WEAVER
No, you can't!
DANIEL
(cheerily)
Okay.
[Daniel gets up to leave.]
DANIEL
(to Teal'c)
He's all yours.
[Daniel slaps Teal'c on the shoulder and steps to the doorway. In the observation room, Carter and Mitchell head for the door, as well, their expressions regretful.]
WEAVER
(nervously)
Where're you going?
DANIEL
I'll be out in the hall; just yell loudly if you need me.
[The blast door slides shut. Carter and Mitchell exit the observation room. Teal'c walks toward Weaver, calm, silent, and menacing.]
WEAVER
Don't bother. Your Jaffa interrogation tactics won't work.
[Teal'c just stares at him appraisingly and paces around the end of the table.]
WEAVER
(with false bravado)
Believe me, I've seen some pretty horrible things in my life. You can't break me.
[Weaver sets his jaw and stares straight ahead, determined to withstand whatever physical torture might be inflicted on him. Teal'c simply steps up next to his chair and leans down to whisper in his ear. Whatever it is Teal'c has to say obviously makes an impact. Weaver is horrified.]
INT-HALLWAY OUTSIDE INTERROGATION ROOM
[Daniel, Carter and Mitchell stand by the door, waiting for Teal'c to do his thing.]
CARTER
A member of this facility gets kidnapped unchallenged, it's no wonder he doesn't think we can protect him.
DANIEL
But we can protect him.
CARTER
Yeah, by locking him away for the rest of his life.
[Daniel nods.]
MITCHELL
What can you say? There's a downside to workin' for super-villains. Well, this is probably gonna take a while. What d'you say we grab a bite to eat?
[Just then, the blast door opens and Teal'c steps out. The rest of the team is surprised.]
CARTER
You're done?
TEAL'C
He was surprisingly forthcoming.
INT-SOL'S DINER, DAY
[Vala sits at a table, finishing a meal with enthusiasm. She licks her fingers and then dries them with her napkin. The middle-aged waitress, wearing the same uniform Vala will end up donning, sees that she's done and slides the check onto the table.]
WAITRESS
Whenever you're ready, honey.
[Vala looks around nervously. One of the people at the counter turns around; he has a police badge clipped to his belt. Taking a moment to steel herself, Vala gets up and heads calmly for the door. She's brought up short when Sal steps into her path, as if knowing what she is about to do.]
SAL
(friendly)
How ya doin'?
VALA
(sunnily)
How are you doing?
SAL
Ah, terrific. I'm Sal, the owner.
VALA
Sal, the owner... of Sol's Diner.
SAL
Yeah, Sol was the original owner. I bought the place from him.
VALA
Oh.
SAL
So, how was lunch?
VALA
Delicious.
SAL
(getting serious)
Delicious enough to... pay for?
VALA
Yes. If I had the money, I would certainly have paid for that meal and given the lovely waitress a sizable gratuity.
[Sal looks at her in disbelief.]
VALA
The service was impeccable.
SAL
Look, lady, everybody's got problems. I got rent on this place, a mortgage, a wife, three kids, and a Shih Tzu with a recurring gastrointestinal condition that requires a very specialized diet. Alright?
VALA
(meekly)
Okay. I'm sorry for trying to cheat you.
[She shrugs helplessly.]
SAL
O-okay, alright, look. If I let you leave, can I trust you to come back with the money you owe me?
VALA
No.
SAL
No? What d'you mean 'no'? You tellin' me you can't be trusted?
VALA
Truthfully?
(sits against on a nearby table)
I don't know. I- I don't remember. I have no idea who I am, much less what I am capable of. All I know for certain is that, about an hour ago I was lost, hungry and drawn to the delightful aroma of the blue plate special.
SAL
(laughing)
Is this a joke?
VALA
(very serious)
I have absolutely no memory of my life prior to wandering in here.
SAL
(concerned)
If that's true, we need to get you to a hospital.
[Sal puts his hand around Vala's wrist, and she looks down in alarm. The sensation causes her to have a flashback to when Weaver and the operative strapped her to the gurney in the lab. She tries to pull out of Sal's grip.]
VALA
(frightened)
No hospitals!
SAL
Whoa, whoa. Whoa. Hang on.
[The policeman at the counter, Detective Ryan, gets up to intervene.]
RYAN
Hey. Everything okay here, Sal?
SAL
Yeah, everything's fine.
[Ryan doesn't look convinced.]
SAL
(insistent)
Don't worry about it.
[Ryan still looks doubtful, but he sits down and goes back to his newspaper.]
VALA
(whispering)
Let me go.
SAL
Go where?
VALA
Please.
SAL
What, y- you got a home? You got a family?
VALA
I don't know. I would pay you back. I would. Just right now I don't have the means.
[Sal sighs, sympathetic.]
SAL
Maybe I can do somethin' to help ya.
[He pats her shoulder. Vala looks at him uncertainly.]
INT-DANIEL'S OFFICE
[By the light of a desk lamp, Daniel sits at his desk, contemplating what looks like a leather bound journal. Mitchell gets his attention from the door before entering.]
MITCHELL
Jackson. How's it goin'?
DANIEL
Well...
(sighs)
From what we learned from the Trust operative, and the information provided to us from the Jaffa and the Tok'ra, this is what I've been able to piece together so far.
[Daniel stands and meets Mitchell at the workbench, which is strewn with open books, some face-up and some upside-down. He pulls out various tomes from the mound to illustrate his story as he tells it.]
DANIEL
Athena, Greek goddess of war, a.k.a. Charlotte Mayfield, a.k.a. the Goa'uld responsible for kidnapping Vala. Now, according to what I've learned, she was a minor player who rose to mid-tier status by pursuing alliances with more powerful rivals: Cronos, Camulus, Svarog, and even Anubis when he was first on the outs with the System Lords.
MITCHELL
So, her partnering up with Vala is just her latest power play?
DANIEL
No, it's more than that. See, we know Athena was once allied with Qetesh, the Goa'uld that formerly inhabited Vala. See, apparently, Qetesh double-crossed her when they partnered up to search for the Clava Thessara Infinitas...
[Daniel plops a book in front of Mitchell. It's written in Ancient, but the illustration in the middle of the page shows a figure holding up a large stone with a shining square within it.]
DANIEL
...the Key to Infinite Treasure. Now, according to legend, it would allow he who possesses it entry to a vast storehouse of riches hidden away by the Ancients prior to their ascension.
MITCHELL
Wow, that's big.
DANIEL
Yeah, and by all indications nothing but an elaborate hoax.
MITCHELL
So they didn't find it?
DANIEL
No, but for some reason Qetesh wanted Athena to think she had. Athena believed her, which is why she went after Vala. And she used Ba'al's resources here on Earth to get her.
(realizing)
Which reminds me, I'm supposed to check in with Major Harper.
[Daniel walks over to his desk.]
DANIEL
He's got people querying hospitals in the area where Vala disappeared. It's possible that she may have been injured and has been unable to contact us.
[Daniel puts the phone to his year.]
MITCHELL
(uncomfortable)
Hey, listen, I, um... I spoke with the Medical Examiner's office. They're doing DNA testing on the remains recovered at the blast site. But it's gonna take a while.
[Daniel puts the phone down, appearing worried.]
DANIEL
You know, when Vala first disappeared, when the Ori gate was destroyed, I refused to write her off. Although the odds were against it, I believed somehow she'd found a way to survive. And it turned out I was right. I wanna be right again.
[Mitchell gives him a tiny, sympathetic nod.]
MITCHELL
Sure. I just figured you should know.
DANIEL
(subdued)
Yeah. Thank you.
[He puts the phone to his ear and dials. Mitchell turns to leave, contemplative.]
DANIEL
Major Harper, please.
EXT-OFFICE BUILDING, DAY
[A very tall building that looks like it was put up in the 1980s rises into the cityscape.]
ATHENA
(voiceover)
I don't care what the so-called experts have to say.
INT-OFFICE BUILDING
[Athena, in her Charlotte Mayfield persona, is on the phone, a wireless headset hooked over one ear.]
ATHENA
I want you to free up the capital and move it into a company called Berringer Consolidated.
[Devon, a young Trust operative in a business suit, enters her office.]
ATHENA
I have it on good authority that they'll be announcing a major breakthrough before week's end.
(listens)
All right.
[She hangs up the phone and nods to her visitor.]
DEVON
The DNA results are in. They were able to ID twelve victims, none of them our girl. My guess is there wasn't enough of her left to run tests on.
ATHENA
Or there wasn't anything left because she didn't die in that explosion.
DEVON
If she got out, she would've gone straight back to Stargate Command. They wouldn't still be looking for her.
ATHENA
I don't know. Maybe you're right. Maybe she is dead.
[Devon smiles slightly.]
ATHENA
But until we have confirmation, I want you to keep looking for her, too.
[He deflates a bit, but nods in acquiescence and leaves to get back to his work.]
TWO WEEKS LATER
EXT-SOL'S DINER, DAY
[The day is overcast. A woman hurries past.]
INT-SOL'S DINER
[Vala, now in her waitress uniform, goes from her customers at the counter to the pass-through window. She clears her throat to get Sal's attention.]
VALA
Okay. Dead cow on a turban, hold the yellow, extra spud mush.
[She tears off the order slip and slaps it down on the pass-through.]
SAL
(pleased)
Whoa-ho! Listen to you. You've been practicing. Very nice.
[Vala curtsies playfully. As she puts her order book into her pocket, she's hit with a series of Qetesh flashbacks: a sarcophagus, a serpent guard zatting a prisoner, a ring transport beam, two Jaffa marching down a hallway, a Horus guard, a contingent of serpent guards. Vala sways on her feet.]
SAL
Val, you okay?
[He rushes out of the kitchen to check on her. She snaps out of her trance when he touches her shoulder.]
SAL
Hey. You all right?
[She nods woozily.]
SAL
Is it that visions thing again?
[Another nod.]
SAL
Ah. Look, I told you, you should go get yourself checked out, honey.
[Vala shakes her head vehemently.]
VALA
No.
[Sal sighs in exasperation.]
VALA
Sal, what am I doing? Working here, sleeping out the back, watching reruns of The X-Files in my spare time. I appreciate everything you've done for me, but... I've gotta tell you, I've been thinking about leaving.
SAL
So, where you gonna go?
VALA
I don't know. But this isn't my life. It just doesn't feel right.
SAL
Trust me, sweetheart, running away isn't gonna make things better for you. Workin' tables here, it may not feel right, but at least you got a roof over your head, and some friends who care about you.
[Vala smiles a little.]
SAL
May not feel like your life right now. Just give it some time, okay?
[Vala considers it, snapping her gum.]
VALA
(quietly)
Okay.
SAL
Good. Now, get back to work before I fire your butt.
VALA
Oh.
[She scampers off to attend to her customers as Sal retreats to his kitchen. Meanwhile, two shady-looking men are checking out the diner through one of the windows. Vala steps up to a table in the middle of the room where a couple is sitting with their two young boys.]
VALA
Hello, and welcome to Sol's Diner. I'm Val.
(she moves her hair to reveal her nametag)
I'll be you waitress today. Have you had a chance to look over the menu?
[In the kitchen, Sal is frying up a couple of hamburger patties. Unbeknownst to him, the shady men come in the front door; the taller one pulls a gun from the back of his waistband.]
GUY #1
(shouting)
All right, wallets and purses on the tables in front of you, now!
[Sal turns to the prep station where he grabs a cleaver and a large chef's knife. Hearing the sounds of a fight, he tosses the knives onto the counter and grabs a large meat mallet instead, giving it a test swing before he rushes out into the dining room. By the time he gets there, Vala has subdued both robbers and is holding a gun on one of them. A single saucer spins on the linoleum. The diner's patrons look on in shock.]
SAL
(softly)
What did you do?
VALA
(shaking her head)
I don't know.
INT-POLICE STATION
[Detective Ryan sits at his desk as Vala stands nervously near the doorway, looking out through the glass into the office area. She has been brought in to give a statement about the attempted robbery at the diner.]
RYAN
Okay. Name?
VALA
You know my name. You're a regular at the deli.
RYAN
So, what, is Val short for Valerie?
VALA
Okay. Yes, Valerie.
[Ryan shakes his head at her demeanor, but writes it on the form anyway.]
RYAN
Last name.
VALA
Todad.
[Ryan starts to write it on the form, but hesitates. Vala snags a candy out of a container on the desk and plops herself in a chair, eyeing him nervously.]
VALA
Valerie Todad.
[Noting Vala's line of site, Ryan turns to the bulletin board on his wall. There are photographs and hand-drawn pictures. Right in the middle is a child's drawing of a cat that bears the inscription 'To Dad'. He blinks and turns back to Vala.]
RYAN
Look, Val, is there any reason why you don't want me to know your real last name?
[Vala shakes her head.]
VALA
No, of course not. I'm just... a very private person.
(makes a face at the candy in her hand)
Would you mind if I took a moment to freshen up?
[She tosses the candy in the garbage and looks at him expectantly. Ryan considers for a moment, then picks up his mug.]
RYAN
Sure, I need coffee anyway.
[They walk through the main room. Ryan stops at the coffee maker and points down the hallway.]
RYAN
Straight ahead, second door on your left.
[Vala strides down the hall, glancing furtively at the officers all around. When she reaches the ladies' room, she looks back to see if Ryan is watching. He is. She points to the door and gives a falsely cheerful laugh. She grits her teeth and reaches for the door just as a uniformed officer is coming out.]
VALA
Oh. Sorry.
[Vala hurries into the bathroom and locks the door. She goes to the window, obviously intending to flee, but it's covered in plexiglas and secured with padlocks. She leaves the bathroom. Ryan is no longer standing right where he can see her, so she heads down the hall away from the squad room. When she opens the door to the stairwell, Ryan is waiting for her with a disapproving look on his face.]
VALA
Oh. Hello.
(falsely)
I didn't know how long we were going to be, so I was just going out to get us some lunch.
[Ryan looks at her dubiously. Vala's smile falls.]
INT-POLICE STATION, A LITTLE LATER
[Ryan hands a Jane Doe notice with Vala's picture and description on it to an officer.]
RYAN
Run it through the channels, see if anything comes up.
[He goes back into his office where Vala is waiting.]
VALA
(pleading)
I don't understand. I didn't do anything illegal. I didn't hurt anyone. Well, apart from those two fellows who, from what I understand, I was totally within my rights to hurt.
RYAN
Witnesses say you took 'em both down without even breaking a sweat. How'd you manage that?
VALA
Instinct.
RYAN
No, I think training. Don't suppose you wanna tell me where you learned those moves?
[Vala winces, but says nothing.]
RYAN
That's what I thought.
[They both sigh in frustration.]
INT-LANDRY'S OFFICE
[Sergeant Harriman strides down the hallway, brandishing a sheet of paper. He enters the office, where Landry is consulting with another noncom.]
HARRIMAN
Sir.
LANDRY
What is it, Chief?
HARRIMAN
I thought you should see this.
[He hands the paper to Landry. It's the Jane Doe notice for Vala.]
EXT-OFFICE BUILDING, DAY
ATHENA
(voiceover)
Listen to me. This is what you're going to do.
INT-OFFICE BUILDING
[Athena is on the phone again. Devon enters, but doesn't interrupt. He pulls a sheet of paper out of his portfolio and waits.]
ATHENA
(into phone)
You're gonna sell all of our remaining stock in Berringer Consolidated. I have it on good authority that they're about to be rocked by a major accounting scandal that will-
[She stops as she sees what Devon is holding up. It's the Jane Doe notice for Vala.]
ATHENA
(into phone)
Nathan, I'm gonna have to call you back.
INT-POLICE STATION
[Ryan sits down at his desk, looking somewhat worried.]
VALA
What is it?
RYAN
We got a call. Apparently, some people are looking for you.
VALA
(sitting up straighter)
Who?
RYAN
The United States Air Force. They're sending a Colonel Carter to pick you up.
VALA
(frightened)
No.
RYAN
(confused)
What do you mean, 'no'?
VALA
I'd rather stay here. If you need me to commit a crime, I'd be happy to oblige.
RYAN
Look, Val, I don't pretend to know what you're all about, but when people start throwing around words like 'national security', there's not a lot I can do.
VALA
(resigned, pleading, voice shaking)
All right, I'll be honest with you. The reason why I can't tell you who I am is because I don't know. I don't remember. I- I don't know where I'm from. I'm not even sure if Val is my real name. My memory only goes as far back as that day two weeks ago when I wandered into the deli for a lunch I couldn't pay for. I don't remember any of my life before that. Although, I do have flashbacks. Occasionally they're... terrifying, like something out of a horror movie. But they don't make much sense. I was hoping that sooner or later my memories would just come back, or that something would help remind me of who I really am, but... After what happened today, I'm not sure I want to know anymore.
[Ryan's expression is unreadable, but Vala's is desperate and hopeful.]
RYAN
You know, Val, it'd be a lot easier if you'd just be honest with me.
[Vala drops her head to the desk in frustration. Behind her a woman and a man, both in Air Force uniforms, walk through the squad room toward the office. The woman is forty-ish with short blonde hair. She flashes a badge as she enters.]
FAKE CARTER
I'm Colonel Carter. I'm here to take custody of the prisoner.
[Vala's head pops up at that last word.]
VALA
Prisoner?
RYAN
(standing)
You mind telling me what this is all about?
FAKE CARTER
The government has been looking for Ms. Mal Doran for a while now.
[The other "officer" pulls out a set of handcuffs and walks around behind Vala's chair.]
RYAN
Why? What did she do?
FAKE CARTER
I'm sorry, Detective, that's classified.
[The "officer" hauls Vala to her feet and snaps on the cuffs.]
VALA
(to Ryan)
Don't let them take me away.
FAKE CARTER
We appreciate you cooperation in this matter, sir.
[They drag Vala toward the door.]
VALA
No. No, no, please.
(almost crying)
Mr. Ryan?
[Ryan watches uncertainly as they pull her out of the office. Through the window, he sees them put her into the back of a black sedan and drive away. He looks into his coffee cup and realizes it's empty again. Ryan walks into the squad room. An officer is booking a man with a bloody bandage on his nose. SG-1, all in civilian clothes, come up behind Ryan as he's getting more coffee.]
CARTER
Detective Ryan? Hi.
(flashing her ID)
I'm Lieutenant Colonel Samantha Carter, United States Air Force. We're here for the Jane Doe you've been holding.
RYAN
(confused)
Another Colonel Carter just picked her up.
DANIEL
When?
RYAN
About a minute ago. Yeah, there were two of 'em. You must've passed them on your way in here. Black sedan, government plates?
[SG-1 hastily turns to leave.]
RYAN
(calling after them)
They were headed for the freeway.
EXT-POLICE STATION, DAY
[SG-1 runs toward the parking lot, but their SUV is blocked in by a patrol car. A couple of officers are standing near a third vehicle.]
CARTER
(shouting)
We need you to move that car!
[Mitchell motions for the rest of the team to stay where they are. He pulls out his ID and runs over to a man getting on a motorcycle, grabbing the helmet out of his hand.]
MITCHELL
I'm commandeering your bike. Get off.
[Mitchell cranks up the bike and peels out of the lot, popping a wheelie in his haste.]
EXT-HIGHWAY, DAY
[Mitchell tears down the road in pursuit of the black car. He weaves in between vehicles and rides the lane lines, narrowly avoiding several collisions. He nearly catches up to the sedan, when it takes the Surrey exit from the highway. Mitchell follows.]
EXT-BACK ROAD, DAY
[The black sedan drives quickly, but its occupants don't yet appear aware that they're being followed. Mitchell pursues but hasn't quite caught up.]
INT-BLACK SEDAN
[Vala is in the back seat, her hands hand-cuffed in front of her. One operative drives, while another sits beside her. The fake Carter sits in the front passenger seat.]
VALA
Why won't you tell me where we're going?
[The Trust operatives ignore her. Suddenly, she drives her elbow into the face of the man next to her, then loops the chain of her handcuffs around the driver's throat. He swerves wildly as he and the fake Carter fight to regain control of the car.]
EXT-BACK ROAD, DAY
[Behind the car, Mitchell is closing the distance. Vala continues choking the driver. As the car comes to an intersection, it flips over several times and skids to a stop on the grassy shoulder. Mitchell pulls the motorcycle to a stop in the middle of the intersection and gets off. He pulls a handgun out of the back of his pants and starts toward the car. The rear door opens and Vala stumbles out, raising her hands.]
MITCHELL
(relieved)
You all right?
[Seeing that Vala's still wary, he lowers his gun and holds out his other hand.]
MITCHELL
Hey, everything's gonna be okay.
[The operative from the back seat pops up from behind the car. Mitchell instinctively shoots him, but the operative manages to hit him in arm as well. Mitchell falls to the pavement.]
MITCHELL
Augh! Son of a- Mother-
[Mitchell drops his gun beside him and grabs his injured arm. A young man in a beat-up blue car pulls up to the intersection. Seeing the smoking car, he stops and gets out. Vala grabs Mitchell's gun and points it at him.]
DRIVER
Is anybody hurt?
[Vala points the gun at the concerned driver. He hastily puts his hands above his head.]
VALA
(calmly)
Throw me the keys.
[He does so.]
VALA
Run away.
[The driver turns back the way he came and starts running. As she hurries toward the blue car, Mitchell becomes aware of what she's doing.]
MITCHELL
Vala, wait!
[Vala cautiously walks back to Mitchell, keeping the gun pointed at him.]
VALA
What did you just call me?
MITCHELL
Vala.
VALA
Get up.
[Mitchell hesitates, still in pain.]
VALA
Get up!
[Reluctantly, he rolls to his feet. They get in the blue car, Mitchell in the driver's seat and Vala next to him, gun still aimed in his direction.]
MITCHELL
Where're we goin'?
VALA
Just drive.
MITCHELL
Y'know, I'm bleeding here.
VALA
Shut up.
[Mitchell puts the car in gear and turns right, heading back down the road they came in on.]
EXT-MOTEL, DAY
[The blue car is parked outside a motel room.]
INT-MOTEL ROOM
[Mitchell is asleep on the bed wearing nothing but his underwear, watch, and dog tags. He's a little bruised, and there's a blood-stained towel under his left arm. The bullet wound appears to be a long graze. As he wakes up, he realizes that his right wrist is handcuffed to the headboard.]
MITCHELL
Oh, boy.
[Hearing him stir, Vala comes out of the bathroom tearing strips of cloth - probably from a sheet or pillowcase - in her hands.]
VALA
What are you doing?
MITCHELL
Checking to see if I still have both of my kidneys.
[Vala comes to sit in the chair next to the bed.]
MITCHELL
Vala, what the hell's goin' on here?
VALA
You know me?
MITCHELL
Yeah, of course. Why?
[Vala begins wrapping the makeshift bandages around his wounded arm. Mitchell flinches.]
MITCHELL
Ah-ugh.
(realizing)
You don't remember me?
VALA
I don't remember much of anything. Least of all who I am, or why everyone is after me. That's why I brought you here. You're going to supply me with some much-needed answers.
[Vala knots the bandage around his arm tightly.]
MITCHELL
Aaah. You know, maybe we should call the rest of the team; they're generally better at answers.
[Vala just stares at him expectantly.]
MITCHELL
(resigned)
Okay, here goes. Your name is Vala Mal Doran. You're a member of Stargate Command, a top secret facility located beneath Cheyenne Mountain. It's the command center for a military organization responsible for offworld exploration and reconnaissance by means of a device known as a Stargate, a portal which allows near-instantaneous transport between planets.
[Vala picks up one of Mitchell's dog tags, reads it, but drops it again as he finishes his spiel.]
MITCHELL
How'm I doing so far?
VALA
Not good.
[She puts another knot in the ends of his bandage.]
MITCHELL
I know it sounds crazy, but it's the truth.
VALA
(humoring him)
Hm. Okay. So, we're space explorers?
MITCHELL
Well, technically, me and my team are the explorers. You're just... along for the ride, because... Well, you're not originally from this planet; you're an alien.
[Vala gets up, rolling her eyes, and goes to the pile of Mitchell's clothes near the desk. She pulls his wallet out of his pants, and sits back in the chair to go through it.]
MITCHELL
(placating)
And I mean that in the nicest possible way! Y'know, when you say 'alien', people think green skin, four eyes, tentacles, what have you, but the- the reality is very, very different.
VALA
(dismissive)
Mm-hm. I'm borrowing some more money.
MITCHELL
(pressing on)
Look, take you, for example. You're human. Hell, you're more human than most of my neighbors, especially that guy in 304.
[Vala pulls a handful of bills out of his wallet and heads for the door.]
VALA
I'll be back.
MITCHELL
Look, since you're part of the team maybe you should think about-
VALA
Won't be long.
MITCHELL
-trusting me?
[The door slams behind her. Mitchell gives the handcuffs a futile shake.]
MITCHELL
Or uncuffing me? Or giving me my pants back?
INT-POLICE STATION
[Detective Ryan is interviewing the owner of the blue car Vala stole.]
RYAN
Okay, just wait right here. I'll be right back.
[Ryan walks out into the squad room where Carter, Teal'c and Daniel are waiting.]
RYAN
Well, he's of no help. All he remembers was the gun, and then he was off to the races.
TEAL'C
Presumably you are searching for the missing vehicle.
RYAN
We got all available units looking. In the meantime, it turns out the deceased in that overturned sedan were all carrying phony ID.
[Carter rolls her eyes; none of the three appear surprised.]
RYAN
The license plate was also bogus. As for the car itself, it was a company vehicle registered to a...
(checks his notes)
...Forsythe Chemicals. But that's a dead end because, apparently, they reported the car missing this morning.
DANIEL
(dryly)
Of course they did.
[Carter's cell phone rings, and she pulls it out of her jacket.]
CARTER
(into phone)
Carter.
(listens)
All right. Thank you.
(hangs up)
We got a lock on Cam's transmitter.
(to Ryan)
Thank you, Detective.
[The team turns to leave.]
RYAN
Yeah, sure. Anytime.
INT-MOTEL ROOM
[Mitchell is still handcuffed to the bed but has pulled the bedspread up over himself. The door opens and Vala enters, carrying a paper grocery bag.]
MITCHELL
Okay, I think I've figured out what happened to you, why you don't remember anything.
VALA
(sarcastically)
Oh, good. Does it involve an alien abduction?
[She sets the bag on the desk where it promptly tips over, spilling junk food in individual wrappers onto the desk. Vala plops down on the chair.]
MITCHELL
Well, in as much as that you're an alien who was abducted, yes.
[Vala props her feet up on the desk and grabs something that looks like a waffle drizzled with chocolate. She opens the wrapper and starts eating.]
MITCHELL
You were undergoing a procedure which was designed to dig up some of your suppressed memories. The scientist that we captured told us that, during the procedure, the device was destroyed, which allowed you the opportunity to escape.
VALA
(dubious)
From the aliens?
MITCHELL
No, they weren't aliens. Though they're working for an alien, but that's not really important.
VALA
(pausing from eating)
Vala isn't a particularly alien name.
MITCHELL
(pressing on)
So I'm thinking that this device was in the middle of digging up these suppressed memories when - bam - it overloads and fries your brain. So instead of helping you remember, it actually made you forget. Everything.
[Vala ignores him in favor of reading the ingredients on her snack's label.]
VALA
Disodium guanylate. That would make a great alien name, don't you think?
MITCHELL
(sighs)
I can understand why you might be having difficulty believing what I'm telling you. But there is one thing you cannot deny. There are some very, very bad people after you.
[Vala gets up and crosses to the bed, still eating her waffle thing and bearing a package of Twinkies.]
VALA
Mm. And how do I know you're not one of them?
[She sits next to him.]
MITCHELL
Because I saved you from them!
VALA
What if they were trying to save me from you? How am I supposed to know?
MITCHELL
Let me take you back to Stargate Command. We have a device that can help you remember.
VALA
I thought you said the device was destroyed.
[Mitchell tugs at the headboard in frustration.]
MITCHELL
It's a different device. It's one I brought back from another planet last year.
VALA
Oh, good. Were they having a sale?
[Vala pulls a Twinkie out of the package and shoves it in his mouth.]
MITCHELL
Mmph.
EXT-BACK ROAD, DAY
[A nondescript silver sedan drives down the road.]
INT-SILVER SEDAN
[Devon from Athena's office is in the passenger seat, talking on his cell phone. Another man drives.]
DEVON
(into phone)
Understood.
(hangs up)
We intercepted a communication from Stargate Command. They've found him. Turn around.
EXT-BACK ROAD, DAY
[The silver sedan come to the intersection, which has now been cleared, and makes a U-turn. It speeds back the way it came.]
INT-MOTEL ROOM
[The door bursts open. Teal'c, Carter and Daniel burst in wielding zats. They stop in utter confusion as they see Mitchell, shirtless and handcuffed to the bed. He's channel surfing, eating, and surrounded by the detritus of several snack cakes. He waves with his cuffed hand.]
MITCHELL
This, uh... isn't what it looks like.
[The other three stare at him intensely. He pulls the bedspread up over his chest.]
EXT-SUBURBAN STREET, DAY
[Slowly and warily, Vala walks along a narrow street between an apartment building and a warehouse surrounded by a chain-link fence. Seeing a police cruiser at the next intersection, she slips through the gate and heads toward the warehouse.]
INT-MOTEL ROOM
[Mitchell has been released from the handcuffs and is finishing getting dressed. Daniel is on the phone, and Teal'c is reading the back of one of the snack cakes. Mitchell turns to find Carter watching him with a smirk on her face.]
MITCHELL
What?
CARTER
(innocently)
Nothin'. I just think it's funny how you're always losing your pants.
[Mitchell picks up his jacket and gingerly pulls it on, careful of his wounded arm.]
MITCHELL
I'm not always losing my pants. It's happened twice. Twice is not always.
DANIEL
(into phone)
Okay, thank you.
(hangs up)
Uh, we've got something on Vala.
INT-WAREHOUSE
[Tall industrial shelving holds crates, 50-gallon drums, etc. The hangar-style door slides open and SG-1 enters cautiously, all carrying zats. They start to spread out and search the building.]
DANIEL
(shouting)
Vala? Vala, it's me, Daniel. We know you're in here. There's nowhere else you could've gone.
MITCHELL
(also shouting)
Vala!
[Mitchell sees a shadow moving on the far wall and starts towards it.]
DANIEL
Vala? I know you're scared. But we're not here to hurt you. We can help you remember.
[On the other side of the room, a gunman kneels atop a shipping container. Teal'c sees him just as he raises an automatic weapon.]
TEAL'C
Colonel Carter!
[Teal'c and Carter take cover behind some crates as the gunman starts firing at them. Daniel and Mitchell hear the commotion, but they've got problems of their own. Devon pops out from behind a stack of building supplies and opens fire on Mitchell. He ducks behind a pair of barrels, and fires back with his zat, but misses. In a dark corner, Vala pulls the handgun from the back of her jeans and pulls the slide. Carter takes out her shooter with a zat blast and moves closer to get a better angle on two more on the next container over. Mitchell and Devon continue trading fire. Vala makes a run for the door, but Daniel steps into her path. They're in a standoff, pistol vs. zat.]
VALA
Get out of my way.
[Daniel shakes his head.]
VALA
(insistent)
Get out of my way, or I will shoot you.
[Daniel loosens his grip on his zat and drops it to the floor. He raises his hands, but makes no move to let her leave. Meanwhile, Mitchell zats the metal shelving the operative is behind, and the blast travels down the metal to knock the operative out.]
DANIEL
(soothingly)
You don't remember who you are, but I do. You won't shoot.
[Meanwhile, Carter and Teal'c are still trading fire with the two shooters on top of the shipping container. Mitchell comes at them from the side and fires, distracting them long enough for Carter and Teal'c to zat them. One of the shooters rolls off the high container onto a stack of wooden pallets. Vala is momentarily distracted by the sudden silence, but she recovers and goes back to pointing her gun at Daniel.]
DANIEL
If I let you go, I know you're gonna make yourself disappear. You've been running so long it's almost second nature to you. You don't remember it, but you made a decision to stop running. It's over. Now it's time to come home.
[Vala is hit with another series of flashbacks, but these are much more pleasant: SG-1 and Landry in a mission briefing, Daniel in a hallway at the SGC, Daniel riding in an elevator and smiling over his shoulder. Her memories appear to return. She is crying and takes a deep breath.]
VALA
(whispering, crying)
Daniel.
[She lowers the gun. Daniel takes it from her and sets it aside. He pulls her into a reassuring hug as the rest of the team makes their way over.]
EXT-CHEYENNE MOUNTAIN COMPLEX, DAY
INT-DANIEL'S OFFICE
[SG-1 and Landry are gathered for an informal meeting. Mitchell has his arm in a sling.]
MITCHELL
Y'know, I don't mind gettin' shot, but I pulled a hammie when I took out that last Trust operative.
CARTER
(teasing)
At least you didn't lose your pants.
[Vala walks into the doorway and knocks on the wall. She seems to be in a bit of a hurry, as she's still pulling on her BDU jacket.]
VALA
(to Landry)
You wanted to see me?
DANIEL
(cheerful)
Hey! What did Doctor Lam say?
VALA
I've been cleared for active duty.
LANDRY
Glad to hear it.
[Landry picks up a small box from the workbench and holds it out to Vala.]
VALA
What's this?
LANDRY
Let's just call it a welcome back present.
[Vala looks at the team with a curious smile. She opens the box to reveal two round patches: SGC and SG-1.]
VALA
These are...
LANDRY
Team badges. You're now officially a member of SG-1.
[Vala grins hugely and ducks her head.]
CARTER
Congratulations, you earned it.
[Vala pulls out the SGC patch and admires it. Daniel and Mitchell smile in amusement. Vala shoves Landry's shoulder in lieu of a thank you.]
TEAL'C
(bowing slightly)
Perhaps a celebration is in order.
MITCHELL
That's a great idea. We can check out that new rib joint near my place.
[Mitchell gets up and walks over to Vala. He pulls the SG-1 patch out of the box and hands it to Teal'c, then takes the SGC patch out of her hands. As one, they press the patches onto the matching velcro patches on the sleeves of her jacket.]
VALA
Excellent.
(to Daniel)
Of course, that means we'll have to wait until next week to complete our date.
[Everyone turns to stare curiously at Daniel.]
DANIEL
It wasn't a date. It, it was two friends and coworkers out for dinner.
MITCHELL
Uh huh.
[Mitchell leaves.]
DANIEL
(insistent)
Seriously.
[Carter give him a dubious look as she, Teal'c and Vala head out the door.]
DANIEL
Uh...
(to Landry)
It wasn't a date.
[Landry just quirks his eyebrows noncommittally and walks out the door. Daniel is left alone in his office, exasperated.]
FADE OUT
END CREDITS

Source : http://www.stargate-sg1-solutions.com/wiki/10.08_%22Memento_Mori%22_Transcript