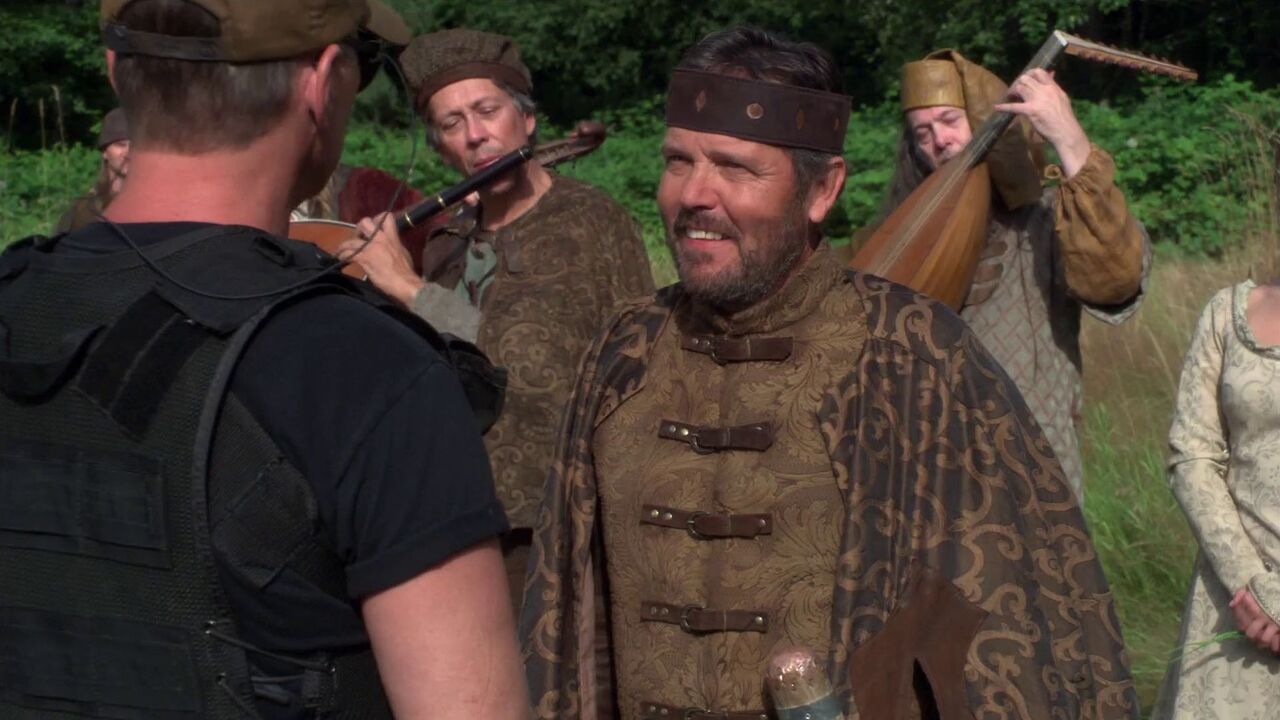 Transcript VO
TEASER
INT-SGC, BRIEFING ROOM
[Carter stands between Teal'c and O'Neill as she delivers an update on the galaxy-wide Goa'uld conflict.]
CARTER
The war between Ba'al and the System Lords has reached a critical stage. According to Tok'ra intelligence, Bastet and Olokun are dead, Morrigan has capitulated, and Lord Yu and Amaterasu are rallying their armies for what will probably be their last stand.
TEAL'C
As we predicted, the Jaffa were no match for the Kull warriors.
CARTER
(walks behind O'Neill to stand between him and Daniel)
The Tok'ra also thought we should know, in the face of imminent defeat, some of the System Lords are actively seeking out areas of refuge. Planets they abandoned long ago are now being scouted as possible sanctuaries.
O'NEILL
And this affects us...how?
DANIEL
One of these planets, which used to fall under the domain of the System Lord Ares, also happens to be the place where the Tok'ra dropped off one Harry Maybourne two years ago.
O'NEILL
(staring at Daniel, O'Neill deliberately repeats himself)
And this affects us...how?
[Daniel looks disapproving and glances to Carter for back-up.]
CARTER
The Tok'ra have their hands full with more pressing matters. They strongly suggest we get to Maybourne before the Goa'uld do.
[O'Neill remains unconvinced.]
TEAL'C
If we do not retrieve him, Harry Maybourne faces certain capture.
[O'Neill just looks at him, unmoved.]
TEAL'C
(emphatic)
Torture, interrogation...Perhaps even death.
O'NEILL
(grudging)
Alright, fine. Go get him.
[Carter rolls her eyes in exasperation as O'Neill finally capitulates and then walks out of the briefing.]
CARTER
Yes, Sir.
[Daniel, Carter and Teal'c leave immediately to prepare for their mission.]
WORMHOLE
EXT-ALIEN STARGATE, DAY
[Carter and Teal'c exit the Stargate on Maybourne's world. The Stargate is in a lush woodland glade. In the bright sunshine, it's beautiful. SG-1 take time to survey their immediate surroundings before moving off.]
CARTER
(to Daniel)
According to the Tok'ra, the people of this world are fairly primitive.
DANIEL
No phones, no lights, no motorcars. I betcha Maybourne just jumps at the chance to leave.
[SG-1 approach the DHD set some distance away from the Stargate.]
TEAL'C
What of the other inhabitants?
CARTER
We'll relocate them. We may not have a lot of time. Ares could be here in a matter of days.
[Men armed with crossbow-type weapons begin to emerge from the long grasses beyond the DHD. SG-1 are quickly surrounded. Carter and Teal'c raise their weapons defensively. Behind them, Daniel sees a woman bursting out of the grasses, draws and aims his sidearm at her.]
CARTER
(assertive)
We don't mean you any harm!
[The two factions are at a stand-off.]
TEAL'C
We are allies of the Tok'ra.
DANIEL
We're just, uh, looking for a friend of ours. Harry Maybourne. Maybe you've heard of him? Shifty fella, beady eyes? No?
GARAN
(commanding)
You will follow us to the village and meet with King Arkhan. He will discern your true intentions.
[Garan moves off, leading the way as her people warily close in on SG-1. Carter exchanges a measuring glance with Daniel, and they follow.]
EXT-ALIEN VILLAGE, DAY
[King Arkhan's village is constructed of heavy grey stone, medieval in appearance, with heraldic banners draped from walls on the upper level of the dwellings. People are bustling to and fro, with evidence everywhere of communal living. Tables, food stuffs, water, a stove - these are all readily accessible in the public areas. A blonde woman in a long gown draws water from a fountain as SG-1 are led into the communal space behind her. Carter is on point, with Daniel beside her, Teal'c at the rear.]
DANIEL
(of Garan)
Not exactly the trusting type.
TEAL'C
Which leads me to wonder whether Harry Maybourne is still alive.
CARTER
Presumably the Tok'ra put in a good word for him.
DANIEL
(looking behind him curiously)
Maybe we should get them to do the same for us.
[SG-1 are taken into an open hall with a dais at the far end of it. There is a yellow and black shield mounted on the wall above the throne along with swords and other weapons. On the dais, several women surround a figure seated on a throne. One woman steps back, revealing the face of the 'king'. Eyes closed, he's blissfully enjoying a bright red fruit.]
[Teal'c, Daniel and Carter each stare at 'King Arkhan' in disbelief and disapproval.]
CARTER
(shocked)
Maybourne!
[Maybourne's eyes snap open and he hastily swallows the fruit.]
GARAN
(to SG-1)(cold)
This is King Arkhan.
(to Maybourne)
My Lord, our hunting party encountered these (disapproving) off-worlders by the Gate.
MAYBOURNE
(affable and amused)
Hey, guys! Long time no see!
(laughing)
END TEASER
OPENING CREDITS
INT-KING ARKHAN'S HALL, DAY
[Surrounded by his adoring female acolytes, bedecked in furs and a primitive helm-cum-crown, Maybourne is laughing, patently amused at his visitors. Garan protectively stands guard over SG-1, her reverence for Maybourne readily apparent.]
MAYBOURNE
I shoulda known. I shoulda known you'd be the ones to come.
DANIEL
(snarky)
You were expecting us?
MAYBOURNE
Uh, sort of. Where's Jack?
CARTER
General O'Neill's back at the SGC.
MAYBOURNE
No kidding.
(pulls a face)
"General O'Neill?" That doesn't sound right. Still, good for Jack. Nice to hear he's doing so well for himself.
TEAL'C
(rigid with disapproval)
As, evidently, are you.
MAYBOURNE
Uh, this.
(looks down deprecatingly at his lavish furs)
Yes, well, uh, it's a long story.
[He rises from his throne, throwing back the furs as he calls out to his people.]
MAYBOURNE
Food! Drinks for our guests!
[Garan strides out of the hall into the communal space of the village, briskly summoning villagers to do Maybourne's bidding. Maybourne leads the members of SG-1 across to the large table set outside his hall.]
CARTER
(irritated)
We don't have time for this!
MAYBOURNE
Uh, you should try one of these.
(reaches into a basket to retrieve a small fruit)
It's called, um ...
GARAN
Ojun fruit.
MAYBOURNE
Right. It's sort of a cross between a guava and a mango.
DANIEL
(sarcastic)
Sort of a guango?
MAYBOURNE
(quite taken with the suggestion)
(to Daniel)
I like that!
[He bounds up onto a bench and issues a proclamation.]
MAYBOURNE
People! Henceforth, ojun fruit shall be called...guango! So shall it be!
[The villagers cheer and applaud as Maybourne bounds down from the bench. He turns to Carter, who appears speechless at his antics.]
MAYBOURNE
(jovial)
I get to name all kinds of stuff. You should see the Grateful Dead Burial Ground.
CARTER
Maybourne, you have to get out of here. You're in danger.
MAYBOURNE
I know. The Goa'uld are coming.
(ignoring Carter's consternation, he again turns his attention to the guango)
Now, you should peel it before you eat it. I find the skin kind of tart.
CARTER
(startled and annoyed)
You know about the Goa'uld?
MAYBOURNE
Oh, yeah.(sits at the table to peel the guango)
[SG-1 gather closely around Maybourne, Daniel sitting on the table near him.]
TEAL'C
You were warned by the Tok'ra.
MAYBOURNE
(irritable)
I haven't heard from the Tok'ra since they dropped me off.
CARTER
Then how?
MAYBOURNE
I can read the future.
[Incredulous, Carter, Daniel and Teal'c roll their eyes in disbelief. Teal'c turns his back and Daniel buries his head against his knees.]
MAYBOURNE
Really!
CARTER
(suspicious and annoyed)
What are you trying to pull?
GARAN
He speaks the truth. King Arkhan is a prophet. He foresaw your arrival and the hand you will play in defeating our enemy.
MAYBOURNE
Garan's right. It's all part of the prophecy!
CARTER
Maybourne, what the hell is going on here?
MAYBOURNE
(thinks it over for a moment)
Let's go for a walk.
EXT-ANCIENT TEMPLE RUINS, DAY
[Maybourne leads Daniel, Carter and Teal'c through woodlands towards the ruins of a structure.]
MAYBOURNE
Okay. Here we are.
[There is a tall column, with several piles of tumbled rocks scattered around it. All of the ruins are of the same dark grey stone the village is constructed from.]
MAYBOURNE
I found this place about, oh, uh, ten months ago when I was on an afternoon stroll.
[As Maybourne draws SG-1 into the ruins, it becomes clear that the column is only one of many, each of them carved with clearly visible Ancient text.]
TEAL'C
It is quite a distance from the village.
MAYBOURNE
I enjoy long walks.
CARTER
(withering)
Right! Long walks, rainy nights, and candlelit dinners. Why are we here, Maybourne?
[Daniel goes over to one of the columns and begins to inspect it while Carter confronts Maybourne.]
DANIEL
This writing is in Ancient.
(to Maybourne)
What do the locals know about these ruins?
MAYBOURNE
Well, not much. They generally avoid the area because it's close to the naquadah mines. The site of their former enslavement. Bad luck, and all.
DANIEL
(engrossed)
This is incredible.
MAYBOURNE
(dismissive)
No, no, this is, uh, interesting. This...
(he pats Daniel's arm to draw his attention, pointing to something in the distance)
...is incredible.
[Fascinated, Daniel follows Maybourne over to a nearby column, which he begins to read.]
TEAL'C
What is it?
MAYBOURNE
It's a record of the planet's history, covering major events. Only, some of them haven't happened yet.
CARTER
What are you talking about?
MAYBOURNE
They have a complicated lunar calendar. Took me a while to figure it out.
[Daniel begins to circle the column, reading a second panel as Maybourne tries to explain his discovery.]
MAYBOURNE
But once I did, I realised there were references in the text to things that are gonna happen in the future.
[Standing side by side, Carter and Teal'c just look steadily back at him.]
MAYBOURNE
Yeah, I know. It sounds crazy. I didn't think much of it either at the time, but then this big meteor shower happened exactly on the date the stone predicted.
CARTER
You're sure you're reading it correctly?
[Daniel has reached the final panel on his circuit of the four-sided column.]
MAYBOURNE
My skills may not compare with Doctor Jackson's, but over the years I've picked up a decent understanding of Ancient writing. As a result of my translations, I predicted a major flood would destroy the village unless I could convince the elders to move to higher ground.
CARTER
(sarcastic)
And of course you told them where these predictions came from.
MAYBOURNE
No. Well, not in so many words.
[Carter is disgusted.]
MAYBOURNE
Look, these are simple people. This stuff would mean nothing to them. I had to play the role of a prophet to...to convince them.
TEAL'C
And out of gratitude they made you king.
MAYBOURNE
(moves over to Carter and Teal'c, unrepentant)
Like I said, it was their idea.
DANIEL
Well, he's partly right, anyway. It is a historical log. On the first moon of the forty-fifth cycle, the ground will tremble and devastation will be wrought."
MAYBOURNE
Yeah, yeah, yeah, big earthquake, couple of years back. Before my time.
(to Daniel)
Skip ahead. We're on the fifty-fourth cycle.
DANIEL
(walks around to the second panel and begins to read)
"Commencing the third moon of the fifty-fourth cycle ..."
MAYBOURNE
Which is around now, give or take a few days.
DANIEL
"... the oppressors of old will return ..."
MAYBOURNE
That's the Goa'uld.
DANIEL
"... to seek dominion over the land. Those of a distant world will come ..."
MAYBOURNE
I'm guessing that's you guys.
DANIEL
"... to vanquish the evil and restore order once again."
MAYBOURNE
You see? They come, you defeat them, happy ending! That's the prophecy!
CARTER
Sorry, but we didn't come here to fight the Goa'uld. We should get going.
DANIEL
(intrigued, insistent)(to Carter)
Actually, um, this is interesting, and, uh, there's a lot here to translate.
[Carter nods recognition that Daniel won't be budged until he's had a chance to check this out.]
EXT-ALIEN VILLAGE, DAY
[The village is set on high ground with hills rising steeply around it. The verdant valley floor below is rough, rock-strewn terrain cut through by a river gorge. Looking impatient and concerned, Carter and Teal'c are patrolling through the village.]
DANIEL
(via radio)
Sam?
CARTER
(into radio)
Go ahead.
EXT-ANCIENT TEMPLE RUINS, DAY
[Daniel is once again circling this mesmerising Ancient column.]
DANIEL
(into radio)
Maybourne was right.
CARTER
What do you mean?
DANIEL
Well, from what I've been able to decipher, it's pretty clear. The script on these walls is a historical log compiled by an Ancient who traveled through time to study the evolution of life on this world.
EXT-ALIEN VILLAGE, DAY
CARTER
(into radio)
Daniel, we know the Ancients experimented with time travel but we have no evidence that they actually mastered it.
DANIEL
Yeah, well, we do now.
EXT-ANCIENT TEMPLE RUINS, DAY
DANIEL
(into radio)
You see, to the best of my knowledge, these writings are only a couple of hundred years old.
EXT-ALIEN VILLAGE, DAY
DANIEL
(via radio)
Which means they were carved after the Goa'uld had already left.
CARTER
(into radio)
But the Ancients pre-date the Goa'uld.
EXT-ANCIENT TEMPLE RUINS, DAY
DANIEL
(into radio)
Right, so the only logical explanation is that an Ancient traveled to the future and then back to a time not too long ago.
EXT-ALIEN VILLAGE, DAY
CARTER
(sceptical)
I don't know, Daniel.
EXT-ANCIENT TEMPLE RUINS, DAY
DANIEL
(into radio)
There are references to the time travel device itself. Now, it's described as being inside a small ship. Now if I'm right, it may still be here. I think it's worth a look.
EXT-ALIEN VILLAGE, DAY
CARTER
(into radio)
Alright. We're on our way.
[Carter exchanges a serious look with Teal'c. Things are not going according to plan.]
EXT-ALIEN WOODLAND, DAY
[Daniel takes a final, lingering look at the Ancient column, bites his lip, then heads off to begin the search for the Ancient ship. Teal'c makes his way through heavy undergrowth. Daniel picks his way slowly down a dry, rock-strewn stream bed. Carter is walking through sunlit trees.]
CARTER
(over radio)
Daniel?
DANIEL
(into radio)
Go ahead.
CARTER
We've been at it a while. Are you sure it's around here?
DANIEL
Just give it a little more time.
CARTER
I hate to say it, Daniel, but we can't risk staying much longer.
[Looking determined, Daniel dashes off. Teal'c continues to search through the heaviest undergrowth, peering intently around him. A tiny gleam of vivid white light catches his eye. He turns towards it, and sees a clear reflection of sunlight. He begins to push through the undergrowth, breaking a path towards the reflecting surface. Carter ducks beneath a tree branch, checks her watch and radios.]
CARTER
I'm scrubbing the search. Fall back to the Gate.
DANIEL
Sam?
[Teal'c starts to clear undergrowth away from a hidden object. He strips away greenery to reveal metal.]
CARTER
(heard on Teal'c's radio)
Daniel, we have no way of knowing when the Goa'uld will get here.
DANIEL
(heard on Teal'c's radio)
It could be days.
CARTER
(heard on Teal'c's radio)
And it could be hours.
TEAL'C
(into radio)(tense, excited)
Colonel Carter, DanielJackson. I have found something.
INT-ANCIENT SHIP, DAY
[The hatch in the stern of the Ancient ship begins to lower. Carter cautiously moves forward, her P-90 raised as she checks out the interior. Teal'c covers her with the zat, while Daniel covers their rear. Carter leads them into the pitch dark interior. As they step inside, lights automatically begin to activate, keeping pace with their slow entry. Daniel hangs back, his hand resting on a waist-high device in the centre of the ship. It's a podium of some kind, with metal panels on top and the familiar intricate Ancient carving covering what looks like a pale glass end panel. There are grey seats lining each wall of the ship. The cockpit is open, the flight console bristling with advanced Ancient technology.]
CARTER
It certainly looks like a ship.
TEAL'C
These appear to be flight controls.
DANIEL
(standing with both hands resting on the Ancient device)
So what's this?
[Carter and Teal'c come back to check out the device.]
CARTER
Could be the time device.
TEAL'C
It bears little resemblance to Ancient designs we have previously encountered.
DANIEL
Well, judging from Maybourne's wall, it must have worked at some point.
CARTER
Well, I'm guessing it must manifest some sort of energy field that encompasses the entire ship. Allowing the traveler to literally fly through time.
DANIEL
(curious and reaching for a control)
I wonder...
CARTER
(panicking)
Ah-ah! Let's not touch anything just yet. I'm kinda fond of this era.
DANIEL
Okay, so what do we do?
CARTER
We bring it back.
(begins to feel around on the roof of the ship)
Judging by the dimensions, it looks like it was actually designed to fit through the Gate.
DANIEL
Okay, how do we get it there?
TEAL'C
This vessel appears to be relatively undamaged. The engine may yet be functional.
CARTER
This is Ancient technology. We'd need an Ancient to make it work.
DANIEL
(thoughtful)
Or someone...close.
[Carter smiles, catching that Daniel means O'Neill.]
EXT-ALIEN STARGATE, DAY
[O'Neill steps out of the Stargate, hefting a large pack on his shoulder, his P-90 casually slung. He's wearing sunglasses. Maybourne and some of the villagers are waiting to greet him. At Maybourne's signal, musicians strike up a tune. Daniel and Teal'c are standing by the DHD, watching all of this unfold. O'Neill comes down the steps from the Stargate and strolls over to Maybourne.]
MAYBOURNE
Jack! It's great to see ya! How long's it been?
O'NEILL
(snarky)
Oh, since that time you got us stranded off-world and tried to kill me.
MAYBOURNE
(chuckling)
That takes me back! Aha, I guess congratulations are in order. You made general.
O'NEILL
You made king!
MAYBOURNE
Right, well, it's, uh, not a contest.
O'NEILL
Do you mind? These guys are torturing that ditty.
MAYBOURNE
Right. Uh, take five, guys.
(the musicians break off)
I, uh, taught , 'em that expression.
O'NEILL
Ah.
MAYBOURNE
(leading O'Neill away)
I'm, uh, hoping that you can stay for a while, check out the sights.
[The only sight O'Neill is taking in are two pretty young villagers giggling nearby.]
MAYBOURNE
Take in the culture. I want you to feel at home here.
O'NEILL
Harry, you're aware of the fact that this place is gonna be overrun by a gaggle of bad guys soon?
MAYBOURNE
Yeah, well, maybe.
O'NEILL
Right. Carter told me about this prophecy stuff. It's not gonna go down that way, y'know.
MAYBOURNE
Oh, come on, Jack, you've defeated System Lords before.
O'NEILL
No! You've got to tell these people they've gotta start packing. We'll take as many as we can.
MAYBOURNE
I can't. I already told them you'd save the day.
[O'Neill stops Maybourne in his tracks. Daniel and Teal'c stop a few feet away from them, the villagers looking on in the distance. Maybourne signals reassuringly to them, indicating they should hold back while he and O'Neill talk.]
O'NEILL
Lemme ask you a question. Did this prophecy mention anything about casualties? How many people would die in the fighting?
MAYBOURNE
It's not really that detailed.
O'NEILL
(pointed)
Does it say anything about the king surviving at all?
MAYBOURNE
(uncertain)
Actually, there's, um, no reference to me specifically. I just assumed that...
O'NEILL
Yeah. Do you really wanna take that chance, Harry? D'you wanna roll those dice?
MAYBOURNE
(quiet and fretful as he looks at his trusting subjects)
It's not gonna be easy to convince them, Jack.
O'NEILL
You can do it, Harry, you're the king.
(puts his hand on Maybourne's shoulder)
And remember...it's good to be king.
[He pats Maybourne's shoulder.]
INT-ANCIENT SHIP, DAY
[Carter is reaching above her head, working on the roof of the Ancient ship. Pale blue cables are dangling from various points in the roof. She turns as O'Neill and Daniel come aboard.]
O'NEILL
Nice ride!
DANIEL
(grinning)
Yeah, Ancients like to fly in style.
[O'Neill heads for the cockpit, where he pauses appreciatively, soaking in the sight of all these cool new toys.]
O'NEILL
(gloating)
Nice!
(un-holsters his P-90 and sits in the pilot's seat)
Woo-hoo!
[Daniel hovers attentively at O'Neill's side, looking slightly nervous.]
O'NEILL
You're gonna have to help me out here, Carter. Got any quarters?
CARTER
Unfortunately I can't help you with this one, Sir, you're on your own.
O'NEILL
Fine! How do we know we're not gonna end up back at the Alamo?
CARTER
(slightly sarcastic)
Um, well, for one thing, that was on Earth. But more importantly I've separated the time device from the control circuits (hesitates) I think. (comes forward to join Daniel and O'Neill) Concentrate on powering up the engines.
O'NEILL
Concentrate?
[Daniel and Carter wait expectantly, leaning forward intently while O'Neill closes his eyes and concentrates. Time passes.]
O'NEILL
(loud)
Got nothin'.
[Daniel and Carter jump at this sudden announcement]
DANIEL
Uh...Come on, Jack. You've already proven that the Ancient gene you possess allows you to operate Ancient technology. It's no different than, uh, the device in Antarctica. Just...
(closes his eyes and reaches out an expressive hand)(slow, dramatic)
Fffff...ocus your mind.
[Carter and O'Neill both turn slowly and stare at him in mild disbelief. Daniel looks self-conscious. Carter hides a smile while O'Neill impatiently pulls off his cap. O'Neill closes his eyes again and composes himself. After a moment, lights begin to appear on the flight console and the engines hum.]
DANIEL
Good. Good!
[As the engine noise builds, Daniel and Carter start to get excited. Then everything stops and fades to black and silence again. Daniel and Carter deflate.]
DANIEL
(sighs)
Not so good.
[Carter glances at him in fond amusement, trying to hide another smile. O'Neill steals a swift sidelong glance at Daniel, embarrassed.]
EXT-ALIEN VILLAGE, DAY
[The villagers are quietly preparing for the coming battle. A young woman carries a wicker basket full of knives over to the communal table set outside King Arkhan's hall. Then Maybourne appears with Teal'c. All the boxes and baskets, all the rich contents, far more than merely weapons, are his.]
MAYBOURNE
Tempus fugit, girls, tempus fugit.
(to Teal'c)
I sure collected a lot of stuff in only a couple of years. Guess I'm a bit of a pack rat.
TEAL'C
(stern)
When do you intend to address your people?
MAYBOURNE
(regretful, shifty)
I'm getting to that. It's just...Well, I'm thinking about what I'm gonna say.
TEAL'C
Perhaps you should consider telling the truth.
MAYBOURNE
That's one strategy.
TEAL'C
Whatever you decide, we are running out of time. We must leave soon.
MAYBOURNE
Yeah. I know. I know.
(turns away and goes back into his hall)(to villagers)
No, no, just leave that. That stuff over there!
[The two men head over to collect what he ordered them to pack for him.]
[Garan, the leader of the hunting party and King Arkhan's most loyal subject, is watching silently from the shadows. Unseen, she has overheard Maybourne's encounter with Teal'c and has made a decision to take action on it. She strides off through the village.]
INT-ANCIENT SHIP, DAY
[Carter is standing by the time device while O'Neill sits in the pilot seat.]
CARTER
The primary power source is depleted. We need to reroute the controls to the secondary output which was originally designed to power the time device.
(reaches up to adjust a control in the roof)
O'NEILL
(uncomprehending)
Of course...we do.
[Daniel sits near O'Neill. He is tense and anxious, wanting this to work.]
CARTER
Okay. Try it now, Sir.
[O'Neill swivels in the pilot seat and prepares himself. Hands braced against the flight console, he closes his eyes and concentrates fiercely. Daniel watches O'Neill as the ship's systems activate, while Carter checks the cable connections she has made rerouting the power. The flickering lights on the flight console steady and the engine hum begins to increase. Suddenly sparks flare over Carter's head and she flinches, covering her face. Daniel and O'Neill hunker down as circuits blow and the sparks rain down. The engines cut out and the ship fades to black.]
CARTER
Damn it!
[In the pilot seat, O'Neill looks down at the blank console and lets out a gusty sigh.]
EXT-ALIEN WOODLAND, DAY
[O'Neill leads Carter and Daniel to the front of the Ancient ship. It's almost completely concealed in the dense foliage surrounding it.]
CARTER
(to O'Neill)
I'm just not that familiar with Ancient technology. I need a little time.
O'NEILL
That is one thing I can't give you, Carter.
(hunkers down and begins to open his pack)
DANIEL
(pissed)
You can't be serious.
CARTER
(hunkering down beside O'Neill)(persuasive)
Sir, this technology is too valuable to lose.
O'NEILL
Carter, what do you want me to do? Call in reinforcements? It's not like we're throwing down with a couple of Jaffa. We're taking on a System Lord and his band of merry bad guys. Inside and out. (hands Carter and Daniel blocks of C-4 explosive from his pack)(emphatic as he points to the Ancient ship) I want that thing gone!
[They hear sudden rustling from the undergrowth and get to their feet, raising weapons as they assume defensive positions. Garan and her hunting party burst from the trees and surround them.]
GARAN
(confrontational)
Surrender your weapons, or die where you stand!
O'NEILL
Oh, if I had a nickel!
GARAN
Lower your weapons.
O'NEILL
I...
(clears fronds of foliage from his face)
...don't think so.
GARAN
We will not allow you to take King Arkhan from us.
O'NEILL
Good King Arkhan is a fraud.
HUNTSMAN
Our king is wise. He is a seer.
O'NEILL
He may be your king, but he's no seer.
DANIEL
(forceful, persuasive)
He can only interpret what's been written on the pillars of the temple ruins not far from here. Now, those writings hold the prophecies, and anyone who can read them can make the same predictions.
GARAN
(angry)
That is a lie.
DANIEL
Why don't we just go back to the village and let King Arkhan explain everything?
[Daniel's suggestion makes an impression on Garan. She trusts Arkhan implicitly and she'll do this.]
GARAN
(suspicious, insistent)
First lower your weapons.
[Daniel lowers his pistol, but when he looks around, he sees that Carter and O'Neill still have their aimed at the villagers.]
DANIEL
Jack?
O'NEILL
Daniel?
DANIEL
(coaxing)
They're not gonna shoot.
(leans forward to look at Garan)
Are ya?
[Garan exchanges a measuring look with the huntsman who spoke up in defence of King Arkhan, and slowly begins to lower her weapon, although there's no suggestion she's relaxing her guard. At her signal, the other hunters lower their weapons too. Carter and O'Neill lower their guns, keeping paced with the hunters.]
O'NEILL
(staring at the suspicious, resolute Garan)
God, I miss goin' offworld! Oh, yeah!
EXT-ALIEN VILLAGE, DAY
[The villagers are bustling through their daily lives. In the middle of it all, Maybourne is crouched down, talking gently to two small children, a girl and a boy. The little girl gives him a posy of yellow wild flowers and he smiles his thanks.]
O'NEILL
Who'd'a thunk?
MAYBOURNE
(startled by O'Neill's comment, had forgotten he was there)
Oh, hey, Jack. I, uh, spoke with Garan. I was sorry to hear about what happened at the ship. Believe me, I had nothing to do with it.
O'NEILL
(sarcastic)
I know, Harry, you're always the victim in these things.
[O'Neill and Maybourne begin to walk into the royal hall.]
MAYBOURNE
(earnest, sincere)
Okay, look, I'll admit that when I first found the ruins, I did plan to use them to my personal advantage. But all that changed once I became King Arkhan the First.
O'NEILL
(incredulous, scathing)
Oh, please!
MAYBOURNE
It's true, Jack. I care about these people. I want to help them.
O'NEILL
Then tell 'em the truth. Come clean on all this stuff.
MAYBOURNE
I've already arranged for an assembly with the, uh, village elders. I'm gonna tell them we have to leave.
[Maybourne turns away, leaving O'Neill uncertain whether to believe him or not.]
EXT-ALIEN VILLAGE, DAY
[The villagers crowd around the communal space, Garan at the front of them. On the upper level, Maybourne walks along a balcony to stand at the top of a flight of stairs. O'Neill and SG-1 wait watchfully at his side.]
MAYBOURNE
(to O'Neill)
Well, here goes nothing.
[He straightens his shoulders and walks slowly down the stairs to beckon his people closer to him.]
MAYBOURNE
(addressing the villagers)
My friends. I wish I were here under better circumstances, but the fact is, I come before you all to deliver a warning. The village is in danger, and the time has come for us to leave.
[The villagers murmur and protest in shock and agitation, refusing to accept this dictat.]
MAYBOURNE
We must abandon our world. Arrangements are being made to help us...
(turns questioningly to the sceptical O'Neill and SG-1, who nod agreement)
...temporarily relocate to a safe place.
[The villagers' agitation increases. They don't believe what they're hearing.]
VILLAGER
But the prophecy was clear. The enemy will be defeated.
MAYBOURNE
Ah, yes, uh, the prophecy was clear, but only up to a certain point. After that it was somewhat, uh, unclear - uh, sort of, uh, murky clarity.
[O'Neill, Daniel and Carter wince at this poor performance. The villagers are beginning to sound a little angry and Maybourne is deeply reluctant.]
MAYBOURNE
Of course the enemy will be defeated. But...there is a chance that some of us may get hurt or even killed in the process, and I am not willing to...
HUNTSMAN
Impossible! You assured us we would be safe!
[The huntsman from Garan's party looks around as the other villagers mutter their support of his assertion.]
MAYBOURNE
Yes, I, I remember that. Uh, however...
[Looking at the faces of these trusting people, Maybourne just can't lie to them. He looks to O'Neill for help. O'Neill urges him to go for it and Maybourne goes down the last few remaining steps until he stands among his people.]
MAYBOURNE
(grave, sorrowful)
The truth is, I've not been entirely honest with you. I am not a seer. I don't possess insight into the future or divine powers that set me apart. I'm just a regular guy, no more or less special than any of you.
HUNTSMAN
But the prophecies!
MAYBOURNE
The prophecies don't come from me. They come from the walls of the old temple, written in stone for all to see. I have the ability to interpret these writings and, with the proper understanding, any of you could do the same.
[The villagers are sober and upset. Even Garan's confidence and belief are rocked by this grave admission. O'Neill seems approving of their reactions - Maybourne is getting his comeuppance.]
MAYBOURNE
(sincere)
I...am a pretender. I took...advantage of you and...
(takes off his crown and stares at it)
...and for that I am deeply sorry.
(begins to turn from the villagers)
GARAN
(pushing forward to address Maybourne)
What about the design for the new watermill? Was this written on the temple wall as well?
MAYBOURNE
Uh, no, that was from me.
GARAN
(to the villagers)
And our new medicines? Our legal code? The irrigation system? Were these things also found in the ruins?
MAYBOURNE
No.
GARAN
(beginning to smile triumphantly)
These were not the acts of a pretender, but of a leader!
[The villagers enthusiastically second her. O'Neill can't believe his eyes.]
MAYBOURNE
(smiling)
Uh, guys, I'm touched, really.
GARAN
What does it matter where the prophecies came from? All we need know is that each one of them has been fulfilled, as this latest will be fulfilled.
MAYBOURNE
(warning)
Well, now, let's not get carried away here.
GARAN
(to the villagers)
We will defeat this enemy. And we will do so under the leadership of our great king, Arkhan the First!
(punches the air with her fist, leading a rousing chant the villagers quickly join)
Arkhan! Arkhan! Arkhan!
[Maybourne is stunned by this response, genuinely at a loss as he looks to O'Neill. And then he shrugs and accepts it. O'Neill is absolutely horrified at this reversal of fortune. Maybourne wins again! And he puts the crown back on his head.]
EXT-ALIEN VILLAGE, DAY
[Normal life has resumed in the village. People stand around in clusters, talking quietly or working together on one of their usual duties. Maybourne walks with O'Neill, SG-1 behind them.]
MAYBOURNE
Uh, Jack. Look, uh, sorry about that.
O'NEILL
Not my problem, Harry. If these folks don't wanna go, they don't have to go. Teal'c? You and Daniel head on back, secure the Gate. Carter? You and I'll take care of the ship.
MAYBOURNE
Now, Jack, uh, Jack, wait a minute. Uh, I know it sounds crazy, but Garan was right about the prophecies. They have all come true.
O'NEILL
Harry, we're not stayin.' And if you want to come with us, I suggest you get your royal butt to the Gate.
EXT-ALIEN STARGATE, DAY
[Daniel and Teal'c run out of the trees. They can hear the chevrons locking on the Stargate, crouching down in the long grasses as the gate activates and two Jaffa begin to cautiously lead the advance party into the clearing.]
EXT-ANCIENT SHIP, DAY
[O'Neill is closing in on the Ancient ship.]
DANIEL
(via radio)
Jack? Come in.
O'NEILL
(into radio)
Go ahead.
EXT-ALIEN STARGATE, DAY
DANIEL
Uh, we've got a little problem here.
[There are now fourteen Jaffa taking up defensive positions around the Stargate. An imposing Jaffa warrior stands in front of the event horizon, looking around him. He is Ares' First Prime.]
DANIEL
Ares' Jaffa just came through the Gate. We're cut off.
EXT-ANCIENT SHIP, DAY
[O'Neill and Carter listen intently to Daniel's report.]
DANIEL
(via radio)
If you blow the ship now, you'll give away your position.
CARTER
Guess we're stayin' for a while.
[Pissed, O'Neill sighs and heads for the Ancient ship.]
EXT-ALIEN STARGATE, DAY
[Ares' grim First Prime, Trelak, moves out to join his men as they begin to spread out from the Stargate in search of the natives.]
EXT-ALIEN VILLAGE, DAY
[The villagers scatter in fear as a Jaffa patrol marches towards King Arkhan's hall. Trelak himself is their leader. He goes right up to the throne, where Maybourne rises to greet him.]
MAYBOURNE
(friendly, welcoming)
Welcome, strangers. I am King Arkhan the First. It is with a joyful heart and open arms that we welcome you...
TRELAK
I am Trelak, First Prime to the great Lord Ares. Your god...who will be returning to reclaim this land and his loyal followers.
MAYBOURNE
Of course, of course. Glad tidings of comfort and joy. Comfort and joy.
[Trelak begins to look around the environs of the hall and the village. The women who surround Maybourne's throne do their best not to react, except for one dark-haired young woman who drops her head, looking angry as Maybourne does his best to defuse the situation. The villagers are gathered outside the hall, listening to all that is being said and threatened.]
TRELAK
Lord Ares demands nothing short of complete obedience from both you and your people. Any resistance will be dealt with harshly.
MAYBOURNE
Understood.
TRELAK
Gather your subjects. Inform them of our arrival.
[Daniel and Teal'c stand in the crowd, their faces hidden by dark hooded cloaks.]
MAYBOURNE
Of course. I'll address them immediately.
[Trelak sees the angry young woman and challenges her.]
TRELAK
Do you have something to say, slave?
WOMAN
(through gritted teeth)
I am not a slave.
[In the crowd, Daniel watches this confrontation with concern.]
MAYBOURNE
I apologise. My servant spoke out of turn. She will be punished.
TRELAK
(smiling unpleasantly)
Of course she will.
[Two Jaffa come forward to seize the woman and force her to her knees. She's frightened as they level their staff weapons at her. Daniel jerks around to look at Teal'c when the Jaffa ready to fire. He and Teal'c quietly begin to reach for their weapons.]
WOMAN
(to Trelak)(defiant)
Kill me if you want, but know this in the end. You and your people will be defeated just as the prophecy has foretold.
TRELAK
"The prophecy."
MAYBOURNE
(false laughter)
Pay no attention. She's obviously frightened beyond reason.
WOMAN
(to Trelak)
It foretold of your arrival and of your defeat.
MAYBOURNE
Another predicted rain today with a chance of morning frost, and yet, what fine weather we are enjoying.
TRELAK
Silence.
(to the woman, reasonable)
Where may I find this prophecy? If what you say is true, then we would be fools to stay and meet our certain death.
WOMAN
It is written on the walls of the old temple.
TRELAK
(to his Jaffa)
Go with her.
[Daniel is very unhappy at this unfortunate revelation of the existence of the Ancient ruins. It will only increase Lord Ares' interest in the planet and of course increase the danger to SG-1 and the villagers. As the woman is led away, Trelak and his Jaffa surround Maybourne.]
INT-ANCIENT SHIP, DAY
[Carter is working feverishly at the time device, cables everywhere and her laptop powered up.]
DANIEL
(via radio)
Sam? Jack? This is Daniel. Ares' First Prime just sent some men out to check out the ruins. As soon as they see that Ancient writing, they're gonna search the area.
O'NEILL
(via radio)
Carter? How's it going in there?
CARTER
(into radio)
Just a few more minutes, Sir.
DANIEL
(over radio)
What are you guys doing? I thought you were going to blow it up?
CARTER
General O'Neill's given me one more chance to get the engines online so we can fly it out of here.
DANIEL
Yeah, I'm all for saving the ship but you're cutting it kinda close.
CARTER
I know!
[Carter cuts off communications and again bends over the time device, adjusting the cables covering its surface.]
EXT-ALIEN VILLAGE, DAY
[Several of Maybourne's adoring acolytes are loading the table with the best food they have to offer. Some of the village elders sit silently at the table, watching every move the Jaffa make. Maybourne anxiously shoos the women, then calls out to Trelak.]
MAYBOURNE
I have prepared a feast in your honour. Come!
[Trelak's unpleasant smile makes a reappearance.]
MAYBOURNE
Please, sit, partake of our bounty. This fruit, for instance - it's sort of a cross between a...
[Trelak takes Maybournes fist in his and crushes it. Maybourne breaks off his speech in a gasp of pain. The soft flesh of the fruit is squeezed between his fingers.]
TRELAK
(threatening)
I'm not interested in your offering. You were warned. Anyone who refuses to accept us will die.
MAYBOURNE
You've made yourself perfectly clear.
TRELAK
To you, perhaps. But your subjects seem less than willing to accept our terms.
[The village elders look stonily at Trelak, not giving an inch. Nearby, Daniel and Teal'c continue to keep watch.]
TRELAK
They cling to archaic beliefs - prophecies, portents - that threaten to undermine the rule of our god.
MAYBOURNE
That won't happen.
(shifty, leading Trelak away for privacy)
I can see to it.
TRELAK
How?
MAYBOURNE
They're simple folk, easily influenced. With my help, you'll have no trouble bending them to your will.
EXT-ANCIENT TEMPLE RUINS, DAY
[The Jaffa guards lead the woman into the clearing where the Ancient temple ruins lie scattered. She takes them right to the column Daniel was so engrossed by earlier, the one that chronicled events from the future.]
WOMAN
It's here.
[One Jaffa steps up to it and closely inspects the panel. He frowns in recognition that the text covering the column is important. O'Neill is watching this through a scope. The Jaffa immediately divides the patrol into a search party and sends them off into the trees.]
O'NEILL
Dammit!
INT-ANCIENT SHIP, DAY
[Carter is working at her laptop.]
O'NEILL
(via radio)
Carter?
CARTER
(into radio)
Sir?
EXT-ALIEN WOODLAND, DAY
O'NEILL
They're headed our way.
INT-ANCIENT SHIP, DAY
CARTER
I need more time.
EXT-ALIEN WOODLAND, DAY
O'NEILL
(to himself)
Yeah, of course you do!
[O'Neill takes off after the departing Jaffa while Carter continues to try to fix the ship.]
EXT-ALIEN WOODLAND, DAY
[Two Jaffa enter the clearing where the Ancient ship is hidden. O'Neill ambushes them from the undergrowth, killing them both with a burst of rapid fire.]
EXT-ALIEN VILLAGE, DAY
[With Maybourne, Trelak freezes as O'Neill's P-90 is clearly heard. The Jaffa react defensively, aiming their staff weapons at the villagers, who freeze in fear. Trelak begins to look around him suspiciously as Daniel winds up with a Jaffa staff weapon at his back.]
TRELAK
Those were Tau'ri weapons.
MAYBOURNE
What's a Tau'ri?
[At Trelak's signal, Jaffa begin to search the gathered crowd, pulling at cloaks, coats, concealing hats and hoods. Daniel and Teal'c are unmasked and disarmed within moments.]
EXT-ALIEN WOODLAND, DAY
[O'Neill runs towards the hatch of the Ancient ship as two more Jaffa burst into the clearing and immediately fire on him.]
INT-ANCIENT SHIP, DAY
[Ignoring the firefight, Carter is still working desperately on the ship. O'Neill activates the hatch, closing it behind him.]
O'NEILL
Time's up.
[The Jaffa begin to blast the rear hatch.]
EXT-ALIEN VILLAGE, DAY
[Daniel and Teal'c are forced forward by their guards to face the First Prime.]
TRELAK
You're too late to save this world. I've already received word. Lord Ares has just arrived.
[Daniel and Teal'c react bitterly to their captivity and to the news. In space above the planet, a Goa'uld mothership is approaching]
INT-ANCIENT SHIP, DAY
CARTER
(slamming shut her laptop and unplugging it)
I'm done! I think!
(dashes forward to join O'Neill in the darkened cockpit)
We're good to go, Sir.
O'NEILL
I'm doing the best I can.
EXT-ALIEN VILLAGE, DAY
TRELAK
What were you and your allies planning?
[Determined, Daniel and Teal'c won't answer.]
TRELAK
(walks up to be face to face with Teal'c)
Know this, shol'va. I'll see to it that you suffer slowly.
TEAL'C
And I will see to it that you die quickly.
[Trelak snorts derisively, takes up a staff weapon, then drives it viciously into Teal'c's midriff. Teal'c doubles over, slowly straightens up, and is struck from behind by a second Jaffa. He's knocked to his knees. Maybourne winces, and Daniel glares furiously at Trelak. Teal'c slowly, proudly rises to his feet again.]
TRELAK
I think not. My men guard the Gate, and the mothership descends as we speak.
[Trelak chuckles triumphantly as he walks away. Teal'c glowers, while Daniel steals a silent, concerned look at him.]
INT-ANCIENT SHIP, DAY
[In the darkened, silent ship, Carter looks around anxiously as the Jaffa blast away at the ship's hatch. O'Neill's eyes are closed and he is deep in concentration. Suddenly, the panels in the cockpit and on the flight console begin to light up. O'Neill's presses his hands harder against the flight controls and then opens his eyes in seeming surprise as the engine hum begins to steady and increase. He carefully moves his hands away as the power levels surge and the ship comes alive around him. The engine vibrations begin to shake loose the thick covering of vegetation from the hull of the Ancient ship and suddenly, it is taking off. The ship is clear.]
EXT-ALIEN VILLAGE, DAY
TRELAK
(with loathing)
You were plotting in concert with the people of this world. Treachery is something we cannot abide.
MAYBOURNE
(looking disgustedly at Teal'c)
I couldn't agree with you more.
(strides over to Trelak, still trying to scam him)(mock outrage)
You think you feel outraged? Imagine how I feel - betrayed by my own people!
[Trelak seizes Maybourne by the throat and begins to strangle him. Maybourne dangles helplessly from his grip, fighting for breath. Suddenly, they hear the sound of engines and Trelak looks up. Daniel and Teal'c look up in time to see the Ancient ship fly over the village. Its engines are so powerful, they shake the ground. Daniel and Teal'c instantly attack. Daniel knocks out his guard with the aid of a water bucket while Teal'c uses a staff weapon as a club. Daniel zats a Jaffa.]
INT-ANCIENT SHIP, UPPER ATMOSPHERE
CARTER
(checking readings)
Sir, we're detecting another ship. It's big.
[Carter and O'Neill look out in concern as the Ancient ship soars clear of the upper atmosphere and into space.]
EXT-ALIEN VILLAGE, DAY
[Daniel zats a Jaffa stationed on the upper level of the village and he topples over and plummets down to the ground. Then Daniel is struck in the stomach by a staff weapon as another Jaffa attacks him. Teal'c floors one guard, then turns swiftly to fire his staff weapon as another begins to charge down the stairs. Trelak drops Maybourne and rushes forward to jump Teal'c from behind. He attempts to choke Teal'c, who tried to throw him off. Maybourne comes to and sits up, clutching his throat. Teal'c throws Trelak over his head, smashing him into the ground. Daniel is forced back against the table, a staff weapon across his throat. He's choking. Trelak throws a stone at Teal'c's eye, buying enough time to snatch up a small wooden bench nearby. He breaks the bench over Teal'c's stooped back and as Teal'c falls, kicks him savagely in the ribs. The kick is hard enough to lift Teal'c and throw him onto his side. Trelak draws his blade.]
TRELAK
(savage hiss)
Shol'va!
[Maybourne creeps up behind Trelak and breaks pottery over his head. A moment later, Maybourne lands heavily on his back, some distance away. Teal'c blocks Trelak's arm as he strikes with his blade and the two freeze, glowering at one another hatefully. Trelak's hand shakes as he tries to break Teal'c's hold on him. Maybourne jumps up holding a pipe, but he hesitates as Trelak takes a two-handed grip on his blade and Teal'c is forced to match him. The two struggle desperately, in silence. Meanwhile Daniel is losing his own fight. Suddenly, the Jaffa warrior pinning Daniel cries out and falls forward, an arrow in his back. It was fired by Garan. Daniel pushes the dead Jaffa clear as Garan calmly reloads. Teal'c shakes as he and Trelak force the blade down between their bodies. He is clenching his teeth against the strain of forcing the blade towards Trelak. The First Prime's face begins to change as Teal'c makes a huge effort and drives the blade into him.]
TRELAK
You are a man of your word.
TEAL'C
(vengeful)(drives the blade deeper)
Indeed.
[Teal'c walks contemptuously away as Trelak falls to his knees, then pitches forward onto his face to lie dead in the dirt. Maybourne heaves a sigh of relief and puts down the pipe he hadn't used.]
INT-ANCIENT SHIP, SPACE
CARTER
(reassuring)
You're doing great, Sir.
[The Ancient ship is rocked by weapons fire.]
CARTER
Relatively speaking.
[O'Neill shoots her the kind of pissed look he usually shoots Daniel when he gets snarky. The Ancient ship flies away from the planet into the path of the weapons fire coming from Ares' mothership.]
O'NEILL
(to the ship)
Weapons.
(closes his eyes, concentrates fiercely)
Weapons.
[The Ancient ship suddenly fires a salvo as they close in on the mothership. There is a small explosion visible on the Goa'uld ship.]
CARTER
Keep firing, Sir.
O'NEILL
Nothing's happening.
CARTER
Weapons must be depleted. Hopefully you hit some vital systems.
[As they look anxiously at the mothership, fireballs begin to erupt from several openings within its hull. Then the ship is ripped by a massive explosion. O'Neill pulls up and dodges as Carter winces at the blinding light. Carter smiles in relief.]
O'NEILL
Think that was vital?
CARTER
(teasing)
Relatively speaking.
[O'Neill looks modest.]
EXT-ALIEN STARGATE, DAY
[Maybourne stands with Carter and O'Neill. Carter is smiling, watching O'Neill sniffing a bunch of yellow wild flowers he's been given.
O'NEILL
(to Maybourne)
You sure you don't wanna leave all this?
MAYBOURNE
I can't abandon these people, Jack. I've made a life here. I can't walk away from my home, my friends.
[O'Neill and Carter look around at the waiting people, smilingly.]
MAYBOURNE
My wives.
[Carter and O'Neill's smiles are abruptly cut off.]
CARTER
(enunciating, disapproving)
Wives?!
(looks around at the several pretty young women)
O'NEILL
(pats Carter soothingly on the shoulder)
Go.
[Carter stalks past, glaring at Maybourne, who looks smug and amused.]
O'NEILL
(puts a hand on Maybourne's shoulder)(mild)
Wives?
[Maybourne shrugs deprecatingly and O'Neill reluctantly smiles before heading off.]
O'NEILL
(growling, envious) Dog!
[Smiling, Maybourne turns to watch as Carter and O'Neill join Daniel and Teal'c on the Stargate dais. All bearing a posy of flowers, they walk through the Stargate. O'Neill hesitates. Maybourne, surrounded by his loving wives and subjects, smiling widely, salutes him. It's good to be king. O'Neill salutes back with his posy of flowers, then follows SG-1 home.
[The Stargate shuts down.]
FADE OUT
END CREDITS

Source : http://www.stargate-sg1-solutions.com/wiki/8.13_%22It%27s_Good_To_Be_King%22_Transcript