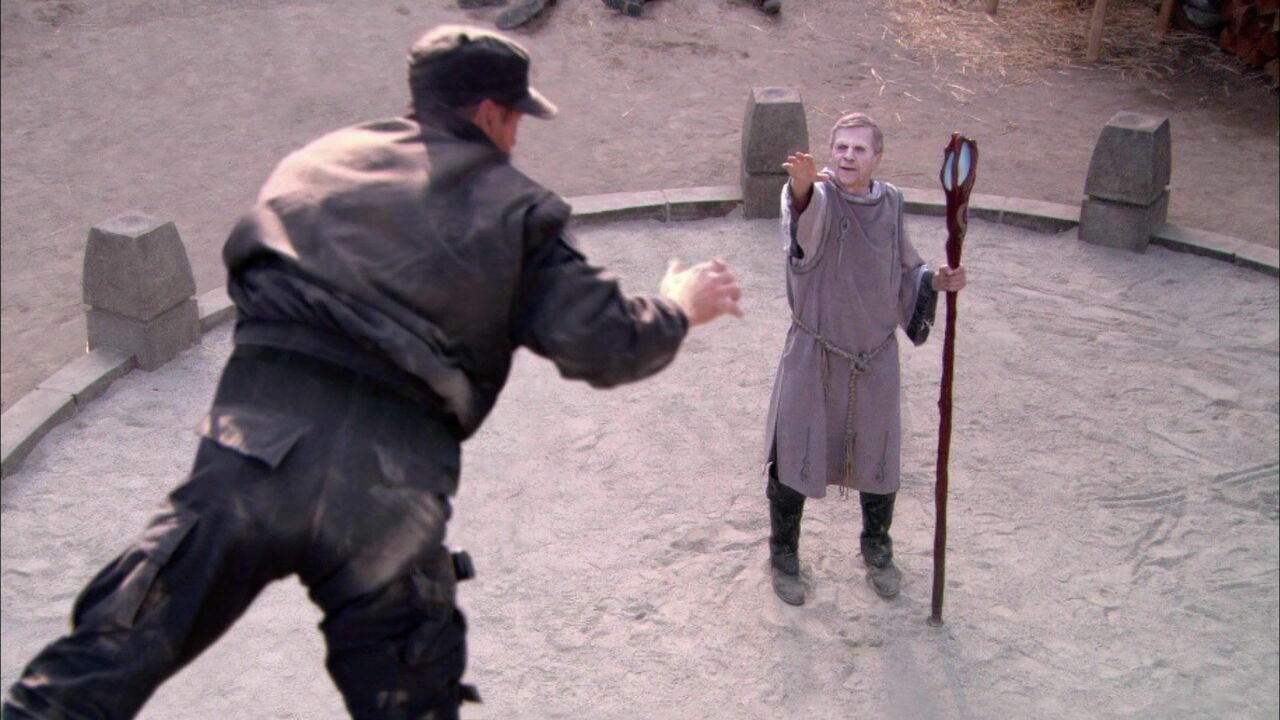 Transcript VO
PREVIOUSLY ON STARGATE SG-1
[Scenes from The Fourth Horseman Part 1 shown.]
TEASER
EXT-DAKARA, DAY
INT-JAFFA HIGH COUNCIL CHAMBER, DAKARA
[The Jaffa council sit and listen to the newly created Prior, Gerak, as he stands in the center circular podium and addresses them. Teal'c has stepped away from his chair and stands listening intently.]
GERAK
Like you, my judgment was clouded by suspicion and distrust. But the Ori sensed my misgivings, forgave me my weaknesses, and showed me their power. I stand before you today, as proof of their divine might.
TEAL'C
They have poisoned your mind. The Ori's promises are hollow. We have learned from the Ancients that they are not ascending their followers.
GERAK
Do you expect us to take your word for this?
TEAL'C
One of the Ancients returned to human form to warn us that the Ori gain strength by sapping the power from their followers. That is why they seek our support! The Ori are not some benevolent gods, offering you the path to enlightenment. They are but manipulative beings who will use you and discard you once you have served their purpose.
[Gerak shakes his head in impatient dismissal.]
GERAK
Enough.
TEAL'C
They are NO BETTER than the Goa'uld!
GERAK
Enough! The Goa'uld are impostors, but the Ori...the Ori are the real gods. Behold the gift the Ori have bestowed upon me.
[Gerak raises his hands from his sides. Copies of the Book of Origin at each council member's seats begin to rise several inches off the table. The council members' eyes widen in surprise. Bra'tac stands up, next to Teal'c, and they exchange concerned looks. Gerak lowers his arms, and all the books fall back to the table with loud thumps.]
EXT-CHEYENNE MOUNTAIN, DAY
INT-SGC CORRIDOR
[Lam and Landry walk down a corridor. Both look extremely tired.]
LAM
We've had three fatalities this morning. We have another twelve base personnel that are in critical condition and probably won't make it past the next twenty-four hours.
LANDRY
That's it?
LAM
They've been given sedatives and are resting comfortably. There's nothing you or anyone can do for them right now.
LANDRY
I can go see them.
[Lam steps in front of Landry and turns to face him, stopping his progress.]
LAM
No, you can't! You're exhausted, and you've already got a lot on your plate.
LANDRY
Those people are serving under my command.
[Landry starts to move away from Lam. Harriman approaches.]
HARRIMAN
Sir!
LANDRY
What is it, Walter?
HARRIMAN
As of 0800 this morning, the CDC reports confirmed cases of the virus in both Mexico and Canada.
LAM
We could be looking at a global pandemic.
END TEASER
OPENING CREDITS
EXT-VILLAGE, SODAN HOMEWORLD, DAY
[People move about in everyday activities. Two Sodan warriors practice in the competition ring.]
INT-PRISON HUT, SODAN VILLAGE
[Mitchell and Daniel are locked within a wooden hut. Bamboo bars are across the window and a guard can be seen posted outside the window. Mitchell and Daniel are eating some type of mush out of bowls. The door opens, and Jolan enters. Mitchell puts down his bowl.]
MITCHELL
Jolan! Hey, it's good to see a familiar face.
JOLAN
Lord Haikon wishes to see you.
MITCHELL
(adjusting his cap)
Let's rock and roll.
[Mitchell and Jolan exit the hut. A small child stands outside the window smiling at Daniel. He rattles his empty bowl teasingly across the bamboo bars, watching the child's reaction.]
EXT-VILLAGE, SODAN HOMEWORLD, DAY
JOLAN
It was foolish of you to come. The others are distrustful of you.
MITCHELL
Yeah, I kinda got that. Is there anything else I need to know?
JOLAN
Haikon will have your answers.
INT-HAIKON'S HUT, SODAN VILLAGE
[A servant helps Haikon take off his leather armor. Mitchell and Jolan enter.]
HAIKON
Welcome, Mitchell.
MITCHELL
Thank you, Haikon.
HAIKON
(gesturing)
Please, sit.
[They all sit at a low Asian-style table. Haikon pours tea into cups with a dipper.]
HAIKON
I apologize for making you wait, but I just came back from a mission of great importance.
JOLAN
We were informed of a world of non-believers who were conspiring against the Ori. The Prior dispatched us to "deal" with them.
MITCHELL
You mean kill them.
[Mitchell picks up his tea.]
HAIKON
Well, we were told they posed a considerable threat. "Leave not the smallest pebble, nor allow any hindrance that will slow your people's progress." So said the Prior.
MITCHELL
Yeah, the Priors say a lot of things. Look, I'm the last person to criticize someone for what they believe, but-
HAIKON
If your intention is to convince me to withdraw support for the Ori, you need not bother.
MITCHELL
You're making a big-
HAIKON
I have already decided as much.
MITCHELL
What?
JOLAN
We went to the planet as the Prior instructed. Two hundred strong to eliminate any threat. We were expecting an army. What we found were simple farmers, too naive to understand the consequences they faced for daring to defy the Ori.
HAIKON
The Sodan are proud warriors. We do not kill innocent people.
MITCHELL
So, you didn't follow through.
JOLAN
We left them unharmed. But before returning here, we had to put all doubts to rest, so we traveled to another world, one rumored to have refused the Ori. The entire civilization was decimated by a mysterious plague. There was no one left.
MITCHELL
(soberly)
Yeah, that's what they do. In fact they're doing it on Earth right now, as we speak. And it'll probably happen here when the Prior gets back and finds out you didn't obey his orders.
HAIKON
How can we resist so powerful an enemy?
MITCHELL
Well, I can tell you, but you're probably not going to like it.
INT-SGC SCIENCE LAB
[Orlin types on a laptop computer at a station and makes notes on paper next to him. He throws down his pencil and rubs his face with his hands. Carter appears at the doorway.]
CARTER
Orlin?
ORLIN
Sam. Are you all right?
[Carter walks into the room.]
CARTER
I'm fine. It's you I'm worried about. We just got your test results back. They show significant and progressive changes in different areas of your brain.
ORLIN
What kind of changes?
CARTER
A degenerative process that's already started to impair your cognitive functions.
ORLIN
I knew that when I took on human form, the memories I brought with me would eventually fade.
CARTER
That's only part of it. I mean it's not so much a result of you losing the memories, but more a consequence of your trying to hold onto them. Orlin, by not letting go of the Ancient knowledge, you're damaging your brain.
ORLIN
Yes. My human mind if failing under the...weight of so much information.
CARTER
You knew this would happen, didn't you?
(She scoffs.)
As an Ancient, how could you not have known?
ORLIN
Of course I knew, Sam. But I had no choice.
CARTER
But you have a choice now! Your brain is fighting a losing battle, stripping away whatever it can in an attempt to salvage the memories related to the cure. Give them up, and you could stop this from progressing any further.
ORLIN
I can't do that. There's too much at stake.
CARTER
You have the memories. Write them down. Give me the instructions. I'll complete the vaccine.
ORLIN
It's too complex. You won't fully understand the process.
CARTER
Try me! Orlin, you don't have to sacrifice yourself! Let go, before it's too late.
ORLIN
I can't risk entrusting this job to anyone but myself. I have to see this through, Sam. I'm sorry.
[Carter fights back tears and sighs heavily before leaving.]
EXT-VILLAGE, SODAN HOMEWORLD, DAY
[Mitchell calibrates the remote to the anti-Prior device and buries it in the sand of the competition ring. Sodan warriors, Daniel, and SG-22 stand nearby.]
MITCHELL
We're good.
DANIEL
Okay, this device will emit a high ultra-sonic frequency targeting a specific portion of the Prior's brain, temporarily blocking his ability to use his powers. Now, the good news is, it won't have any effect on us. The bad news is, it may not have any effect on the Prior, either.
MITCHELL
In order for this thing to work the way we want it to, it has to be broadcasting on the correct frequency. Unfortunately, we don't know what that frequency is, so we'll use a trial and error approach. This remote allows us to adjust the signal, and sooner or later we'll get the right one. Any questions thus far?
JOLAN
How will we know when it is working?
MITCHELL
Oh, we'll know when the Prior is no longer able to use his powers.
HAIKON
And how will we know he will no longer be able to use his powers?
MITCHELL
Well, "someone" is just going to have to test it and find out.
[Everyone stares at Mitchell.]
MITCHELL
Don't worry fellas, that "someone" is me. So, it's simple. We disable the Prior, we take a sample of his blood, we send it back to the SGC, they finish the cure, we turn the Prior against the Ori, and call it a day. Jackson, you're driving.
[He hands Daniel the remote.]
DANIEL
(dryly)
Ooh, yay.
MITCHELL
SG-22, I want you in defensive positions around the perimeter: there, there, there, and there.
[He indicates the positions by pointing. SG-22 deploys. Mitchell approaches Haikon.]
MITCHELL
There's, uh, one other small problem. We're not exactly sure what the range of that device is, so, Haikon, I need you to get the Prior as close as possible. Is that a problem?
HAIKON
No. No, it is not.
JOLAN
You are confident that this will work?
[Daniel and Mitchell exchange looks.]
MITCHELL
Well, if it doesn't work, we're out of options.
INT-JAFFA COUNCIL CORRIDOR, DAKARA
[Jaffa open large metal doors leading from the council room, and Bra'tac and Teal'c enter the corridor.]
BRA'TAC
I fear we have lost them.
TEAL'C
This battle is far from over.
BRA'TAC
But clearly the council was swayed.
TEAL'C
The task before us is daunting, but not impossible. The Jaffa nation has no appetite for war, particularly one that threatens to divide us.
BRA'TAC
Indeed. That much is certain.
TEAL'C
Mmm. The Ori, on the other hand will not abide opposition. They have already ordered Gerak to quell the dissension within our ranks.
BRA'TAC
Then we must retreat into the shadows and evade their attempts to find us.
TEAL'C
No, we must make a stand, on Chulak. Faced with the prospect of inciting a civil war that would kill millions, the council will be left with an impossible choice, but ultimately they must decide between the Ori and their fellow Jaffa.
BRA'TAC
It is only by forcing their hand that they will see reason.
TEAL'C
So I believe.
BRA'TAC
An enterprise this bold will require much support.
TEAL'C
Then let us gather a fleet to defend Chulak.
INT-SGC SCIENCE LAB
[Orlin writes on some paper, then crumples it up and tosses it aside. He leans his head on his hand heavily as Carter enters again. Without looking over, Orlin knows she is there.]
ORLIN
It's like catching a glimpse of someone from the corner of your eye, then turning around, and they're gone. You begin to actually doubt whether you actually ever saw them in the first place. Tell me, Sam, how can you regret losing a memory you can't even remember?
[Carter smiles sadly and shakes her head.]
CARTER
What are you working on?
ORLIN
Your instructions for assembling the cure in the event I am too incapacitated to complete it myself. It's a...precaution we have to take.
[Carter nods soberly. Orlin gestures at the scattered papers.]
ORLIN
The most frustrating part in all this is that I'm unable to control what I can hold onto, even for a little while. Crucial information I need to finish the cure is slipping through my fingers, while insignificant minutiae of my experience as an Ancient is still fresh and clear in my mind. In time, I'll lose it all, but for now, it just doesn't seem fair.
CARTER
Is there anything I can do to help?
ORLIN
No. At this point, it's best if I work alone.
[Carter squeezes his shoulder and starts to leave. She pauses at the door and watches Orlin work for a moment before exiting.]
INT-SGC OPERATIONS ROOM
[Personnel work at various stations. A few, including Landry, watch a report on the television regarding the virus.]
ANCHORWOMAN
(on television)
Despite the best efforts of all involved, the virus continues to spread at an alarming rate. The CDC advises anyone who suspects they have the virus or who may have come in contact with someone who did to quarantine themselves and immediately contact-
[Harriman enters the room and approaches Landry.]
HARRIMAN
Sir, we've just received word that China, Great Britain, and Russia have grounded all air travel and closed their ports to foreign ships.
LANDRY
This is out of control, and it's only going to get worse.
HARRIMAN
And, according to General Hammond's office, our allies have expressed concerns about the cover story, specifically, how long we can continue to maintain it. They've requested a meeting with you.
INT-SGC BRIEFING ROOM
[Representatives of various nations sit at the briefing table with Landry.]
CHEKOV
So, it is your estimation then, General, that the decision to send SG-6 to that particular planet was the right one?
LANDRY
As evidenced by this plague, we have no viable defense against the Ori. The purpose of the mission to 656 was to gather intelligence that might help us in that respect.
FRENCH REPRESENTATIVE
But admittedly, the mission was a failure in the worst possible way. And, as a result, millions, perhaps billions will lose their lives.
LANDRY
The newly appointed liaison between Stargate Command and the International Committee was informed of, and signed off on, the mission. Your representative agreed it was the right call.
FRENCH REPRESENTATIVE
There is some concern that Mr. Woolsey may not have been fully appraised of all the possible ramifications. Now, to his credit, he still supports your decision-
LANDRY
(interrupting)
The Ori were going to strike at us sooner or later, and rather than sit back and wait for it, we were out there looking for a way to stop them, to stop this from happening. And to start pointing fingers-
CHEKOV
(breaking in)
General Lan...
LANDRY
At such a crucial time-
CHEKOV
General Landry! The purpose of this meeting is not to assign blame, but to arrive at a better understanding of how this happened. And conversely, to avoid something like this ever happening again!
LANDRY
That's provided we have a second chance! Presently, we have no way of stopping this virus.
People are dying, and there's not a damn thing we can do about it!
INT-JAFFA COUNCIL CHAMBERS, DAKARA
[Teal'c, Bra'tac, and a male council member, Cha'ra, are in deep conversation, standing in the corridor.]
CHA'RA
What you propose is madness.
TEAL'C
So it may seem, but if the Council believes that we are mad and cannot be dissuaded from sacrificing our lives, then all the better. We must stake everything on the belief that, in the end, the Council will value the lives of their brothers over the empty promises of the Ori.
[They pause as a few Jaffa soldiers pass by. Teal'c leans closer and speaks lower.]
TEAL'C
Time is short, brother. We must gather our forces, for the bigger our army, the more lives that Gerak must choose to take. We must make this decision as difficult as we can for him.
CHA'RA
Gerak's no longer one of us. He is a Prior now.
TEAL'C
Gerak may be a Prior, but I have no doubt that part of him remains Jaffa, and that is the part we must seek out.
CHA'RA
I still believe this plan to be madness. But then, I once considered the very notion of defeating the Goa'uld a mere fantasy. Prove me wrong yet again, Teal'c. You have my support.
[They grasp hands in the Jaffa version of handshakes.]
BRA'TAC
Thank you, brother.
EXT-SODAN HOMEWORLD, DAY
EXT-VILLAGE AND SURROUNDINGS, SODAN HOMEWORLD, DAY
[Mitchell is among the foliage on the outskirts of the village. He checks on the positions of his team through his monocular and spots the Prior approaching. He keys his radio.]
MITCHELL
(into radio)
He's on his way. Jackson?
[Daniel leans against the wall of one of the wooden huts, hidden from view. He keys his radio.]
DANIEL
(into radio)
Ready.
[Mitchell continuing to watch the Prior's progress.]
MITCHELL
(into radio)
All right, everybody sit tight. Wait for my signal. Remember, we need this guy alive.
[Mitchell rises and starts towards the village. He keys a Sodan device on his vest and becomes invisible.]
[The Prior approaches Haikon and Jolan, who are standing in the competition circle.]
PRIOR
You went to the planet, as I had asked of you?
HAIKON
We did.
PRIOR
And yet, the non-believers still live.
[Daniel, hidden from view, keys a frequency into the remote.]
HAIKON
They do.
PRIOR
Why have you disobeyed the will of the Ori?
HAIKON
Because we take orders from no one.
PRIOR
The Ori offer you enlightenment, immortality.
JOLAN
Even if that were true, their price is too high. What they ask of us goes against the very spirit of the Sodan.
PRIOR
You doubt the power of the Ori.
HAIKON
It is not their power that we doubt, it's their worthiness as gods.
[Able to see the circle from his position, Daniel remains hidden from the Prior's view. He activates the device via the remote, but to no effect. The Prior somehow senses something and lashes out with his free hand, blasting a wave of telekinetic energy around him and knocking Haikon and Jolan several feet back. They land outside of the circle in a crumpled heap, crying out in pain.]
DANIEL
(muttering to himself)
That's not it.
[The Prior turns and sends out another wave in a different direction. Mitchell becomes visible and gets knocked to the ground by the blast. He raises his zat to fire, but the Prior raises his hand and knocks Mitchell flat, grunting in pain.]
DANIEL
(keying the remote)
That's not it either.
[The Prior crooks his arm back and Mitchell slides across the ground on his back. He tries to control his body enough to aim his zat, but the Prior twists his arm again and Mitchell is lifted several feet up into the air, somersaulting, and losing his weapon while being held in place mid- air. He frantically feels for another weapon while looking at the ground in disbelief.]
PRIOR
"Andras chose to hunt the lion and was eaten by his prey."
DANIEL
(forcefully pressing the remote)
Come on.
PRIOR
It was unwise of you to challenge me.
MITCHELL
Yeah, well, I wouldn't mind another crack at it.
[Daniel frantically presses codes on the remote. The Prior frowns at Mitchell. Mitchell's face contorts in pain.]
PRIOR
What did you hope to achieve by attacking me? Did you honestly believe it was possible to capture me?
MITCHELL
(speaking with difficulty)
Well, that was the plan.
PRIOR
And what purpose would that have served?
[Mitchell shrugs. The Prior closes his fist, and Mitchell begins to choke. Daniel continues to try combinations with the remote. Suddenly Mitchell drops straight to the ground. He is able to breathe and starts to get up. Daniel moves around the hut into the open. The Prior watches Mitchell in shock, trying to use his powers. Mitchell recovers his zat and fires. The Prior drops to the ground, unconscious.]
INT-LANDRY'S OFFICE
[Hammond, wearing a civilian suit, waits in the office as Landry enters.]
LANDRY
(sighing in relief)
George.
HAMMOND
Hank, how was the grilling?
LANDRY
Medium-rare. I just got off the phone with the CDC. A flight left Salt Lake City three days after the contagion was identified. It made a stopover at O'Hare before continuing on to its final destination, Charles de Gaulle Airport.
HAMMOND
(sitting in visitor's chair)
You're telling me the virus has already reached Paris?
LANDRY
(sitting in his chair)
Three of the people on that flight have tested positive for the virus. French authorities are doing all they can do track down the passengers, flight crew, any ground crew or airport personnel that may have come in contact with them.
HAMMOND
And anyone who came in contact with them and anyone who came in contact with those people. You know, at the rate this thing is traveling, in three days it'll hit the Middle East. Six days, it'll be in China!
LANDRY
Stock market has already taken a dive, and people are panicking. If this thing spreads far enough, and does enough damage, it could start destabilizing governments. We're going to have to be prepared for any and all possibilities.
EXT-VILLAGE, SODAN HOMEWORLD, DAY
[Keeping an eye on the now unburied device, which sits on a pedestal on the perimeter of the circle, a member of SG-22 keys the remote and puts his hand to his holstered sidearm. The Prior awakens, and immediately notices a bruise on the inner side of his arm. He looks confused.]
DANIEL
Yeah, we took the liberty of borrowing a sample of your blood. Hope you don't mind.
[The Prior stands and notices Daniel and Mitchell standing at the outer edge of the competition circle. Mitchell casually holds the Prior's staff.]
MITCHELL
(tossing staff from hand to hand)
You looking for this?
[The Prior reaches out. Mitchell fakes the staff being released from his grasp. SG-22 and the Sodan raise their weapons.]
MITCHELL
Whoa!
(Mitchell pulls the staff back confidently.)
No. That's not going to work.
[The Prior looks very confused.]
DANIEL
That warm, fuzzy feeling you're experiencing may be the effects of a device that inhibiting your ability to concentrate and focus your powers.
MITCHELL
Symptoms may include dizziness, irritability...
DANIEL
Nausea.
MITCHELL
Mild nausea, and a condition known as hot dog fingers.
[Mitchell waggles his fingers in demonstration.]
PRIOR
It makes no difference what you do to me. But know this, the Ori are all seeing.
[Mitchell and Daniel look at the sky in false expectation. Haikon and Jolan look at each other and shake their heads.]
PRIOR
They are already aware of this affront to their eminence, and shall strike down those who dare to defy them.
MITCHELL
Nothing yet. You?
DANIEL
Drawing a blank.
[The Prior watches them incredulously.]
DANIEL
A little thirsty.
MITCHELL
That doesn't count.
DANIEL
No, it doesn't.
PRIOR
Their ways are not so easily divined. Their ways are unseen and veiled in mystery.
DANIEL
Right, right, they "have a plan."
(Mitchell makes quote marks with his fingers on Daniel's behalf)
I don't suppose you want to tell us what that is? Why'd they send you to this galaxy in the first place?
PRIOR
We are beacons on the road to enlightenment.
MITCHELL
No, you're dark-side intergalactic encyclopedia salesmen. Unfortunately, the home office hasn't been quite upfront with you.
DANIEL
Nice work on the metaphor.
MITCHELL
Thank you.
DANIEL
Well, for starters, did you know that the Ori need people to worship them because that's how they gain their power?
[The Ori scoffs incredulously and looks around.]
MITCHELL
He didn't know.
DANIEL
No, he didn't know that. No, it's true. Now, we're not exactly sure how it works, but from what I've heard, they actually drain power from their followers. That's why they need worshipers.
[Mitchell and Jolan exchange sober looks.]
MITCHELL
You should talk to them about that the next time you're home.
DANIEL
Yeah, they might do a better job explaining the process to you.
PRIOR
Ours is not question, but to rejoice in their service, for they are perfection.
DANIEL
No, not really, because a perfect being wouldn't need to lie to ensure the loyalty of their followers. They wouldn't need to promise you ascension if they had no intention of delivering it.
PRIOR
(nonplused)
"Those who follow the path of righteousness shall be raised up high."
MITCHELL
No, they won't. Because the Ori do not share power.
(He leans forward)
They're using you.
PRIOR
"Pity not the blind man, for he is hindered not by the visions of this world, but rather pity yourselves..."
[Mitchell starts to turn away.]
MITCHELL
(low, to Daniel)
Blah, blah, blah, blah, blah, blah, blah.
PRIOR
(without confidence)
...for he shall see the light before you."
MITCHELL
(calling back to his team)
I'm going to get something to eat.
INT-SGC CONTAINMENT AREA LAB
[Various personnel work on blood and chemical samples in full hazmat gear. Orlin, also in hazmat, takes a sample from a blood vial and puts it on a microscope slide. Carter enters the room wearing her own hazmat suit. She watches Orlin's movements. He turns away from his microscope, knocking the container full of glass vials to the floor, shattering them and spilling their contents across the floor.]
CARTER
(moving to him)
Orlin!
JOHNSON
Dammit!
[Col. Johnson heads to the door and hits the security alarm.]
CARTER
Are you okay?
ORLIN
I'm fine.
JOHNSON
(furious)
No, no, he is not fine!
CARTER
Colonel!
JOHNSON
(still angry)
He hasn't been fine in two days! He has demonstrated lapses in judgment that put everyone in this room at risk.
CARTER
Colonel, that is enough!
[Johnson and a clean-up crew move to contain the spill.]
ORLIN
No, he's right, Sam. I can't help you anymore. I'm just in the way here.
[Carter watches Orlin leave, then turns to see the crew clean up the contamination.]
EXT-SPACE
[Several ha'taks are in orbit above Chulak.]
INT-HA'TAK BRIDGE
[Bra'tac and Teal'c stand on the bridge. Aron stands by the controls for the vessel behind them.]
TEAL'C
Reflecting on your ill-spent youth, old man?
BRA'TAC
(smiling)
In truth, I was thinking of you. If this gamble succeeds, you will have once again proven yourself a great leader perhaps the only one capable of uniting this fractured Jaffa nation.
TEAL'C
My heart is indeed with our people. But as long as the Ori threaten this galaxy, my place is with SG-1.
BRA'TAC
I understand. Even so, there is no doubt we are the poorer for it.
TEAL'C
I disagree. After our great victory this day, Gerak's influence over our people shall wane. Then our nation will rally under the command of a great leader.
(he pauses, and his voice takes a teasing tone)
That is, if he has the courage to accept the challenge.
BRA'TAC
(incredulous)
Me?
TEAL'C
Who better? Tell me?
BRA'TAC
(shaking his head)
No. There are many others.
TEAL'C
There are many others who covet the position. But none who possess the strength and wisdom only you can offer.
BRA'TAC
It was not too long ago we faced a similarly impossible task. And yet, on that day, despite the odds, we finally ended generations of oppression and struggle by securing victory over Ba'al's fleet.
TEAL'C
(nodding in agreement)
Mmm.
BRA'TAC
I remember standing on the pel'tak of that mother ship, just as I am doing now, waiting for the battle to begin, yet knowing no matter what the outcome, it would be the last time I would have to take the life of a fellow Jaffa.
TEAL'C
No Jaffa blood will be spilled on this day. On that, you have my word.
[They bow to each other. Teal'c leaves.]
INT-SGC CORRIDOR, LEVEL 19
[Harriman, reviewing a report, meets Landry outside an elevator.]
HARRIMAN
Sir, we have confirmed cases in Bonn, Amsterdam, Rome and Madrid. We have suspected cases in London and Athens. The WHO has teams en route. Meanwhile, there are suspected cases on the African continent. Some of the military leaders in the region have already declared martial law.
LANDRY
Thank you, Chief.
[Harriman walks away, and Landry turns to Carter who stands nearby.]
LANDRY
Colonel, how are things progressing?
CARTER
They're not, sir. As you know, the contagion's rapidly mutating nature necessitated our requiring a specimen of DNA from the original virus. We've finally managed to get a blood sample from the Prior who started the plague, but so far, it hasn't helped. It looks like we've hit a dead end.
LANDRY
Let's hope "looks like" is the operative sentiment here.
CARTER
Yes, sir.
[They part ways.]
INT-SGC VIP ROOM
[Orlin sits on a bed, playing with his shoelaces. Landry enters, but stands near the door.]
LANDRY
Orlin? Sorry to disturb you.
ORLIN
Not at all, General. Please...
[Orlin stands up and motions the general to enter.]
LANDRY
I'd wanted to thank you for everything you've done.
ORLIN
I wish it could've been...more.
LANDRY
Well, you got us as far as you could, the rest is gonna have to be up to us. Orlin, I realize I have no right to ask this of you, but there is something else you might be able to do for us.
EXT-SPACE NEAR CHULAK
INT-BRIDGE OF TEAL'C'S HA'TAK
ARON
Numerous vessels dropping out of hyperspace.
EXT-SPACE NEAR CHULAK
[A group of ha'taks jump out of hyperspace. There are many more than Teal'c's group.]
INT-BRIDGE OF TEAL'C'S HA'TAK
[Gerak appears on a video communication screen.]
GERAK
You are outnumbered. Retreat is no longer an option. I do not want to slaughter you, but I will if you give me no choice. So, what say you, Teal'c?
EXT-SPACE NEAR CHULAK
[Gerak's and Teal'c ships are at a standoff.]
INT-BRIDGE OF TEAL'C'S HA'TAK
TEAL'C
I still have hope this situation can be peacefully resolved, Gerak. Let us meet on the planet's surface and discuss it.
GERAK
(over comm link)
Very well.
EXT-VILLAGE, SODAN HOMEWORLD, DAY
[Mitchell walks around the perimeter of the competition circle while peeling an apple with his knife. Sodan warriors and SGC personnel stand at evenly spaced intervals along the perimeter, guarding the Prior. The Prior looks frustrated and bored.]
MITCHELL
It's a Norwegian cheese, I think. Spelled with a "g" or a "j", maybe both. Jgetost, Gjetost, something like that. So then what you do is, you dice up the cheese, you toss it in with egg whites, then you chop up some avocado, throw it all together...whoa, daddy! You've got yourself a wicked omelet.
[Landry, Daniel and two SGC members approach the village.]
MITCHELL
General! We were just exchanging recipes.
LANDRY
I heard. Has he offered up anything?
MITCHELL
No, sir. The man doesn't even have a decent pie crust.
LANDRY
The Ori are not going to ascend you. They lied to you, and anyone else they could take advantage of.
PRIOR
"Let not the words of deceivers lead you to doubt, nor the enticements they offer cause you to stray."
LANDRY
Exactly, and the sad fact is you gave it all up for nothing. The life you had is gone. The Ori took it away from you.
PRIOR
"Blessed are the true believers, for only they shall walk the path, and they shall be welcomed unto the realm of the Ori and made as one with Them."
LANDRY
What did you leave behind? A wife? Children?
[The Prior's face falls. Landry takes a couple of steps into the circle. Daniel puts his hand on his holstered sidearm and watches, concerned.]
LANDRY
I have a grown daughter. I wasn't around much when she was growing up. That's something I'll always regret. Do you ever the think about your kids? The time you spent with them? The things you used to do together before you threw it all away?
 
But, how-how would I know whether the Ori are ascending people or not? The truth is, I don't know for sure, but he does.
[Landry points behind the Prior. The Prior turns to find Orlin standing on the other side of the circle.]
ORLIN
Hello, Damaris.
PRIOR
(nonplused)
Who are you? How do you?
ORLIN
Know?
[Orlin passes Mitchell, enters the circle and approaches the Prior. As he speaks, he seems to have trouble recalling the correct word at times.]
ORLIN
Your entire life was an open book to me the moment you set foot in this galaxy. I was once...ascended, but I took this...form, because it was the only way to warn...the humans about the Ori. Since I made that decision, I've paid a heavy price in terms of the effect it's had on my mind. The memories I've...lost.
PRIOR
"Life and death. Light and darkness. Hope and despair. The rift was created, and on that day, the Ori were born."
ORLIN
But every so often, something will...stir in me. And if I push myself hard enough, I'll remember, one more time, before it leaves me forever. Your name, Damaris. Your wife, Adina. Your...sons, Jaden and Allon.
PRIOR
(desperately)
"But the hatred of those who strayed from the true path festered and bloomed in the dark corners of the Avernakis to which they had been cast!"
ORLIN
And the fact that the...Ori have never...ascended any of their...followers.
PRIOR
And consumed by this hatred, they poisoned all they touched, bringing death, darkness and despair.
ORLIN
You know that as an Ancient, I wouldn't lie to you.
PRIOR
(with renewed confidence)
And the souls of their victims knew no peace, until the Ori came and whispered to them: 'sleep, for the end draws near'!"
[As he speaks, the Prior turns away from Orlin. When he finishes talking, he reaches out with his hand towards Landry. Landry begins to slide towards the Prior against his will, his heels dragging in the sand.]
SG TEAM MEMBER
He's overcome the device!
[Landry is pulled directly into the Prior's outstretched hand. The Prior begins to choke Landry with his bare hand. Landry cannot breathe. Everyone draws their weapons.]
PRIOR
"And on that day, all will rejoice, when the Ori come and lay them low."
[Mitchell fires his weapon. The Prior lets go of Landry, a look of surprise on his face, and drops to the ground, dead. Landry staggers back as he's been released, gasping for air. Daniel holsters his weapon and rushes to Landry's aid, lowering him gently to the ground.]
DANIEL
General!
LANDRY
(still red-faced and gasping)
I'm fine. What was he saying?
ORLIN
He just told you why the Ori are on their way to this galaxy. They're coming...to destroy the Ancients.
EXT-CHULAK, DAY
[Gerak and Teal'c meet on a wooded path at the planet's surface.]
GERAK
You have made the right choice. There is no honor in fighting an unwinnable battle.
TEAL'C
Nor peace at the hands of a tyrant.
GERAK
I assure you, the Ori are not the Goa'uld.
TEAL'C
(sadly)
Have we truly lived as slaves for so long that we must fear being free?
GERAK
It has nothing to do with freedom. Enlightenment is just within our reach.
TEAL'C
Or so the Ori would have us believe.
[Teal'c approaches a stone monument in a clearing. Gerak looks stricken when he reads the glyphs on the monument and realizes where they are. Teal'c watches his reaction.]
GERAK
Why have you led me here?
TEAL'C
I thought it fitting that on this day when we must sacrifice our short-lived freedom, that we do so here, at the site of the battle of Tazek'sur, where your father gave his life for this very cause. You began to doubt the Goa'uld long before this rebellion took shape, Gerak. It was your father's death at their hands that led you to question 'what god is so deserving of my worship?'"
GERAK
You were not the one who was chosen. You did not witness the wonders I beheld.
TEAL'C
Did they raise the dead? Heal the sick and wounded? Destroy their enemy with but a wave of their hand?
GERAK
The Goa'uld deceived us. The Ori's powers are pure.
TEAL'C
And what is the measure of a god, Gerak? Is it the scope of their power, or how they choose to wield that power? Would a god who is prepared to lead us on the path of enlightenment so contradict this divine benevolence by destroying all those who refuse to believe in him?
GERAK
Those who refuse to believe must die.
[Teal'c approaches and leans close to Gerak.]
TEAL'C
I understand how difficult this must be for you, Gerak. Nearing your final years, you so desperately long for the enlightenment we all seek. This is not the way to save yourself.
[Gerak is visibly upset.]
GERAK
I only wanted to avoid bloodshed.
TEAL'C
Stay this course, and you will have no choice but to spill the blood of your brothers...
[Teal'c grabs hold of Gerak's Prior staff and points the orb towards himself.]
TEAL'C
...and you may start with me. For if I have a choice between resistance or returning to the life of slavery, then I choose to die free.
EXT-CHEYENNE MOUNTAIN, DAY
INT-SGC INFIRMARY
[Landry is in hospital scrubs, sitting upright on a gurney. Medical personnel are at work around him in full hazmat gear, and the area is cordoned off with blue plastic for a containment area.]
LANDRY
(frustrated)
I'm telling you I'm fine. Carolyn, can you tell these people I'm fine?
LAM
You're not fine. Your bloodwork came back positive. You have the virus.
[Landry is in shock.]
EXT-CHEYENNE MOUNTAIN, DAY
INT-SGC BRIEFING ROOM
[Daniel, Carter and Mitchell sit at the briefing table, looking tired and as if they are waiting. Hammond enters without their knowledge.]
HAMMOND
It's always darkest before the dawn.
[Daniel, Carter, and Mitchell rise, visibly surprised to see Hammond.]
HAMMOND
My uncle used to say that all the time, he was a wedding planner.
CARTER
(beaming)
General Hammond.
HAMMOND
At ease.
CARTER
Sir, when did you arrive?
HAMMOND
Oh, I've been here a while. But, you were busy, and I thought it was best not to disturb you.
(turning to Mitchell)
Colonel Mitchell. Congratulations on getting the band back together.
MITCHELL
Thank you, sir. It wasn't easy.
HAMMOND
No, but worth it. You couldn't ask for three better people watching your back. (turns back to Carter and Daniel)
I'm sorry I won't get a chance to see Teal'c before I go.
CARTER
You're leaving, sir?
HAMMOND
Oh, I'm off to Peterson. I've been called back to Washington.
DANIEL
Well, it's-it's good to see you again, sir.
[Daniel and Carter give wistful smiles to Hammond. He smiles in return.]
HAMMOND
It's good to see you again, too. All of you. Give my best to Teal'c. Take care of each other. Take care of General Landry, too.
[Hammond leaves and the three SG-1 members look thoughtful.]
INT-SGC ISOLATION WARD AND ITS OBSERVATION ROOM
[Landry is one of five patients in the isolation ward. They are all in hospital scrubs lying on beds. Many are on oxygen. Medical personnel work on the patients while wearing full hazmat gear. From the observation room, Lam looks down at her father and the others.]
LAM
You're awake. How are you feeling?
LANDRY
After that little nap, better than I've felt all day. How's that for irony? How are Mitchell and Dr. Jackson?
LAM
They're clean.
LANDRY
And Orlin?
LAM
I just ran a battery of tests on him. I'm afraid the effort of drawing out all those memories has taken a toll, accelerated the degenerative process, so he's in his quarters, resting.
LANDRY
You look tired, Carolyn. You should get some sleep.
LAM
I can't. Not yet.
LANDRY
I can make that an order.
LAM
The last time you ordered me to bed, I think I was six.
LANDRY
(chuckling)
You were just as stubborn back then.
LAM
I spoke to Mom recently.
LANDRY
(looks upset)
How is she?
[Though appearing to try and keep her emotions in, Lam's voice starts to break as she speaks and her words take on a harsh, bitter, and frustrated tone. ]
LAM
Worried. All those years growing up I was growing up, I resented the fact that you never told us anything about your work, about why you had to leave us for days, sometimes weeks at a time.
(She pauses and her voice, though still breaking, is softer in tone.)
But, now, I'm beginning to understand how hard it must have been for you. Talking to Mom the other day, I wanted to reassure her, to tell her everything, but I couldn't. It was hard.
[As Lam speaks, Landry fights back tears.]
[Klaxons start to blare. The interruption makes Lam try and compose herself again.]
HARRIMAN
(over intercom)
Unscheduled offworld activation.
INT-SGC CONTROL ROOM
[Carter climbs up the rear stairs into the room and approaches Harriman's station.]
HARRIMAN
It's Teal'c.
INT-SGC GATE ROOM
[A number of guards have weapons pointed at the active wormhole. Teal'c comes through the Stargate. A few steps behind him is Gerak. The stargate deactivates.]
TEAL'C
Lower your weapons.
[The guards do not move. Teal'c raises his arms outward and makes stands wider, trying to block any clear aim of Gerak with his body.]
INT-SGC CONTROL ROOM
CARTER
(keying microphone)
This is Colonel Carter. Stand down.
INT-SGC GATE ROOM
[The guards lower their weapons, and Teal'c and Gerak move down the ramp.]
INT-SGC CONTROL ROOM
[Carter and Harriman exchange looks before Carter leaves.]
INT-SGC INFIRMARY ISOLATION ROOM
[The door to the isolation room opens and Gerak enters.]
INT-SGC INFIRMARY OBSERVATION ROOM
[Lam observes Gerak's entry in surprise. Teal'c and Carter join her.]
LAM
(nervous)
What's going on?
TEAL'C
Gerak has arrived to assist us.
[Daniel and Mitchell rush into the room and join the others in watching Gerak. From the window, they can see Gerak approach Landry's bed and pause.]
TEAL'C
Why do you hesitate, Gerak?
INT-SGC INFIRMARY ISOLATION ROOM
GERAK
If I help you, I will die.
INT-SGC INFIRMARY ISOLATION OBSERVATION ROOM
GERAK
(from the isolation room)
...but I will die...FREE!
[Gerak slams his staff into the floor, and the orb glows with a bright light. The others observe as this wave of light brightens the entire room and spreads outward.]
INT-SGC CORRIDORS
[Personnel pause and look in wonder as the bright light spreads everywhere.]
INT-SGC COMMISSARY
[The light spreads throughout the room. People eating and moving about stop and watch it pass.]
INT-SGC INFIRMARY ISOLATION OBSERVATION ROOM
[Through the window, the team and Lam observes Gerak suddenly becoming engulfed in flames.]
TEAL'C
GERAK!
[Gerak's body burns a few seconds more until nothing is left. The team looks on in shock.
Landry and the other patients begin to wake up. Lam races over to a monitor.]
MITCHELL
What the hell just happened?
CARTER
I thought the Ori weren't able to take action in this galaxy without inciting the Ancients?
DANIEL
They can't.
[The team watch as medical personnel in hazmat gear rush into the isolation room to check on the waking patients.]
DANIEL
(shaking his head)
It must have been some sort of physiological failsafe they put in place when they made him a Prior in the event he ever turned.
[Lam studies the patients' vital statistics on the monitor.]
LAM
They're normalizing. It worked.
[She races out of the room.]
INT-INFIRMARY ISOLATION ROOM
[Lam enters the room without a hazmat suit and move immediately to her father, checking his heart with a stethoscope and smiling at him in relief.]
INT-SGC BRIEFING ROOM
ANCHORWOMAN
(on television screen)
The final death toll of the pandemic has been estimated at a little over three thousand, worldwide, but health officials are quick to point out that it could have been much worse. As distribution of the vaccine continues, many have begun to ask how this could have happened in the first place. And, more to the point, where did this virus originate?
[Landry turns off the television set with his remote and sits at the head of the table. Lam, Mitchell, Teal'c and Daniel are already seated.]
LANDRY
We were lucky. There might not be someone like Gerak to help us next time.
LAM
It wasn't just Gerak. He cured the people on the base. From them, we were able to isolate an antibody, and manufacture a vaccine using Orlin's formula. Thanks to Orlin's work, we should be able to prevent the Priors from attacking us this way again.
MITCHELL
Oh, I reckon they've got a pretty wide repertoire.
TEAL'C
The Ori will undoubtedly view this defeat as nothing more than a minor setback. It will not be enough to dissuade them from continuing their incursion into this galaxy.
DANIEL
Certainly not if their endgame is to destroy the Ancients.
LANDRY
Given the fact that they're personally threatened, do you think the Ancients will take measures to defend themselves?
DANIEL
If it comes to that, it's possible, but I think we're a long way from the Ori posing the Ancients a serious threat.
MITCHELL
(dryly)
No, they're just a threat to everyone else in the galaxy.
[Daniel makes a face in agreement.]
MITCHELL
So how's Orlin?
LANDRY
His condition has stabilized, but I'm afraid the damage has already been done.
INT-LONG TERM CARE FACILITY COMMON ROOM
[Orlin sits at a table working on a jigsaw puzzle. Other patients sit quietly elsewhere in the room. Carter, in civilian clothes, approaches Orlin hesitantly.]
CARTER
Hello.
ORLIN
Hi. Who are you?
CARTER
My name's Samantha.
(gestures at puzzle)
Do you need help with this?
ORLIN
(half-smiling)
Sure.
[Carter sits at the table.]
ORLIN
I finished the outside, so you can help me with the inside?
CARTER
Okay.
[They both work on the puzzle.]
FADE OUT
END CREDITS

Source : http://www.stargate-sg1-solutions.com/wiki/9.11_%22The_Fourth_Horseman_Part_2%22_Transcript