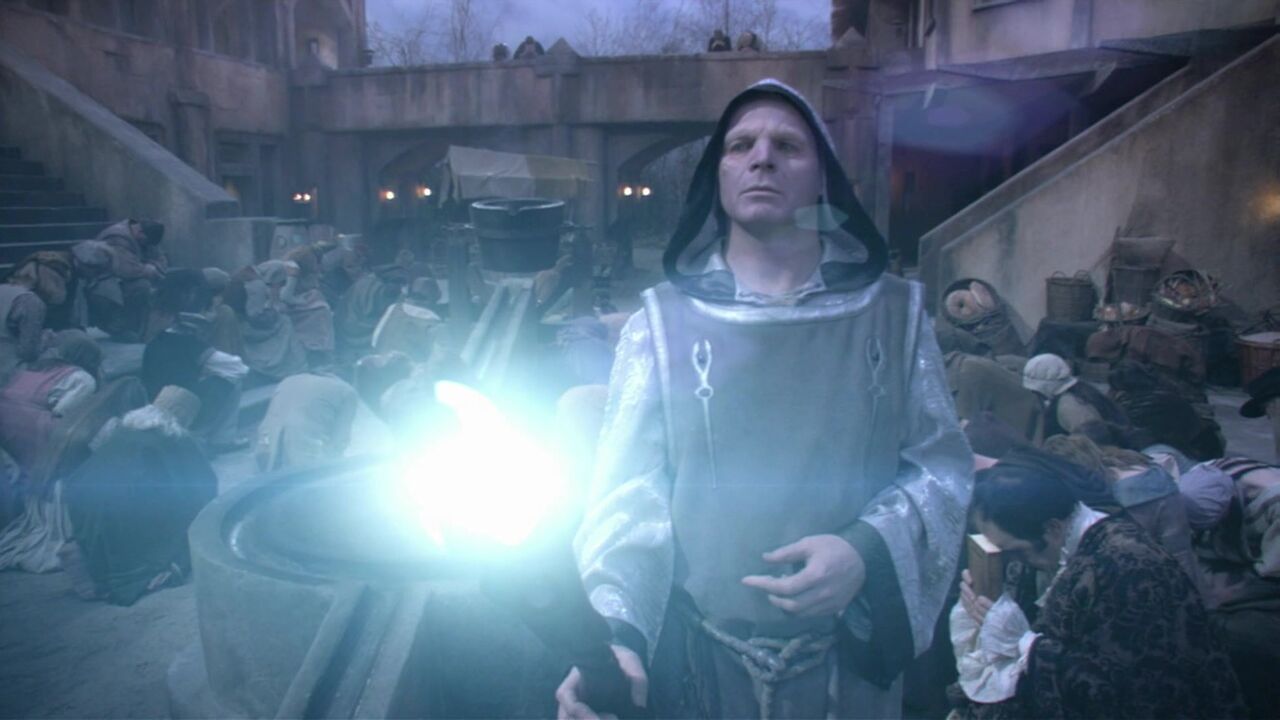 Transcript VO
TEASER
PREVIOUSLY ON STARGATE SG-1
[Scenes from Avalon Part 1 are shown.]
INT-DANIEL AND VALA'S CHAMBER, AVALON CAVES
[The ceiling of the chamber continues to lower. Daniel and Vala are crouched on opposite sides of the stone altar. Daniel is holding his P-90 in one hand, using its attached flashlight to illuminate the area.]
VALA
Think! You are the expert on all things Ancient.
DANIEL
(sarcastically)
Yeah, you didn't care about that two minutes ago. "Let's try this one. How about this one?"
VALA
(panicking)
So think!
DANIEL
I'm thinking!
VALA
Sorry, but could you possibly think a little bit faster!
DANIEL
"The universe is infinite."
VALA
No doubt it's deliberately ironic that we're in an ever decreasing space!
DANIEL
(holding up a finger)
No. It's the second part of ancient proverb. "There is only one truth: the universe is infinite."
VALA
How does that help us!?!
DANIEL
"There is only one truth..." This pot says: "The treasure's in this pot."
VALA
It's not in either of them.
DANIEL
I know, we did it wrong. So we have to see if we can do it again.
[Daniel and Vala replace the lids on both pots.]
DANIEL
"There is only one truth: the universe is infinite." Therefore the statement about the treasure being in this pot has to be false. So the treasure must be in...
[Daniel lifts the lid of the gold pot. Inside is a gold coin. Daniel and Vala, both bent at the waist due to the ever lowering ceiling, stare at the pot's contents in surprise. The ceiling quickly rises to its former height. The altar, which had also slightly lowered, also rises to its full height and the stone slab sealing the chamber lifts, revealing the exit.]
VALA
Wow. Good thing you know your ancient proverbs, otherwise we'd be...
(suddenly realizing)
Mitchell.
DANIEL
(very concerned)
Teal'c.
[Daniel drops the pot's lid and rushes out of the chamber. Vala stays behind for a moment, staring down toward the gold pot and biting her lip.]
INT-TEAL'C AND MITCHELL'S CHAMBER, AVALON CAVES
[The ceiling of the chamber continues to lower. Teal'c is hunched down, straining with the effort of fruitlessly pushing against it with his back. Mitchell is on one knee and continues to try random combinations of symbols to solve the Ancient puzzle.]
MITCHELL
(yelling)
Yo! Feel free to jump in here at anytime!
INT-TEAL'C AND MITCHELL'S CHAMBER AND VICINITY, AVALON CAVES
[Daniel runs down the tunnel and reaches the sealed entrance to the chamber where Teal'c and Mitchell are trapped. A few seconds later, Vala joins him. Daniel crouches by the slab; there is a small space between the floor and the bottom of the slab.]
DANIEL
(yelling through the space)
Teal'c!?
INT-TEAL'C AND MITCHELL'S CHAMBER, AVALON CAVES
TEAL'C
Daniel Jackson!
MITCHELL
Hey! We got a little problem in here!
INT-OUTSIDE TEAL'C AND MITCHELL'S CHAMBER, AVALON CAVES
DANIEL
Uh, what's the puzzle?
[Following scenes switch rapidly between the interior of the cave where Teal'c and Mitchell are trapped and just outside the door, where Daniel attempts to help as Vala looks on.]
MITCHELL
There's eight stones with symbols on them and some Ancient writing. I think-
DANIEL
Describe the writing!
MITCHELL
Uh, "U" with a square over it. Chair with a little square. Upside-down backwards "L", call that "seven." Squares unevenly stacked. That chair thing again. Big "N" and "sad face."
DANIEL
Uh, "reflect." It means "reflect"!
MITCHELL
Reflect?
[Teal'c is now on one knee, his back bracing the ceiling. Mitchell's chin is against the top of the altar, the top of his head touching the ceiling. He has his arm fully extended to reach the blocks of symbols.]
DANIEL
(concentrating)
Reflect, reflect...reflect on the eightfold path. Buddhism teaches an eightfold path to enlightenment.
MITCHELL
Yeah, that tells me exactly NOTHING!
DANIEL
(in despair)
I'm sorry. I can't help if I can't see the symbols of the stones you're supposed to put in order.
MITCHELL
(muttering to himself, annoyed)
Reflect.. "reflect on the eightfold path." "Reflect on the eight."
[As Mitchell holds one of the blocks, his thumb partially obscures the symbol, making the remainder look like the number four. He cocks his head, inspired, and repeats covering and uncovering part of the symbol.]
MITCHELL
Four.
[Teal'c is now on his hands and knees. Mitchell struggles to complete the puzzle, now with a strategy in mind.]
MITCHELL
Six.
[The ceiling is so low by now, Mitchell can barely see the top of the altar. He fumbles the symbols into place, still muttering. Daniel and Vala worry helplessly crouched on the other side of the sealed door. Abruptly, the rumbling noise stops.]
DANIEL
(screaming desperately)
Teal'c!
VALA
(quietly reassuring)
Look, I didn't hear any screaming or squishing sounds, so-
[The stone slab rises. Teal'c and Mitchell are fine, crouched on the floor of the chamber as the ceiling rises. The four stand and look at each other.]
DANIEL
(shocked and relieved)
You did it...
MITCHELL
(sighing in relief)
Yeah, thanks. The symbols were actually the numbers 1 through 8 and their mirror image.
[Mitchell passes Daniel and walks down the tunnel. Teal'c nods briefly to Daniel before following. Daniel stares after them both in wonder that they survived.]
INT-MAIN CHAMBER, AVALON CAVES
[Mitchell bounds into the main chamber. He's already practically at the sword in the stone by the time the others enter.]
MITCHELL
All right, we passed the tests. So this should work.
[Mitchell studies the sword for a moment, then reaches and lifts it out of the stone in one fluid gesture. The blade is long and gleaming silver. Mitchell turns to the others, holding the sword and looking pleased. Behind him an amour-clad knight with a sword appears. Vala and Daniel are both wary, and Teal'c aims his weapon. Mitchell turns to see what's got their attention. The knight lifts his sword into an attack position. Mitchell counters by holding his sword at ready.]
MITCHELL
(muttering)
Should've known it wouldn't be that easy.
END TEASER
OPENING CREDITS
[The knight strikes out, and Mitchell blocks the blow with his sword. The impact knocks Mitchell back with a cry, and he staggers down the steps. He ends up backing away, near the others. Daniel readies his weapon, as does Teal'c, but they both hesitate to fire. The knight begins fighting Mitchell in earnest with his sword.]
MITCHELL
Weird.
[Mitchell and the Knight trade blows back and forth. During a pause, Mitchell steps close to Daniel.]
DANIEL
(surprised at Mitchell's success)
You, uh, you done this before?
MITCHELL
Uh, fight a knight in armor? No, can't say that I have.
DANIEL
Well, you're doing good.
MITCHELL
Heh. Took a little fencing in college.
[The knight and Mitchell trade blows at a faster pace. Each time their swords meet, a flash of light erupts at the impact site. Eventually they lock swords then break apart. Mitchell dives below a wide swing of the knight's sword.]
MITCHELL
Okay, I could use a little help.
[Mitchell backs away, and Teal'c has a clear shot. He fires his weapon, but the bullets merely pass through the knight, though its image shows the impacts for a moment as a green glow.]
TEAL'C
It appears to be a hologram.
MITCHELL
(turns to Teal'c and leans on his sword, incredulous)
A hologram?
[The knight strikes while Mitchell is facing Teal'c, forcing Mitchell to his knees with a grunt. A green glowing light momentarily appears on his back where he was hit.]
MITCHELL
(in intense pain)
Jeez.
VALA
(studying his back)
I don't think it actually cut you.
MITCHELL
(hoarse from pain)
Well, it hurt like hell.
[Mitchell quickly stands and blocks two more blows from the knight before it strikes his upper right arm, sending him to his knees again and making him drop the sword, groaning.]
VALA
(to Daniel)
I don't know. I don't think he's actually that good.
MITCHELL
Okay, so I flunked fencing.
[Mitchell blocks a few more blows while getting to his feet. He only stands for a few moments before the knight once again breaks through his defenses and strikes Mitchell on his left leg. Mitchell collapses with a cry.]
TEAL'C
Colonel Mitchell, the sword.
[Mitchell throws the sword to Teal'c. It passes right through Teal'c as he tries to catch it, falling on the floor behind him with a clatter. Mitchell rolls to avoid a strike by the knight and stumbles over to the sword. He grabs it just as the knight strikes again, knocking Mitchell off his feet.]
VALA
Okay, that thing is going to kill him.
DANIEL
Everybody get to the rings!
[Teal'c pulls Mitchell upright by his vest. Sweat pours from Mitchell's forehead as he tries to focus.]
FLASHBACKS
[Mitchell remembers his F-302 being hit by enemy fire, its crash, and being stuck in the wreckage. He also remembers the hospital, the nurse checking his iv, the doctor and nurse working to save his life, and a physical therapy session. In this last memory, Mitchell is in a full neck brace that extends down his chest. He holds onto parallel bars in a physical therapy room, but cannot support his own weight and falls. The physical therapist by his side tries to help him upright.]
THERAPIST
Okay, that's enough for today.
MITCHELL
(fighting her)
No. I can do this.
[He pushes the therapist away.]
END FLASHBACKS
INT-MAIN CHAMBER, AVALON CAVES
[Mitchell pushes Teal'c away in the same manner as he did the therapist. He stands and once again fights the knight. This time he's able to gain the upper hand and breaks through the knight's defenses twice in quick succession. Mitchell's blade leaves a glowing trail as he swings it. He drives his sword through the knight's chest, holding the blade there for several seconds before pulling it out again.]
VALA
Yeah!
[Mitchell swings again and cleaves through the knight. The knight staggers and the hologram disappears. Mitchell collapses onto his back.]
MITCHELL
(exhausted but noting the lack of reaction by the cave to his victory)
Oh, come on. That's got to be it.
[Teal'c helps Mitchell to his feet. Though upright, Mitchell still uses the sword as a crutch and is breathing heavily.]
VALA
I don't understand, we solved the riddles.
(gesturing between Daniel and Mitchell)
Well, he solved one and he solved one, and he won the fight.
MITCHELL
And what? Nothing?
DANIEL
But you're the only one who defeated the knight. That sword was obviously designed to sense whoever pulled it from the stone. (indicating himself, Vala, and Tealc')
What if there are sensors detecting us?
TEAL'C
Are you suggesting that we should leave?
DANIEL
It's worth a try.
MITCHELL
All right.
[Mitchell staggers to the wall of the cave and leans the sword against the wall. The others position themselves within the ring parameters.]
DANIEL
(to Mitchell)
If nothing happens, just...join us.
[Mitchell activates the rings. As soon as the three ring out of the cave, an earthquake starts. Mitchell cries out in alarm and frantically turns back to the ring controls.]
INT-PROMETHEUS RING ROOM
[Daniel, Teal'c, and Vala are in the room. Rings activate and Mitchell appears, his hands covering his head and dust falling around him.]
DANIEL
What happened?
MITCHELL
That whole place is collapsing. We must have done something wrong.
[Vala turns away from the others. They all look towards her.]
DANIEL
(to Vala)
What'd you take?
VALA
(turning to face them)
What?
DANIEL
(approaching Vala)
"Truth of spirit."
VALA
I resent-
DANIEL
"Truth of spirit." What'd you take?
[Vala reaches into the bodice of her outfit and pulls out the coin from the puzzle Daniel solved.]
INT-AVALON CAVES
[Ring transport activates, and Mitchell arrives. Large chunks of the ceiling have already fallen. Mitchell stumbles and runs down the tunnel to the chamber where Daniel solved the riddle of the pots. Once there, he hesitates as to which pot to put the coin in, then chooses the gold pot. He drops the coin inside and replaces the lid. As soon as the lid seals the pot, the rumbling stops and the caves stabilize.]
[Mitchell returns to the still empty main chamber. Sighing at the lack of treasure, he begins to activate the rings, then pauses and looks at the sword leaning against a wall. He picks up the sword returns it to the stone, sliding it easily into the rock. Once the sword is replaced, the chamber fills with gold urns, vases, statues, goblets, coins, jewels and other treasures.]
MITCHELL
(looking around)
Worth it.
INT-MAIN CHAMBER, AVALON CAVES
[Prometheus crew members sort and inventory the various riches in the chamber. Vala, wearing a silver tiara, lounges on a pile of treasure, pouring a trophy full of coins and jewels over her body. Mitchell approaches Daniel, who sits in a corner by a large treasure chest paging through a large book.]
MITCHELL
(observing Vala)
We are not going to let her keep that, are we?
DANIEL
(glancing at Vala)
No.
MITCHELL
Good.
[Vala hears their conversation and pouts.]
MITCHELL
Well that figures. Room full of gold and jewels, and Dr. Daniel Jackson finds the one book. So, what's it about?
DANIEL
Actually, it's a story. It's written like fiction.
MITCHELL
"Once upon a time..."
DANIEL
Once upon a time, there was a race of people that went on a great journey through space, across the universe. They were called the Altera. After much time...
[Vala plucks coins out of her bodice and sulks. Teal'c crouches, half-listening to the story.]
DANIEL
(continuing)
...and I think this means thousands of years, they found a great belt of stars.
[Daniel falls silent.]
MITCHELL
...and they lived happily ever after.
[Daniel continues to read silently. Something in the book grabs his attention, and he stands.]
TEAL'C
(noticing Daniel's movement)
Have you found something, Daniel Jackson?
DANIEL
It says that the Alterans named their new home "Avalon," and that they built many Astria Porta.
MITCHELL
Stargates?
DANIEL
Yes.
VALA
The Ancients built the Stargates.
DANIEL
Well, it stands to reason they weren't always called "the Ancients."
MITCHELL
(to Vala)
What do you care? You got your treasure.
VALA
Hmm. Let's see what's of more value-A few gold trinkets that apparently I won't be allowed to keep...
(tosses a necklace over her shoulder)
or...previously undiscovered secrets about the Gate Builders, the most powerful race to ever inhabit the galaxy.
DANIEL
You realize what this could mean.
MITCHELL
Whoa. We've always presumed that the Ancients were the first evolution of humans in this galaxy. But, but this...this is the first evidence suggesting they came here long ago from somewhere far, far away.
DANIEL
Yes.
[Marks brushes some gold trinkets away from a large, black, domed device with a blue crystal adorning its top.]
MARKS
Colonel Mitchell.
[Mitchell, Vala, and Daniel turn to Marks. Teal'c approaches and studies the alien device.]
MITCHELL
(grinning)
Heh. One of these things is not like the others.
INT-SGC CORRIDOR
[Landry, Daniel, Vala, and Mitchell come out of a room and walk down the corridor. Daniel is in the middle of trying to convince Landry of his position.]
DANIEL
(sighing)
It's much, much more than that. We know the Ancients left our galaxy for Pegasus and returned later when they lost the war to the Wraith, but what happened to them?
LANDRY
I thought they ascended.
DANIEL
Some did, that we know of. But what if the others went home? Even if they didn't, the book I read suggested that the Alterans left a civilization behind.
LANDRY
And your point is?
DANIEL
My point is that we haven't met a single, living Ancient who was willing to share their knowledge freely with us, and there could be an entire advanced civilization of them out there somewhere in another galaxy! I mean, isn't that why we're doing this, all of this? The Stargate program, the budget? Isn't it so we can go out and meet new races? Gather advanced technology? Possibly learn about ourselves in the process?
VALA
Oh, come on. You do it to meet women.
MITCHELL
She has a point, sir.
[They approach the Level 28 elevator and slowly enter it.]
LANDRY
I've been thinking I need to get out on an off-world mission or two.
MITCHELL
Yeah, just to get the feel for it.
LANDRY
"Always do everything you ask of those you command."
MITCHELL
Patton.
LANDRY
Very good.
MITCHELL
Good movie.
[The elevator doors close.]
INT-ELEVATOR
DANIEL
(irritated)
Laugh if you want to, but I believe finding these Alterans and where they came from should be our top priority from this point forward. They are "the Gate Builders."
LANDRY
Nobody's laughing, Dr. Jackson. The universe is a big place. Tell me where they are and how to get there, and I'll order you to go.
[Elevator doors open, and Landry exits, the others following behind him.]
DANIEL
(taken aback at Landry's response)
I'm not saying this is going to be easy. I mean, if they're from a distant galaxy, our network of Stargates might not even connect. And even if it does, we know the massive power requirements necessary to dial Pegasus, and they're relatively close, in intergalactic terms. But on the bright side, according to the text we found in the Glastonbury cavern, the Ancient device we discovered may be capable of intergalactic communication.
[Landry stops in front of the closed door to his office.]
LANDRY
Thank you, Doctor Jackson. I'm sure you'll keep me posted. Colonel.
MITCHELL
General.
[Landry opens the door and enters his office, shutting it as Daniel steps forward, about to make another point.]
MITCHELL
He has no idea what you just said.
[The door reopens and Landry steps back out. Mitchell stands at attention.]
LANDRY
(referring to Vala)
Someone want to tell me why she's still on my base? ...And, uh, yes, I did.
[Landry reenters his office and shuts the door.]
VALA
Well, I think it's incredible.
EXT-TEMPLE ON DAKARA, DAY
[There is evidence of new construction in the form of scaffolding. In the distance, an Al'kesh is hauling a large load slung beneath it.]
INT-HIGH COUNCIL CHAMBERS, DAKARA
[Rak'nor and Teal'c are walking through a corridor. Teal'c is still in his SGC uniform.]
RAK'NOR
The Jaffa of the Onac ka equal as many as all the other regional coalitions. And they strongly support Gerak.
TEAL'C
Of this I am aware.
RAK'NOR
If we allow them even one more vote based on unconfirmed military strength, the council will be in Gerak's hands. Until proper inspections-
TEAL'C
(interrupting)
Rak'nor!
RAK'NOR
I'm sorry. We are all working very hard. It just seems as though Gerak is winning.
TEAL'C
Bra'tac and Rya'c are negotiating with coalitions who have yet to declare their allegiance.
RAK'NOR
I did not fight for the freedom of all Jaffa only to have it corrupted by a few power-hungry individuals.
TEAL'C
Nor did I.
RAK'NOR
I just do not understand why you have chosen to spend so much time with the Tau'ri at such a critical stage.
TEAL'C
(becoming angry)
My friends from the Tau'ri are largely responsible for the Jaffa being free, and as thanks they have been treated with mistrust and disrespect. Until all Jaffa see that the old ways are not the future, I will do whatever I need to do to enlighten them.
RAK'NOR
And how does chasing ancient history do that?
TEAL'C
Ancient knowledge is what defeated the Goa'uld and the Replicators, and I believe that one day it will unite the Jaffa in a nation of peace. I will prove it.
RAK'NOR
I hope so.
EXT-CHEYENNE MOUNTAIN ENTRANCE, DAY
INT-SGC SCIENCE LAB ONE
[The black domed device is in the lab, surrounded by scientific equipment. Lee is bent over the device. Daniel and Vala are arguing. Mitchell stands nearby.]
VALA
I have been around the galaxy long enough to know that knowledge is power, and understanding the technology that was left behind by the Ancients is the most powerful knowledge around.
DANIEL
(holding out his braceleted right wrist)
And if you think I'm going to stay linked with you for the rest of my natural-
MITCHELL
(interrupting)
Focus! Maybe we should focus on the task at hand.
[Mitchell points over to the device, and the three join Lee around it.]
LEE
Yeah, well, the device obviously has a power source, and, uh, I don't think it's been depleted.
DANIEL
Okay, when I read this was a communication device, I realized that the shape of these recessed spaces looked familiar.
[He holds up a small, black stone.]
DANIEL
These stones are actually an Ancient form of communication device that links the users psychically, allowing them to see through each other's eyes. It appears that they're actually meant to be used in conjunction with this terminal.
MITCHELL
So what happens when you attach the stones?
DANIEL
We're going to find out.
LEE
These stones were originally set for General O'Neill and one Joe Spencer.
DANIEL
Barber from Indiana.
MITCHELL
Yeah, weird guy. I read the file.
LEE
Well, anyway, after a lot of tedious, although, I must say, ultimately very brilliant work if I do say so myself,...
(Daniel places his hand on Lee's shoulder to stop his tangent)
...I was able to reset the stones.
MITCHELL
Don't they have to be activated by someone with the Ancient gene? Same file.
LEE
Well, that's what we thought at first, but no, like a lot of Ancient technology, the stones actually just need to be initialized.
MITCHELL
By someone with the gene. That's a guess.
LEE
No, you're right. Which these obviously have been.
MITCHELL
So any one of us can take the pony ride.
DANIEL
Yeah, and I figured that was going to be me. I mean, I did miss the Daedalus for this, so...
MITCHELL
You're going to dine out on that for a while?
DANIEL
(nodding)
Yeah, yeah. Like you wouldn't believe.
MITCHELL
Well, no one's going to make an argument against that. You are the world's "foremost" expert on the Ancients.
(makes quote mark notations with his hands)
But we got two stones.
VALA
Yes, and this one's mine. Thank you.
[Vala grabs the other stone from the counter.]
MITCHELL
Excuse me, how do you figure that?
VALA
Well, Daniel and I are linked.
[Vala leans her arm on Daniel's shoulder.]
DANIEL
If I could just point out, for the record, we don't have to be.
[Daniel removes her arm.]
VALA
He's only guessing that this device is for communication. What if it's a transporter of some kind, and he gets whisked away and can't get back?
[Daniel rolls his eyes and mumbles inaudibly to himself.]
LEE
Actually, we have done a fair bit of research on this device, and I can say with absolute-
(pauses at the looks everyone gives him)
...relative...certainty...oh for... Look we have studied devices like this for years, and at some point ultimately you just have to turn it on.
DANIEL
I'm going to give it a try.
VALA
Where he goes, I go.
DANIEL
I'm not going anywhere.
VALA
So he thinks.
DANIEL
(sniping through gritted teeth)
It's a communication device.
LEE
I'm going to watch from the observation room.
MITCHELL
All right. Good luck.
[Lee and Mitchell go to the adjoining observation room, where they can see the science lab through full length glass windows.]
VALA
So, what do we do?
DANIEL
Well, I'm guessing we just put these two stones any two of these spots.
VALA
Any two?
DANIEL
Well, there aren't any markings to indicate otherwise, so any two. And...
[Daniel and Vala place the stones in random slots of the device. Vala winces in anticipation. Nothing happens for a second, then the blue crystal at the top of the dome lights up. Vala and Daniel pass out and drop straight to the floor.]
MITCHELL
(calling on phone from observation room)
Med team to Science Lab One.
EXT-SPACE
[Stars and planets pass by until a large planet looms.]
INT-HOME OF HARRID AND SALLIS, VER AGER
[Daniel and Vala stand in separate areas of the main room of a small, rustic residence. There are various bottles on a table and dried herbs hanging from the ceiling. Both are dressed in clothing reminiscent of the Renaissance era, Vala in a long-sleeved dress and headband and Daniel in a tunic, over-shirt and leggings. Daniel is not wearing his glasses.]
DANIEL
(appearing as Harrid)
Hello. Please, don't be afraid. My name is Daniel Jackson.
[Vala turns to Daniel and sees Harrid, a lanky young man. Daniel sees Vala as Sallis, a blond young woman.]
VALA
(appearing as Sallis)
It's me, Vala.
DANIEL
(appearing as Harrid)
Okay. Not a transporter.
VALA
(appearing as Sallis, smiling)
Where are we?
DANIEL
I don't know.
[Daniel and Vala circle the room, both coming to stand before a mirror. They look at their reflections, which display Harrid and Sallis.]
DANIEL
But I think we're in them.
INT-SGC INFIRMARY ISOLATION ROOM
[Daniel and Vala are lying on gurneys in hospital gowns, connected to medical equipment. The dome is in a corner. Lam, Lee, and other staff are in full hazmat gear. Mitchell and Teal'c watch from the observation room.]
LAM
Blood pressure and heart rate are normal. Pupils are slightly dilated. Now, we're sure this is because of the device? They also passed out before when they were separated because of the bracelets.
LEE
The reaction was virtually instantaneous after the device was activated. Anyway, there's no discernable energy rays and no measurable radiation being emitted, so...
LAM
And we've found no contagions. All right.
[Lam removes the helmet of her hazmat suit and turns to the observation room.]
LAM
I want to get an EEG going, but my first impression here is that they're in some kind of sleep state.
MITCHELL
(through microphone)
Maybe we should disconnect the stones.
LEE
(removing his hazmat helmet)
Uh, for all we know, this could be perfectly normal. I mean this could be the way the device actually works.
LAM
And could you give me some time here before we go messing around with that thing anymore?
LEE
I wouldn't call it "messing around."
LAM
Look, for all we know, disconnecting the stones could put them in further jeopardy.
INT-SGC INFIRMARY OBSERVATION ROOM
MITCHELL
So, how are things on Dakara?
TEAL'C
About as well as here.
INT-HOME OF HARRID AND SALLIS, VER AGER
[Daniel and Vala explore the main room, looking for any clues about the people they look like and where they are.]
VALA
I don't understand. This is an odd communication device. I mean, I can't talk to this poor woman. I have no access to her mind, her thoughts, her memories. I'm just inside of her looking out through her eyes.
DANIEL
Yeah, Jack and Joe Spencer described the experience as having visions of what was happening to the other.
VALA
Were they ever in total control of each other's bodies?
DANIEL
No, but they weren't using the stones in conjunction with the Ancient terminal either. It's possible it was meant to work this way so that we can communicate with others without intruding on the minds of those we're connected to. They're just...temporary transmitters.
[Vala studies her reflection again.]
VALA
(appearing as Sallis)
Do you think we're actually in another galaxy?
DANIEL
I don't know.
VALA
Why these people?
DANIEL
(reading a plaque on the wall)
I don't know.
VALA
Well, maybe it's just me, but this house...these...clothes. We don't look the way I'd expect the Ancients to look.
DANIEL
No.
VALA
What do you suppose their names are?
DANIEL
Harrid and Sallis.
VALA
How do you know that?
[Daniel gestures to the plaque.]
DANIEL
Well because it, um, says so right here.
(reading the plaque)
It says: "This is the...(mumbles)...home of Harrid and Sallis Cicera."
VALA
Wait, I missed that. You-you mumbled it.
DANIEL
No, I didn't.
VALA
Well, you said something that I couldn't understand.
DANIEL
Well, I didn't say it because I don't really know what it means. So I don't have to say it out loud in case I...know what it means.
VALA
Well, go on.
DANIEL
(reluctantly)
Nuptial. It means nuptial.
VALA
As in we're...
DANIEL
Married, yeah. Let's go look outside.
EXT-VILLAGE OF VER AGER, DAWN
[Vala and Daniel exit the house to enter a village. Everyone is dressed similarly to them. There are small market stands, and men pulling wooden carts. It appears a fairly primitive society.]
VALA
Not quite what I imagined when I pictured a civilization of gate builders.
DANIEL
No. Something tells me this is not the same people who built a spaceship capable of traveling across the universe.
MALE VILLAGER
Above the sun! Harrid! Sallis!
[Daniel and Vala look up to see a young couple waving to them from a second story walkway.]
VALA
(to Daniel)
What?
DANIEL
Uh, I think that means good morning.
[Daniel cautiously smiles and nods. The couple nod back.]
DANIEL
(appearing as Harrid, waving)
Above the sun to you.
[Daniel and Vala adopt vacant fake smiles.]
VALA
(low to Daniel, still smiling)
"Above the sun?"
DANIEL
(low to Vala)
I think he's speaking Ancient. I think the communicator's translating for us.
VALA
I couldn't read the sign.
DANIEL
Maybe it only works for spoken language.
VILLAGER
See you at prostration.
DANIEL
(calling upwards and waving)
Prostration it is.
VALA
(calling upwards)
Prostration it is.
[The couple give Daniel and Vala a strange look, then wave and leave. Vala leans up against Daniel, who puts his arm around her, trying to appear like a young, married couple.]
VALA
So what do you want to do, Harrid? Or is it Sallis?
[Daniel takes Vala by the shoulders, and pulls her back from him slightly.]
DANIEL
(with fake smile)
People are starting to stare.
VALA
Well, should we walk about and try to appear normal? Hmm?
[Daniel places Vala's arm in his, patting her hand. They stroll through the square.]
DANIEL
Nope, not what I was expecting at all.
VALA
Me neither.
DANIEL
On the bright side, I think he was looking at me when he said "Harrid."
VALA
Please, he was staring at me the whole time.
INT-LANDRY'S OFFICE
[Lam knocks at the open door. Landry turns toward her.]
LANDRY
Hey! Come in. Now, I can't decide if I like the desk here.
LAM
Where else are you going to put it, out in the hall?
[Landry chuckles.]
LAM
Daniel and Vala are stable. Based on rapid eye movements and brain wave patterns, I'm guessing it's actually some kind of induced dream-like condition.
LANDRY
Dr. Jackson believes the device was used for long-range communication. Is it possible that's what they're doing? Talking to someone somewhere...out there?
LAM
I don't know.
LANDRY
(hopeful, gesturing for her to join him)
I'm heading to the mess.
LAM
I'm good, thanks. I should get back to Daniel and Vala.
LANDRY
Oh, of course. Just keep me posted.
LAM
Mm-hmm.
[Lam starts to leave the room.]
LANDRY
Carolyn, you seem to be...settling in okay.
LAM
I don't know if I'll ever get used to this place. It's pretty, uh...
[Lam searches for the proper description, then laughs in defeat.]
LANDRY
Yeah.
LAM
Yeah, and uh, working for you makes this whole thing just that much more bizarre.
LANDRY
You didn't have to take the job, you know.
LAM
Are you kidding, who could refuse it? Besides, at the time, General O'Neill didn't tell me you'd be my boss.
LANDRY
He's funny that way.
LAM
(not amused)
Mmm. Ha ha. By the way, the desk looks fine the way it is.
LANDRY
Mmm. Really?
LAM
(exiting)
You never were happy with anything the way it was.
EXT-VILLAGE SQUARE OF VER AGER, DAY
[A large group of villagers gather in the square and along a large staircase. Daniel and Vala are still arm-in-arm, following the crowd. At the top of the staircase, the Administrator lights some torches.]
ADMINISTRATOR
All hallow the Ori.
VILLAGERS
All hallow the Ori.
ADMINISTRATOR
On their great power, we shall meditate herein this day.
[Villagers begin kneeling on the staircase and throughout the square.]
DANIEL
(noting the villagers' actions)
Prostration it is.
[Daniel and Vala copy the movements of the other villagers. They kneel before a stone step, leaning their forearms against its surface, hands curled and palms facing them. Fannis kneels by Daniel, a small book clasped between his hands.]
FANNIS
(speaking low to Daniel behind his book)
We must meet. By the Portico of Light at the Hour of Bly.
[Daniel opens his mouth to respond.]
FANNIS
(hissing low)
Speak not!
[Daniel stays silent, but looks confused.]
ADMINISTRATOR
Oh Greatness that is the Ori, you guide us and give meaning to our daily lives. We beseech you, give us strength.
VILLAGERS
All hallow the Ori.
DANIEL
(copying)
All hallow the Ori.
[Daniel notices Fannis does not recite the prayer and stops reciting as well, puzzled.]
VILLAGERS
All hallow the Ori.
INT-HOME OF HARRID AND SALLIS, VER AGER
[Daniel and Vala enter, looking exhausted. They close the door behind them and lean against it.]
VALA
Well, that was fun. Six hours of prostration. Why don't we just tell someone who we are and what's going on? I mean, isn't that whole point of this, to communicate?
[Daniel begins randomly picking up and putting down objects, jumping from one area of the room to the other. Vala follows him from spot to spot.]
DANIEL
I don't think these people are going to entirely understand. Hey, did you hear what that guy said when we first came to the service?
VALA
Something about meeting...
DANIEL
Yeah, at the Portico of Light at the Hour of Bly.
VALA
What's that supposed to mean?
DANIEL
I have no idea.
VALA
What are you looking for?
[Daniel heads upstairs. Vala follows, struggling with her long skirt on the steps.]
DANIEL
I don't know. Some reason as to why we're in these particular people, these specific bodies. I mean, it can't be totally random.
[They enter a small bedroom. Daniel starts rummaging through a wardrobe by the door.]
VALA
Uh, I have a more pressing question. Do you have any idea how we're supposed to detach from them?
DANIEL
(pausing his search)
No. And that's another thing that's got me worried. Have you tried?
[Vala pulls off her shoes.]
VALA
(nodding)
Hmm. Nothing.
DANIEL
It doesn't seem to be something I can just will to make happen.
[Vala spots the bed and leaps onto it, groaning in relief to stretch out after the hours of kneeling. Daniel continues to rummage through the wardrobe.]
VALA
(sighing)
Maybe it's about removing the stones from the device on Earth.
DANIEL
Yeah, unfortunately, we can't tell the people on Earth that we need them to remove them. We'll just have to wait until they figure that out for themselves.
VALA
Maybe they have already, and it had no effect.
DANIEL
(unnerved)
I'm just going to rule out that possibility.
[Daniel finishes searching the wardrobe and moves over to the dresser, continuing his search.]
VALA
Do you think these people are in our bodies?
DANIEL
I don't know. I mean, this can't be how the technology is supposed to work.
[Vala feels something under the bedcovers. She reaches in and pulls out a book. She opens it, then shuts it immediately with a strange look on her face.]
VALA
Hey.
[Vala shows him the book. Daniel barely glances at it in her hand before continuing his search through objects on the bedside table.]
DANIEL
Yeah, it's the book that some of the villagers were walking around with. It says on the front, um: The Book of Origins. Blessed are the Ori.
VALA
I think you should take a look at it.
DANIEL
Oh, I think I've seen enough. I mean, prostration for six hours. "Give us strength." You know, it's all very clear.
[Daniel looks under the bed and finds nothing.]
VALA
I think you'd find it really interesting.
DANIEL
Yeah? When did you start being able to read Ancient?
VALA
I can't. But this...looked familiar.
[Vala opens the book to show Daniel two sections hollowed out from the pages. In each hollowed section is an Ancient communication stone.]
INT-HOME OF HARRID AND SALLIS, VER AGER
[There is insistent knocking at the front door. Daniel and Vala hurry downstairs. Daniel takes a moment to compose himself, then opens the door. Fannis rushes into the house.]
FANNIS
Thank those full of value. I was worried when you did not meet me.
DANIEL
(flustered)
Yes. Sorry about that.
FANNIS
Why did you not meet me?
(spots Vala)
Why are you not sharing leaves with the Administrator's wife?
VALA
I...forgot.
FANNIS
We are already suspected. We must not alter our behavior.
DANIEL
Suspected of what?
FANNIS
Harrid, what ails you? Did I not know better, I would fear you are trying to entrap me.
DANIEL
No. I-I wouldn't dream of trying to...
VALA
Entrap you? How?
FANNIS
Stop this, please.
DANIEL
Okay, you know what...Uh, please. Would you, would you sit?
(to Vala)
Go with me.
[Fannis and Daniel sit at the table. Vala perches on the table behind Daniel, watching Fannis.]
DANIEL
My name is Daniel Jackson, and I am inside the mind of Harrid. I am able to speak through him by use of a communication technology that we believe was first constructed and used by a race known as the Alterans.
VALA
And I'm Vala...Mal Doran.
DANIEL
How you doing.
FANNIS
(surprised but happy)
By the stars. Forgive me, I am Fannis.
[Daniel and Vala are relieved by Fannis's easy acceptance of their explanation.]
DANIEL
Uh, nice to meet you. We're from a place called Earth.
FANNIS
Could I speak with Harrid?
DANIEL
No. His consciousness appears to be suppressed so long as we're connected.
FANNIS
Harrid always suspected the stones were a means of communication.
DANIEL
You know about the stones?
FANNIS
We are curators, investigators of the past. The stones were discovered some time ago in what we believe are the remains of an ancestral burial ground not far from here.
DANIEL
Why are you hiding them?
FANNIS
Such investigation is sacrilege.
DANIEL
You're not allowed to investigate your own history?
FANNIS
If such investigation contradicts The Book of Origin.
DANIEL
You're heretics.
FANNIS
We have uncovered evidence that we believe proves a race of humans predates our supposed creation by the Ori.
VALA
(interrupting)
Excuse me. Daniel, what if these gods, the Ori, are the people left behind by the Alterans?
DANIEL
You think they ascended?
VALA
It's possible. The Alterans left a long, long time ago, and what we know of the Ancients, they learned to evolve and ascend. What if the people who remained here did too?
DANIEL
That would make these people a subsequent evolution of humans, which is apparently what happened in our galaxy after the Ancients we know ascended.
VALA
And it would explain why they're not as advanced as we might expect.
DANIEL
No, but the religion doesn't fit the profile. The ascended beings I know don't pose as gods. I mean, that's the one explicit rule they DO follow, is that they don't meddle in the affairs of the lower planes of existence.
FANNIS
The Ori are not posing. We do not doubt their power, just their word and intention. Their power is as real as the strength of belief in all followers. You were late for leaves with the Administrator's wife. Sallis and she are acquaintances.
VALA
So what should I do?
FANNIS
Can you not disconnect and allow Sallis to return?
DANIEL
No, apparently we can't do that.
FANNIS
Then you must pose as Sallis, or we will be discovered.
VALA
I can do that.
[Daniel looks skeptical, which makes Fannis worry.]
EXT-TEMPLE AT DAKARA, DAY
INT-HIGH COUNCIL CHAMBERS, DAKARA
[Teal'c, in Jaffa robes, rushes into the corridor toward the chamber, but Rak'nor heads him off.]
RAK'NOR
The council has already taken respite. The vote was quick. I delivered yours by proxy. Gerak's motion was resolved by a slim majority. The Jaffa will be ruled by High Council. Votes will be attributed to the various coalition representatives based on military assets.
TEAL'C
Making Gerak...
RAK'NOR
The new leader of the Jaffa Nation.
[Teal'c looks troubled.]
INT-HOME OF HARRID AND SALLIS, VER AGER
[Daniel pours drinks for him and Fannis. Vala is gone.]
FANNIS
You said the Ori may have ascended. What does that mean?
DANIEL
(sighing)
Where we come from, some people who used to look a lot like us evolved physically and mentally so much that they found a way to shed their physical bodies and live as energy on another, higher plane of existence. Some called it "enlightenment," and it came with a much greater understanding of the universe and all its knowledge. Now this happened a long time ago, and I believe that those people may have originally come from here.
FANNIS
And those "ascended beings," as you call them, do not guide you and ask that you worship them?
DANIEL
No, in fact they believe so strongly in free will that they would not intervene and use their knowledge even if it meant the destruction of an entire galaxy full of us regular old humans.
FANNIS
Such is not the case with the Ori.
DANIEL
Yes, so they ask that you worship them, and yet conceal the truth of your existence from you.
FANNIS
That is not all.
DANIEL
What are you going to do?
FANNIS
We are gathering as much evidence as we can. Our hope is that one day we will have enough proof to convince even the most devout believers. In the meantime, we meet in secret and share with those we trust what we have learned. We keep hidden those artifacts which prove our claims in case one or more of us are discovered.
DANIEL
How many of you are there?
FANNIS
A few. Our numbers are growing. Some believe the fact that we have not yet been discovered is further proof that the Ori are not all powerful and all knowing. Others wonder if they are just giving us the opportunity to see the error of our ways and repent.
[Fannis hears voices outside. He looks out the window.]
FANNIS
A crowd gathers at the Ara.
[Daniel joins him at the window.]
DANIEL
That's an altar?
FANNIS
(nervous)
I cannot be seen with you.
EXT-VILLAGE SQUARE OF VER AGER, DAY
[Daniel moves forward to see what is going on, jostling villagers as he passes.]
DANIEL
Excuse me.
[Daniel comes to the center of the square, where the Administrator is orating to the crowd from a book. The Administrator paces around a low, wide, patterned stone circle. In the center of this circle is a small yoke-like bench with shackles on either end.]
ADMINISTRATOR
...battle of ages. He spoke to the sky and said: "And the people shall deliver unto you the wicked for your divine judgment, where their sins shall be weighed in the balance of all that is just and true."
VALA
(struggling)
Let go of me! Get your hands off me!
[Vala appears, kicking and fighting against two villagers holding her, but she cannot break free. She spots Daniel across the stone circle.]
VALA
Daniel!
DANIEL
What happened?
[The men restraining Vala force her to her knees and shackle her by her wrists to the low bench.]
VALA
It didn't go so well.
DANIEL
Yeah, I can see that.
(moves to help her)
Excuse me.
[Two villagers grab Daniel's arms and shoulders, preventing his approach.]
ADMINISTRATOR
Harrid, stand back. Sallis has been overcome.
DANIEL
(fighting against the villagers hold)
No, she hasn't. If you'll just let me explain-
[Unobserved, Fannis moves from a column in the back of the square and runs from the village.]
DANIEL
(becoming more desperate)
Listen to me!
[Daniel cries out as the villagers holding him pull him further away from the circle.]
ADMINISTRATOR
Fear not, for the Ori see all, outside and within. If your heart is pure and your devotion unwavering, they will protect you. They will cleanse your being, and you'll be taken to be with them forever...
[Vala rolls her eyes. Daniel looks confused and worried.]
ADMINISTRATOR
(continuing)
If not, may the fire burn you down to the ground and lay you in the dust.
VALA
Fire?
[The Administrator signals, and a villager dips a lit torch into a bucket, lighting the liquid inside.]
ADMINISTRATOR
Hallowed are the Ori.
[Vala is very frightened. Daniel, still restrained, also looks scared. Men tilt the bucket, and a flaming liquid drains from it into a stone channel, flowing around a small circle, and continuing to the circular maze-like pattern of the stone altar. Vala is shackled at the center of this maze.]
INT-SGC INFIRMARY ISOLATION ROOM
[Lam monitors Vala. Lee monitors Daniel. Another nurse, two SFs and Mitchell enter.]
LAM
Her heart rate is 140. She's in distress.
LEE
Daniel's B.P. and heart rate are increasing too.
MITCHELL
Pull the stones.
[Lee moves to the device and tries to pry the stones out by hand.]
LEE
I can't.
EXT-VILLAGE SQUARE OF VER AGER, DAY
[The villagers stand and watch as the fire liquid makes its way along the maze-link channel toward Vala. Daniel tries unsuccessfully to break free of the men restraining him.]
DANIEL
(to Vala)
What the hell did you say?
VALA
I think at first it's what I didn't say. You see, apparently there's a blessing you're supposed to recite over the leaves before you drink, which nobody warned me about. Then I think it's what I did say. I was trying to politely explain what was going on and then his (nodding towards the Administrator)
wife started screaming and accusing me of being overcome. At which point I believe I suggested she might want to think about procreation...with herself.
DANIEL
(panicking)
Oh! Oh!
(to Administrator)
Listen! Please! Listen to me! You have to believe me! This is not what it looks like. Sallis is not possessed, okay? Now this going to sound crazy...
(makes cuckoo motion with his restrained hand)
Whoo-hoo. But we're from another galaxy. That's right we're using a communication technology that allows us to take over a body from very far away...and-and-and make us talk to you. We just want to talk to you!
[The villagers become nervous at Daniel's blasphemy. The Administrator merely stares at Daniel for a few moments before returning his attention to Vala. Daniel appears completely desperate.]
INT-SGC INFIRMARY ISOLATION ROOM
[Lee attempts to pry the stones out with a crowbar, but fails.]
LAM
Okay, this is getting worse. I'm administering a sedative. Hopefully, it'll calm things down.
[She prepares a syringe. Mitchell stands by Vala's bedside. Vala's rapid eye movement is extremely fast, and she is breathing hard.]
EXT-VILLAGE SQUARE OF VER AGER, DAY
[The villagers stand watching. The liquid fire reaches the center of the stone pattern and ignites on Vala's skirt. Daniel renews his frantic efforts to reach her without success.]
VALA
(terrified)
Daniel!
DANIEL
(despairing)
Okay, listen to me! Listen to me! You have to believe me! You're killing an innocent person!
VALA
Daniel!
ADMINISTRATOR
(in a calm, impassive voice)
Blessed are those that deliver us from evil.
[Vala screams.]
DANIEL
No! NO!
[Vala is immolated, screaming. Daniel turns away.]
INT-SGC INFIRMARY ISOLATION ROOM
[Vala's heart monitor flatlines. Lam pulls a crash cart over as other medical staff scurry around.]
LAM
She's in V-Fib. Code Blue. Charging to 200.
[Mitchell retrieves a firearm from an SF and cocks it, aiming at the device. Lee moves in front of Mitchell. As Mitchell adjusts his aim, Lee dodges to remain in Mitchell's line of fire.]
LEE
Whoa! Whoa, no! Don't shoot!
MITCHELL
(upset)
You got a better idea?
LEE
You might cause a surge. You could kill them both. You might detonate the power source. Now, come on.
[Lee covers the device with his body. Lam and a nurse try to restart Vala's heart.]
LAM
(shocking Vala)
Clear!
EXT-VILLAGE SQUARE OF VER AGER, DAY
[Vala's body is still burning. Daniel looks at her and then away, still held by the villagers. Some of the villagers appear upset at the sight they've witnessed. The Administrator is unmoved. A wind picks up, and the flames suddenly extinguish, revealing Vala's burned body. Everyone turns to look to the village entrance.]
[The Prior, in a hooded robe and carrying a staff topped with a blue orb, enters. The villagers drop to their knees and prostrate themselves. The men restraining Daniel do the same, releasing him. Daniel approaches Vala's charred corpse. He cradles Vala in his arms and strokes her blackened hand. He appears surprised that he is able to release her from the metal shackles. He looks back at the Prior, who inclines his head.]
INT-SGC INFIRMARY ISOLATION ROOM
[Lam and the other medical staff continue their attempts to revive Vala. Lee is still attempting to remove the stones. Mitchell watches both of them. Landry enters the observation room.]
LAM
Charge to 360. Clear!
(shocks Vala)
Still in V-Fib. Charging again. Clear!
[Lam shocks Vala again. Lam watches the monitors and shakes her head.]
LAM
(feeling Vala's wrist)
I've got no pulse. She's gone into asystole. I'm calling it.
[Lee looks up in shock.]
MITCHELL
She's dead!?
LAM
I'm sorry.
[Lam walks past Mitchell toward the exit. Landry shakes his head at Mitchell from the observation room. Mitchell turns to look at Vala's body.]
EXT-VILLAGE SQUARE OF VER AGER, DAY
[The Prior approaches Daniel and Vala's corpse. He tilts his staff towards Vala, and the orb emits a glow. Vala's clothing and hair are restored to their previous pristine state. As Daniel watches, the burns disappear from her hands, and her skin becomes whole.]
INT-SGC INFIRMARY ISOLATION ROOM
[Vala is still hooked up to the monitors. Lam checks Daniel's vital signs with a hand to his neck.]
LAM
His vitals have stabilized for the moment.
MITCHELL
(to Lee)
You can't pry the stones off?
LEE
No.
MITCHELL
And you don't want me to shoot it?
LEE
No.
MITCHELL
Then how do we unplug this thing?
LEE
I don't know.
MITCHELL
Brilliant.
LAM
At the very least, we need to find a way to get that bracelet off of Dr. Jackson. They're still linked, and without Vala, he'll probably-
[Vala's monitors start beeping. Lam turns to Vala and studies the monitor.]
LAM
(incredulous)
She's got a heartbeat.
EXT-VILLAGE SQUARE OF VER AGER, DAY
[The last burns disappear from Vala's face, and she wakes up, though still in shock. She obviously remembers what happened. The Prior straightens his staff and it stops glowing.]
VALA
(distressed)
Daniel?
DANIEL
(gently, placing his hand under her chin)
You okay?
[Vala nods, tears overflowing her eyes. She embraces Daniel.]
VALA
(crying)
I've got tingles all over. And don't flatter yourself-I'm pretty sure it's not you.
DANIEL
(to Prior)
Thank you.
PRIOR
Thank the Ori. Stand. You will come with me.
[He turns and walks away in a slow processional gait.]
DANIEL
(softly)
I think he wants us to follow him. Can you walk?
VALA
(nods as she fights tears)
If it means getting away from here.
[Emotionally spent himself, Daniel half carries the weakened Vala as they follow the Prior.]
PRIOR
(just prior to exiting)
Hallowed are the children of the Ori.
VILLAGERS
(still prostrating themselves)
Hallowed are we. Hallowed are the Ori.
[After the three leave the square, the villagers rise to their feet, talking amongst themselves.]
ADMINISTRATOR
Hallowed are the Ori.
EXT-VER AGER, DAY
[View of the general landscape of the planet. The sky is overcast with clouds. Mountains are in the distance, trees in the foreground. The village is nestled in a valley.]
TO BE CONTINUED...
FADE OUT
END CREDITS

Source : http://www.stargate-sg1-solutions.com/wiki/9.02_%22Avalon_Part_2%22_Transcript