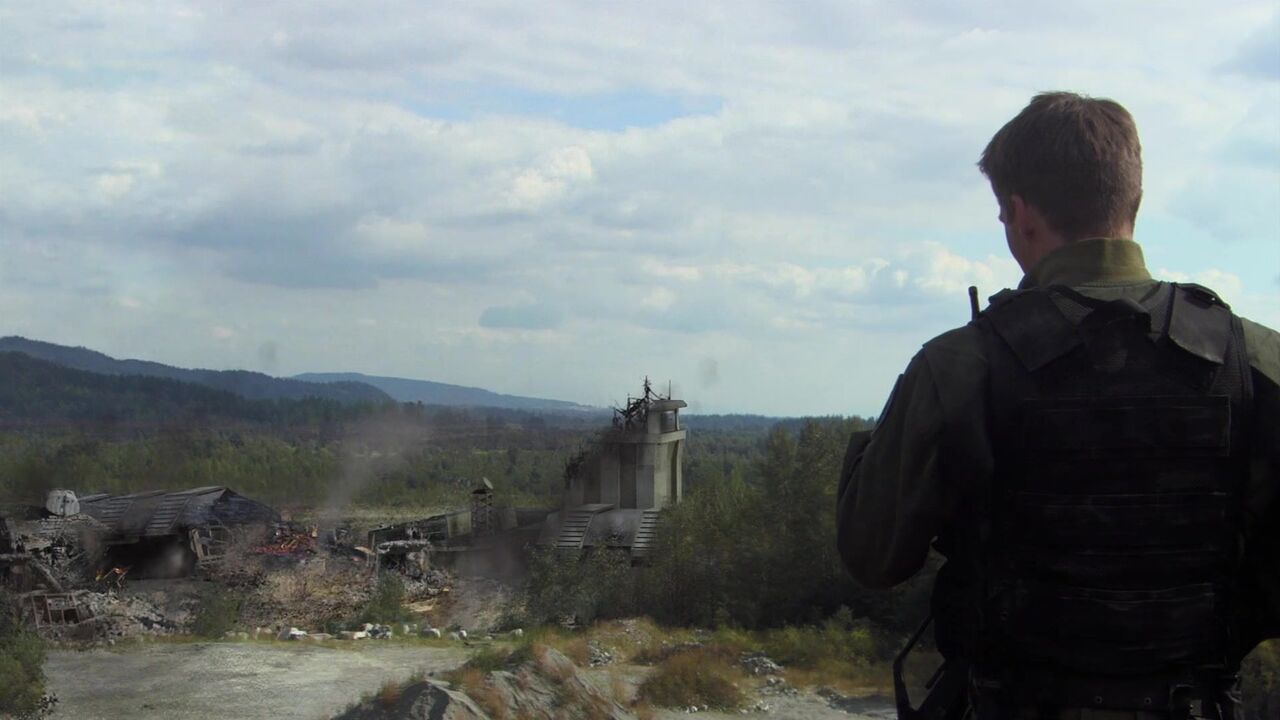 Transcript VO
TEASER
EXT-CHEYENNE MOUNTAIN, DAY
INT-SGC CORRIDOR
[SG-1 are walking together down the hallway. The are dressed in BDU's with utility vests, prepared for a mission.]
MITCHELL
I'm just a "glass-half-full" kind of guy. We found a cure to the Prior's plague, and we got it out to the planets that needed it.
TEAL'C
And it has been some time since the last reported outbreak.
MITCHELL
That's right, so I'm chalking that one up to the win column.
DANIEL
Look, all I'm saying is let's not get carried away. Yes, we stopped them this time, but you can be damn sure they're already thinking up some other means of spreading fear and destruction through this galaxy.
[As Daniel speaks, SG-1 arrives in the gate room. SF's hand them automatic rifles as the gate dials.]
MITCHELL
Yeah, that's why we call them the bad guys.
[SG-1 check their weapons and attach them to their vests.]
DANIEL
And by the looks of things, the next one's going to be something big. The Priors are already starting to step up their rhetoric with all this talk of doomsday, "When all shall witness the final battle between the light and darkness."
MITCHELL
That's what they said about Tyson-Holyfield. There's always a rematch.
[The gate activates.]
MITCHELL
All right, let's move out. Those ancient ruins aren't going to explore themselves.
[They begin to walk up the ramp into the active wormhole. Behind them, Landry arrives in the control room. SG-1 stop and turn as they hear Landry's voice.]
LANDRY
(into intercom)
Hold up, SG-1.
(to Harriman)
Shut her down.
(to SG-1)
Your mission has been scrubbed.
[Harriman shuts down the gate.]
DANIEL
Why?
LANDRY
Because you're needed elsewhere.
[Landry leaves the control room, heading toward the stairs to the briefing room. SG-1 head toward the gate room exit, looking confused and curious.]
INT-SGC BRIEFING ROOM
[SG-1 ascend the stairs into the briefing room to meet the waiting Landry. They walk toward the table as they speak.]
DANIEL
General, what's going on?
LANDRY
A team of representatives from the International Oversight Advisory are going on a tour of the Gamma Site. The Pentagon wants SG-1 to accompany them as their official escort.
TEAL'C
That is a most unusual request.
LANDRY
It'll be IOA's first time off world. The President wants to make sure it goes off without a hitch. He figures, who better to insure that than our top team.
MITCHELL
Sir, I don't mean to gripe.
LANDRY
Permission to gripe granted.
MITCHELL
We're being put on babysitting duty?
LANDRY
(enthusiastically)
Don't underestimate the importance of this mission. This is the IOA. These people carry a lot of influence with the Stargate Program. How it's run, how it's funded. You should feel honored!
[SG-1 appears dubious while Landry talks, and Mitchell shoots him a disbelieving look.]
LANDRY
(smiling evilly)
Just, uh, don't keep them up past ten. And remember to read them a bedtime story before tucking them in for the night.
[Landry leaves as the rest of the team exchanged bemused looks. Daniel sighs and clears his throat.]
END TEASER
OPENING CREDITS
INT-SGC GATE ROOM
[SG-1 is once again gearing up with automatic rifles as the gate is dialing. Landry enters with a group of four people dressed in business suits. They are the French, British, and Chinese representatives to the IOA, plus Woolsey. They move to the foot of the ramp and watch the dialing process.]
CHAPMAN
It's uh, it's much bigger than I imagined.
LANDRY
We get that a lot.
WOOLSEY
Mister Chapman, Mister LaPierre, Miss Shen, I'd like you to meet our escort to the Gamma Site, SG-1.
[He gestures to SG-1, now standing behind the visitors, facing them.]
WOOLSEY
Lt. Colonel Cameron Mitchell, Lt. Colonel Samantha Carter, Teal'c...
SHEN
(stepping in, smiling)
And Doctor Daniel Jackson. Ph.D. in Archaeology, Anthropology, and Philology. The man who solved the riddle of the Stargate.
[The other members of the delegation take notice of Daniel.]
DANIEL
(taking a step toward her)
Shen Xiaoyi. Graduate of Beijing Foreign Studies University and the London School of Economics and Political Science. Former attachée to the Chinese mission in the United States.
[He bows his head to her, and she reciprocates.]
See notes at end regarding translations.
SHEN
(Chinese unintelligible)
Your Mandarin is very good.
DANIEL
Mei2 you3 ni3 de4 ying2 wen2 hao3.
Not as good as your English.
SHEN
(Chinese unintelligible)
As it should be.
(referring to Mitchell)
What do you think about him?
DANIEL
Wo3 men2 hai2 zai4 guan1 cha2 ta1.
We're still observing him.
[She laughs out loud. He smiles at her.]
MITCHELL
Yeah, that's very funny.
(to Daniel)
Qu4 ni3 de1.
Get lost.
[Daniel and Shen looked at Mitchell, shocked, while Teal'c and Carter look amazed that he has said anything in Mandarin.]
HARRIMAN
(over intercomm)
Chevron seven locked!
[The gate has finished dialing, and the all look up to see the kawoosh form. The are impressed. Carter steps up onto the ramp and turns to face them.]
CARTER
The Gamma Site is twenty-four thousand miles from here. But once we step through the event horizon, it will take us less than one second to get there.
MITCHELL
(to Shen, gently)
After you.
[Chapman and LaPierre walk up the ramp, and Shen follows. They enter the wormhole with Mitchell, Teal'c, and Daniel, Carter watching until Woolsey steps up last.]
WOOLSEY
Just to clarify. I'm going to be disassembled at the molecular level, then reassembled on the other side.
CARTER
That's right.
WOOLSEY
And the chances of my being reassembled incorrectly...
CARTER
Highly unlikely.
[Carter smiles, then nods back at Landry. She follows Woolsey up the ramp.]
WOOLSEY
But not impossible.
CARTER
That's a word I stopped using nine years ago when I joined the Stargate Program.
[Woolsey nods, concerned, but steps through. Carter follows.]
EXT-WORMHOLE TRAVEL
EXT-GAMMA SITE, DAY
[An F302 hangar and some F302's are visible amid several large buildings situated in a treed area with mountains not far off, and cloudy skies.]
INT-GAMMA SITE CORRIDOR
[Carter is walking with the Gamma Site commander and the representatives. They pass personnel in white lab coats at various stations.]
CARTER
This planet was chosen for several reasons including its unique radioactive ionosphere which makes it difficult to lock onto surface targets from orbit.
CHAPMAN
So, no one can steal the Stargate.
CARTER
You can't be too careful these days.
PEARSON
We have over thirty scientists engaged in ongoing projects here at any given time.
[They arrive at a large laboratory. A scientist stands next to a lighted isolation chamber in the middle of the room. Another scientist is nearby. The group enters the lab.]
PEARSON
This is Doctor Myers, our lead entomologist. Doctor, would you mind telling us a little bit about your research?
MYERS
(rather dryly)
Yes. I'm studying an asexual, fast-reproducing insect responsible for the devastation of numerous off-world crops.
LAPIERRE
A space bug.
MYERS
Right. Space bugs. However, for the purposes of my research I refer to them as R-75. Now the fact that these insects have only manifested themselves on planets recently visited by Priors makes their analysis a top priority.
WOOLSEY
Is there anything to indicate that this is more than mere coincidence?
MYERS
No, not yet. Now, our initial research proved incredibly challenging due to the short lifespans of the R-75 specimens, until we succeeded in dramatically increasing their lifecycles by depriving them of sustenance.
[As he speaks, LaPierre approaches the chamber, which is a containment unit with glove access. There are numerous black bugs with a scarab-like appearance in the chamber. The bugs aren't moving, so LaPierre taps the top of the chamber with a pen.]
MYERS
They feed and they die within a matter of hours. They starve and they live; so far it's been three days and counting.
[LaPierre continues to tap the glass.]
MYERS
(to LaPierre, without looking at him)
Would you stop that please?
[LaPierre stops.]
CHAPMAN
A bit lethargic, aren't they?
[Myers clears his throat and gestures to the other scientist. He gets up and turns off the lights in the room. The bugs immediately start moving around rapidly in the chamber.]
SHEN
They're nocturnal.
MYERS
No. They function during the daylight; they just prefer the darkness. They spend most of their time burrowing underground consuming crops from the roots up. Now R-75 also displays a rather interesting defense mechanism which we're still in the process of studying.
[He places his hands in the large black gloves so that he can reach inside the chamber.]
MYERS
Observe.
[He moves his gloved hands around inside the chamber. The bugs make high-pitched noises and move en masse away from wherever his hands are.]
CARTER
Echo-location.
MYERS
Exactly. I theorize they use it to detect their enemies, such as birds, for instance-
PEARSON
(interrupting)
All right. Thank you, Doctor Myers. Let's move on.
MYERS
Well, uh, I'm not done yet.
PEARSON
We get the idea. Thanks. Our next stop is Doctor Sharma, our lead botanist.
[Myers stands facing the chamber, his hands still inside, as the others leave. He appears defeated and frustrated.]
INT-GAMMA SITE CORRIDOR
[Mitchell, Daniel, and Teal'c walk through the corridors.]
MITCHELL
Seriously. What are we doing here?
DANIEL
Honest answer? PR for the Stargate Program.
MITCHELL
I'm telling you, today it's escorting foreign delegates on off-world tours. Tomorrow it's comic book conventions and supermarket openings.
DANIEL
I know how you feel, but if we can somehow reassure the IOA of the job Stargate Command is doing, then-
MITCHELL
Daniel Jackson, the problem is not the IOA.
DANIEL
Okay, if we can somehow reassure the Chinese Government.
MITCHELL
Oh, I think they're looking for more than reassurances.
DANIEL
Well, can you blame them? I mean, three years ago we promised to share all off-world technology.
MITCHELL
Of a non-military nature.
DANIEL
That wasn't in the original wording of the agreement.
MITCHELL
Hey look, I don't want to argue about this. I'm right, we'll leave it at that.
DANIEL
(annoyed)
Compelling argument. Teal'c, what do you think?
TEAL'C
I think I should have remained with the tour.
INT-ENTOMOLOGY LAB, GAMMA SITE
[Myers works at his computer, a meal sitting next to the keyboard. The other scientist, Pullman enters holding an armful of folders.]
PULLMAN
Science fair is over. Looked like Doctor Toshiaki's magnetic resonance field study was the crowd favorite.
MYERS
(sarcastically)
How wonderful for him.
[He takes a bite of his food.]
PULLMAN
What's for lunch?
MYERS
Meatloaf Monday.
PULLMAN
Do you mind if I go grab something?
MYERS
(continuing to type rapidly)
Take your time. I'm going to run some tests.
[Pullman leaves. Myers picks up a specimen dish with a green leaf in it, takes off the lid, and walks over to the wall to turn off the lights. The bugs start to move. He approaches the chamber holding up the leaf.]
MYERS
Come and get it.
[He opens a circular slotted chamber on the top of the unit and places the leaf in it. After he closes the chamber, the leaf falls to the floor of the unit. While the bugs continue moving, they show no interest in eating the leaf.]
MYERS
Not hungry?
[He walks back to the computer to make some notes. He looks at a piece of meatloaf on his fork then back at the bugs. He walks to the unit and puts the meat into the chamber.]
MYERS
You can't possibly have a taste for...
[The moment the meat hits the floor, the bugs swarm over it and each other, devouring it.]
MYERS
(amazed)
for meatloaf?
INT-GAMMA SITE CAFETERIA
[Mitchell, Carter, Woolsey, Chapman, and LaPierre are seated at one circular table, eating. Teal'c piles corndogs onto his plate from a self-serve cabinet, then goes to sit with them. Daniel prepares his tray, and notices that Shen is seated alone, reading and writing. He approaches her table.]
DANIEL
Don't feel like joining us at the other table?
SHEN
I'm just in the middle of-
DANIEL
(perkily)
Okay, don't mind if I do.
[He sits across from her. She appears uncomfortable but smiles politely and moves a notebook out of his way.]
DANIEL
(preparing to eat)
Sorry, you were, uh, just in the middle of something.
SHEN
(sighing)
Taking notes on my visit here, while the details are still fresh on my mind. This tour has provided me some wonderful insight into tedious off-world research and the lunch menu here on your Gamma Site.
DANIEL
(chewing)
Well, believe it or not, the uh-
SHEN
Is this where you tell me the SGC has no choice but to maintain its air of secrecy surrounding its operations? That as an outsider I could never understand or appreciate the work you all do, saving our planet time and again.
DANIEL
(a bit snarky)
No, actually, I was going to say, believe it or not, the meatloaf's pretty good.
SHEN
(after considering for a moment)
In the three years since our nations signed the Gate Alliance Treaty, your government has made great strides in the field of military technology but left us out in the cold.
DANIEL
Well, I hate to say it, but so long as the U.S. military's running the show, that's just the way it's gonna be.
SHEN
(challenging)
Perhaps it's time that changed.
DANIEL
(incredulous)
There's no way the American military will ever give up control of the Stargate Program.
SHEN
Maybe it won't have a choice in the matter.
[Daniel gives her an assessing look.]
INT-GAMMA SITE CORRIDOR
[Myers and Pullman are walking hurriedly through the corridor.]
PULLMAN
So uh, what did the tests say?
MYERS
I don't know. I was called in to help Santiago with his mealworm situation. You know, Pullman, if I wasn't such a patient man, I swear-
[As he speaks they arrive at their lab. There is a high-pitch biting sort of sound. Pullman looks at the isolation chamber.]
PULLMAN
(shocked)
Oh my God.
[The isolation chamber is completely full of bugs, so full that their bodies are pressing against its walls. As the scientists look on in shock, the pressure from the bugs breaks the glass of the unit, and the bugs come scurrying down onto the floor by the hundreds, heading for the scientists. They step back out into the hallway. Myers pushes a red button, closing the door to the lab and activating a bio-hazard decontamination system inside the lab. The bugs are sucked out of the room through panels that have opened along the floor. Outside in the corridor, the alarm klaxons sound as the scientists try to listen for what is going on inside the lab. There is the sound of the biohazard doors closing.]
PULLMAN
(holding out his access card to Myers)
All clear.
[Myers starts to take the card from him, but a bug comes out of his shirtsleeve and crawls down his arm. Myers yells and hits the bug with his other hand, revealing blood on his arm. The bug falls to the floor, and Myers crushes it under his shoe.]
MYERS
(looking at his arm)
The damn thing bit me.
[Now he takes the card from Pullman and opens the door with it. They enter cautiously and look around, but there are no bugs visible.]
EXT-GAMMA SITE, DAY
INT-GAMMA SITE CORRIDOR
[Pearson leads the representatives.]
CHAPMAN
I must say, Colonel, the scope of the facility has surpassed my expectations.
LAPIERRE
Yes, quite remarkable.
SHEN
For my part, I am somewhat disappointed. I was hoping the tour would be a little more thorough.
PEARSON
The Gamma Site is a U.S. military facility, Miss Shen. Access to some of the more sensitive areas is restricted.
[Ahead of them, they see Myers stumbled out of his lab, clearly in distress, gasping and having trouble standing.]
PEARSON
Doctor Myers, are you okay?
[Myers gasps and cries out and, as Pearson approaches, he grabs for him, and Pearson lowers him to the floor. Myers lies unconscious; Pearson looks at the delegates with great concern, and they appear nervous.]
INT-GAMMA SITE GATE ROOM
[A DHD sits in front of the gate. Mitchell, Carter, and Pearson are speaking to Pullman.]
PULLMAN
R-75 breached containment, and we had to exercise a disposal protocol. Doctor Myers was bitten, but he went to the infirmary to get checked out, and they didn't find anything wrong with him.
PEARSON
How the hell did the bugs breach containment?
PULLMAN
Well, Doctor Myers thinks they may have triggered some massive reproductive cycle after feeding them a piece of meatloaf.
CARTER
Wait a minute. R-75 is omnivorous?
PULLMAN
Carnivorous, actually. They seem to have lost their taste for plants.
[Woolsey comes rushing in.]
WOOLSEY
The representatives are getting a little anxious. I'm afraid I'm going to have to insist that we be permitted to return to Earth as scheduled.
PEARSON
I'm sorry, Mister Woolsey. No one's going anywhere. This base is under lockdown until we can establish the source of Doctor Myers' condition.
[As he speaks, SFs wheel in Myers on a gurney. He is secured inside a portable isolation chamber, the same as was used when O'Neill was ill with the Ancients' disease. The move him into place at the base of the gate.]
WOOLSEY
Where's he going?
PEARSON
Back to Earth, where he'll be quarantined.
WOOLSEY
(disbelieving)
He gets to go back?
PEARSON
We don't have the medical facilities for this. If we don't send him back, he could die.
[Carter shakes her head and smiles at Woolsey's outrage.]
WOOLSEY
(angry)
I am sorry, this is totally unacceptable. The Pentagon will be hearing from the IOA about this, and you can be certain your name will be mentioned, Colonel.
[He turns to leave, but in the rescue chamber, Myers begins to stir. He opens his mouth, and a bug comes out of it. The SFs drop the chamber in horror, and it breaks open. Dozens, then hundreds of bugs leave Myers' body and the chamber and begin swarming the gate room. Carter and Mitchell pull out their weapons.]
MITCHELL
Okay, carnivorous. Move, now!
[Everyone in the gate room scrambles to leave.]
INT-GAMMA SITE CORRIDOR
[The representatives walk toward the gate room, followed by Daniel and Teal'c.]
LAPIERRE
This is outrageous. Mister Woolsey assured me that we would be leaving on schedule.
[The lights and klaxons signal an emergency. They hear shooting. From the other end of the hall come Mitchell, Carter, and Woolsey.]
MITCHELL
Back to the elevator. We're going upstairs.
[They turn and head the other way.]
SHEN
What's going on?
MITCHELL
We have a bit of a bug problem. You don't want to be last.
WOOLSEY
(to Shen)
I'll explain everything.
INT-GAMMA SITE BRIEFING ROOM
[The representatives are there with SG-1. The klaxons sound distantly.]
WOOLSEY
I don't understand. What happened to him?
CARTER
Well, I can't say for sure, but my guess is that the bug must have laid its eggs in him. They incubated, and when they hatched... well, we know they eat meat.
WOOLSEY
I'm sorry I asked.
[He walks away. Carter turns to join the rest of SG-1.]
DANIEL
Well, I think we're past the point of coincidence. There's no question these bugs are the Priors' follow-up to the virus.
TEAL'C
And it appears they were designed to circumvent any attempt to forestall their destructive nature.
CARTER
Deny them crops, and their physiology adapts to a different food source.
DANIEL
Yeah, us.
MITCHELL
(into radio)
Colonel Pearson. Colonel, do you read.
[The lights start to flicker.]
WOOLSEY
(to the representatives)
It's all right, I imagine it's just a little power fluctuation. Nothing to worry about.
[He laughs nervously. The lights go out completely.]
WOOLSEY
Oh, dammit.
[Emergency lighting comes on.]
MITCHELL
That's enough of this.
[He opens the door to the corridor, catching Pearson just as he arrives with two SFs.]
MITCHELL
Colonel, what's the situation?
PEARSON
Not good. There were thousands of those things in the pod. They killed one of my men before we retreated.
DANIEL
(shocked)
You lost the gate room?
PEARSON
We need to take it back.
MITCHELL
Sounds like a plan.
PEARSON
Mister Woolsey, my man will escort you and your people to the surface. Get you to a safe location. Get you as far away from here as possible until this situation is contained.
WOOLSEY
I don't think so.
PEARSON
(shocked by the impertinence)
Excuse me?
WOOLSEY
SG-1 will escort us out. They're here to ensure the safety of this delegation.
MITCHELL
You understand that no one gets off this planet until the gate is retaken.
WOOLSEY
And I'm sure Colonel Pearson and his people will do everything in their power to make sure that happens. In the meantime, you will take us to the surface. You will protect us, as per your orders from the Pentagon.
PEARSON
(resigned but annoyed, to Mitchell)
All right. Get them out of here.
[SG-1 and the delegates leave the room.]
EXT-GAMMA SITE, DAY
[An SF leads a single-file line of representatives and SG-1 on a trail away from the buildings. Another SF brings up the rear.]
WOOLSEY
(going around other delegates)
Excuse me.
[He reaches Carter, who is walking beside an SF.]
WOOLSEY
Surely we could have taken a Jeep.
AIRMAN WALKER
We're headed to an unmanned research station. It's located approximately 10 klicks from here through dense forest.
[He hands a map to Carter.]
WOOLSEY
Then I have to ask if this is really necessary. I mean, couldn't we just wait here until Colonel Pearson gives us the "all clear"?
MITCHELL
(with finality)
Our orders are to take you to the research station. That's where we're going.
[At the rear of the line, the SF moves off a bit. Teal'c stops and Daniel stops next to him. Teal'c appears to be listening for something.]
DANIEL
Teal'c?
[Mitchell stops and turns around, unshouldering his rifle. Now they all hear strange sounds, a high-pitched buzzing and lower frequency sounds.]
AIRMAN WALKER
What is that?
CARTER
(stepping forward)
It's the bugs.
AIRMAN 1
(feeling something at his feet)
What's happening?
[The bugs swarms out of the soil and engulf him very quickly. The airman screams and falls to the ground. The bugs cover him completely, devouring him. Daniel and Teal'c look on, their weapons raised, but are unable to do anything. Everyone watches in horror as the airman's body disappears. The bugs begin to disperse.]
MITCHELL
We have to move! Now!
[Everyone runs in the direction they were walking before, Teal'c taking up the rear position.]
[Sometime later, they are running along a ridge then come to a clearing. Mitchell and Carter are in the lead. They stop and turn.]
MITCHELL
Hold up!
[The others come to a stop, breathing heavily. They form a rough circle.]
CHAPMAN
I think we can assume the bugs got off the base.
CARTER
They must be using their echo-location to hunt their prey.
DANIEL
Us. She means us.
LAPIERRE
Where can we go? They move underground!
MITCHELL
We need rocky terrain. Somewhere difficult for them to move.
AIRMAN WALKER
We can try the caves. This way.
[They all move off quickly.]
EXT-CAVE ENTRANCE, GAMMA SITE PLANET, DAY
[They jog to a cave entrance surrounded by foliage. They all run inside, but Carter stays just inside the entrance.]
CARTER
(to Airman Walker)
Get them inside.
[He takes them further into the cave while SG-1 gather at the entrance. SG-1 hear the bug noises again.]
MITCHELL
They're coming.
CARTER
They're highly sensitive to sound. The concussive force of our weapons should be enough to drive them back.
MITCHELL
Are you serious?
[She nods.]
MITCHELL
Fine, where do we shoot?
CARTER
Just fire at the ground.
[They fire their automatic weapons into the ground in front of the cave. Inside, the delegates cower at the noise. SG-1 stop firing, and the buzzing sound of the bugs fades away.]
MITCHELL
Very nice.
[Carter nods.]
MITCHELL
(turning to the delegates behind them)
All right, folks, listen up. We're surrounded by rock here, so there's no way the bugs are digging in. We've got the entrance covered. Everything's going to be fine.
[Woolsey nods and gestures for the others to stay calm.]
DANIEL
Until we run out of bullets. Bullets.
MITCHELL
Yeah.
INT-SGC BRIEFING ROOM
[Harriman stands at a computer terminal; Landry enters.]
LANDRY
What do you have for me, Chief?
HARRIMAN
Sir, we were unable to acquire a video feed from the surveillance cameras in the Gamma Site gate room, but I've managed to pick up motion sensor telemetry.
[The computer screen shows bugs, in orange, swarming around the gate. Landry huffs in concern.]
INT-SGC SCIENCE LAB
[Lee is working at a computer terminal. Landry enters.]
LANDRY
What have you found out?
LEE
(moving to another table and terminal)
I learned that bugs still creep me out. It all started out when I was a kid and my parents took me on this picnic, and this bug crawled up my on me... Maybe you'd prefer to hear this story another time.
LANDRY
I doubt it.
LEE
Oh, well.
(understanding what Landry meant)
Oh, oh. Ah, after careful analysis of the telemetry we got back from the Gamma Site gate room, I have determined that this is our culprit - R-75.
[He hits some keys, and a diagram of the R-75 bug appears on his screen.]
LANDRY
The Prior bugs.
LEE
Yeah, well, that connection is yet to be determined. But, you know, we were originally investigating this pesky little crop killer as a possible weapon against the addictive Kassa harvest being produced and distributed by the Lucian Alliance. And the various specimens we got from different off-world locations were incredibly voracious. So voracious that they would literally eat themselves to death. But, when deprived of nourishment, (gesturing with his hands)
these insects underwent some sort of trans-
LANDRY
(impatient)
Fascinating. How do we kill them?
LEE
Well, I mean, given the updated data, I should be able to whip something up.
LANDRY
Very well. As per protocol CR-91, we'll be sending the Odyssey to deliver the payload from planetary orbit.
[Landry turns to go until he hears Lee call to him.]
LEE
(concerned)
CR-91? Uh, sir? The toxin will be lethal to humans as well. I mean, uh, we'll have to be sure that the Gamma Site is evacuated before we deploy it.
LANDRY
That's assuming there's anyone left to evacuate.
[Landry exits.]
EXT-CAVE ENTRANCE ON GAMMA SITE PLANET
[Airman Walker guards the entrance; he hears something and looks around.]
INT-CAVE ON GAMMA SITE PLANET
[The others have set up lanterns and are eating what rations they have. Daniel takes two energy bars from a bag Teal'c is holding, without really asking. Daniel sits on a step on the ground beside Shen. She appears shaken and cold and has her arms wrapped around herself. Daniel smiles at her then begins to open one of the energy bars.]
SHEN
(voice shaky)
On the bright side, I was worried that my report would make for a boring read.
[Daniel hands her the bar then fiddles with the second one.]
DANIEL
So I'm guessing we're gonna lose points for this little... incident.
SHEN
To be honest with you, my report is a mere formality. Ultimately it'll have no bearing on my government's plan of action in regard to the Stargate Program.
DANIEL
(concerned and curious)
What exactly should we be expecting down the line?
SHEN
Doctor Jackson-
DANIEL
Daniel.
SHEN
Daniel. Maybe now is not the right time to be having this conversation.
DANIEL
When would be a good time?
SHEN
(voice breaking)
Perhaps when we're all back on Earth and not having to worry about being eaten alive by alien insects.
DANIEL
Look, I understand your government has issues with Stargate Command, but you cannot deny the accomplishments, nor the significant tech-
SHEN
That has nothing to do with it. Daniel, let me ask you something. If, nine years ago, it had been my country and not the United States military that had given you the opportunity to travel to the stars, would it have made a difference to you? Would you have turned us down?
DANIEL
No, of course not. So long as the priority remained off-world exploration that could benefit Earth, I would have gladly accepted the offer.
SHEN
I may hold you to that some day.
EXT-CAVE ENTRANCE, NIGHT
[Mitchell comes out to the entrance, using a flashlight. He approaches Airman Walker, who stands up.]
MITCHELL
(touching him on the shoulder)
At ease.
[Mitchell steps outside the cave and activates his radio.]
MITCHELL
(into radio)
Colonel Pearson, come in. Pearson, come in. Gamma site, do you read.
[There is nothing but static in reply to each of his calls.]
MITCHELL
Dammit.
AIRMAN WALKER
If they haven't answered by now...
MITCHELL
Yeah, I know.
MITCHELL
(walking back toward the Airman)
You okay?
AIRMAN WALKER
Yes, sir. I'm fine. I'm just a little bit rattled is all.
[Mitchell pats him on the shoulder and heads back into the cave. The Airman rubs his neck. Not visible to him, a creature crawls under the skin on the back of his neck.]
EXT-GAMMA SITE PLANET, DAY
INT-CAVE ON GAMMA SITE PLANET
[Mitchell tosses some energy bars into a full pack and bites into one. The delegates are seated around the cave, looking disheveled.]
TEAL'C
We have heard nothing from the Gamma Site since we left. I fear we must assume the worst and plan accordingly.
MITCHELL
Yeah, I was thinking the same thing.
TEAL'C
We cannot remain here indefinitely. Eventually this position will be overrun.
MITCHELL
Yeah, we need to get as far away as possible.
CARTER
Well, given the rate these bugs are multiplying, it's doubtful we could outpace them on foot.
TEAL'C
We must return for the F-302's.
[Mitchell nods his agreement. Daniel suddenly runs in, lighting his way with the flashlight on his rifle.]
DANIEL
He's gone! Airman Walker's missing.
WOOLSEY
What do you mean, missing?
DANIEL
I just went to the front to check on him. He's not there anymore.
CHAPMAN
Perhaps he's just stepped out to relieve himself.
[Mitchell hands Teal'c his vest, and they both head back the way Daniel came. Daniel turns and joins them. Carter remains with the delegates, who look concerned.]
EXT-GAMMA SITE PLANET, DAY
[Mitchell leads Teal'c and Daniel. He keys his radio.]
MITCHELL
(into radio, quietly)
Walker.
[After a few paces with no response, Mitchell holds up his fist and stops. He gestures for Daniel and Teal'c to go opposite directions and continue searching, and they all do so. Sometime later, Mitchell steps into a dry riverbed. Daniel comes through some branches and stops, concerned.]
DANIEL
(into radio)
I think I got something.
MITCHELL
(into radio)
Comin' to ya.
[Mitchell moves quickly toward where he knows Daniel is. Teal'c does the same. Daniel walks up to Walker's body, and Mitchell and Teal'c join him.]
DANIEL
We're too late.
[Mitchell sighs. Walker's leg moves. Mitchell kneels down beside him and touches him on the chest.]
MITCHELL
Walker. Hey, just take it easy.
[Walker's face is deathly pale. His head turns from the side forward. Then his entire body starts vibrating. Suddenly, hundreds of bugs emerge from Walker's uniform, swarming in all directions. The three men step back and aim their weapons.]
MITCHELL
(holding up a hand)
Wait. Don't move.
[They stand still, and the bugs burrow into the soil just in front of them. In a moment, all the bugs are gone.]
MITCHELL
Jackson, I want you to go back to the cave. Tell Carter Teal'c and I are going for the 302's.
DANIEL
Where are you planning on landing them?
MITCHELL
We'll do an aerial surveillance. We'll find someplace. Then we'll come back, we'll get everybody and ferry them to a safe location.
DANIEL
Okay, where would that be?
MITCHELL
Far away from here.
DANIEL
(to Teal'c and Mitchell)
All right. Okay, well, good luck.
[Daniel steps very carefully away, moving backward for a few steps before turning around. Teal'c takes a last look at Walker's body, and he and Mitchell head toward the Gamma Site buildings.]
EXT-PATH TO GAMMA SITE, DAY
[Mitchell and Teal'c are walking side by side.]
MITCHELL
Let me ask you a question. All the years you were fighting the Goa'uld, did you ever just step back and say, sooner or later our luck's going to run out: we're going to get our asses kicked?
TEAL'C
Never.
MITCHELL
Never. Not once. Even though you were massively outnumbered, fighting an opponent with superior technology and firepower.
TEAL'C
They may have had the superior forces and resources, but we possessed something far greater.
MITCHELL
Which was?
TEAL'C
A just cause. I had no doubt the Goa'uld would be defeated. Perhaps not in my lifetime, but I knew eventually they would fall. And I have no doubt the same fate awaits the Ori.
MITCHELL
See that's what I like about you. You're always positive. Hell, you're probably already past this bug situation, thinking about what movie you want to watch tomorrow night.
TEAL'C
(smiling)
I was considering "Old School".
MITCHELL
(smiling)
"My Boy Blue."
[They are interrupted by a large but distant explosion that rocks the ground around them.]
INT-CAVE ON GAMMA SITE PLANET
[Carter and the others feel and hear the explosion as well.]
WOOLSEY
What was that?
CARTER
(heading to the entrance)
Wait here.
EXT-CAVE ENTRANCE, DAY
[Carter arrives at the entrance, where Daniel is standing guard. She activates her radio.]
CARTER
Teal'c, Cameron, what's your status?
EXT-RISE NEAR GAMMA SITE, DAY
[Teal'c and Mitchell arrive at the top of a small cliff and see something.]
MITCHELL
(into radio)
We're okay, Carter.
DANIEL
(over radio)
What happened?
MITCHELL
Looks like the base self destruct triggered.
EXT-CAVE ENTRANCE, DAY
[Carter and Daniel exchange looks of concern and shock.]
EXT-RISE NEAR GAMMA SITE, DAY
MITCHELL
Gamma Site's gone.
[The Gamma Site buildings are now smoking rubble, with only part of the tower remaining whole. The hangar is destroyed.]
EXT-CAVE ENTRANCE, DAY
[Carter and Daniel appear very worried.]
EXT-CAVE ENTRANCE, DAY
[Sometime later, Daniel sits at the entrance to the cave, on guard.]
INT-CAVE ON GAMMA SITE PLANET, DAY
CHAPMAN
How could the base self-destruct have been triggered?
CARTER
The bugs must have gotten into the system.
LAPIERRE
(shouting)
What difference does it make now?! The base has been destroyed.
WOOLSEY
(moving toward him)
Please calm down.
LAPIERRE
(nearly hysterical)
Don't tell me to calm down! If we'd been allowed to leave on schedule...!
CARTER
Please, keep your voice down.
LAPIERRE
I am sick of being told what to do. Why should I listen to you? Why should any of us listen to you?!
CARTER
(calmly but intensely)
Because you are alerting the bugs to our presence.
[LaPierre is very angry but quiets, moves away and sits down, shaking his head.]
WOOLSEY
Colonel. A word.
[The walk to the other side of the cave for privacy.]
WOOLSEY
I understand you're doing everything in your power to help us, and I appreciate that, but I think you're being a bit insensitive to our needs right now.
(noting her bridling at his words)
All I'm asking for is a little reassurance. A few words to let them know that everything is going to be okay. I don't think it's too much to ask, all things considered.
CARTER
Mister Woolsey, if I could go back in time, which admittedly is an opportunity I am occasionally presented with, I would have made sure that we left the base as scheduled. But the reality is, for the time being, we are stuck here. Trapped in this cave, surrounded by predatory insects with no way of getting to the Stargate. Now I'm sorry, but I'm going to have a hard time mustering up a convincing pep talk, all things considered.
WOOLSEY
I see. In that case, I'd just like to point out that this routine off-world excursion has turned into a disaster, and the ramifications for Stargate Command will be enormous. Saving our lives would go a long way toward minimizing the damage.
CARTER
(whispering, sarcastically)
I'll keep that in mind.
[Woolsey walks back to the other delegates; Carter huffs out a breath in frustration.]
WOOLSEY
(to the delegates)
Don't worry, she said everything is going to be okay.
EXT-PATH ON GAMMA SITE PLANET, DAY
[Mitchell and Teal'c are headed back to the cave. They are walking and talking quietly.]
MITCHELL
I'm telling you, it's time you got your own place.
TEAL'C
I endeavored to establish a life off-base last year. I even went so far as to acquire my own apartment. Unfortunately, it did not work out.
MITCHELL
Yeah, like you got framed for murder. But you can't let one bad experience put you off. Hell, the first time I moved out, I lived next door to a guy who practiced his drum solos all night long. When we get back, I'm going to help you find your own place.
TEAL'C
That will be unnecessary.
MITCHELL
Dude, what are friends for?
TEAL'C
For listening when they are told that will be unnecessary.
[As they approach a clearing, they hear something. Teal'c holds out a fist as a signal to Mitchell to stop. They ready their weapons but remain very still. The ground below them shakes and vibrates. After a few seconds, the vibrations and noises stop, as the bugs have moved on.]
EXT-CAVE ENTRANCE, DAY
[Carter steps out to join Daniel, who is standing at the entrance.]
DANIEL
(concerned)
What the hell is taking them.
[He reaches for his radio.]
EXT-CLEARING ON GAMMA SITE PLANET, DAY
[Teal'c and Mitchell are still standing quietly. As Mitchell takes a tentative step, his radio activates with Daniel's voice.]
DANIEL
(via radio)
Where are you guys?
MITCHELL
(whispering into radio)
Requesting radio silence.
[They hear the bugs again, then the sound subsides.]
EXT-CAVE ENTRANCE, DAY
[Daniel and Carter appear anxious. He keeps his hand on his radio but doesn't use it.]
EXT-CLEARING ON GAMMA SITE PLANET, DAY
[After a moment, Mitchell takes another step.]
MITCHELL
(whispering)
I think we're good to go.
[He starts to step away, but Teal'c grabs him hard by the arm.]
TEAL'C
(sternly)
Perhaps we should keep any unnecessary conversation to a minimum.
MITCHELL
(nodding and whispering)
Okay.
[They move off slowly and deliberately.]
INT-LANDRY'S OFFICE
[Landry is looking through the glass star map. Harriman knocks and enters.]
HARRIMAN
Sir, just received a sub-space transmission from the Odyssey. Its ETA is five hours.
[Landry looks at him, then away.]
HARRIMAN
And, the Pentagon's on Line 2.
LANDRY
(sighing)
Thank you, Chief.
[He moves to his desk and picks up the phone.]
LANDRY
Landry here.
INT-CAVE ON GAMMA SITE PLANET, DAY
[As Carter waits, Mitchell enters followed by Teal'c and Daniel.]
MITCHELL
Hi. Scratch Plan B.
CHAPMAN
What'll we do now? If the gate is buried, they won't be able to send a rescue team.
MITCHELL
Which means they'll send the Odyssey. In fact, it's probably already on its way here, so all you gotta do is sit back, relax, everything's going to be fine.
CARTER
Theoretically.
MITCHELL
Theoretically?
CARTER
Theoretically, yes, the Odyssey could come and beam us off the planet's surface.
WOOLSEY
But?
[All the delegates stand and gather round.]
CARTER
Look, I'm sorry, but there's no point in sugar coating this. If Stargate Command is operating under the assumption that the base has been lost, they'll enact protocol CR-91.
SHEN
What's that?
CARTER
Once in orbit, the Odyssey will launch a payload. Probably a neuro-toxin that will wipe out R-75. That will allow Stargate Command to mount a salvage operation of the Gamma Site.
DANIEL
But they'll beam us out of here first.
CARTER
Our transmitters won't work because of the interference in the atmosphere.
DANIEL
What about our life signs?
CARTER
Because the bugs are multiplying at an alarming rate, and because of the fact that we are completely surrounded, the Odyssey won't be able to pick up our individual readings inside a sea of life signs.
LAPIERRE
Oh my God!
SHEN
What you're saying is that they're coming out all this way, but instead of rescuing us, they're going to kill us with poison gas?
CARTER
Because they have no way of knowing that we're still here.
LAPIERRE
Then we're going to die on this planet, twenty-five thousand light years from Earth.
MITCHELL
Hey, relax. For starters, it's only twenty-four thousand light years.
(to Carter)
What's your ETA for Odyssey.
CARTER
I have no way of knowing exactly when it was sent. But given the approximate time that Stargate Command lost contact with the Gamma Site, and allowing for the production of the toxin, I'd say inside of a few hours.
TEAL'C
We must find a way to contact the Odyssey to let their crew know that we are alive.
MITCHELL
Except our only way of communicating with that ship went up with the Gamma base.
DANIEL
(stepping forward)
Maybe not. The research station. They must have some sort of communication array that allows it to transmit data back to the Gamma Site.
[Shen smiles at him.]
TEAL'C
But is it capable of reaching a ship in planetary orbit?
CARTER
It could, if I had some time to work on it.
WOOLSEY
Then all we have to do is get to the research station.
MITCHELL
Right. And the only thing between us and it, is five miles of forest and a whole lot of bugs.
[They all exchange worried looks.]
MITCHELL
Piece of cake.
EXT-PATH TO RESEARCH STATION, GAMMA SITE PLANET, DAY
[The group walks briskly in single file, Teal'c in the lead and Mitchell toward the back. He helps Shen keep her footing then stops to tap his hand on LaPierre, who has stopped and is bent over, breathing hard.]
MITCHELL
Keep moving.
LAPIERRE
I cannot.
CARTER
(stopping and turning back to him)
We're almost there.
LAPIERRE
That is what you said almost half an hour ago!
CARTER
The transmission we'll be sending will enable the Odyssey to triangulate our position and pick up our individual life signs, but we all have to be within the target area.
LAPIERRE
(sitting)
We've been walking for hours!
MITCHELL
Hey! We don't have time to sit around.
[Woolsey tries to encourage LaPierre to get up, but he shrugs him off.]
LAPIERRE
We are in violent agreement.
MITCHELL
(handing over his pistol)
You know what? Sit here. You cover our six. But stay alert. You'll hear the bugs coming, but the tree ferrets give no warning.
[Mitchell starts to walk on.]
LAPIERRE
Tree ferrets?
MITCHELL
(stopping and turning around)
Yeah, nasty buggers. Swoop down and separate a man's head from his torso before he can blink.
[Carter nearly fails to keep a straight face. Woolsey gets the message and starts walking again.]
LAPIERRE
You're-you're lying.
[Mitchell stares him down, then turns and goes. After a moment of consideration, LaPierre gets up and follows.]
LAPIERRE
Wait!
[He catches up to Carter.]
CARTER
We're almost there.
LAPIERRE
Stop saying that!
EXT-HYPERSPACE
[The Odyssey moves through hyperspace.]
EXT-NEAR RESEARCH STATION ON GAMMA SITE PLANET, DAY
[Mitchell views the site through binoculars. The station is a single pre-fabricated semi-cylindrical building with an antenna tower beside it.]
MITCHELL
There it is. Let's pick up the pace.
[They run along a ridge and then to a rocky decline. Mitchell stops at the bottom and watches the delegates climb quickly down, still in their dress shoes. The men manage to get down, but Shen trips and falls, injuring her left ankle. Behind her, Daniel sees her fall and runs quickly to her.]
SHEN
(holding her ankle in pain)
Hen3 dao3 mei2!
Very unlucky!
[Mitchell signals for quiet as they all hear the chirping sound of the bugs. Shen looks at Daniel in horror.]
MITCHELL
(whispering to Carter and the others)
Let's move.
[Carter, Mitchell and Teal'c lead the delegates to start running for the station. Daniel helps Shen up and begins jogging with her. Seeing the pair aren't going to make it, Mitchell and Teal'c stop, and Mitchell fires at the ground, keeping the bugs at bay while Daniel and Shen pass.]
INT-RESEARCH STATION ON GAMMA SITE PLANET
[Carter rushes in followed by the three male delegates. She moves immediately to the communications equipment and starts adjusting it.]
EXT-OUTSIDE RESEARCH STATION, DAY
[Mitchell and Teal'c fire into the ground to cover Daniel as he helps Shen move inside the building. She is avoiding stepping on her left leg. Mitchell runs back and opens the door for them and they enter.]
INT-RESEARCH STATION ON GAMMA SITE PLANET
DANIEL
(helping Shen inside)
Look out, look out!
[He guides her to a chair and helps her sit down, then goes back outside. Carter has powered up the equipment and is working with it. There is continuous machine gun fire outside.]
LAPIERRE
(to Carter)
Can you do it? Colonel, is it working?
CHAPMAN
It's too late. We're too late!
[She ignores him and keeps working. There is the sound of radio static and tuning.]
SHEN
They're right outside!
LAPIERRE
(frantic)
Is it going to work? Do you think you can make it work in time?
WOOLSEY
(rushing to him)
Shut up! Shut up! Shut up! Let her do her work!
CARTER
Thank you, Mister Woolsey.
WOOLSEY
You're welcome.
[They back off, and Carter continues working.]
EXT-OUTSIDE RESEARCH STATION, DAY
[Mitchell, Daniel and Teal'c pause in firing to reload their rifles. Mitchell runs to the station door.]
INT-RESEARCH STATION ON GAMMA SITE PLANET
MITCHELL
(opening the door and peering inside)
How's it going?
CARTER
I need to significantly boost the power in order to penetrate the radioactivity in the ionosphere.
MITCHELL
All right, boost it already!
[He backs out and shuts the door.]
CARTER
Yeah, I think I'm good.
[She activates the transmitter; the sound of the equipment rises in pitch.]
EXT-OUTSIDE RESEARCH STATION, DAY
[After a pause, Mitchell, Daniel and Teal'c begin firing frantically. The noise from the transmitter seems to be drawing them, and the bug sounds become very loud. Mitchell breaks off to run back to the enclosure.]
INT-RESEARCH STATION ON GAMMA SITE PLANET
[Carter, sensing the equipment is causing trouble, dials back the unit. Mitchell comes to the door.]
CARTER
The vibrations being generated by the communications array must be attracting the bugs. Think you can hold them off?
MITCHELL
Is this a bad time to tell you we're almost out of ammo?
[Mitchell exits. The delegates are very alarmed, as is Carter.]
EXT-OUTSIDE RESEARCH STATION, DAY
[Things are calm as Mitchell rejoins Daniel and Teal'c. Mitchell steps back from them.]
MITCHELL
It's time to improvise.
INT-RESEARCH STATION ON GAMMA SITE PLANET
[Carter looks at her watch carefully.]
EXT-OUTSIDE RESEARCH STATION, DAY
[Mitchell pulls blocks of C-4 explosive and detonators from his backpack and hands them out to Daniel and Teal'c. They each arm the blocks with the detonators, attach motion sensors, and bury the assemblies in shallow dirt around the station hut. Once they are finished they return to the area in front of the hut.]
DANIEL
(into radio)
Okay, go!
INT-RESEARCH STATION ON GAMMA SITE PLANET
[Carter re-activates the units, and the noise and vibration return.]
CHAPMAN
How long before they receive the transmission?
CARTER
(standing and moving toward the door)
They should pick it up as soon as they enter orbit. But like I said, we have no way of knowing when that's going to be.
LAPIERRE
How long can they hold off the bugs?
[Carter looks at him then leaves the hut.]
EXT-OUTSIDE RESEARCH STATION, DAY
[Carter joins the others, their weapons ready. They hear the bugs again, and Teal'c listens carefully.]
TEAL'C
They are approaching from the right!
[To the right, a C-4 explosion goes off.]
MITCHELL
Well, the motion sensors worked!
[They begin firing at the ground near the explosion, then pause when the bug noise stops.]
MITCHELL
That pushed them back a little.
[Daniel notices something off behind them and to the left.]
DANIEL
Over here!
[They turn in that direction and Daniel takes a few steps. Another explosion goes off, and they fire on the area. The same thing happens at the other side of the hut: an explosion fired by SG-1 firing on the ground around the area.]
INT-RESEARCH STATION ON GAMMA SITE PLANET
[The delegates hold their hands over their ears and cower in terror at the sounds coming from outside.]
EXT-OUTSIDE RESEARCH STATION, DAY
[SG-1 continue to fire at each area marked by a C-4 explosion.]
MITCHELL
That's the last charge!
[The bugs become visible in front of SG-1 and start heading toward them and the hut. Out of machine gun rounds, SG-1 pull out their pistols and begin firing them as they retreat backward slowly toward the hut.]
INT-RESEARCH STATION ON GAMMA SITE PLANET
[The delegates are beamed out by the Odyssey's Asgard beam.]
EXT-OUTSIDE RESEARCH STATION, DAY
[The bugs approach SG-1 rapidly from all around. SG-1 are beamed out by the Odyssey. The bugs swarm the now-empty hut and completely engulf it.]
EXT-CHEYENNE MOUNTAIN, DAY
INT-SGC BRIEFING ROOM
[Woolsey, dressed in a clean suit, sits at the table with Landry and SG-1.]
WOOLSEY
Miss Shen suffered a broken ankle and has taken an indefinite leave. Mister LaPierre and Mister Chapman, meanwhile, have gone back to work, none the worse for wear.
LANDRY
What kind of fall-out should we be expecting from all this.
WOOLSEY
Surprisingly minimal. You may face an official reprimand, but the IOA recognizes the fact that these were circumstances beyond your control. It may seem like they do an inordinate amount of complaining, but off the record, the IOA has nothing but praise for the job you're doing here. Just don't let it go to your heads.
[He slides his chair back from the table and stands, buttoning his suit jacket.]
WOOLSEY
Well, I'm heading back to Washington. Thank you again for the off-world tour.
(looking at Carter)
It was an eye-opening experience.
[Carter nods and smiles slightly at him. Woolsey leaves.]
LANDRY
While you were gone, we received reports that two more planets have been hit by these bugs. R&D are working on solutions that target these insects without harming other plant and animal life.
[He stands, and Mitchell and Carter follow suit.]
LANDRY
I thought I'd lost you there.
(looking at each in turn)
Nice to have you back.
[They smile at him. Landry exits. Before he's out the door, Daniel leans forward and stands.]
DANIEL
So! We, uh, still doing movie night?
CARTER
Yeah, why not?
MITCHELL
Good. I've already picked something out.
TEAL'C
"Old School".
MITCHELL
"Starship Troopers".
TEAL'C
Is it humorous?
MITCHELL
Is it ever.
FADE OUT
END CREDITS

Source : http://www.stargate-sg1-solutions.com/wiki/9.17_%22The_Scourge%22_Transcript