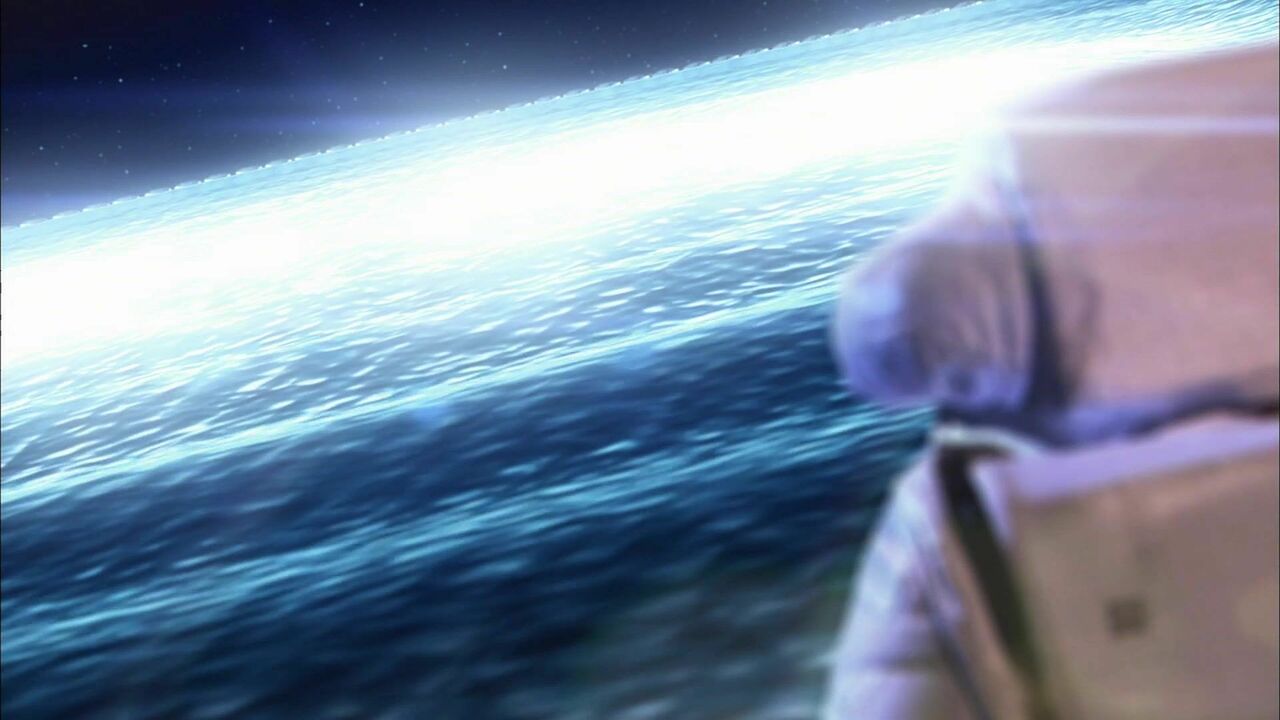 Transcript VO
PREVIOUSLY ON STARGATE SG-1
EXCERPTS FROM 9.01 "AVALON PART 1"
MERLIN HOLOGRAM
Welcome, ye knights of the round table.
EXCERPTS FROM 9.02 "AVALON PART 2"
[Mitchell does battle with the holographic 'Black Knight'.]
MERLIN HOLOGRAM
(voiceover)
Prove ye worthy, and all shall be revealed.
[Mitchell wins the battle and finds the buried treasure.]
EXCERPTS FROM 9.19 "CRUSADE PART 1"
EXT-WOODS NEAR VER ISCA
[Vala rushes through the woods near Ver Isca.]
MITCHELL
(voiceover)
So you're in the Ori galaxy.
VALA
(voiceover)
Yes. Me carrying this child right now is a problem, a big problem, but believe me, there is one which is much, much bigger.
[Vala looks down upon the Ori ships under construction.]
INT-SGC OBSERVATION ROOM
VALA
The ships are planning to leave. Somewhere out there the Ori have a working Supergate.
EXCERPTS FROM 9.18 "ARTHUR'S MANTLE"
INT-BILL LEE'S LAB
DANIEL
Merlin was conducting research on some kind of new invention. A weapon capable of destroying Ascended Beings.
[A Stargate address is visible amidst the Ancient writing.]
CARTER
I don't need to know Ancient to understand what that is.
DANIEL
A gate address to where he hid the weapon.
EXCERPTS FROM 9.19 "CRUSADE PART 1"
DANIEL
Every ally we have and everyone else on this base has already devoted themselves to finding the Supergate.
LANDRY
Go.
END EXCERPTS
TEASER
EXT-MERLIN'S PLANET, DAY
[SG-1 walk along a path in a lightly wooded area.]
MITCHELL
Hey, has anyone stopped to think how this thing might possibly work? I mean, how do you kill something that's pure energy?
DANIEL
Well, technically, Merlin's research didn't refer to killing. A better translation would be 'neutralizing' or 'canceling out'.
MITCHELL
Well it still begs a lot of questions. How do you aim at something you can't see?
DANIEL
Clearly it can't be a weapon in the conventional sense. See, Ascended Beings transcend ordinary space-time as we know it. This device would have to do the same thing.
MITCHELL
In other words, you have no idea what it might be.
DANIEL
(agreeing strongly)
Yeah, pretty much, that's it.
CARTER
Well, this looks promising.
[They have come upon a medieval village, made up of stone buildings set very close together, each with a chimney. The village is surrounded by a stone wall that has a gated entrance.]
EXT-CAMELOT VILLAGE SQUARE, DAY
[SG-1 enter the village square from an outside gate. The ground is covered in thick mud. There are horses and various merchant stalls situated around the square. Colored flags are strung across the streets. The villagers react with alarm to the visitors, even though Teal'c is smiling at them.]
CARTER
Well, it certainly looks like a place where Merlin might have lived.
MITCHELL
Oh, I wouldn't get too excited just yet. There could be dozens of villages in the area just like this one. No way to know for sure this is the right one.
[The villagers are gathered around, staring at SG-1 from a safe distance.]
DANIEL
(gesturing)
Well, there's... that.
[There is a sword standing straight up out of a large stone platform, its hilt and some of its blade visible. SG-1 walk toward it. A finely dressed man and several villagers approach from the other side of the stone.]
MEURIK
(smiling but nervous)
Travelers. I am Meurik, Governor of this village. Welcome to Camelot.
END TEASER
OPENING CREDITS
INT-VILLAGE PUB
[SG-1 are seated at a long wooden table, their rifles set on top of it. Meurik sits at the head of the table. A middle-aged man approaches.]
ANTONIUS
These must be the strangers that everyone is speaking of.
MEURIK
This is Antonius, our village historian.
ANTONIUS
Welcome to Camelot. Past and future home of King Arthur and his Round Table.
CARTER
Sorry, future home?
MEURIK
I assume you know the history of the Battle of Camlann.
DANIEL
Of course, where Arthur was mortally wounded by Mordred.
MEURIK
(incredulous, then chuckling)
Arthur... mortally wounded. Please.
ANTONIUS
Arthur defeated Mordred at the Battle of Camlann. After which, he and his fellow knights set off to find the Sangreal.
DANIEL
That's the Holy Grail.
ANTONIUS
That was long ago, but we know in our hearts that one day, he will return to us.
DANIEL
Um, what happened to Merlin when he left?
[Antonius looks disturbed by the question. Meurik is uncomfortable but covers it with a smile.]
MEURIK
I have matters to attend to. Best I take my leave now.
[He stands up.]
MEURIK
Enjoy your stay with us.
[He walks away.]
DANIEL
Did I offend him?
ANTONIUS
(sitting in the chair Meurik vacated)
Not at all. It's just that...
(lowering his voice)
Merlin's name is rarely mentioned in public.
DANIEL
Why is that?
ANTONIUS
Well, many believe he was a wizard of darkness. He may have tried to do good, but there was always potential for great mischief in his heart. Thankfully, he has neither been seen nor heard of since Arthur's departure. The library where he practiced his strange arts remains sealed to this day.
CARTER
Merlin had a library here?
ANTONIUS
Of course. It was his private sanctuary here in Camelot.
DANIEL
(as if stating the obvious)
We'd like to see that.
ANTONIUS
I'm afraid that's impossible. The library is protected by a powerful curse. It is said that all those who enter Merlin's sanctuary forfeit their lives to its guardian, the Black Knight.
[SG-1 exchange looks of recognition and concern.]
EXT-STABLES OUTSIDE PUB, DAY
[SG-1 exit the pub and begin a slow walk through the village.]
MITCHELL
Okay, so, best case scenario, this Curse of the Black Knight is a story Merlin made up to scare off the locals. Worst case scenario, he's got another holographic knight protecting his goods like he did back in England. Either way, I don't see a big problem.
[Teal'c growls.]
MITCHELL
What?
TEAL'C
Given your narrow victory over the knight in the Avalon cave, it would seem that your over-confidence is ill-advised.
MITCHELL
Did I say anything about me doing the fighting?
DANIEL
The point is, the last time it was a test designed to measure a challenger's worth. This time it sounds more like a defense mechanism set up to protect Merlin's research, which means it could be a lot tougher, and the same rules might not apply.
CARTER
I think we should split up and look around.
TEAL'C
Indeed.
[Mitchell and Daniel continue the way they were headed, while Carter and Teal'c head the other way.]
EXT-VILLAGE SQUARE, DAY
[A young boy and an older, taller girl practice sword fighting with wooden swords. The girl gets the upper hand.]
VALENCIA
Surrender, Mordred!
RAMUS
Never!
[After more parrying, she overcomes him and holds her 'sword' to his throat.]
VALENCIA
Yield?
RAMUS
I yield. But next time, I want to be Arthur.
[She laughs. Mitchell and Daniel approach.]
MITCHELL
I don't know if that's going to help, you keep moving around like Ed Grimley.
[The children look at him, confused. Mitchell reaches for the strap that holds his machine gun to his vest.]
MITCHELL
Here, let me show you something.
[He hands his gun to Daniel.]
MITCHELL
(to Ramus)
You mind?
[Ramus nods and hands Mitchell his wooden sword.]
MITCHELL
Thank you. Try not to bob around quite so much.
[He turns to face Valencia and the cross their swords, then start sparring. They match each other parry for parry several times, then stop.]
MITCHELL
Nice.
[They start again, but Mitchell grabs the sword from her almost instantly. She smiles at him, and Ramus comes out from the alcove where he's been standing.]
VALENCIA
Where did you learn to fight like that?
MITCHELL
Broomstick battles with my kid brother, and the Sodan ritual of kel shak lo made me the nimble warrior that I am today.
[He hands the swords back to the children.]
MITCHELL
So, do either one of you know where we can find Merlin's, uh...
DANIEL
Oh, uh, library.
MITCHELL
Merlin's library.
[The children become concerned.]
EXT-VILLAGE STREET, DAY
[Valencia and Ramus lead Mitchell and Daniel down a small street to a thatched-roof building. Valencia stops at the wooden door.]
VALENCIA
This is it. The door is magicked.
[Daniel reaches for it, and his hand hits a force field. He pulls his hand back and flexes his fingers.]
VALENCIA
There is a key, but no one dare use it.
DANIEL
Where would we find this key?
VALENCIA
It is kept in the village archives.
EXT-VILLAGE MARKETPLACE, DAY
[Antonius shops for food using a wicker basket as Daniel speaks to him. It is raining, and Daniel is wet, his hair and jacket soaked. He holds his glasses in his hand.]
ANTONIUS
No! Absolutely not.
DANIEL
(intensely)
Antonius.
ANTONIUS
I will not be party to your deaths. Your lives would be forfeit the instant you stepped inside.
DANIEL
(tugging Antonius' overgarment)
We have faced one of Merlin's knights before.
ANTONIUS
Impossible. If you had, you would not be here to tell the tale.
DANIEL
Well I am, because we defeated him. And in defeating him, we acquired the treasures he had hidden away in our world. One of those treasures led us here, to Camelot.
(changing to a calmer tack)
Antonius, you're the village historian. Don't tell me you haven't dreamt about what might be inside there.
[Antonius ponders what Daniel has said.]
EXT-OUTSIDE OF CAMELOT, NIGHT
[It is raining, but a partial moon is visible.]
EXT-STREET NEAR LIBRARY, NIGHT
[Antonius leads SG-1 to the library door, carrying a lantern.]
ANTONIUS
No one must know of my participation in this venture.
MITCHELL
You got it.
ANTONIUS
Not Meurik, not my fellow villagers, and most importantly, not my wife Livia, who believes I am reviewing council minutes with Brother Abelard tonight.
[They reach the library, and Antonius takes out his key.]
MITCHELL
We were never here.
[Antonius hand the lantern to Mitchell, then pushes the pen-like key into the lock. The force field flares then goes away as he pushes the key in again. He then unlocks the door in a conventional way, and it swings open. He takes the lantern back from Mitchell.]
INT-MERLIN'S LIBRARY
[The library is dark and dusty, and cobwebs cover the various cages, books, candelabra, and sculptures. Mitchell enters first, led by his flashlight.]
MITCHELL
Oh, spiders.
[He clears away the cobwebs from the doorway and enters the large room. Daniel and Carter follow, also shining their flashlights. Antonius and Teal'c enter last. Daniel blows the dust off of one of many books. He gazes around with his flashlight.]
DANIEL
Yep, this could take a while.
INT-MERLIN'S LIBRARY
[Sometime later, the room is largely cleaned up and is bathed in warm candlelight. Teal'c finishes lighting some candles from a ladder, then descends it. Daniel is reading a book aided by his flashlight. Carter is nearby.]
DANIEL
This is interesting. This is a-a reference to Merlin's prophetic abilities. There's a similar myth on Earth. That Merlin could see the future because he actually aged backwards in time. It's not meant to be taken literally, but we have seen that a lot of legends and folklore have a strong basis in fact. Avalon. Atlantis.
TEAL'C
(smiling at Antonius)
The Easter Bunny.
ANTONIUS
Huh.
[Daniel and Carter look at Teal'c, perplexed.]
DANIEL
I guess there's a few exceptions.
[Teal'c gives Daniel a shocked and concerned look, that the Easter Bunny might not have a basis in fact.]
CARTER
Are you saying that there's time travel technology here?
DANIEL
I'm saying there could be anything around here.
MITCHELL
(standing up a few steps next to a bookshelf in an alcove)
Well, I hate to break it to you folks, but the only technology I'm seeing is... a bunch of dusty old books.
[Mitchell pushes on a book on a shelf. There is a creaking sound, and the entire bookshelf spins out of the way to reveal a narrow stone passage.]
MITCHELL
And a secret passage.
[Mitchell points his flashlight into it and steps into it. The others climb the steps to where he is. He steps back out of the passage.]
MITCHELL
All right, there's another chamber.
ANTONIUS
(upset)
We should not go in there! We've tempted fate enough for one night.
MITCHELL
Well, you can stay up here if you want.
ANTONIUS
No. I shall take my leave.
[He turns and leaves as the others watch.]
INT-INNER CHAMBER OF MERLIN'S LIBRARY
[The chamber is very dark, lit only by the light of SG-1's flashlights. Suddenly the logs in a fireplace come to life with a fire. Then torches lining the walls each light spontaneously. SG-1 look around and see a large Ancient control pedestal in the center of the room.]
MITCHELL
It's not a puzzle, is it?
DANIEL
No, it's an Ancient control device.
MITCHELL
What is it controlling?
DANIEL
I have no idea.
[Daniel steps up to the device. A light above it activates and shines on a large array of moveable panels, each with Ancient writing on them. The rest of the team joins him and prepares to investigate.]
INT-ANTONIUS' BEDROOM
[Antonius enters his bedroom carefully and sets his lantern on a side table; he also carries a book. The bed is made and empty. He begins to walk around the room, searching.]
ANTONIUS
Livia?
[There is a noise behind him, and he turns to see a Black Night inside his room, silhouetted against his window. The knight swings his sword up into position for battle and walks toward Antonius].
INT-INNER CHAMBER OF MERLIN'S LIBRARY
[SG-1 stand around the device.]
DANIEL
We've seen this type of interface before. Activating it is a matter of correctly interpreting these symbols.
[They hear a piercing scream from outside. The grab their weapons and run out of the room.]
INT-ANTONIUS' BEDROOM
[Several male villagers are in the room, talking quietly and nervously. Mitchell leads SG-1 into the room. They see Antonius' body on the floor, and Carter rushes to him and looks for a pulse.]
CARTER
He's dead!
INT-VILLAGE PUB
[It is the next day. Meurik slams a book down onto a table. It is the one Antonius carried from the library.]
MEURIK
(angry)
How do you explain this?
[He walks past each of SG-1, but they don't respond other than to look somewhat sheepish.]
MEURIK
Antonius had it with him when he was killed.
CARTER
Meurik, we're very sorry about what happened-
MEURIK
You went into the wizard's library, didn't you.
DANIEL
Yes, we did.
MITCHELL
Look, it wasn't supposed to go down like that. We figured if the knight was going to appear, it would be in the chamber, and he wouldn't go after anybody but us.
MEURIK
You were warned of the danger, and you refused to believe. You awakened the curse.
DANIEL
The Black Knight is not part of any curse. He isn't magical and he isn't unbeatable.
TEAL'C
Your world as well as countless others are in danger of being overrun by an enemy far more powerful than you could ever imagine. They are called the Ori, and they will destroy anyone who does not kneel before them.
DANIEL
We learned that a long time ago, Merlin was working on a weapon that could be used against them. And the key to finding that weapon is inside that library.
MEURIK
I have never seen nor heard of these Ori, but we have witnessed the power of the Black Knight. Leave this village. Take the curse with you.
[Meurik leaves; SG-1 are deflated and disappointed.]
DANIEL
(sitting on a table)
Well, we can't just give up.
CARTER
Daniel, we're not exactly welcome here anymore.
DANIEL
Don't you see, this is exactly what Merlin wanted. Why do you think he designed the Black Knight to attack in the village and not the chamber? To incite terror. If he just killed whatever was inside the chamber, then there'd be no great public incentive to keep people out. You'd go in at your own risk, and there'd always be someone foolish enough to give it a try.
MITCHELL
Yeah, someone like us.
DANIEL
Look, the point is, that he designed it that way because he was worried that someone might stumble onto the solution. Which means there is a solution, and it's inside that chamber.
CARTER
A shut-off switch.
DANIEL
Exactly.
MITCHELL
Well, that's great. But how does it help us now?
DANIEL
I don't know. Just, give me a little time to talk to these people. If I can get some of them on our side, we might be able to get Meurik to reconsider.
[Mitchell raises his hand in dubious approval. Daniel picks up his gun and leaves.]
EXT-VILLAGE CENTER, DAY
[Mitchell walks around the stone platform with the sword in it. Valencia watches from nearby.]
VALENCIA
(approaching)
Only he who is pure of heart and true of spirit can pull the sword from the stone. It is said Arthur will not return from his quest until one among us succeeds in removing it.
MITCHELL
You ever try it?
VALENCIA
Of course not. It is for the young men preparing to be knights to test themselves with the sword. As my brother Ramus will do when he comes of age.
MITCHELL
Yeah, but I've seen you spar. You've got the skills.
VALENCIA
I only do that to help Ramus train. When Arthur does come back, he will need knights to join him on his next crusade. The men of this village will be ready to serve him.
MITCHELL
And you're not interested in that.
[She looks at him, considering. Meurik approaches from up the street, villagers and the rest of SG-1 with him.]
MEURIK
Valencia, leave us.
VALENCIA
(fearful)
Yes, Governor.
[She leaves.]
MEURIK
You abuse my tolerant nature, Colonel.
MITCHELL
(to Daniel)
I take it it didn't go so well.
DANIEL
Not really.
[They gather near the entrance to the village.]
MEURIK
These men will escort you to the great ring and ensure that you leave as requested.
DANIEL
Look, you're making a mistake. There is no curse. Now, the Black Knight is a science feature, created by Merlin through the use of science and advanced technology. There is no magic involved-
[Just as he finishes, all of SG-1 are beamed out by an Asgard beam. The villagers murmur in confusion, and Meurik hugs the woman next to him.]
INT-BRIDGE OF THE ODYSSEY
[SG-1 arrive on the bridge, just in front of the forward viewscreens.]
EMERSON
SG-1, welcome aboard the Odyssey.
MITCHELL
Colonel. What's going on?
EMERSON
Change of plans.
[Emerson walks over to a large display on the wall of the bridge. SG-1 follow him.]
EMERSON
We received a sub-space transmission from a Jaffa vessel near P3Y-229. They were investigating some unusual energy readings. This is what they found.
[He pushes some buttons and space scene shows. He zooms in.]
EMERSON
When we enhance the image...
[The display shows a Supergate.]
CARTER
A fully formed Supergate.
EMERSON
Stargate Command tried to dial 229, but couldn't get a lock.
CARTER
The planet was probably destroyed in the formation of the micro-singularity.
EMERSON
My orders were to pick you up and proceed immediately to the Supergate. Unfortunately, the Deadelus is still in the Pegasus galaxy, but the Korolev will be joining us as soon as possible.
CARTER
I didn't think it was operational yet.
EMERSON
It's been rushed into service. We're to meet up with as many Jaffa and Tok'ra ships as we can muster and destroy that thing by whatever means necessary.
(to Marks)
Set a course.
MARKS
Yes, sir.
[Emerson walks back to his command chair. Daniel walks around the front of the bridge to face him.]
DANIEL
Wait a minute. We can't go yet.
EMERSON
We don't have any more time, Doctor. By all indications, that Spacegate's operational. There's no telling when the Ori are going to start sending ships through.
DANIEL
Okay, uh, go, but leave me behind. Colonel, I believe the key to defeating the Ori is on that planet. I know it.
CARTER
Daniel, even if you're right, the villagers are never going to let you back in the library.
DANIEL
Then, beam me in.
EMERSON
(after a moment of consideration)
All right, you get one more chance.
MITCHELL
I'll go with Jackson.
(noting Daniel's surprised look)
A little quality time. And that Black Knight might show up again.
EMERSON
We'll have the Russians swing by and pick you up on the way through. You have until then.
MITCHELL
Thank you, sir.
[Daniel and Mitchell leave. Carter walks over to the Supergate image on the display.]
INT-MERLIN'S LIBRARY
[Daniel and Mitchell beam in.]
MITCHELL
So, what now?
[Daniel starts up the staircase to the loft overlooking the library.]
DANIEL
Well, all indications are the Black Knight was activated the second I stepped onto that platform. So, my guess is we can shut him down by inputting the correct code sequence on that control panel.
MITCHELL
Merlin's PIN number?
DANIEL
Yeah, something like that.
MITCHELL
So, how do we find it?
[Daniel picks up one of many books and opens it.]
DANIEL
(gesturing to the whole room)
By analyzing these documents.
MITCHELL
You do realize we're on the clock, right?
[Daniel gives him an annoyed look.]
INT-BRIDGE OF THE ODYSSEY
MARKS
Course is plotted, sir.
EMERSON
Very well.
TEAL'C
Colonel Emerson, I wish to be transferred to the nearest Jaffa-controlled vessel.
EMERSON
Can I ask why?
TEAL'C
I intend to seek out some much-needed allies.
[Teal'c walks out without waiting for permission.]
INT-MERLIN'S LIBRARY
[Daniel is seated at a table, surrounded by open books.]
DANIEL
(closing a book)
That's it.
[At the lack of response from Mitchell, Daniel turns around to see him dozing in a chair. Daniel drops a large book onto the floor. The sound jolts Mitchell awake.]
DANIEL
(not sorry)
Sorry, didn't mean to wake you.
MITCHELL
No, uh, I wasn't sleeping. I was kel-no-reeming. Teal'c taught me the fundamentals.
DANIEL
(reading a page of Ancient text)
Did he mention you should remain conscious in the process?
MITCHELL
Yeah, I'm still working on the basics.
(getting up)
So, you got something?
DANIEL
Yeah, I've cross-referenced half a dozen passages that mention the Black Knight. Now, there's a series of recurring words and phrases that stand out, if you know what you're looking for.
MITCHELL
Are we talking access code?
DANIEL
I think so.
[Daniel goes back to his book, and Mitchell pats him hard on the back.]
INT-INNER CHAMBER OF MERLIN'S LIBRARY
[Daniel and Mitchell enter, both carrying their weapons. Daniel also carries a stack of books. He hesitates to step onto the platform.]
MITCHELL
What's the matter?
DANIEL
Well, if I'm wrong about this, then...
MITCHELL
No, look, I'll take care of the Black Knight.
DANIEL
Yeah, how are you going to do that again?
MITCHELL
I will pull the sword from the stone, just like last time.
DANIEL
Well, I think we've been over this. This is a completely different scenario. You see, in the Avalon cave, it was pulling the sword from the stone that caused the knight to appear in the first place. Here, we don't even know if they're connected.
MITCHELL
We know Merlin put the sword there, right?
DANIEL
Probably.
MITCHELL
Which means it's no ordinary sword, and that's good enough for me. Besides, do we have a choice?
DANIEL
No.
[Mitchell gestures, and the both step up onto the platform. It lights up as before.]
[They look around for a moment, waiting for something to happen. When it doesn't, Daniel sets his weapon and the books on the edge of the platform and opens one book to a particular page. Looking at it, he begins pressing the large stone tiles of the control device, one by one. He finishes.]
DANIEL
Uh oh.
MITCHELL
What oh?
DANIEL
Nothing happened.
MITCHELL
Is that a good thing or a bad thing?
[They hear a woman screaming.]
DANIEL AND MITCHELL
(in unison)
Bad!
MITCHELL
(heading toward the door with his weapon)
You stay, I'll go. Make it work!
DANIEL
(doubtfully)
Okay.
EXT-VILLAGE STREET, DAY
[Mitchell comes running out into the street, his weapon ready. The villagers are panicked and scattering. He looks up.]
MITCHELL
Oh boy.
[The Black Knight heads for him, spinning his sword in one arm then holding it with two hands, prepared to fight.]
MITCHELL
Everybody down!
[Mitchell begins firing at the knight. The bullets pass through, doing no harm.]
MITCHELL
No, didn't think so.
[The knight comes at him, swinging his sword again. Mitchell drops his gun and runs at the knight, then ducks under his sword blows, jumps over a cart, and rolls in the mud. Valencia enters the square and sees what is going on. The knight strikes Mitchell in the back, causing an energy flare instead of a true wound. Mitchell slides on his side as the knight keeps swinging.]
INT-INNER CHAMBER OF MERLIN'S LIBRARY
DANIEL
(into radio)
Mitchell, how's it going out there?
EXT-VILLAGE STREET, DAY
MITCHELL
(into radio, scurrying away from knight)
Oh, not so good!
[Mitchell reaches a table, grabs a sword from it, and knocks the table over. He begins trading sword blows with the knight. His blows slide right through the knight, ineffective. The knight hits Mitchell in the head with his sword. Mitchell falls onto his back on the ground. Valencia rushes up to Meurik.]
VALENCIA
Do something! Help him!
MEURIK
He brought this on himself.
[Mitchell gets up and looks around at the villagers as if looking for help. The knight strikes him again, over and over. Mitchell falls to his knees. Horrified, Valencia runs back to the sword and stone platform, climbs up onto it, and starts pulling at the sword. Meurik follows.]
MEURIK
What do yo think you're doing?
[After a couple of pulls, the sword loosens, and Valencia pulls it out completely. The villagers who have seen look on in shock. Valencia takes the sword and runs back toward the fight. Mitchell sees her. She throws the sword to him, and he catches it by the hilt. He turns and swings at the knight. Now his sword has a physical effect, and it strikes the knight's sword. They parry fiercely. The knight strikes Mitchell in the face with his hand and knocks him down.]
INT-INNER CHAMBER OF MERLIN'S LIBRARY
[Daniel is pushing on the tiles. There is a flash from above, and suddenly the room is lined in piles of treasure: gold plates and vases, jewels, piled on the floor and on tables. A hologram of a white-haired old man in wizard clothing appears. He has a large red pendant around his neck.]
MERLIN
(holding his arms out in welcome)
Greetings, friend. I am Merlin.
DANIEL
Yes, you are.
MERLIN
The prize you seek, like the pendulum swing, marks the passage of all that is before you.
DANIEL
(into radio)
Mitchell, I did it! Is the Black Knight gone?
[Merlin's message begins to repeat.]
EXT-VILLAGE STREET, DAY
MITCHELL
Not exactly!
[He continues to fight the knight, matching him parry for parry.]
INT-INNER CHAMBER OF MERLIN'S LIBRARY
DANIEL
(into radio)
I don't understand. I got the treasure. I activated the hologram.
EXT-VILLAGE STREET, DAY
[Mitchell has been knocked to the ground again and gets up to fight.]
MITCHELL
(into radio)
Try a different code!
DANIEL
(via radio)
I already tried all of the combinations I came up with!
INT-INNER CHAMBER OF MERLIN'S LIBRARY
DANIEL
(into radio)
Mitchell. Mitchell!
[Merlin continues to repeat his message as Daniel looks on.]
EXT-VILLAGE STREET, DAY
[Mitchell continues fighting, but he is tired. The Black Knight strikes him twice in the back, and he falls to his knees.]
INT-INNER CHAMBER OF MERLIN'S LIBRARY
[Daniel watches Merlin repeat his message, then bends down and presses a button at the base of the pedestal. A panel opens, filled with disk-shaped, lighted crystal pieces. Daniel looks at it in frustration.]
DANIEL
Ah, screw it.
[He pulls out his pistol and fires twice into the crystals. Their lights go out. Merlin disappears.]
EXT-VILLAGE STREET, DAY
[Just as the Black Knight is about to stab Mitchell, who is lying on his stomach on the ground, the knight disappears. The villagers begin cheering. Valencia and Meurik approach Mitchell. People being to congratulate Valencia. Mitchell points to her and tries to get up, but can't. The villagers surround Valencia, all smiling and clapping. Meurik still looks concerned but finally smiles at Valencia. Mitchell falls back onto his back, exhausted.]
EXT-SPACE NEAR SUPERGATE
[The Odyssey exits hyperspace and joins the fleet of ships positioned around the Supergate.]
INT-BRIDGE OF THE ODYSSEY
MARKS
Sir, we're receiving a transmission from one of the Jaffa ships.
EMERSON
(walking over to the large monitor)
Put it on screen.
[Cha'ra appears on the large viewscreen.]
CHA'RA
I am Cha'ra of the Free Jaffa. It was my ship that discovered the gate.
EMERSON
I understand there's been no other signs of activity.
CHA'RA
None. You should be aware we've already attempted to destroy the gate. Our combined forces had no effect.
[Emerson turns to exchange concerned glances with Carter.]
INT-INNER CHAMBER OF MERLIN'S LIBRARY
[Mitchell is standing near the smoking control panel while Daniel looks at another book.]
MITCHELL
So all you had to do was shoot the control crystals.
DANIEL
Pretty much.
MITCHELL
Sounds like one of my plans.
(grunting in pain)
How come you didn't do that in the first place?
DANIEL
Well, because I had to find the access code first. If I hadn't,
(gesturing to treasure)
none of this would have beamed in, and I wouldn't have seen Merlin's hologram message.
MITCHELL
(stretching his back)
Right. What did he say?
DANIEL
(opening the book to a certain page)
Well, I think it was a riddle, and I believe I figured it out.
[He places the book on the pedestal and shows Mitchell a black and white drawing of Merlin in it.]
DANIEL
You see, this pendant. Now in every depiction of Merlin from his library, I've seen it. And in fact the hologram message was wearing it as well. But I've never seen it before. Not in any reference material back on Earth.
MITCHELL
And you think that's the device we're looking for.
DANIEL
The riddle mentions a pendulum. Now at first I thought that was a reference to a passage of time, like a pendulum clock. Then I realized it was more literal. Something that hangs. It also said, it was right before my eyes.
MITCHELL
(looking at the sketch)
I don't know. Does that seem a little small?
DANIEL
Just remember we're talking about things that transcend ordinary space-time, here. Relative size has no meaning.
MITCHELL
Fine. Let's start looking.
INT-BRIDGE OF THE ODYSSEY
MARKS
Sir, another ship just dropped out of hyperspace. It's an Asgard vessel.
EMERSON
Open a channel.
[He sits in the command chair and activates his audio. Carter sits next to him.]
EMERSON
This is Colonel Emerson of the Earth vessel Odyssey.
[Before he can continue, an Asgard beams on the bridge in front of him.]
KVASIR
Yes. I know who you are.
CARTER
Hello, Kvasir.
KVASIR
Colonel Carter. There is much work to be done. Where is the rest of your team?
CARTER
Daniel and Colonel Mitchell are still looking for the Ancient device I was telling you about in our communique. And Teal'c, well, we're not exactly sure where Teal'c is.
[Kvasir looks perplexed.]
EXT-SPACE
[A large Lucian Alliance ship is surrounded by many smaller figher-type craft.]
INT-LUCIAN ALLIANCE SHIP
[Teal'c is escorted in by two guards to stand before Netan. His hands are shackled in front of him.]
NETAN
Flying into our territory in an unmarked cargo ship. I didn't think you were that stupid.
TEAL'C
I have allowed myself to be captured knowing that I would be brought before you.
NETAN
Really.
TEAL'C
I have come to seek the assistance of the Lucian Alliance.
NETAN
I take it back. You're not stupid. You're insane.
(to the guards)
Kill him.
[Before they can move, Teal'c strikes, flips, and otherwise disables both guards, while grabbing on of their guns. He holds the gun to Netan's forehead.]
TEAL'C
(furious)
I should kill you where you stand. But as I have said, (lowering gun)
I have come seeking your assistance. The fate of the galaxy is at stake.
[As he speaks, other men rush in and train their weapons on Teal'c.]
INT-LAB ON THE ODYSSEY
[Kvasir and Carter are in the lab. Kvasir moves his hand over an Asgard computer device.]
KVASIR
We have been analyzing the information that Daniel Jackson was able to retrieve from Merlin's phase shifting device.
CARTER
Unfortunately, he didn't get very far before it permanently ran out of power.
KVASIR
There was enough data for us to surmise what this so-called anti-Ori weapon might be.
CARTER
Really. I wasn't able to make heads or tails of it.
KVASIR
(smugly)
Really?
CARTER
(annoyed)
Just tell me what you've got.
KVASIR
It is an energy transfer device, similar to a Zero Point Module, except that the energy is channeled not from sub-space into ordinary space-time, but rather into the dimension occupied by Ascended beings.
CARTER
And this energy is harmful to them in some way.
KVASIR
It is a form of interference. A simply analogy would be two standing waves canceling each other out. If the weapon indeed works the way Merlin's writings imply, we would simply need to activate it and send it to the Ori galaxy, and they would be eliminated.
CARTER
Yeah, but how do we do that? I mean, we don't even know where the Ori galaxy is, let alone have the ability to send something there.
KVASIR
That is where you're mistaken.
CARTER
(after a moment of thought)
You're talking about the Supergate. We dial out before they can dial in!
KVASIR
Precisely.
CARTER
That might actually work.
KVASIR
Of course, we will need Merlin's weapon. If Colonel Mitchell and Doctor Jackson don't find it...
CARTER
Don't worry... They'll find it.
INT-INNER CHAMBER OF MERLIN'S LIBRARY
[Mitchell and Daniel are searching the treasure for the pendant.]
MITCHELL
What do you mean, it's not here?
DANIEL
Well, we've been through this stuff twice. It's not... here.
MITCHELL
It's got to be here! Look, I once lost my car keys in my apartment for three days...
[Meurik, Valencia, and others come to the entryway of chamber.]
MEURIK
Colonel Mitchell?
MITCHELL
Hi, uh, come on in. Don't be afraid. Black Knight's not coming back.
[The villagers look around tentatively, in awe.]
MEURIK
It's incredible.
MITCHELL
Yeah. It's all yours.
MEURIK
You do not wish to claim a prize for defeating Merlin's champion?
MITCHELL
Well, there was one thing we were looking for, but we can't find it.
DANIEL
Actually, maybe you can help us.
[Daniel walks back to the pedestal and retrieves the book with the picture of Merlin. He holds it out for Meurik to see.]
DANIEL
(pointing to pendant)
Do you recognize this?
MEURIK
It is the Sangreal.
DANIEL
This is the Sangreal?
MEURIK
It is also known as the Blood Stone.
DANIEL
Of course, sang. Blood. Blood red for the color of the jewel.
MITCHELL
Whoa, whoa, whoa, wait a minute. We're talking about the Holy Grail, right? Every movie I've seen, that's a cup.
DANIEL
No, the notion that the Grail was a cup or chalice, particularly the one used by Christ at the Last Supper, was a late addition to the myth. See, in earlier accounts it's described variously as a dish, or platter, or in the case of von Eschenbach and other middle eastern-influenced chroniclers, as a stone that fell from the heavens.
MEURIK
If this is what you seek, you will not find it among these trinkets. Arthur and his knights left to quest for the Sangreal long ago.
MITCHELL
Do you know where they went?
MEURIK
Of course. It is said that they journeyed to three distant lands mentioned in Merlin's prophecy: Castiana, Sahal, and Vagonbrei.
MITCHELL
(to Daniel)
Any of those spots ring a bell?
DANIEL
No, but if they were part of one of Merlin's prophecies, then any one his books could hold the key to what we're looking for.
MITCHELL
(becoming agitated)
The books upstairs? Jackson, that's days, weeks to find the proper reference and then there's no guarantee that we're going to be able to track him down.
MEURIK
Searching for Arthur's whereabouts in this library is not necessary. Now, thanks to Valencia, we've been given a sign that Arthur will return soon. And you are welcome to stay with us and wait. As the men that conquered Merlin's Curse, you will be given a place of honor.
DANIEL
(resigned)
Look. Once and for all, there was no curse. Okay?
(pointing at pedestal)
This? This is a device. It's a machine. It's like a flour mill or a catapult. It's just a lot more complicated.
[As he speaks, the villagers smile indulgently.]
DANIEL
There is no magic.
[He and Mitchell are beamed away; the villagers exclaim in surprise.]
INT-BRIDGE OF KOROLEV
[Daniel and Mitchell beam aboard and face the forward windows of the ship.]
DANIEL
(emphatic)
Boy, my timing's off today.
[Behind them, Colonel Chekov sits in the command chair, dressed in camo fatigues.]
CHEKOV
Colonel Mitchell. Doctor Jackson. Welcome aboard the Korolev.
INT-LAB ON THE ODYSSEY
[Carter and Kvasir watch an animated schematic of the Supergate as it zeroes in on one small component of one of the gate's many floating panels.]
CARTER
There it is.
[Emerson enters.]
EMERSON
Colonel Carter.
CARTER
Sir. We've managed to locate the dialing control crystals on one particular section of the gate. Now Kvasir's already programmed a replacement crystal, so it's just a matter of somebody getting out there and installing it.
EMERSON
And I supposed you'd like to volunteer.
CARTER
(smiling)
Yes, sir.
KVASIR
I would go, but you do not have a spacesuit that would fit me.
[Carter fails to hid a smile.]
EMERSON
No one's going. We just got word from the Korolev: Mitchell and Jackson didn't find the device.
CARTER
Sir, even without Merlin's device, dialing out is still our best bet, because in the very least, it will prevent them from dialing in. It's possible that with the power generated by the singularity, we can maintain this connection indefinitely.
[Emerson appears to seriously consider the idea.]
INT-LAB ON THE ODYSSEY
[Technicians help Carter into a large, NASA-style space suit. Kvasir works at his Asgard control panel.]
KVASIR
The coordinates are set. Are you ready, Colonel Carter?
CARTER
Ready as I'll ever be.
[The technicians finish closing her helmet and turn on her external and interior lights.]
KVASIR
Initiating transport.
[Carter beams away.]
EXT-SPACE NEAR ONE COMPONENT OF SUPERGATE
[Carter materializes next to a wall and above a ledge on the large component. She pushes herself slightly until her feet touch the surface.]
CARTER
(into live intercom radio)
Engaging magnetic lock.
[She pushes a button on the panel on her arm. Her booted feet attach to the surface below her. She walks slowly along the ledge to an access panel.]
CARTER
I'm removing the panel now.
[She removes the panel cover, revealing an arrangement of clear crystal components protruding from the control device below. She begins to pull one out.]
INT-BRIDGE OF THE ODYSSEY
[Emerson listens with interest.]
CARTER
(via intercom)
I'm putting in our control crystal.
EXT-SPACE, ON ONE COMPONENT OF SUPERGATE
[Carter pulls the modified crystal from her suit and puts it into the slot.]
CARTER
This will just take a few minutes to initialize.
[She activates controls on her wrist, and a display shows initialization activity.]
INT-BRIDGE OF THE ODYSSEY
MARKS
Sir, we're picking up increased energy output coming from the gate.
EXT-SPACE, ON ONE COMPONENT OF SUPERGATE
[As Carter works, and energy field moves toward her.]
CARTER
Something's happening.
[The static-like field passes by her. It releases her boots' magnetic hold on the ledge, and she begins to float upward.]
CARTER
I've lost my magnetic lock.
INT-BRIDGE OF THE ODYSSEY
MARKS
It's an incoming wormhole.
EMERSON
Get her out of there, now.
MARKS
It's not working. There's too much interference.
EMERSON
(into radio)
Sam, report. Sam!
EXT-SPACE NEAR SUPERGATE COMPONENT
[Carter flinches as a bright light strikes her.]
EXT-SPACE NEAR SUPERGATE
[The Supergate flares to life, powered by the visible stream of energy from the singularity.]
EXT-SPACE NEAR SUPERGATE COMPONENT
[Carter watches the event horizon form, its waves rippling across the huge expanse of its surface.]
CARTER
My God.
INT-BRIDGE OF THE ODYSSEY
EMERSON
Can you reacquire Colonel Carter's signal?
MARKS
Negative. She's too close to the event horizon.
[Emerson stands and walks forward, worried.]
EXT-SPACE NEAR SUPERGATE
[Another ship exits hyperspace to join the fleet of allied vessels.]
INT-BRIDGE OF THE ODYSSEY
MARKS
Sir, the Korolev just dropped out of hyperspace.
INT-BRIDGE OF THE KOROLEV
[Daniel and Mitchell pace the bridge as Chekov activates the radio.]
CHEKOV
This is Colonel Chekov. What is the situation?
EMERSON
(over radio)
We've got an incoming wormhole. I suggest you prepare for battle.
CHEKOV
Gives an order in Russian meaning: Prepare for battle.
PILOT
Responds in Russian meaning: Preparing for battle; activating shields and weapons.
[Chekov moves to stand beside Mitchell and Daniel.]
MITCHELL
Here they come.
EXT-SPACE NEAR SUPERGATE
[Huge Ori vessels exit the wormhole one after another, four in all. Carter watches from her vantage point right next to the event horizon as the ships arrange themselves into a horizontal line in front of the gate, facing off against the allied ships.]
INT-BRIDGE OF THE KOROLEV
MITCHELL
I only count four ships.
DANIEL
It's probably their first wave.
MITCHELL
We should see what we can do about discouraging a second one.
CHEKOV
(moving back to his command chair)
Issues orders in Russian, getting everyone ready.
PILOT
Responds in Russian.
[The ships goes to general quarters.]
INT-BRIDGE OF THE ODYSSEY
MARKS
Sir, we're receiving a message from one of the Ori ships. Text only.
EMERSON
What does it say?
MARKS
"And those who are prideful, and refuse to bow down, shall be laid low and made into dust."
INT-BRIDGE OF THE KOROLEV
CHEKOV
Is that all it says?
MITCHELL
Yeah, that's it.
DANIEL
Open a channel?
CHEKOV
Gives order to do so in Russian.
DANIEL
(into radio)
"Then did Tyolus say to the people of the low plains, 'seek not wickedness amongst your neighbors, lest it find purchase in your own house'."
MITCHELL
What was that?
DANIEL
Book of Origin.
MITCHELL
Think it'll help?
[Daniel shrugs.]
EXT-SPACE NEAR SUPERGATE
[The central sections of each Ori ship begin to glow bright white.]
INT-BRIDGE OF THE ODYSSEY
MARKS
They're powering up their weapons.
EMERSON
Here we go. All batteries open fire.
EXT-SPACE NEAR SUPERGATE
[The Odyssey begins firing missiles by the dozen at the Ori ships. Other allied ships begin firing. The missiles strike the Ori shields and appear to do no damage. The Ori ships fire energy beams at Odyssey, hitting its shields. A smaller ship is destroyed with one blast.]
INT-BRIDGE OF THE KOROLEV
[The ship is rocked with each blast, and electrical damage is evident all over the bridge as crew members rush to try to contain it.]
INT-BRIDGE OF THE ODYSSEY
[The same sort of damage is being taken by Odyssey.]
MARKS
Shields down to fifty percent.
EXT-SPACE NEAR SUPERGATE
[A Jaffa ha'tak vessel moves in on an Ori ship as the Ori continue firing.]
INT-BRIDGE OF THE ODYSSEY
MARKS
Sir, we just lost sub-light engines.
EXT-SPACE NEAR SUPERGATE
[The Ori ships' shields repel all attacks as the Ori take out more small vessels.]
INT-BRIDGE OF THE ODYSSEY
EMERSON
Re-direct power to the engines! Begin evasive maneuvers!
INT-BRIDGE OF THE KOROLEV
[There is similar chaos on the bridge.]
CHEKOV
We've lost power!
MITCHELL
We have to scramble the 302's.
CHEKOV
No, they'll have no effect against that!
MITCHELL
Hey, we're getting our asses kicked. It's time to go all in! I'll draw their fire while you get the ship back on line.
CHEKOV
Go!
[Mitchell runs from the bridge.]
INT-BRIDGE OF THE ODYSSEY
MARKS
It's no good, sir. We're dead in the water. Sir, picking up approaching ships.
EXT-SPACE NEAR SUPERGATE
[A fleet of three Lucian Alliance ships exit hyperspace behind and above the Ori ships; they begin firing immediately.]
INT-BRIDGE OF THE ODYSSEY
[Teal'c appears on the side viewscreen. ]
TEAL'C
Apologies for my late arrival.
EMERSON
Better late than never.
TEAL'C
Indeed.
[Teal'c walks away from the camera on his end. Netan stands in the background.]
EMERSON
Forget the engines. Give them everything we've got!
EXT-SPACE NEAR SUPERGATE
[The battle rages. A Lucian ships makes a firing pass. A ha'tak is destroyed, followed by another.]
INT-BRIDGE OF LUCIAN SHIP
[The ship is taking damage, sparks flying. Teal'c looks out the viewscreen in concern.]
INT-BRIDGE OF THE ODYSSEY
[There are fires on the bridge. Men fall injured.]
INT-BRIDGE OF THE KOROLEV
[Daniel falls to the floor as Chekov takes up the pilot's chair. Daniel pulls himself into the opposite chair and looks at the systems.]
INT-CORRIDOR OF THE KOROLEV
[Mitchell is thrown to the floor on his way to the 302 bay. He turns to see fires behind him, being tended by crewmen, then gets up and runs forward toward the bay.]
EXT-SPACE NEAR SUPERGATE
[The Ori ships show no signs of their shields weakening. They destroy what appears to be a Daedalus-class ship. Carter watches, frightened and horrified. More allied ships are destroyed, their wreckage floating in space.]
EXT-AN ORI SHIP
[The ship is undamaged and no longer firing.]
INT-ROOM ON BOARD ORI SHIP
[Standing in a windowed room, looking out on the field of battle, is Vala, far along in her pregnancy. She watches horrified as one allied ship after another is destroyed. Appearing to feel a sudden pain, she grabs her belly in shock and worry, apparently unsure of what to do.]
FADE OUT
END CREDITS

Source : http://www.stargate-sg1-solutions.com/wiki/9.20_%22Camelot_Part_2%22_Transcript