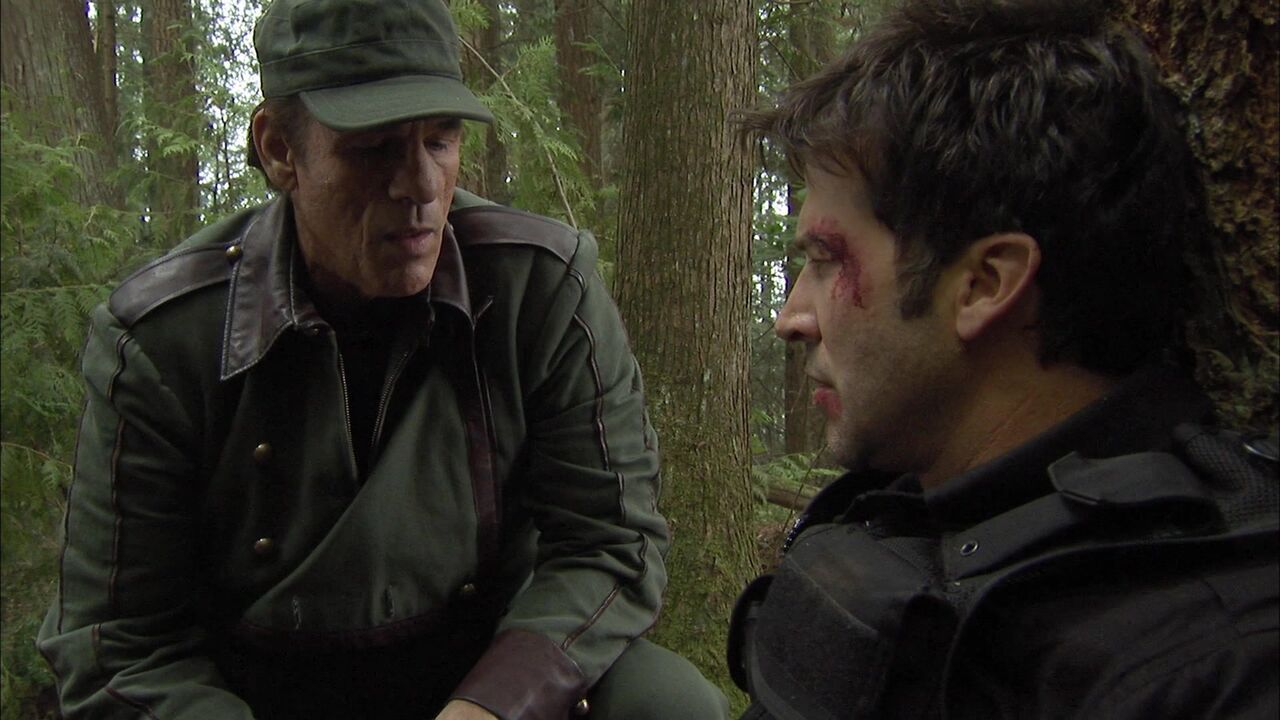 Transcript VO
TEASER
EXT-ATLANTIS MESS HALL, DAY
[Teyla and Ronon sit at an outside balcony table in the mess hall. McKay joins them with his tray.]
TEYLA
I find it sad.
MCKAY
What? What are you talking about?
TEYLA
Mister Woolsey. He seems lonely.
[Teyla nods over to where people are still gathering their food, Woolsey among them.]
MCKAY
He does?
TEYLA
He never takes part in any of the city's social activities.
MCKAY
(scoffing)
Oh, please. I mean...
TEYLA
He always eats alone.
MCKAY
Mmm.
TEYLA
Either in his office or in his quarters.
MCKAY
Maybe he has work to do, you know? Some of us are busy people.
[Ronon shoots McKay a studied look.]
RONON
Sometimes when I walk by his quarters at night, I hear him crying.
MCKAY
What? Really?
RONON
No.
[Ronon chuckles as McKay rolls his eyes and sighs. Woolsey starts to walk by, carrying a covered tray.]
TEYLA
Mister Woolsey...
[She shoots Ronon a look, and he takes down his leg from where it's sprawled over the spare chair.]
TEYLA
(smiling, continuing)
...Would you, care to join us?
WOOLSEY
Well, thank you. But I'll be taking breakfast in my quarters today. I still have some final preparations for my impending performance evaluation...I'm a little apprehensive.
TEYLA
You shouldn't be. You've done a wonderful job as our new commander.
WOOLSEY
Well, let's hope the IOA agrees.
[Woolsey walks away.]
MCKAY
There you go. He just prefers to be on his own. Speaking of which...where's Sheppard?
[He looks around, puzzled. Teyla gives a put-upon sigh.]
TEYLA
He...flew some astrobiologists to the mainland this morning.
RONON
And volunteered to stay with them overnight.
MCKAY
(concerned)
What-he did? Why would he do that?
[Ronon shoots McKay a look. When McKay shakes his head in ignorance, Ronon gives a more pointed glare.]
EXT-FOREST, DAY
[Sheppard sits, nodding in different places as the attractive female scientist, dressed in shorts, talks to him.]
KIANG
This planet's sun is a Class G star. That fact, coupled with its Earth-like atmospheric composition, results in the predominance of green photosynthetic organisms.
SHEPPARD
(faking interest)
Mmm.
KIANG
Chlorophyll, of course, mostly absorbs the sun's blue and red waves while reflecting green ones. "But hang on a minute," you're probably thinking, "That's strange. Why doesn't chlorophyll absorb green light?"
SHEPPARD
Oh, yeah. Weird. Well, why does it?
KIANG
Well, the answer lies not so much in...
PARRISH
(yelling from distance)
Oh my God!
[Sheppard stands, instantly alert.]
SHEPPARD
(to Kiang)
Wait here.
[He runs off. Kiang follows. He finds Parrish standing by a flowering plant in another part of the woods. He's also wearing shorts.]
SHEPPARD
What happened?
PARRISH
(enthralled)
Look at this. Huh? It's a plant not unlike the begonia eiromischa!
[Kiang looks excited. Sheppard pulls a frown.]
SHEPPARD
Oh God, Lorne warned me about this.
PARRISH
You don't understand. The wooly-stalked begonia went officially extinct back on Earth back in 2007. And yet, here we are! Standing over a species that's shockingly similar...
SHEPPARD
(to Kiang)
I'm going to go back to the jumper and set up for the night.
PARRISH
(continuing)
And it's thriving in a climate that is...
SHEPPARD
(to Kiang)
Want to join me?
[Kiang shoots him an incredulous glare.]
KIANG
(to Parrish)
It's a very unusual find.
[Her attention is solely on Parrish and the begonia.]
SHEPPARD
Right. Well, knock yourself out. That's what we're here for. Take your time. We're here all night.
[Sheppard trudges back to the camp. He hears a sudden rustling behind him. He looks over warily, but sees nothing. He raises his weapon, then spins as he hears more movement. He's struck by a stun weapon and falls to the ground, unconscious.]
END TEASER
OPENING CREDITS
EXT-FOREST, DAY
[Sheppard awakens to find himself bound hand and foot by ropes. He struggles to sit up, his hands held behind him. Noticing a sharp rock, he shuffles over to try and free himself by fraying the rope against the rock.]
INT-ATLANTIS TRANSPORTER
[Woolsey reaches to try and hit the touchpad control, but between his papers and his food tray, he can't maneuver.]
CONRAD
Can I give you a hand with that?
WOOLSEY
Actually, if you wouldn't mind...
[He turns to find an attractive female Australian scientist standing behind him.]
WOOLSEY
(sultry)
Hello.
CONRAD
Hi. Where are you headed?
WOOLSEY
Back to my quarters.
[She looks blankly at him.]
WOOLSEY
Um, the southeast pier. Level 19.
CONRAD
Ooh. Penthouse suite. Nice.
[She taps the control.]
WOOLSEY
Have we met?
CONRAD
Not yet. I'm Vanessa Conrad.
[She puts out her hand. Woolsey juggles his water bottle to shake it.]
CONRAD
(chuckling)
Doctor Vanessa Conrad.
WOOLSEY
Richard Woolsey.
CONRAD
I just recently arrived on the Apollo.
WOOLSEY
Oh! Welcome to Atlantis.
CONRAD
Thank you. It's beautiful. And huge. It's probably going to be weeks before I know my way around.
WOOLSEY
(nervously)
Well, I'm sure...the gang at orientation will help you settle in.
[Conrad smiles, then seems to come to herself.]
CONRAD
I'm sorry. I'm keeping you. Southeast pier...level nineteen.
[She taps the controls and the doors close.]
WOOLSEY
(talking over her)
Oh. No. Not at all. I have all the time in the...
[The transport activates and opens on level nineteen.]
CONRAD
This is you, I believe.
WOOLSEY
Oh. Right. Well...nice to meet you, Doctor.
[Woolsey steps out of the transporter.]
CONRAD
Vanessa.
WOOLSEY
Hmm?
CONRAD
You can call me Vanessa.
WOOLSEY
Very well. Nice to meet you, Vanessa.
CONRAD
Thank you, Mister Woolsey.
[The doors start to close.]
WOOLSEY
(quickly)
Actually, you can call me...
[The doors close before he can finish.]
WOOLSEY
(frustrated)
...Dick.
EXT-FOREST, DAY
[Sheppard finally gets free. He checks for himself for weapons and, finding none, heads to the jumper. He peeks in, but the ship has been obviously damaged. Smoke and sparks still fly out of the cockpit.]
SHEPPARD
Crap.
INT-MCKAY'S LAB
[McKay works on a laptop. Zelenka wanders in, setting down his backpack.]
MCKAY
Hey, what happened to your off-world foofaraw? I thought you were the guest of honor at some big diplomatic festival on M2J?
ZELENKA
(rolling his eyes)
Yeah, yeah I was, but the festivities ended early when three members of Lieutenant Donovan's team suffered a severe allergic reaction to something that we were served at the grand banquet.
MCKAY
(disgusted)
Eesh.
ZELENKA
Come to think of it. I think it might have been those...little green berries with the-with the purple specks on them. Because my tongue, it did feel a little bit numb afterwards.
MCKAY
Yeah, FYI, this conversation ended six seconds ago.
ZELENKA
Yeah, um, anyway. On the way back, I had an idea.
MCKAY
(uninterested)
Well, have a little lie-down. It'll pass.
ZELENKA
No, uh...you should hear me out.
[He moves so McKay is forced to face him.]
ZELENKA
I think we should run a scan of the ocean floor. I've been noticing anomalous temperature variations in the waters surrounding the city. I-I think it bears further investigation.
MCKAY
Not really.
ZELENKA
Look, we head through the 'gate every day exploring distant worlds. And yet, with the exception of a few marine biology tests, we have barely scratched the surface of the very planet that we occupy.
MCKAY
That's 'cause there's nothing there.
ZELENKA
My point is, is it wouldn't hurt to be thorough.
MCKAY
My point is, your point is pointless...and a giant waste of time.
INT-PUDDLE JUMPER
[Sheppard tries to work on the sabotaged jumper with a knife, but gets nowhere.]
SHEPPARD
Gah! Dammit.
[He walks outside and looks around, seeing scorch marks on the ground. He heads back into the forest.]
INT-ATLANTIS GATE ROOM
[Woolsey paces, practicing variations of what he will say while waiting for Shen's arrival.]
WOOLSEY
(to himself)
Xiao, welcome....Atlantis welcomes you. It is with great pride that I-
[Behind him, Shen beams into the Gate Room.]
SHEN
(grinning)
Hello, Richard!
[Woolsey hurries forward and shakes her hand.]
WOOLSEY
(nervously)
Xiao, welcome to Atlantis...with...great pride...
SHEN
(smiling)
I'm looking forward to the grand tour.
WOOLSEY
Well then. Shall we?
[He takes her attaché and hands it to a guard.]
SHEN
Yes.
EXT-FOREST CAMP, DAY
[Sheppard looks around the ransacked camp.]
INT-ATLANTIS CONTROL ROOM
[Woolsey leads Shen into the control room.]
WOOLSEY
This is the control room-for all intents and purposes, the city's nerve center. These technicians are the very best at what they do.
(to Banks)
How's the kickboxing going, Amelia?
BANKS
Great, sir. Thanks for asking.
WOOLSEY
(to Chuck)
Hello there, Chet.
CHUCK
It's Chuck.
WOOLSEY
Excuse me?
CHUCK
It's Chuck, sir. My name is Chuck.
WOOLSEY
Oh, of course, Chuck. Chet's on the late shift.
[He and Shen move away.]
CHUCK
(insulted, to himself)
There is no "Chet."
INT-ATLANTIS CORRIDOR
[Zelenka and McKay walk down the corridor.]
ZELENKA
I think it-it would be a simple matter of reconfiguring the city's short-range sensors in order to achieve a-
MCKAY
You know, I can see your lips moving, but I'm not hearing any sound.
ZELENKA
It would take-it would take less than an hour to make the necessary adjustments that we would have to do.
MCKAY
All right, you know what? If it is so simple and so important to you, why don't you just go ahead and do it yourself?
ZELENKA
(reluctantly)
Because I require your authorization.
MCKAY
You got it.
ZELENKA
Thank you, Rodney.
[He heads off.]
MCKAY
Whoa!
[Zelenka pauses.]
MCKAY
You realize it's highly unlikely you're actually going to find anything.
ZELENKA
Well, then I would have wasted an hour of my time, and you'll be able to tell me "I told you so."
MCKAY
Hmm.
ZELENKA
If, on the other hand, I do find something, perhaps they'll name something after me for a change.
[McKay considers this as Zelenka walks off.]
MCKAY
Whoa!
EXT-ATLANTIS, DAY
INT-ATLANTIS CORRIDOR
[Woolsey and Shen walk down a corridor.]
WOOLSEY
The prospect of commanding the Atlantis expedition was a daunting one.
SHEN
Mm-hmm.
WOOLSEY
Doctor Weir and Colonel Carter were incredibly tough acts to follow.
SHEN
Yet you availed yourself nicely, Richard, and you survived your nine months here.
WOOLSEY
Well, I'd like to think I've accomplished a little more than mere survival. And I'm certain that once you've had a chance to review my report...
SHEN
That won't be necessary.
WOOLSEY
(hopeful)
So, I'm receiving my graduation papers?
SHEN
Of course.
[Woolsey sighs in relief.]
SHEN
In recognition of the great job you've done here, the IOA is appointing you as chair of Earth's new environmental initiative. Congratulations, Richard. You're coming home.
[Woolsey's face falls.]
INT-ATLANTIS CONTROL ROOM
[McKay works at one console while Banks works at another. Zelenka hovers over McKay's nervously.]
MCKAY
All right, short range sensors are good to go. Start the sweep.
BANKS
Sweep initiated.
MCKAY
Great. So...it should take about thirty minutes to scan the entire planet, which means I've got plenty of time to get down to the cafeteria, get myself some of that fine almond biscotti and a Yoo-hoo, and be back in time for you to tell me you have found nothing.
[Banks's computer beeps.]
BANKS
We've found something.
[McKay and Zelenka exchange looks.]
MCKAY
Yes, of course we did.
[They approach the display next to Banks.]
BANKS
Whatever it is, it's sitting approximately fifteen hundred feet below sea level.
EXT-FOREST, DAY
[Sheppard spots a Genii soldier lying in wait but not noticing Sheppard. He sneaks up behind the soldier, his knife out, but as he approaches, the man disappears. He hears something behind him.]
KOLYA
Hello, John.
[Sheppard looks at him, confused.]
SHEPPARD
(weakly)
Kolya?
[He spins around just as the other soldier cold-cocks him.]
INT-WOOLSEY'S QUARTERS
[Woolsey sits, staring in shock. Shen stands nearby.]
SHEN
I don't understand your reaction. Nine months ago, you were dreading coming over here.
WOOLSEY
A lot has changed in nine months. I like it here. And quite frankly, I don't like the idea of leaving a job unfinished. I've done good work. My record speaks for itself. What's really going on?
SHEN
The IOA is concerned about some of the decisions you've made-decisions that have run counter to protocol, and quite frankly, common sense. They...we feel that the demands of this position have compromised your position, and it's time for a change.
INT-MCKAY'S LAB
[A technician wheels in a strange cylindrical device on a cart. McKay and Zelenka are standing, waiting.]
MCKAY
Right here. That'll do.
[The technician leaves the cart and departs.]
ZELENKA
I wonder how long it's been down there. To think it would've remained undiscovered if we hadn't have... Nice job on reconfiguring the short-range sensors.
MCKAY
Thank you. Nice job on the...wild guess.
ZELENKA
Thank you.
MCKAY
Shall we?
ZELENKA
Yes.
[McKay picks up a scanner while Zelenka shines a flashlight on the device.]
EXT-FOREST, DAY
[Sheppard is again tied up and has been sat up against a tree. Kolya stands nearby.]
KOLYA
(on radio)
Keep looking. There's nowhere for them to go, they're scientists. Trust me, they don't run very fast.
(to Sheppard)
Oh you're awake. Save your energy; you're not getting away this time.
SHEPPARD
I killed you.
KOLYA
You shot me. There's a difference.
SHEPPARD
No. I killed you. Beckett confirmed it. You were dead.
KOLYA
Yeah, I'm sure that's what he thought. Let's just say your friend-what was his name? Lucius?-he wasn't the only one using Ancient technology that day.
SHEPPARD
How'd you get here? How'd you find us?
KOLYA
Turns out some of your off-world contacts aren't as trustworthy as you think. Your secret's out, Sheppard. A half day's walk in that direction will bring us to the edge of the mainland. I figure, it'll take us maybe...two days to reach Atlantis by boat.
SHEPPARD
You won't even get to the city. They're going to blow you out of the water.
KOLYA
No. They won't even see us coming. They'll be too busy counting their dead.
SHEPPARD
What are you going to do?
KOLYA
Send an explosive through your 'gate, cripple the city's defenses. But for that, I'm going to need something from you. I think you call it...an IDC.
[He puts on leather gloves.]
SHEPPARD
Go to hell.
KOLYA
Yeah. I thought you would need some convincing.
[He punches Sheppard in the face. Sheppard spits blood.]
INT-WOOLSEY'S QUARTERS
[Woolsey, now alone, stares at himself in a mirror. He holds up a suit, complete with tie, then lowers it to look at himself in the Atlantis uniform. The door chimes. He goes to answer it. Conrad stands there.]
WOOLSEY
Doctor Conrad. Vanessa. Come in.
CONRAD
I hope I'm not intruding.
WOOLSEY
Not at all. What brings you by?
CONRAD
This may be wholly inappropriate, but I was wondering whether you'd like to catch a movie.
WOOLSEY
A movie?
CONRAD
They're screening two of my favorites tonight: Planes, Trains, and Automobiles" and Dirty, Rotten Scoundrels.
WOOLSEY
Truth be told...I'm having a horrible day, and I'm not in much of a laughing mood.
CONRAD
Oh. Then when we can wait until tomorrow when they'll be screening Mad Money and Kangaroo Jack.
[Woolsey gives a wan smile.]
CONRAD
Is it...something you'd like to talk about?
WOOLSEY
It seems the time for talk has passed. I've just been informed that I'm being relieved of my command here on Atlantis.
CONRAD
I'm sorry. Why?
WOOLSEY
Apparently, I'm not very good at towing the company line. I assumed I got this position on the strength of my record, but now it's clear that the only reason they appointed me is because they expected I would just...roll over for them.
CONRAD
Then don't.
WOOLSEY
What?
CONRAD
Don't roll over for them. Fight this.
WOOLSEY
I can't. The decision's been made.
CONRAD
If-if that was true, then why didn't they just forward you a communiqué instead of sending a mouthpiece on a three week journey to the Pegasus Galaxy?
[Woolsey considers this.]
INT-ATLANTIS MESS HALL
[Woolsey joins Shen at her table, where she's eating.]
WOOLSEY
Did you really expect me to just give up without a fight?
SHEN
Honestly? Yes. I assumed you'd let common sense guide you on this one.
WOOLSEY
You weren't sent here to fire me. You were sent here to evaluate my performance and make a recommendation based on your findings. The IOA may be leaning a certain way, but they've yet to make a decision on my fate. Yet you, their representative, clearly have. Which leads me to assume something else is going on here. (realizing himself)
Someone in the IOA wants me gone and is using you to make sure that happens. Tell me, Xiao...what are you getting in return?
[Shen says nothing, but her body language is very telling.]
WOOLSEY
(now sure)
Oh. It's my job, isn't it? They've promised you the Atlantis command if you help them get rid of me.
SHEN
This will all go a lot easier if you just accept where this is going-
WOOLSEY
The hell I will.
SHEN
Richard, I hold all the cards. The decision is in my hands. This is a fight you cannot win.
EXT-FOREST, DAY
[Kolya continues to beat Sheppard, winding himself with his efforts.]
KOLYA
You can tolerate more than any man I've ever known. Now why is that?
SHEPPARD
Well, I was married once.
[Kolya chuckles, then crouches by him.]
KOLYA
You're here in the Pegasus Galaxy to protect your people, but half the time you can't even do that. That's what drives you, isn't it? Your past failures.
[He hits Sheppard again. Sheppard breathes hard but looks Kolya in the eye.]
KOLYA
Do you think by not giving me the IDC, you're keeping your people safe? You're just putting off the inevitable. It's over. You can't protect them. You, those scientists, your friends back at Atlantis-they're as good as dead.
(standing)
Well, I see that asking nice isn't working. I'm going to have to make other plans.
(into radio)
Two men, report to my position.
SOLDIER
(over radio)
On our way.
KOLYA
In a couple of minutes, you're going to wish you'd given me that IDC.
INT-MCKAY'S LAB
ZELENKA
What are you working on?
MCKAY
According to this, the device is emitting a low-level energy signature in an oscillating pattern.
ZELENKA
Is it dangerous?
MCKAY
No. Radiation's minimal, but-
ZELENKA
Unimportant. We-we should be focusing on the data.
MCKAY
I was. Look, I've run every kind of decrypt sweep I can think of at this thing. Still nothing. I don't know what to do.
ZELENKA
Oh, you-you'll think of something.
MCKAY
(drily)
Really? What makes you so sure?
ZELENKA
(offhand)
Oh, because you're brilliant.
MCKAY
That's true. That doesn't mean I'm going to sudd- Wait a minute, what'd you say? Why'd you say that? What are you, sick? Am I sick? What've you heard?
ZELENKA
No, nobody's sick, Rodney. I said you're brilliant, because...because you are.
MCKAY
Hmm.
ZELENKA
I rarely say it because you're a difficult man to compliment. You're egotistical, you're arrogant, you're stubborn...
MCKAY
(preening)
And brilliant.
ZELENKA
(resigned)
Yes, Rodney. And brilliant.
MCKAY
Thanks! Well, pull up a chair, Radek. We've got some work to do. All right...
EXT-FOREST, DAY
SHEPPARD
(pained)
So, you going to tell me what Plan B is, or are you just gonna surprise me?
KOLYA
I'm going to have my men repair the damage they did to your puddle jumper, then use it to attack the city.
SHEPPARD
Well, I hate to be Mister Negative, but I can think of at least one problem you're going to run into.
[Men arrive as Kolya responds.]
KOLYA
Yes, I know all about the Ancient gene needed to operate the jumper. But that's not going to be a problem. Because you're going to give us a hand.
(to soldiers)
Hold him.
[They untie Sheppard from the tree and force him to his knees, holding his arms outstretched. Kolya unsheathes a large flat knife.]
KOLYA
Last chance, Johnny boy. You going to give me that IDC?
[Sheppard breathes heavily in fear, but says nothing.]
KOLYA
Didn't think so.
[He swings the blade down towards Sheppard's outstretched left arm.]
EXT-ATLANTIS MAINLAND, DAY
[Later, Sheppard awakens to find himself propped against the tree again. He's untied, but too weak to move. His left arm has a bandage around the stump where his hand and wrist used to be. He stares at it in shock, breathing heavily. Kolya stands nearby, then notices Sheppard is awake.]
KOLYA
You're an interesting man, Sheppard. You travel to another galaxy, risk your life defending a bunch of people you don't even know. You ask me, you're either someone with a death wish, or someone running away from something. So tell me, what are you running away from?
[Sheppard stares at Kolya, but is too weak to respond.]
INT-MCKAY'S LAB
[McKay enters the lab where Zelenka sits at a computer.]
ZELENKA
Where have you been?
MCKAY
All over. The electromagnetic radiation this device is giving off covers the entire city and well beyond.
ZELENKA
I thought you said it wasn't dangerous?
MCKAY
Oh, it's not. I mean, at least, according to this, it's operating at a relatively low frequency. I think, at worst, some people may experience, you know, headaches or trouble sleeping.
ZELENKA
Well, then, we'll...shut it off before bedtime. In the meantime, you should be focusing on the data.
MCKAY
I'm not getting anywhere with that. I mean, despite the fact that I am...a genius.
ZELENKA
I said you were brilliant. I didn't say you were a genius.
MCKAY
Aw, same diff. I don't get it. You know, this-this script appears to be a lot less complicated than many we've encountered. It's only twelve symbols in an endlessly repeating yet varying sequence.
ZELENKA
Yeah. I agree. It's very curious. It-it's like being asked to figure out the, uh, password for an alien laptop...or something. I think that if we...
[Inspired, McKay starts typing.]
ZELENKA
(noticing)
What-what are you doing?
MCKAY
I'm figuring out the alien's password...
ZELENKA
Rodney, I was kidding.
MCKAY
No, no, it makes sense. I mean, every kid with a computer password-protects. Why wouldn't an alien?
[The computer displays gaps in the sequencing.]
MCKAY
There. Why didn't I see that before?
ZELENKA
What?
MCKAY
The pattern isn't in the text, it's in the spaces between the text-each exactly twelve symbols in length. Each section of text is a multiple of twelve, twenty-four, forty-eight, ninety-six...separated by a twelve-symbol space. Look, it's-it's a puzzle. It's a...prompt.
ZELENKA
Wha-what are you doing?
MCKAY
(excited)
I'm running pattern recognition software on the twelve-symbol sequence. Hopefully I can come up with a twelve-symbol permutation that I can feed directly back into the device. And if I'm right...if we're right...we unlock the alien laptop.
[Zelenka chuckles and leans in.]
EXT-ATLANTIS BALCONY, DUSK
[Woolsey heads towards a small balcony off a corridor. Conrad already stands there, leaning against the rail.]
WOOLSEY
(smiling)
You've poached my private spot!
CONRAD
What?
WOOLSEY
Uh, what I meant to say is...you discovered my little personal area.
[Conrad looks amused at the double entendre.]
WOOLSEY
(flustered)
Um...this is where I come to be alone with my thoughts.
CONRAD
(coyly)
Do you mind sharing it?
WOOLSEY
Not at all.
[They stare out at setting sun.]
CONRAD
(contemplative)
I wish I could stay here forever.
WOOLSEY
By the way, I wanted to thank you for earlier today. I took your advice.
CONRAD
Are they backing down?
WOOLSEY
(rueful)
Unlikely. But at the very least, I have the satisfaction of knowing I went out swinging.
CONRAD
(with sad smile)
You're a good man, Richard. I really wish they could see that.
WOOLSEY
Vanessa, would you like to have dinner with me tonight?
CONRAD
It would be my pleasure.
WOOLSEY
Wonderful. What time should I swing by to pick you up?
CONRAD
It might be easier if we just met up.
[Banks walks down the corridor and calls out to the balcony.]
BANKS
Mister Woolsey, you're off radio. Doctor McKay needs to see you right away.
[Woolsey and Conrad exchange rueful looks before he leaves. He does not notice that Shen has been standing in an alcove nearby, eavesdropping on him.]
INT-MCKAY'S LAB
[McKay briefs Woolsey.]
MCKAY
That is the historical, scientific, and technological records of an extinct civilization. And if this device is any indication, a highly advanced one at that. I mean, medical breakthroughs. specifications for advanced weaponry...
WOOLSEY
(awed)
This is incredible.
MCKAY
(hesitant)
It...is.
WOOLSEY
I sense a "but."
MCKAY
No, no, no. No, no, no. No buts. A "by the way", maybe.
WOOLSEY
I'm listening.
MCKAY
Well, it's like I said. The device contains the records for a long-dead civilization. But it also contains the chemical building blocks for a silicon-based life form.
WOOLSEY
What does that mean?
MCKAY
This device was designed to...seed planets with organisms that would, in time, evolve into a sentient race. Once that sentient race reached a certain level of intellectual maturity, they could then benefit from the information left for them by their extinct ancestors.
WOOLSEY
So what happened?
MCKAY
I'm not sure. I mean, obviously, they didn't complete their journey. They ended up here instead. Still, with the help of the Daedalus, we could ensure that it finally reached its target destination.
WOOLSEY
Okay. Let's copy the data, and then send it on its way.
MCKAY
Which is where the "oh, by the way" comes in. Look, this device is set up in such a way that accessing the data would do irreparable damage to the biological samples.
WOOLSEY
In other words, it's either/or?
MCKAY
Either we take the data, or we send it on its way. We can't do both.
EXT-FOREST, DAY
KOLYA
You disappoint me, John. I didn't think you'd be this easy to break. Even those two scientists you came with put up more of a fight...before we killed them.
[Sheppard starts at that but can only breathe heavily in response.]
KOLYA
Just another two you couldn't save.
[A Genii soldier runs up.]
SOLDIER
We're done.
[Kolya turns away from Sheppard and approaches the soldier.]
KOLYA
It's operational?
SOLDIER
Yes, we used the genetic material to initiate it.
KOLYA
You hear that, Sheppard? We've got the jumper-
[He turns back to find Sheppard has disappeared.]
SOLDIER
Sir, we can come back and deal with him once we're done with Atlantis.
KOLYA
No. We deal with him now. Find him and kill him.
[From behind some trees, Sheppard hides and listens. He grunts in pain as he wraps his handless arm in bindings and tucks it in his vest before leaving.]
INT-ATLANTIS CONTROL ROOM
[Woolsey moves swiftly past tech stations, greeting technicians as he passes.]
WOOLSEY
(to Ellen)
Hello, Ellen.
(to Chuck)
Hello...you.
(to Banks)
Amelia, could you please do me a favor and pass on a message to Doctor Vanessa Conrad? She's in one of the science departments. Please tell her that, given Doctor McKay's recent findings, we may have to reschedule our...dinner tonight.
[A smiling Banks nods and pulls up data on her console.]
BANKS
(puzzled)
Doctor Conrad? Are you sure, sir?
WOOLSEY
(considering)
Better yet, why don't you just tell me where her quarters are? I suppose it's only proper that I tell her personally.
BANKS
There's nothing here, sir.
WOOLSEY
She hasn't been assigned quarters yet?
BANKS
No, sir, according to this, there's no Doctor Conrad on Atlantis.
[Woolsey is shocked.]
EXT-FOREST, DAY
[Genii soldiers search the forest for Sheppard. One steps into a rope snare and gets pulled by the ankle upwards. The other soldiers turn and start firing at the just-appeared Sheppard. He uses the stranded soldier as a shield while disarming the man and using his weapon to kill the others. He scavenges a radio and other equipment.]
INT-ATLANTIS CONTROL ROOM
WOOLSEY
Amelia, the woman I was talking to when you approached me earlier today...
BANKS
(bemused)
Sir?
WOOLSEY
On the balcony. The woman I was speaking with when you delivered the message from Doctor McKay.
BANKS
She probably left before I got there, sir. When I approached you on the balcony, you were alone.
EXT-FOREST, DAY
[Two soldiers hear Sheppard breathing heavily and cautiously approach. They find instead a radio receiver. Sheppard comes out of hiding and shoots the two soldiers.]
INT-ATLANTIS INFIRMARY
[Woolsey lies on a bed under a scanner. Conrad stands at the head of the scanner looking down at him.]
CONRAD
There's nothing wrong with you.
WOOLSEY
(startled, sitting up)
What's going on?
[Keller glances over, distracted by reading her computer.]
KELLER
Uh, I'll let you know in a second. I'm just looking over your results.
CONRAD
She won't find anything.
[Keller turns around. Conrad steps around behind Keller.]
KELLER
According to this, you're fine. Perfectly normal.
CONRAD
See?
WOOLSEY
Then what is going on? Why isn't your name in the database? Why couldn't Amelia see you earlier today?
KELLER
Uh...I'm pretty sure my name is in the database, and as for Amelia, if she has a medical concern, there's no reason why she shouldn't see me. When did she come by?
CONRAD
She can't see me, Richard. Only you can see me.
WOOLSEY
Why?
KELLER
I'd like to clarify the misunderstanding. I-I don't want her thinking I turned her away.
WOOLSEY
(to Keller)
Uh...Amelia's fine. I'll talk to her.
KELLER
(bemused)
Great. Um...as for you, you said you've been feeling unwell?
WOOLSEY
Uh, that's right.
KELLER
Tired?
WOOLSEY
Somewhat.
KELLER
Any visual symptoms? Shadows or flashes in your field of vision?
WOOLSEY
Uh...
[He looks over to where Conrad is shaking her head negatively.]
WOOLSEY
Sort of. Yes.
KELLER
What about auditory symptoms? Occasional ringing or buzzing or whistling?
CONRAD
We need to talk.
[Woolsey brushes his ear and waggles his fingers.]
WOOLSEY
Yes. The occasional buzzing.
CONRAD
(insistently)
Somewhere private.
WOOLSEY
There it goes again.
KELLER
I bet you haven't been sleeping very well, what with this whole...probationary review.
[Woolsey hops off the bed, looking relieved as he snaps his fingers.]
WOOLSEY
Of course. That's it exactly.
KELLER
You're obviously under a lot of stress, and sometimes anxiety can manifest itself in a variety of ways. But these are going to help you relax and sleep through the night. And hopefully once you're well rested, you'll be feeling much better, and your symptoms will disappear. But if they don't, come back and see me, okay?
[Keller hands Woolsey a bottle of pills.]
WOOLSEY
(nodding)
Thank you, Doctor.
CONRAD
I wouldn't advise taking those.
[Woolsey looks grim but continues walking past her.]
INT-MCKAY'S LAB
[McKay works on his computer. Zelenka stands in the doorway, watching him. McKay glances up and notices him.]
MCKAY
How long have you been standing there?
ZELENKA
Sorry. I just...didn't want to disturb you. You seemed deep in thought.
MCKAY
I'm always deep in thought. It keeps me sharp. And...sleepless.
ZELENKA
So, what-what are you working on?
MCKAY
Mmm. I'm just analyzing the readings from the radiation the device is emitting.
ZELENKA
Oh, jeez. Again with the radiation.
MCKAY
Hey, I'm just killing time 'til Woolsey gives us the green light to start data retrieval on that thing.
ZELENKA
You think he will?
MCKAY
Of course. This is huge. The chronicled achievements of an alien race. Are you kidding me?
[McKay's computer gives an alert and shows a distinct wave pattern.]
MCKAY
Whoa, wait a minute.
ZELENKA
What?
MCKAY
The modulated ultra-low frequency emanating from the device. I've seen something like this before...Oh, no.
[He stands up, looking very worried.]
EXT-FOREST, DAY
[A soldier spots the back of Sheppard's vest as he lies in wait. The soldier shoots the figure, then approaches to investigate. He sees it's the body of one of his colleagues. He spins too late to miss getting stabbed in the chest with the knife Sheppard throws at him.]
INT-WOOLSEY'S QUARTERS
[Woolsey enters his quarters. Conrad is already there, waiting.]
CONRAD
I'm sorry I made you doubt your sanity.
WOOLSEY
(angry)
Who are you? What are you?
CONRAD
I'm a physical manifestation of your subconscious romantic and sexual ideals.
WOOLSEY
(stunned)
Oh, God.
CONRAD
You're not crazy. You're really seeing me.
WOOLSEY
Why?
CONRAD
I'm sorry I had to deceive you. But the survival of an entire civilization is at stake.
WOOLSEY
(shrewdly)
This has something to do with that...device Doctor McKay recovered, doesn't it?
[There is a knock at the door.]
SHEN
(through door)
Richard?
[Woolsey looks at Conrad.]
CONRAD
She can't see me.
[Shen knocks again. Woolsey opens the door.]
WOOLSEY
Yes?
[Shen enters and looks around.]
SHEN
I thought I heard you...talking with someone.
WOOLSEY
No, I was, uh, running through the pep talk I'm going to be giving the gang in microbiology.
SHEN
Really? You know I saw you on the balcony this afternoon talking with...yourself.
WOOLSEY
I...occasionally do verbalize my thoughts. It helps me put things in perspective.
SHEN
The casual observer might find that sort of behavior a little disconcerting, especially coming from someone in your position...faced with a very important decision.
WOOLSEY
(drily)
Oh, another nail in my coffin?
SHEN
Doctor McKay briefed me on the device you recovered.
WOOLSEY
Yes, it is an impressive find.
CONRAD
That doesn't belong to you.
WOOLSEY
(to Conrad)
Please!...
(covering, to Shen)
Sit down.
[Shen sits down on a couch. Woolsey moves to a chair opposite. Conrad continues to stand near Shen.]
SHEN
He tells me you've delayed giving the go ahead on the data retrieval.
WOOLSEY
I'm not sure if Doctor McKay explained the dilemma we're facing.
SHEN
I can't even believe you're considering letting this slip away.
WOOLSEY
There are other issues to consider.
SHEN
Such as?
CONRAD
The fate of another race!
WOOLSEY
(standing, furious)
Will you stay out of this!
SHEN
(also standing, calm)
I will do no such thing. Their civilization is dead. Ours, on the other hand, is very much alive, and we could use that information.
WOOLSEY
We'd be robbing a civilization of the opportunity to rebuild itself.
SHEN
There's no guarantee that a civilization will evolve from the seeding process. The entire race could die out before it even reached sentient status. And we would be throwing away an incredible opportunity.
WOOLSEY
Or...consigning billions of potential lives to oblivion.
SHEN
I can't believe your good fortune, Richard. This is your opportunity to show the team back home that you can play ball...follow procedure, and save your job. Or you can hand it to me on a silver platter. Your choice.
[Woolsey straightens his jacket.]
EXT-FOREST, DAY
[Kolya cautiously moves through the foliage. Sheppard shoots, and Kolya falls back. Sheppard goes to investigate, but the body isn't where he expects. Kolya tackles Sheppard from behind and they roll on the ground together. Sheppard rolls off the edge of a cliff, grabbing a tree root with his left hand to prevent his falling into the river far below. Kolya stands at the edge.]
INT-WOOLSEY'S QUARTERS
WOOLSEY
How dare you threaten me!
SHEN
It's not a threat, Richard. I'm simply telling you how things are going to play out...if we lose that device.
CONRAD
Richard, please. They were a kind and peaceful race, one well worth saving.
[McKay enters without knocking.]
MCKAY
(frantic)
We need to get rid of it! Look, the energy signature that device is giving off is very similar to one we encountered on M1B-129. It can induce mass hallucinations.
CONRAD
Or function as a means of communication between two very different species.
SHEN
Let's act quickly. Salvage the data, and destroy the device.
[McKay looks to Woolsey.]
WOOLSEY
Thank you all...both...for enlightening me. I'll make my decision shortly. Please.
[He ushers them both out of the room quickly and seals the door. McKay looks back in consternation as the door closes on him.]
WOOLSEY
Now...why don't you tell me what's going on.
EXT-FOREST, DAY
[Kolya crouches down.]
KOLYA
This has gone on long enough. Use your other hand. Go on.
[Sheppard struggles to pull his arm out of his vest. When he does, he sees his left hand is whole and attached to his arm.]
KOLYA
I have no intention of letting you die. Now, climb back up, John.
[Sheppard untangles his arm from the strap he had it in and uses both hands to climb back over the edge.]
KOLYA
(encouragingly)
That's it.
[Sheppard pulls himself up and to his feet, holding his pistol in his right hand.]
SHEPPARD
What the hell's going on here?
KOLYA
Tens of thousands of years ago, a civilization foresaw its end. After millions of years of evolution, the race known as the Sekkari faced extinction.
INT-WOOLSEY'S QUARTERS
CONRAD
Knowing they couldn't save themselves, they spent their final days creating the means to start over. They built seed carriers, each with a different target world programmed into its navigation system. Worlds that would provide them with the chemical compounds necessary to produce, sustain, and develop life.
EXT-FOREST, DAY
KOLYA
Each seed carrier also held a repository containing the history of the Sekkari people -their struggles, their achievements, and the mistakes that ultimately led to their own destruction.
INT-WOOLSEY'S QUARTERS
CONRAD
The seed carriers were outfitted with subspace communicators, designed to alert the group once a seeding was successful. Over fifty were launched. None achieved their goal.
EXT-FOREST, DAY
KOLYA
This unit malfunctioned. I guided it to the nearest planet-this world, in the hope that it would prove suitable to the life-forming process.
INT-WOOLSEY'S QUARTERS
CONRAD
It wasn't. This device survived reentry relatively unscathed, then spent the next two thousand years at the ocean's bottom...until recently, when its dormant systems were awakened by its sensors picking up trace readings from one of your submerged puddle jumpers.
WOOLSEY
The one Doctor McKay flew up out of the underwater bay several weeks ago.
CONRAD
I scanned your city, and I linked with you.
WOOLSEY
What are you?
CONRAD
I'm the seed carrier's artificial intelligence. My aim was to study you, to get to know you, and eventually, direct you to help complete this unit's assignment.
WOOLSEY
By manipulating me.
CONRAD
No! By finding out what kind of person you are in the hope that we could place our trust in you.
WOOLSEY
Couldn't you have simply communicated your situation to us from the beginning?
CONRAD
Please understand, I am the last hope of the Sekkari people. I couldn't risk it. I'm sorry.
EXT-FOREST, DAY
KOLYA
As a soldier, you were a threat. If anyone was to use force to secure the repository, it would've been you, the military man. So I...connected with your mind to distract you.
SHEPPARD
Distract me? Making me think the jumper'd been sabotaged would've been enough of a distraction.
KOLYA
You would've discovered the subterfuge. I'm unable to maintain a static illusion over time. It was necessary to keep your mind...occupied.
SHEPPARD
(bitter)
And that's what you chose?
KOLYA
What you chose. I didn't have full control over your hallucination, or the direction it took. It was your mind driving the diversion. I merely played along.
SHEPPARD
You're saying I tortured myself?
KOLYA
You torture yourself every day, John. But in this case, it was your mind manifesting your darkest fears. You were the architect of your own self-deception.
[Sheppard stares at Kolya in shock.]
INT-WOOLSEY'S QUARTERS
CONRAD
Now you know the truth. And have a decision to make.
EXT-FOREST NEAR PUDDLE JUMPER, DAY
[Parrish stands where he and Kiang have been waiting next to the puddle jumper.]
PARRISH
Colonel, where were you? Do you know how long we've been sitting here wait-
SHEPPARD
Shut up. Get in the jumper.
[Sheppard doesn't break stride as he storms into the jumper. The scientists gather their equipment and follow.]
INT-SHEN'S QUARTERS
[Shen types up Woolsey's evaluation on her laptop.]
BANKS
Sorry to disturb you, Ms. Shen, but you've just received a secure transmission from Earth. Can I patch it through?
SHEN
Go ahead.
[Shen closes her program and pulls up the video-link. Luthor Dovelock appears on the screen.]
SHEN
Luthor. How are things?
DOVELOCK
(via video)
Well, but I felt it only fair to inform you of recent developments here. As much as I believe you'd be a worthy candidate to replace Richard Woolsey, I'm afraid the rest of the council feels otherwise. It looks like we'll be going with...James Coolidge instead.
SHEN
(outraged)
Coolidge?!
DOVELOCK
(over vid-link)
Don't worry. You'll still be rewarded for facilitating the transition. Congratulations. You'll be chairing the IOA's new environmental initiative.
[Shen slams her laptop shut.]
EXT-ATLANTIS, DAY
INT-ATLANTIS GATE ROOM
[Shen wheels her suitcase into the Gate Room and stands next to Woolsey as the Stargate dials. Banks stands next to Woolsey]
SHEN
Well...I'm off.
WOOLSEY
I suppose I'll be joining you shortly.
SHEN
Don't make any holiday plans. You're not going anywhere. I gave you a glowing review. And since your future rests entirely on my report, I'd like to be the first to congratulate you as the new permanent commander of the Atlantis expedition.
[She shakes a nonplussed Woolsey's hand.]
WOOLSEY
I don't understand...
[The Stargate activates.]
SHEN
(smiling)
Like you, Richard, I'm nobody's puppet. They should've thought of that before delivering yesterday's update. Good luck.
[She leaves through the Stargate, and it shuts down.]
WOOLSEY
(to Banks)
Yesterday's update?
BANKS
I don't know what she's talking about, sir. We haven't had a scheduled dial-out in days.
[Woolsey looks over and sees Conrad standing nearby, smiling.]
WOOLSEY
Could I have a moment alone, Amelia?
BANKS
Yes, sir.
[Banks leaves.]
WOOLSEY
I assume that you're responsible for that?
CONRAD
(smug)
Consider it a going away present.
WOOLSEY
Thank you.
[McKay and Sheppard wheel in the device. Sheppard glares at Conrad, but manages a wan, brief smile.]
MCKAY
Alrighty. Here we are, all fixed up and ready to roll.
WOOLSEY
So what happens to you when you reach your final destination?
MCKAY
Destination? Um...you're talking to the A.I., aren't you? Uh...uh...
[McKay moves out of the way-where he'd been standing in front of Conrad.]
CONRAD
I'll start the process that will give life to the Sekkari, and then I'll go to sleep until a time when I'm needed again.
(to Sheppard)
John, I realize it may have been an unpleasant experience.
SHEPPARD
(nonplussed)
Yeah, well...just a little bit.
MCKAY
Wha-you can see her, too?
[Sheppard glares at McKay.]
CONRAD
And I want you to know, I'm sorry for what you had to go through.
[Sheppard gives a weak nod, still looking haunted.]
BANKS
(from control room balcony)
The Apollo is ready to beam.
WOOLSEY
The ship will take you to your target planet.
[Conrad nods.]
MCKAY
(petulant)
I'm sorry. You know, I don't mean to complain or anything. It's just that, you know, I have spent the better part of a day making sure this was in working order. It would be kinda nice just to, you know, get a little face time with the-
[McKay starts as he can now see Conrad.]
CONRAD
Here you are, Doctor McKay. The true form of the Sekkari.
[Conrad transforms into the Sekkari natural form, a skeletal, silvery humanoid form.]
MCKAY
(awed)
Neat.
WOOLSEY
(wistful)
Good luck.
[The device is beamed away. Conrad's form dissolves a few moments later. Sheppard and McKay walk away.]
SHEPPARD
"Neat?"
MCKAY
What? I...she caught me off-guard. What did you want me to say? What would you have said?
SHEPPARD
Well, weird.
[Woolsey smiles to himself.]
EXT-ATLANTIS MESS HALL, DAY
[Woolsey carries his tray through the mess hall. Teyla notices as he passes by her team's table, where all four of them are seated.]
TEYLA
Mister Woolsey. Would you...care to join us?
WOOLSEY
Well, actually I have some reports to file... Thank you. I'd love to join you.
[He grabs a nearby chair and sits with the team.]
MCKAY
So, you really had no idea that what you were seeing wasn't real?
WOOLSEY
Trust me. The manifestations were very convincing, Doctor. You wouldn't have known.
MCKAY
(smug)
Well, with all due respect, I think they knew they couldn't "fool me", so they, you know, didn't bother. They just...concentrated on you two.
SHEPPARD
You know what I don't get? Is the A.I. thing revealed itself that morning; you discovered the device that afternoon. I mean, that's perfect timing.
WOOLSEY
The colonel's right. That was very coincidental.
MCKAY
And I know what you're implying, all right? But my mind was clear. All right, that device was found because of my brilliant thinking, and, as much as I hate to admit it, a little help from Zelenka.
SHEPPARD
What are you talking about? Zelenka's off-world.
MCKAY
(snide)
No, he's not. He came back yesterday.
[Ronon exchanges looks with the others.]
MCKAY
Lieutenant Donovan had a nasty reaction to something he ate? They came back early...didn't they?
[Everyone looks at him with dawning amusement.]
MCKAY
Aw, son of a...
SHEPPARD
Guess it wasn't so much of a coincidence after all.
[Woolsey chuckles and slaps McKay on the shoulder sympathetically. Disturbed, McKay stops eating.]
FADE OUT
END CREDITS

Source : http://www.stargate-sg1-solutions.com/wiki/SGA_5.15_%22Remnants%22_Transcript