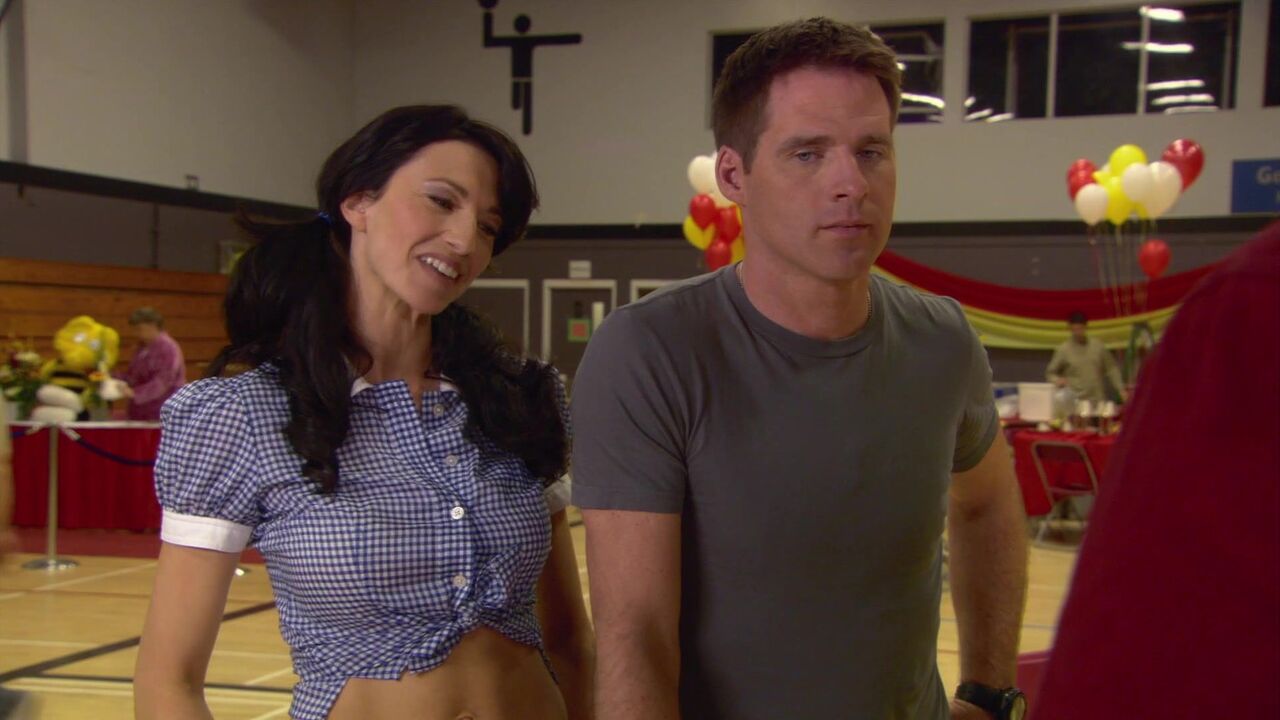 Transcript VO
TEASER
INT-RING ROOM OF FIRST CONTAINER SHIP BEHIND AL'KESH
[Inside this container are large crates piled around the room. The rings activate, and Mitchell appears. He is kneeling on one knee, his P-90 at the ready. He turns on the flashlight attached to the gun and shines it around the room.]
MITCHELL
(into radio)
I'm in.
[He stands and moves cautiously around, then stops at one of the crates and lifts the lid a bit. He looks inside, then lowers the lid. He moves to another crate and lifts its lid; the crate is full of metallic bags. He removes the lid completely then uses his knife to slice into one of the bags. He reaches in and grabs a handful of corn-like kernels, then drops them again.]
MITCHELL
(into live radio)
Intel looks good. We got ourselves a space train full of evil Orville Redenbacher.
CARTER
(over radio)
Roger that.
EXT-SPACE
[The Al'kesh ship is towing a string of very large storage units. Mitchell is in the first, Carter the second.]
INT-RING ROOM OF SECOND CONTAINER SHIP BEHIND AL'KESH
[Carter rings in, looks around quickly then begins pulling items from her shoulder pack. She notes a green light passes over her.]
CARTER
(into radio)
They're scanning us.
MITCHELL
(over radio)
Let's make this quick.
[The green scanning lights repeat, but Carter ignores them and continues her work.]
INT-RING ROOM OF FORTH CONTAINER SHIP BEHIND AL'KESH
[Daniel is in the last ship of the "train.' He sets a timer on a small device; it is a bomb.]
DANIEL
(into radio)
I'm done.
INT-RING ROOM OF THIRD CONTAINER SHIP BEHIND AL'KESH
[Teal'c activates the timer on his bomb.]
TEAL'C
(into radio)
As am I.
[He steps to the center of the ring platform.]
INT-RING ROOM OF FIRST CONTAINER SHIP BEHIND AL'KESH
[Mitchell sets the timer on his bomb to one minute and activates it; it begins counting down. The rings nearby activate, revealing a group of people arriving.]
MITCHELL
Crap!
[The four new arrivals are Lucian Alliance soldiers. Mitchell takes cover behind some crates and begins firing on them immediately. He hits two but the others take cover and fire back.]
INT-BRIDGE OF SG-1'S TEL'TAK CARGO SHIP
[Carter, Daniel, and Teal'c are on the bridge. Vala is sitting in the pilot's chair.]
CARTER
(into radio)
Cam, everyone else is on board. Time to get outta there.
MITCHELL
(over radio)
Yeah, I'd love to, but I got a bit of company!
[Daniel steps forward in concern. They hear the gunfire over the radio.]
TEAL'C
I will render assistance.
MITCHELL
(over radio)
Negative! There's not enough time.
CARTER
He's right.
(into radio)
Cam, if you can get to the platform, we can ring you out from here.
INT-RING ROOM OF FIRST CONTAINER SHIP BEHIND AL'KESH
[Only 40 seconds remain on the bomb countdown timer. In the continuing firefight, Mitchell hits one more Lucian soldier.]
INT-BRIDGE OF SG-1'S TEL'TAK CARGO SHIP
[Carter goes to the ring control console and enters some commands.]
INT-RING ROOM OF FIRST CONTAINER SHIP BEHIND AL'KESH
[Only 20 seconds remain. Still firing, Mitchell sees the timer.]
MITCHELL
Ah, screw it!
[He moves out from cover and slides into the middle of the ring platform, still firing and threatened by fire.]
MITCHELL
Now! Now! Now!
[The rings activate and take Mitchell away as the Lucian continues firing.]
INT-BRIDGE OF SG-1'S TEL'TAK CARGO SHIP
[Mitchell arrives unharmed.]
MITCHELL
Thanks.
CARTER
(calling to the others)
We got him! Let's go!
EXT-SPACE
[SG-1's tel'tak de-cloaks near the large storage train and starts to move away.]
INT-RING ROOM OF FIRST CONTAINER SHIP BEHIND AL'KESH
[The Lucian soldier looks at the timer as it counts down to zero.]
EXT-SPACE
[The storage ships behind the Al'kesh blow up one by one, finally taking the ship with them.]
INT-BRIDGE OF LUCIAN HA'TAK MOTHERSHIP
[The Lucian Alliance leader Netan confers at a table with other men. Vashin enters.]
VASHIN
Netan.
[Netan comes around the table to speak to Vashin.]
VASHIN
Another transport has been hit near Rolan. We've lost four containers full of kassa, plus the Al'kesh escorting them.
NETAN
SG-1.
MALE
It's the third transport they've hit. Our supply of kassa is getting dangerously low.
NETAN
(intense and angry)
This isn't about kassa... This is about them trying to make me look weak. I can't allow them to interfere with our operations any longer. Put the word out. As of this moment, I'm placing a bounty on their heads.
END TEASER
OPENING CREDITS
EXT-CHEYENNE MOUNTAIN, DAY
INT-SGC CORRIDOR
[Mitchell walks briskly around a corner and sees Vala. He turns around immediately and starts back the way he came. Undaunted, Vala follows him.]
VALA
(cheerily)
Ooh! Another mission successfully completed.
MITCHELL
Yeah, it was.
VALA
Goodness knows, we've all earned a nice break from routine!
[Mitchell turns back around but Vala follows again.]
MITCHELL
The answer's "no".
VALA
You don't know what I'm gonna ask you.
MITCHELL
Oh, yes I do.
VALA
Alrighty then. I have a better idea of what you're facing than you might think. I've done research.
[Vala steps in front of him, forcing him to stop. He puts a hand to his face.]
MITCHELL
(pinching his nose)
Oh god.
[They have now stopped in the corridor. Vala presses on quickly.]
VALA
Traditionally, these events entail the bringing together of large groups of people, all with a common bond in the past, but nothing really in common in the present. Everybody evaluates each other's lot in life, generally by virtue of a combination of material worth and the attractiveness of one's date, spouse, life-partner.
(gesturing to herself)
Let me go as your date?
MITCHELL
(speaking over Vala as she keeps asking)
No! No! No!
VALA
Please! It'll be fun, I promise!
MITCHELL
It is a high school reunion, not some swank party. Besides, you will be bored out of your mind!
VALA
(emphatic)
Don't you dare talk to me about boredom! Everybody else here has a life. Sam, off at a conference. Daniel, in a museum somewhere, doing research. Teal'c off-world.
MITCHELL
With the Jaffa.
VALA
(pleading)
With the Jaffa, yes. Me? I have absolutely nothing to do.
MITCHELL
Vala.
VALA
Mmm.
MITCHELL
It is in Kansas.
VALA
(begging)
Don't make me beg you.
INT-CONFERENCE RECEPTION AREA
[There is a wine reception going on at the "Tomorrow's Technology Today" conference. Carter and Lee are dressed in business suits, chatting.]
LEE
Doesn't it bother you, to come to these-
[A server offers him a plastic glass of champagne from a tray; he takes one.]
LEE
(to server)
Oh, thank you.
LEE
(to Carter)
To come to these conferences to present new technology and actually adding flaws, (more quietly)
I mean pretending we know less than we really do?
CARTER
Well, you know the drill. We have to act like there's a process of development.
LEE
Oh sure, easy for you! You're presenting Chimera. It's practically a fully functioning Asgard hologram system. I get stuck with a plasma cannon that's supposedly shorts out at the drop of a hat.
[He notices that behind him, two women are giggling and apparently talking about him. They wave to him, smiling. Carter appears nonplussed.]
LEE
(chuckling)
On the positive side, these events have a dynamite singles scene. It's a huge window of opportunity. I think I'll mingle. You should, too.
[Carter is speechless. Lee takes another glass from the server and steps up to the two women, handing a glass to one of them.]
LEE
Ladies! Good evening!
[They smile and laugh at him. Carter appears disturbed by what she sees.]
EXT-COUNTRY ROAD IN KANSAS, DAY
[Mitchell and Vala drive on a country road. A roadside sign welcomes them to the town of Auburn, Shawnee County, Kansas, population 21,211. A hand-painted sign welcomes George Washington grads.]
VALA
I can't wait to meet your parents!
MITCHELL
Yeah, just don't embarrass me.
VALA
I would never embarrass you.
EXT-FRONT YARD OF MITCHELL'S PARENTS' HOUSE, DAY
[The house is a large, red barn-style house with flowers in front and along the side of the walkway to the front door. There are smaller buildings and large fields around it. Vala, Mitchell, and his parents sit at a picnic table in the yard. It has a table cloth on it. They are eating pie with coffee. Everyone is dressed in casual clothing.]
VALA
(eating)
Incredible.
MITCHELL
Better than the junk they peddle at the cafeteria, huh?
VALA
Oh!
WENDY MITCHELL
You'd think she'd never eaten pie before.
VALA
I'd no idea it could taste like this.
FRANK MITCHELL
I forgot to tell you, Cam. Darrell called. Something about you helping set up tomorrow? I left the number on the counter.
MITCHELL
(getting up from the table)
Oh, I'd better give him a call. I'll be right back.
[Mitchell jogs over to the house and enters.]
FRANK MITCHELL
So, Vala.
VALA
Uh huh?
FRANK MITCHELL
Cam says you work in payroll on the base.
VALA
Yes, I'm very good with money.
FRANK MITCHELL
Well it's an important skill. Somebody's gotta take care of the bills.
VALA
Yes and Cameron's so terrible with finances, so...
WENDY MITCHELL
Well then, I take it that you two are...quite um...
FRANK MITCHELL
Serious?
VALA
(uncertain)
Oh.
(realizing)
Absolutely!
(continuing cheerily)
Well, I mean at first it was just sex, sex, sex, in all rooms of the house at all times of the day! But uh, well, once we got a chance to get to know each other, we formed a deeper connection. A spiritual bond, you might say.
[Mitchell's parents look like they are shocked but trying to cover it.]
WENDY MITCHELL
Well, I suppose it's nice he found someone.
[Vala stirs her coffee with a big smile. Mitchell returns to his seat. His father gives him a "you old dog" look. Mitchell is confused and glances at Vala.]
MITCHELL
What?
WENDY MITCHELL
More pie?
[She retrieves the pie. Vala claps her hands and holds up her plate for more.]
INT-MUSEUM
[The museum has both artifacts and books. Daniel is seated at a large wooden table with several chairs around it and books of varying sizes on it. They appear to be old hardbacks. Daniel is looking at his laptop and taking notes on a yellow pad. He's wearing casual clothes. He gets up and goes to one of the stacks. It has another set of shelves on the other side of it. He pulls a large book from the shelf. An attractive woman is on the other side, peering at him. She is dressed in shiny black leather-like material.]
FEMALE ALIEN BOUNTY HUNTER
Doing some research?
DANIEL
Yes.
(looking up and seeing her, surprised)
Hi.
[She smiles grandly at him.]
DANIEL
I'm looking for any Aramaic translations of pre-Judeo Pagan hymns, hopefully in lithograph form. Am I in the right section?
[She smiles demurely and crosses her arms on her side of the shelf. She has a large black ring on her right hand - a weapon.]
DANIEL
(realizing)
You don't work here, do you?
FEMALE ALIEN BOUNTY HUNTER
(shaking her head "no" and smiling)
It's okay. Maybe if we looked together.
DANIEL
(smiling slightly)
No, it's okay. I'll ask at the enquiry desk. They probably have it locked up in the rare items archive.
[She makes a small noise of acknowledgment.]
DANIEL
(uncomfortably)
Uh...thank you.
[He walks away with the book and his notepad. The woman watches him with serious and intense interest.]
EXT-SPACE ABOVE EARTH
[A Tel'tak heads toward Earth.]
INT-SERRAKIN TEL'TAK
[Two Serrakin aliens are flying the ship.]
SERRAKIN PILOT
Activate the scanners.
SERRAKIN CO-PILOT
I'm only picking up three signals. One of them must be off-world.
SERRAKIN PILOT
We'll find that one later.
[The ship suddenly rocks; weapons fire is heard. Systems begin shorting out.]
SERRAKIN CO-PILOT
We're under attack! Shields at zero.
SERRAKIN PILOT
Initiating hyper drive!
EXT-SPACE ABOVE EARTH
[A second Tel'tak fires on the first one. After a few more shots, the Serrakin ship explodes.]
INT-VENTRELL'S TEL'TAK
[Ventrell speaks rhetorically to the blown-up ship.]
VENTRELL
Sorry, boys. I don't like competition.
INT-MITCHELL'S PARENTS' HOUSE
[Mrs. Mitchell carries a handful of towels to Mitchell and Vala, who are standing at the foot of the stairs.]
WENDY MITCHELL
Here's some extra towels. The spare bedroom's all made up.
MITCHELL
Right, great. Where do you want me to sleep?
WENDY MITCHELL
(a bit confused)
Well, I thought that you two would...you know.
[Mitchell laughs nervously while Vala smiles at him.]
MITCHELL
No, Mom, that's okay.
WENDY MITCHELL
It's all right dear, I'm not as old fashioned as you think.
MITCHELL
(baffled)
What?
WENDY MITCHELL
(to Vala)
You know, I think Cam sometimes finds it convenient to forget that I grew up in the sixties. I could tell you some stories.
MITCHELL
No, Mom! No, Mother, please! Not, No. We don't wanna hear your stories.
VALA
(sincerely)
I do.
MITCHELL
No!
WENDY MITCHELL
(conspiratorially, to Vala)
We'll talk later.
VALA
(happily)
Okay.
[Wendy leaves.]
VALA
I like your mother.
MITCHELL
(taking a towel, disturbed)
Uh...I'll be on the couch.
[He walks away.]
VALA
Your loss.
[She turns toward the stairs.]
EXT-JAFFA PLANET, DAY
[Cha'ra and Teal'c approach the DHD of the planet.]
CHA'RA
I can only hope you'll reconsider and accept the seat the Council's offering you.
TEAL'C
You have been speaking to Bra'tac.
CHA'RA
He only asked that I voice the opinion of any clear-minded Jaffa. The reformation of our government cannot occur without the help-
[Teal'c hears something and holds up a hand to silence Cha'ra. Energy weapons fire erupts, aimed at them.]
TEAL'C
Down!
[They take cover behind the DHD. The beam weapons cut down the trees behind them. After a lull, Teal'c and Cha'ra stand up and start firing back into the bushes and woods with their staff weapons. There is no response, and after a moment they cease firing. There is the sound of people running away over the leafy ground.]
TEAL'C
Are you injured?
CHA'RA
No.
(concerned, seeing a wound on Teal'c's side)
But you are.
[Teal'c looks at Cha'ra with a concerned, questioning expression.]
EXT-TENT SETTLEMENT ON JAFFA PLANET, DAY
[There is a small settlement comprised of several large tents beside some woods and a cliff.]
INT-TENT
[Teal'c sits with his shirt off. A Jaffa cleans the large surface wound on Teal'c's right side. Cha'ra enters.]
CHA'RA
The men guarding the gate report no activity. It is possible whoever attacked us left by cloaked cargo ship.
TEAL'C
Or perhaps they are still here waiting for the opportunity to finish the job. Put out word that I indeed survived the attack, but that I am gravely injured.
[Cha'ra smiles and bows slightly, then walks out.]
INT-GEORGE WASHINGTON HIGH SCHOOL GYMNASIUM, AUBURN, KANSAS
[People are preparing for the reunion party. One man works on the lighting while another holds the large stuffed Bumble Bee mascot. Mitchell and his friend Darrell Grimes sit at a table covered with plastic red and white table cloths. They are filling out name tags with black felt pens. Vala is dressed in a "Daisy Duke" outfit, a halter top and very short jean shorts.]
MITCHELL
...So, so this is on Mister Armstrong. He walks into the classroom, then he sees his car...
[Mitchell and Grimes laugh heartily.]
MITCHELL
...the whole car, sitting in the middle of the room. It's got a fresh coat of wax, it's looking all brand new...
DARRELL
(laughing)
We all thought he was gonna drop dead from heart failure, right there on the floor.
VALA
And then what happened?
DARRELL
(pausing in his laughter for a moment)
Well, that's it! I mean, we had to take the car back out and put it together again, but...
[He trails off laughing when Vala doesn't join in.]
VALA
(serious and bemused)
Ah, if I understand you correctly, you had to completely disassemble and then reassemble this automobile, not once but twice.
DARRELL
Yeah, I guess. Yeah.
[Mitchell and Darrell resume laughing.]
VALA
You know what? It does remind me of an incident from my own youth.
[Mitchell looks warily at Vala.]
VALA
Uh huh. A trader came through my village with a crate. The-
[Mitchell pinches her back to stop her.]
VALA
Ow!
MITCHELL
Hey, you know, you hear one high school story, you've heard 'em all.
[Some women nearby have heard Vala scream and have turned to look. Darrell notices them looking.]
DARRELL
Cam, five 'o'clock, five 'o'clock. Mmm Hmm!
[Mitchell turns to look behind him.]
MITCHELL
Oh lord.
VALA
What?
DARRELL
That is...
MITCHELL
Yeah, I know who it is.
[The woman starts walking toward them, holding flowers.]
DARRELL
She's coming over here.
VALA
Why are you whispering like that? What's going on?
[The woman sets the flowers on the next table.]
DARRELL
Shhh.
[The woman arrives.]
AMY
Cameron Mitchell, right?
[She holds out her hand.]
AMY
Amy...
[Mitchell nods and starts to stand but accidentally kicks the chair out from under him. He barely avoids falling to the floor. He picks up the chair, which has folded itself up.]
AMY
Oh my goodness.
MITCHELL
(embarrassed)
Oh, sorry. Vandenberg, yes! Yes, the name definitely rings a bell.
[Darrell stands up. He and Vala look uncomfortable on Mitchell's behalf.]
AMY
I just saw you over here and I thought I'd say "hi". Been a long time.
MITCHELL
(focused)
Yeah, it has.
[Darrell nods at him.]
MITCHELL
Oh, uh, you remember Darrell, right?
DARRELL
Hey. Homeroom, tenth grade?
[They shake hands.]
AMY
Right!
DARRELL
How you doing?
AMY
Good!
DARRELL
Good to see you.
AMY
Good.
[Mitchell seems to have forgotten Vala, who stands behind him.]
VALA
(holding out her hand)
And Vala Mal Doran. I'm Cameron's date.
[Amy's smile disappears. She shakes hands with Vala.]
AMY
Right, of course. I should have realized.
(awkwardly)
Well it was really nice seeing you, er, meeting you, again.
[Mitchell nods and smiles.]
AMY
Okay, I'm gonna go help now. I'll see you tonight.
MITCHELL
Yeah, I'll be here.
[She walks away.]
MITCHELL
Darrell?
DARRELL
She looked back, and she looks good.
[Amy has turned to look at Mitchell, then turns back and continues walking. She is greeted to two interested women friends. Mitchell sets his chair upright, unfolds, and sits in it.]
VALA
Well, well, well.
[She walks around Mitchell and hits him in the back of the head. She stops and leans back against the table, right next to Darrell. Darrell glances over at her tummy and legs.]
VALA
Someone likes you.
MITCHELL
No, she's just nice.
(uncertainly)
And she's probably on the welcoming committee or something.
VALA
Um hmm... Darrell.
DARRELL
(after glancing at her again)
Yes.
VALA
What do people do around here for fun?
DARRELL
For fun. Umm...
[She smiles at him hopefully.]
INT-MUSEUM
[Back at the table, Daniel writes in his yellow pad, which is atop a large book. He's now wearing a leather jacket. The bounty hunter approaches and sits on the table, across from him in a suggestive pose.]
FEMALE ALIEN BOUNTY HUNTER
Hello again.
DANIEL
(looking up, surprised)
Hello.
FEMALE ALIEN BOUNTY HUNTER
I've been watching. You really enjoy this kind of work, don't you?
DANIEL
You've been watching me?
FEMALE ALIEN BOUNTY HUNTER
Well, I guess it's kind of hard not to. You're very attractive.
[Daniel looks around behind him as if expecting this to be a practical joke.]
DANIEL
What's uh...what's goin' on?
FEMALE ALIEN BOUNTY HUNTER
I was thinking we could get out of here, go somewhere? Together? Alone?
[Daniel looks alert for a moment, then softens his expression into shy sincerity.]
DANIEL
Wow, uh... You know, I'm not really the most impulsive person... Flattering as your offer is, I'm gonna have to say "no".
FEMALE ALIEN BOUNTY HUNTER
(coldly)
Have it your way.
[She lifts her right hand to fire on him with the black ring. Perhaps expecting an attack, Daniel quickly lifts the book in front of him and it blocks the blast. The book lights in flame. He throws it at her then turns to run. She fires at him as he slides to the floor and around a corner. She activates a device beneath her jacket.]
EXT-STREET NEAR MUSEUM, DAY
[Daniel runs down the street and across another street. He hears her materialize behind him and stops. Standing on the edge of the sidewalk, she aims her weapon at a woman nearby who is tending to her baby in a carriage.]
FEMALE ALIEN BOUNTY HUNTER
Stop or I start killing people.
[Daniel turns to face her. Seeing the threatened woman, he raises his hands. The bounty hunter swings her arm toward Daniel.]
FEMALE ALIEN BOUNTY HUNTER
Good.
[She walks toward him, into the street.]
FEMALE ALIEN BOUNTY HUNTER
You should have taken my first offer, Doctor Jackson. It would have been far less painful.
[A city bus suddenly hits the woman, carrying her several feet. The bus screeches to a halt. Daniel lowers his hands and looks toward the front of the bus in shock.]
INT-SGC CONTROL ROOM
[Landry is standing at the phone speaking to Carter as Harriman sits in front of the gate controls.]
LANDRY
She was human but not from Earth. Weapons were based on Goa'uld design.
INT-BACKSTAGE AT CONFERENCE HALL
LANDRY
(over phone)
We need to figure out how she got here.
CARTER
(into cell phone)
Well, my guess would be a cloaked cargo ship.
INT-SGC CONTROL ROOM
LANDRY
So, we've got an invisible hunk of alien technology sitting out in a field somewhere.
INT-BACKSTAGE AT CONFERENCE HALL
CARTER
Well, cloaked ships aren't entirely undetectable, sir. They do give off anomalous energy readings. If it's stationary and we know approximately where to look, we might be able to find it.
INT-SGC CONTROL ROOM
LANDRY
I've already sent a team to assist Doctor Jackson with his investigation.
INT-BACKSTAGE AT CONFERENCE HALL
CARTER
Well if you need my help, sir, I can certainly come back.
INT-SGC CONTROL ROOM
LANDRY
Negative, Colonel. We can handle it. I just wanted to make sure you were all right. Besides, I have a feeling you'll be of more value where you are. Landry out.
INT-CONFERENCE HALL
[Carter hangs up the phone and peaks around the edge of the stage curtain to watch as Bill Lee gives his lecture and demonstration. Near Lee is a large, modern looking gun on a metal stand.]
LEE
Of all the dreams of science fiction into scientific reality, this one in particular has remained elusive...until now. Ladies and gentlemen: welcome to the future!
[Lee pivots the gun to point at a paper target on a concrete wall that has been set up. He turns on the gun and activates it. It makes a loud humming noise then spits out a spray of sparks and shuts down without having fired.]
LEE
Oh, gee! Sorry, sorry. I can fix this. Just um, just give me a moment here. (leaning over to examine the gun)
Um...
[Carter looks around in slight embarrassment.]
EXT-FIELD IN KANSAS, DAY
[Mitchell is talking into his cell phone with his hand over his other ear.]
MITCHELL
Say that again, sir!
INT-SGC CONTROL ROOM
LANDRY
It's not urgent. I just wanted to fill you in, Colonel.
MITCHELL
(very garbled)
Sorry. I just can't hear anything you're saying.
[Landry gestures to Harriman for an explanation.]
HARRIMAN
Sorry sir, his cell's barely coming through.
[Landry scowls as he hears gunfire over Mitchell's phone.]
EXT-FIELD IN KANSAS, DAY
MITCHELL
(into phone)
Hang on a second.
[Vala and Darrell are firing rifles at tin cans perched atop hay bales in the distance. Vala hits a can.]
MITCHELL
Darrell, you got a cellphone that works?
DARRELL
No, no one does. Two cell repeaters went down after last month's twister. The phone company hasn't put up new ones yet.
[Darrell fires and misses.]
DARRELL
Damn!
MITCHELL
Great.
(into phone)
Everything's good here, sir!
INT-SGC CONTROL ROOM
MITCHELL
(over garbled connection)
However, if there is cause for concern, we can come back right away.
LANDRY
(into phone)
Not necessary, son. Sounds like you two are having a hell of a time.
EXT-FIELD IN KANSAS, DAY
MITCHELL
(into phone)
Oh yeah, me and Daisy, we're living large!
[He pulls the phone away from his ear and looks at it.]
MITCHELL
And, no signal.
[Vala fires and hits another can.]
DARRELL
(admiringly)
Whoo! Hoo hoo!
VALA
Tell me about this girl back at the school.
DARRELL
Who, Amy?
VALA
(smiling but holding a stalk of wheat in her teeth)
Yeah.
DARRELL
Oh, Cam always had a thing for her.
VALA
Really.
DARRELL
Guy could have had any girl he wanted in the whole school, but every time she walked by, he'd start stammering like an idiot.
VALA
No.
DARRELL
Yep.
VALA
Did they ever...?
DARRELL
Nah. He never had the courage to ask her out. She ended up marrying some corporate dude and moving to Texas.
[Darrell fires and misses again.]
DARRELL
Damn!
[Vala fires and hits another can.]
DARRELL
What department did you say you work in, again?
VALA
Accounts...receivable.
[She cocks the weapon again and sighs.]
INT-CONFERENCE HALL
[A presenter stands at a podium, introducing the next speaker.]
PRESENTER
A nine-year veteran of the Air Force's Deep Space Telemetry Program as well as senior consultant for applied technologies...
[In the rafters at the rear of the hall, a black-eyed alien assassin sets down a hard case and begins to open it as the presenter speaks.]
PRESENTER
...and a two time winner of the prestigious Binder prize for advancements in theoretical physics. Please welcome to the stage Lieutenant Colonel Samantha Carter.
[The assassin begins to assemble an energy-style weapon. Lee holds back the drape and Carter walks onto the stage. She is wearing a business suit. She stands at the podium while the audience applauds.]
CARTER
Thank you. As most of you will recall, three years ago I went on network television in order to dispel the erroneous charge that the Air Force was covering up the existence of alien life in our galaxy. Today I'll be following up on that same technology I introduced then, by showing you several new features which dramatically enhance its effectiveness.
[As she speaks, on the large projection screen is an image of the holographic Asgard she introduced in that news segment. In the rafters, the assassin completes assembly of the weapon, powers it, and aims it at Carter using its electronic display.]
CARTER
I am of course speaking of the Chimera Optics Projection System. As you'll soon see, further research and development has provided longer range, better verisimilitude and more control over image projection since Chimera's introduction as a prototype three years ago.
[The assassin fires his energy weapon right at Carter. But, Carter isn't really there - it is a holographic projection of her. She is really behind the stage. The blast passes right through the projection and hits the temporary wall behind her. Carter steps away in reaction, as shown by the hologram. She turns off the device, and her image disappears. The audience reacts with alarm, exclaiming and looking around. Behind the stage, Carter and Lee kneel beside a table.]
LEE
What the hell was that?
CARTER
Someone just took a shot at me.
[In the rafters, the assassin looks around frantically for a target. Lee and Carter see him from where they are behind the wall, which doesn't reach all the way to the ceiling.]
CARTER
There!
LEE
Holy crap!
CARTER
We need to get the X-699 working now.
[They move to Lee's defective weapon and Carter goes to the power source.]
LEE
Try bypassing the main power coupling. You might get one shot off before it short circuits.
[The audience looks around nervously, chatters and wonders whether this is part of the presentation. Having made the adjustment to the gun, Carter activates and lifts it from its mount. It emits a tone of increasing pitch. She aims it up at the assassin and fires. The energy blast hits him; he falls to the floor of the rafter area. The audience stands and claps for Lee and Carter, some noting it was a great show.]
LEE
Nice demo.
EXT-JAFFA PLANET, NIGHT
[The tent settlement is quiet and lightly lit by fires.]
INT-TENT ON JAFFA PLANET
[Teal'c lies still on a pallet as if he is gravely wounded. A man wearing a hooded cloak enters quietly. He pulls a knife and prepares to stab Teal'c with it. Teal'c pulls out a zat and zats the man, who falls unconscious. Cha'ra rushes in to peer at the man.]
CHA'RA
He is Jaffa!
[Teal'c kneels beside the man.]
TEAL'C
I do not believe so.
[Teal'c rubs the false Jaffa tattoo off the man's forehead.]
INT-HIGH SCHOOL GYM
[The reunion dance is in full swing. A DJ chooses records.]
MAN
(to DJ)
Do you have any Journey? Awesome!
[At the entrance, Mitchell and Vala have just arrived and are putting on their adhesive name tags. Mitchell wears a suit, Vala a black evening dress. A woman, Jackie, sees Mitchell. Behind her is a large poster full of yearbook pictures with "Class of 1987" in the middle.]
JACKIE
(recognizing him)
Cameron? Hey, welcome back!
MITCHELL
Jackie, hey!
JACKIE
And...Vayla?
VALA
Vala.
JACKIE
Vala. Now, I can't remember, did you go to GW?
VALA
Oh, I didn't attend school. As much as I was sold as a domestic servant to a weapons smuggler named Fierenze. After I killed him and won my freedom, I considered my education more or less complete.
[The woman is wide-eyed with shock for a moment, then recovers herself.]
JACKIE
Well, it was sure nice to meet you.
[Jackie makes a hasty retreat.]
MITCHELL
(grabbing Vala and moving her to the side)
Maybe... we should keep chat like that to a minimum.
[He brings her to stand beside the large bumble bee mascot for a photo opportunity.]
MITCHELL
Smile.
EXT-PARKING LOT OF HIGH SCHOOL GYM, NIGHT
[A man, Phil is making his way to the party. He stops to spray breath freshener into his mouth. He is hit by a stunner and falls to the pavement. An Oranian alien looms over him.]
PHIL
Oh, god. Oh, god! Please don't hurt me! Please don't hurt me!
[The Oranian fires on him again, leaving him unconscious. The Oranian runs a scanner over the man's body, then attaches a device like that of the Foothold Aliens to his own chest. He morphs into the appearance and clothing of Phil.]
INT-HIGH SCHOOL GYM
[Mitchell, Vala, and alumnus Gary sit at a table.]
GARY
So you've got like, eleven different policies you can buy. You got your basic four of course: house, fire, boat, car...
VALA
Wait, let me get this straight.
(referring to Mitchell)
He buys one of your policies and names... me as his beneficiary. I would collect all of the money in the event of his untimely death.
GARY
You got it!
[Mitchell does not look at Vala or react to her at all. He appears painfully bored. Vala tosses him her empty plastic cup.]
VALA
Tell me more.
[Mitchell gets up, still without looking at her.]
GARY
Well, let me tell you, Vala...
[In the hallway, a woman applies a name badge to the fake Phil.]
EXT-PARKING LOT OF HIGH SCHOOL GYM, NIGHT
[A large man makes his way toward the gym. Another man, Odai Ventrell, approaches him.]
VENTRELL
Hello there.
FORMER FOOTBALL PLAYER
Can I help you?
VENTRELL
As a matter of fact, you can. Your suit looks like it's about my size.
FORMER FOOTBALL PLAYER
So?
[Ventrell slugs the man, and he goes down.]
INT-HIGH SCHOOL GYM
[Mitchell fills Vala's cup from the punch bowl, then adds a fair amount of alcohol to it. Amy Vandenberg approaches him from behind. She's wearing a strappy dress; her hair and make-up are "done".]
AMY
Nice suit.
MITCHELL
(impressed)
Wow. Look at you!
AMY
(chuckling, trying to find a place to attach her name tag)
Don't quite know where to put this.
MITCHELL
Oh that, no. That's 'cause you don't need that.
[He takes it from her and tosses it away.]
AMY
So, where's your date?
MITCHELL
Date? Oh, Vala. Vala. Vala is over there plotting my death with Gary Walesco.
AMY
(laughing)
Well, she seems nice. You two make a good couple.
MITCHELL
Oh, no we don't. She um... Well, she's just a friend.
AMY
(nodding)
Oh.
MITCHELL
So, where is your other half?
AMY
In Maui with his girlfriend, most likely. Ted and I got divorced about a year and a half ago. I moved back to Topeka last year.
MITCHELL
I'm sorry to hear that.
AMY
Oh, don't be. I'm not.
MITCHELL
You look exactly the same.
AMY
I'm surprised you even remember what I looked like back then.
MITCHELL
Are you kidding?
AMY
No.
MITCHELL
You know I had a major-league crush on you, right?
AMY
(pushing him in the chest)
No!
MITCHELL
Yes! Yes! Look, I had your entire schedule memorized, so I'd be in the right place when I got outta class. And that sounds creepy now that I say it out loud.
AMY
How come you never said anything?
MITCHELL
I was sixteen. I was sixteen and-and you were always hooked up with some other guy! And, let's be honest about it, you were way, way outta my league. Oh, god, I can't believe I just told you that.
AMY
Okay, now it's my turn. I saw every football game you ever played in. I can name every class we shared together. I even broke up with Bobby Haversham hoping that you would ask me out to the senior prom. But you never did! I guess you could say I haven't quite forgiven you for that yet.
[He steps toward her then stops, disappointed, as his cell phone starts ringing.]
AMY
I think your phone is ringing.
MITCHELL
Yeah, it is. Sorry.
(into phone)
Mitchell. Hello?
LANDRY
(over phone, garbled)
This is General Landry.
MITCHELL
(into phone)
Hello?
LANDRY
(over phone, garbled)
Mitchell!
[He can't make contact with Landry.]
MITCHELL
(to Amy)
Oh, I'm sorry. I have to take this.
(starting to walk away but still talking to her)
Uh, I'll be right back. You! You do not move from this spot!
AMY
(mock saluting him)
Yes, sir!
[He smiles and walks away. The Serrakin disguised as Phil sees him and starts to follow, but is stopped by Gary, who believes he has found Phil.]
GARY
Phil?! Man, I haven't seen you since... the last one of these shindigs!
[Gary slaps "Phil" on the shoulders several times.]
GARY
You look great! You been working out? Huh? So, how's Nancy?
["Phil" touches Gary, and Gary's head starts vibrating hard back and forth. After a moment, "Phil" stops, and Gary sinks down into a chair and stares ahead blankly. "Phil" exits the gym.]
INT-HIGH SCHOOL HALLWAY
[The hallway has the usual lockers lining the walls. On various walls and display cases are signs reading "Damian Kindler for Class Treasurer" and "Peter DeLuise for Class Secretary." Mitchell is walking and trying to talk to Landry on the cell phone with a poor connection.]
MITCHELL
(into phone)
I'm sorry, sir, say that again. Carter and Teal'c what?
LANDRY
Were attacked.
INT-SGC CONTROL ROOM
LANDRY
(into phone)
Your life may be in danger. We need you to get back here as soon as possible.
INT-HIGH SCHOOL HALLWAY
MITCHELL
Sir, this is impossible. I'm gonna try to find a hard line.
[He hangs up his cell phone.]
INT-HIGH SCHOOL GYM
[Darrell is just entering; the greeter gives him his name tag.]
DARRELL
Yeah, I'll put it on myself. Thank you, sweetie. Okay.
[He spots Vala across the way, looking at the poster of old yearbook photos. He smoothes his hair back and heads toward her. Along the way he sees Gary and pats him on the shoulder.]
DARRELL
Hey Gary, how you doin', buddy?
[Gary slumps over a bit more.]
INT-HIGH SCHOOL HALLWAY
[Mitchell proceeds down a hallway, looking for a pay phone. "Phil" takes up a position behind him and points a weapon at him. Before he can fire, Ventrell grabs "Phil's" head and slams it into the wall, then covers his mouth. Mitchell stops and turns back as if he has heard something. After a moment, he continues. Ventrell drags "Phil" into a custodian's closet and deactivates the Oranian's disguise mechanism. Ventrell leaves him there on the floor and closes the door.]
INT-HIGH SCHOOL GYM
[Darrell finds Vala looking at the poster of pictures.]
DARRELL
Well if it isn't the prettiest girl at the party!
VALA
(smiling flirtily)
Hi.
DARRELL
Hi.
VALA
Have you seen Mitchell? I can't find him anywhere.
DARRELL
"Mitchell"? Wow! You two are on a last name basis, huh? Uh, I think I saw him talking to Amy Vandenberg.
VALA
Oh, the one from...
DARRELL
Yeah, I think they slunk off together.
VALA
(smiling but sarcastic)
Perfect.
DARRELL
(pulling a flask from his jacket)
Yeah, um...would you uh...like a little refreshment?
[She holds up her empty cup as if to say she doesn't need any more.]
DARRELL
Moonshine.
(noting her continued misunderstanding)
It's flammable.
[She drops her cup to the floor, grabs him by the tie and pulls him away.]
INT-HIGH SCHOOL HALLWAY
[Mitchell has found a pay-phone and has called the SGC.]
MITCHELL
(into phone)
This is Lieutenant Colonel Mitchell for General Landry. Thank you.
[As he waits, Ventrell walks up and points a gun at him.]
VENTRELL
Just the man I've been lookin' for.
MITCHELL
(not asking, but stating)
We didn't go to school together, did we?
VENTRELL
Name's Ventrell. I'm here to collect the price on your head.
MITCHELL
Big bad bounty hunter after little old me? I'm honored.
VENTRELL
Actually, you're just the bait.
LANDRY
(over phone, audible to both men)
This is General Landry. Mitchell! Mitchell, can you read me? Mitchell?
[Ventrell takes the phone from MItchell and touches a device on his neck. When he speaks, it is in Mitchell's voice.]
VENTRELL
This is Mitchell. Requesting assistance. Repeat, requesting assistance.
[He hangs up the phone.]
MITCHELL
My voice is way deeper than that.
VENTRELL
Funny. See, I'm after the big prize.
MITCHELL
(realizing)
All of SG-1.
VENTRELL
Who do you think they'll send after they hear that?
MITCHELL
Why don't you just take me? Teal'c's not even on the planet.
VENTRELL
Oh, they'll be here. In the meantime, all you have to do is keep quiet and no one gets hurt. Now, shall we get back to the party?
MITCHELL
Yeah, lets dance.
[The walk away.]
INT-SGC CORRIDOR
[Landry is walking with Teal'c, Carter, and Daniel. The latter three are dressed in black BDU's with tac vests and weapons.]
LANDRY
Unfortunately, the Odyssey is not available for transport, but we've got a couple of 302s waiting. They should get you there pretty quick.
TEAL'C
Do we know how the assassins have been able to target us so precisely?
CARTER
I think so. During our last mission we were hit by what we thought was a scanning beam. Turns out it was a little more sophisticated than that. We were tagged. We're all emitting low levels of a particularly exotic form of radiation. That's what they're tracking. Now, the good news is, it has a limited half-life, so it should wear off in a couple of days.
LANDRY
I think it's pretty clear Colonel Mitchell doesn't have a couple of days.
DANIEL
We'll get him, sir.
[The three enter the Level 25 elevator.]
INT-HIGH SCHOOL THEATER
[Darrell and Vala are seated in the front row of the theater. Vala is drinking from the flask and has her legs draped over Darrell's. After taking a large sip, she hands the flask to Darrell.]
DARRELL
Wow! You know what? I think Mitchell is crazy for ditching you.
VALA
Hmm.
DARRELL
I mean, come on, god, look at you! You're a beautiful woman. You have a keen mind, and you shoot like a special forces sniper.
VALA
True. All true.
DARRELL
But, you can be a little scary, though.
[Vala pulls off her name tag.]
DARRELL
I mean, to the kind of guy that would be intimidated by a woman who is successful and brilliant like you are.
VALA
Hmm.
DARRELL
But you know what?
[They lean very close to each other.]
VALA
What?
DARRELL
I'm not one of those guys.
[He leans over to kiss her. She puts a finger to his lips.]
VALA
Darrell?
DARRELL
Uh huh?
VALA
There's something I think I'm supposed to tell you now.
DARRELL
What?
VALA
I'm married.
DARRELL
(leaning away, very disappointed)
Ah, you're kidding!
VALA
Mmm.
DARRELL
Ahhh.
VALA
It's something I don't like to talk about much.
[She sticks her name-tag over his mouth.]
VALA
He's a religious zealot, bent on total domination of every human being in this galaxy.
[She sighs heavily. He rips off the name-tag.]
DARRELL
So you're separated?
INT-HIGH SCHOOL GYM
[Amy looks around for Mitchell. He arrives with Ventrell.]
AMY
There you are! I thought you'd deserted me.
MITCHELL
(tightly)
Hey.
AMY
You okay?
MITCHELL
I'm fine.
AMY
Who's your friend?
VENTRELL
Odai Ventrell at your service.
[He takes her hand and kisses it.]
AMY
Hello.
VENTRELL
I'm a friend of the Colonel's.
[Amy looks around at the dancers then back at Mitchell.]
AMY
You still owe me a dance.
VENTRELL
Don't keep the lady waiting, Colonel. You won't get another chance.
[She leads him onto the dance floor; a slow dance number is starting. He unbuttons his suit coat. He appears worried but dances with her anyway.]
AMY
Are you sure your date won't mind us spending time together like this?
MITCHELL
She's the independent type. Maybe too much so.
[He looks over to see Ventrell watching them.]
AMY
You know what I like? Now that we're older and hopefully wiser, we can say how we really feel. There's none of that awful tension that used to hang in the air when we were young.
MITCHELL
(tense and distracted)
Yeah, I'm glad that's gone.
[Vala and Darrell arrive at the entrance to the gym. Vala sees Ventrell and recognizes him. She grabs Darrell and turns him around against the door jamb, where they are somewhat hidden.]
DARRELL
(thinking she is making a play)
Oh, I like this!
VALA
Huh? Oh shut up!
(looking around the door frame to make sure)
That's Odai Ventrell in there.
DARRELL
Who?
VALA
No!
[Darrell tries to look, but she pulls him back.]
VALA
Bounty hunter. He's obviously here looking for me!
DARRELL
Okay, no more liquor for you tonight, all right?
VALA
What? Oh, don't be ridiculous. That stuff barely affects me.
[She begins to pat him down.]
VALA
Have you got any weapons on you?
DARRELL
(in a high voice)
No!
VALA
Then we'll have to improvise.
[Darrell looks completely confused.]
[On the dance floor, Mitchell is looking around warily, not paying attention to the slow dance with Amy. She senses his unhappiness and stops dancing.]
AMY
Hey, if you don't wanna do this.
MITCHELL
No, it's not that. It's just...it's complicated.
AMY
You don't have to say anything else. I get the message. Vala, right?
[Seeing Ventrell staring at them with a scowl, Mitchell puts his hand around the back of Amy's neck and leans over to whisper in her ear.]
MITCHELL
It's not what you think. Right now, I need you to slap me and get out of here.
[Darrell approaches Ventrell.]
DARRELL
(talking very loudly)
Dave "the man" Nelson. It's Darrell! How you doing, man?
[He grabs Ventrell by the shoulders in greeting.]
VENTRELL
(pushing him away)
You're confusing me with someone else.
DARRELL
What?
[Mitchell sees what is going on.]
MITCHELL
Darrell! Get the hell out of here!
DARRELL
(in a drunken voice)
Oh what, like I'm going to listen to you? Huh? Making time with another girl, leaving your date high and dry. Well thank god I stepped up, huh, Dave? Thank god!
[Ventrell grabs Darrell's hand and twists it behind his back, forcing Darrell to his knees. Darrell cries out in pain.]
VENTRELL
Touch me again, and I'll kill you.
DARRELL
Dave, you've changed, dude!
[Ventrell releases Darrell's arm. Darrell cries out again then gets up slowly, holding his left upper arm. Ventrell pulls a large wrist device from under his suit sleeve and activates something. From behind him, Vala throws a fire extinguisher at Ventrell's back. It bounces off the force shield he has just activated. He turns around to face Vala.]
VALA
(smiling and waving a finger)
Hi.
[Ventrell backhands Vala, sending her flying onto a table and over onto the floor. The music stops with a screech of vinyl.]
DARRELL
Oh!
[Mitchell tries to rush in, but Ventrell pull his energy pistol and aims it at Mitchell. The alumni call out and scream.]
VENTRELL
Get. Back.
[The attendees start running for the exits, still screaming. Ventrell activates his wrist device again, causing all the doors to the gym to close. Some people press on the doors and pound on the windows, trying to get out or call for help. Ventrell fires his gun at the ceiling. The people see it and turn toward him, cowering but quiet.]
VENTRELL
Your attention, please! Exiting this room is now impossible. Every door has been magnetically sealed shut.
(to Vala)
Vala Mal Doran. This is my lucky day.
(gesturing for her to move over to Mitchell)
Netan's offering a bonus for anyone who bags you.
VALA
(to Mitchell)
Sorry. That didn't go well.
VENTRELL
Oh, it's worse than you think. Thanks to your little stunt, now I start killing people.
MITCHELL
You don't have to do this.
VENTRELL
First rule of hostage taking: always back up your threats. So who's it gonna be? (pointing weapon at Darrell)
The trouble maker?
DARRELL
(pleading, putting up his hands)
Hey! Oh, please.
VENTRELL
(aiming at Amy)
Or the girlfriend?
AMY
(moving behind Mitchell, panicked)
Cameron!
VENTRELL
Choose, Colonel, or they both die!
VALA
(stepping in front of Mitchell)
Oh Ventrell, you always were such a coward!
VENTRELL
I guess we'll start with you.
[Vala lets out a breath of frustration and prepares to argue when a voice comes over Ventrell's wrist communications device.]
CARTER
(over radio)
This is Colonel Carter of SG-1. Once all the hostages have been released, we are willing to beam in.
VENTRELL
(into radio)
Negative. You and SG-1 beam in first, unarmed, and then I'll let everyone go.
[Teal'c, Daniel, and Carter beam into the gym, unarmed. The attendees call out in amazement.]
VENTRELL
(directing the new arrivals to the center of the room)
Over there, please! Colonel Mitchell, Vala, would you mind joining the others?
[They join the rest of SG-1 as Jackie and Darrell look on very worriedly.]
VENTRELL
Turn around.
[SG-1 all face away from Ventrell.]
MITCHELL
So what's your endgame, Ventrell? You know we're not just gonna let you walk outta here.
VENTRELL
Never planned on it.
[He activates his wrist device again. A set of rings comes crashing through the roof of the gym to surround SG-1 and Ventrell. Vala and Mitchell are ringed away, but Carter, Daniel, and Teal'c remain. They are holograms just as Carter was earlier. Carter and Teal'c walk out of the frame and disappear. Amy, Jackie, and Darrell appear completely shocked.]
INT-VENTRELL'S TEL'TAK
[Ventrell, Vala, and Mitchell ring aboard. Behind Ventrell are Teal'c and Carter, pointing weapons at him.]
CARTER
Hello.
[Mitchell disarms him. Daniel is still in the holographic frame. He turns and waves.]
INT-HIGH SCHOOL GYM
[Daniel waves to the crowd.]
DANIEL
(cheerily)
It's okay. You're all safe now.
DARRELL
(panicked)
Yeah, but what happened to Vala?
INT-VENTRELL'S TEL'TAK
[Carter deactivates the holographic cameras.]
INT-HIGH SCHOOL GYM
[Daniel disappears.]
DARRELL
Holy crap!
JACKIE
I knew there was something wrong with that woman!
INT-VENTRELL'S TEL'TAK
[Ventrell is surrounded by SG-1. Teal'c hands plastic hand-cuffs to Mitchell, who hands them to Vala.]
VALA
How did you do that?
(taking the cuffs)
Oh, allow me!
[She ties Ventrell's hands behind his back.]
TEAL'C
We located this vessel in a field several miles from here. We were on-board trying to override the command code when it was remotely activated and flown onto the roof of the school.
DANIEL
(to Ventrell)
That's right! You brought us to you.
CARTER
After that it was a simple matter of activating Chimera. It's an Asgard holographic projection system. It made it look like we'd beamed in.
[Vala rests her hands on Ventrell's shoulder in a playful way.]
DANIEL
And you might have gotten away with it, too, if it wasn't for us meddling kids.
MITCHELL
So much for your big payday.
VENTRELL
Well I may not be able to collect, but it doesn't mean others won't try.
MITCHELL
Unless there's a bigger payday waiting somewhere else.
VENTRELL
What are you talking about?
MITCHELL
Well I've had some experience recently dealing with the Lucian Alliance. I know for a fact that some of Netan's seconds are starting to question his leadership. After this little fiasco, it's only gonna get worse.
TEAL'C
Indeed. With his failure to eliminate us yet again, he will only appear weaker than before.
MITCHELL
No doubt about it. There is blood in the water. The only question is, which enterprising shark will be the first to take advantage of it.
[Ventrell appears intrigued.]
EXT-SPACE
[Netan's ha'tak mothership is in orbit around a planet.]
INT-BRIDGE OF LUCIAN HA'TAK MOTHERSHIP
[Netan stands beside a viewscreen, gazing out. A fight breaks out in the corridor outside the bridge. There is weapons fire. One man falls near the entrance. A large bounty hunter enters and aims a weapon at Netan. Before he can fire, he is shot in the back and falls. Ventrell was the shooter. He approaches Netan.]
NETAN
Well done. You saved my life. You'll be richly rewarded.
VENTRELL
I know I will. But not for saving you.
[Ventrell takes aim at an angry Netan.]
EXT-FRONT YARD OF MITCHELL'S FAMILY HOME, DAY
[Vala, now dressed in more modest clothing, is talking to Frank Mitchell who is standing, using his crutches. In the adjacent field are Mitchell and Amy, leaning against hay bales and chatting.]
VALA
(to Frank Mitchell)
Thank you.
[She and Frank hug. Wendy Mitchell comes rushing out of the house carrying a large plastic pie container.]
WENDY MITCHELL
(holding it toward Vala)
Vala, you sure you don't want some pie for the road?
VALA
(rubbing her tummy)
I couldn't possibly.
WENDY MITCHELL
It's your favorite.
[Wendy hands the pie to Vala, along with napkins and forks.]
VALA
(rather wistful)
Thank you. Well, the General will probably blame me if we miss our plane, so we probably should get moving.
(calling to Mitchell)
Cameron! We have to get moving!
MITCHELL
(very dismissively)
Go wait in the car!
[Frank and Wendy give Vala a confused look.]
VALA
I exaggerated the spiritual bond thing just a little.
FRANK MITCHELL
Yeah. Yeah, we got that.
VALA
Thank you.
[She and Wendy embrace, kissing each other on the cheek.]
VALA
Bye.
(to Mitchell, harshly)
Move it!!
[Nearby, Mitchell and Amy continue talking.]
AMY
To be honest with you, Cam, I don't know what to make of all this. Those Air Force people who made us all sign those papers were pretty scary. I'm not sure I'm allowed to even think about what happened, let alone talk about it.
MITCHELL
It's better this way. People who do talk about it just end up looking crazy. There's never any proof. And there is always plausible denial.
AMY
So you've...done this sort of thing before?
MITCHELL
I'm just sayin'...
AMY
I know. You can't talk about it. You can't even tell me what was really going on the other night. I do know this much. That man was trying to kill you...and your friends. Whatever it is you do, it's obviously dangerous.
MITCHELL
It's a job... It has to be done... And that's all I'm gonna say about that.
AMY
Well, if anybody has to be out there protecting us...from things we're not allowed to know about...I'm glad it's someone like you.
[They kiss passionately for a few moments, until Vala honks the car horn once, then several more times.]
MITCHELL
(slightly nervous)
You know, Colorado Springs, it's uh, not that far away, so maybe someday soon, you might think about taking a little trip.
AMY
(nodding)
Maybe.
[Mitchell gets into the driver's seat of the car.]
MITCHELL
She's a nice girl. I like her.
VALA
Nice? She's a cure for insomnia!
[Vala feeds him a bite of pie.]
MITCHELL
Well we can't all make the brilliant decisions you've made.
VALA
Huh!
[They start driving away as Amy and Mitchell's parents wave.]
MITCHELL
How many times have you been married, anyway?
VALA
Legally? Hmmm, well, it's hard to keep track. Let's see. The first one was a part of a band of traveling entertainers. He was a good cook, too. Couldn't make pie though.
MITCHELL
You know, forget it. Forget I asked.
FADE OUT
END CREDITS

Source : http://www.stargate-sg1-solutions.com/wiki/10.15_%22Bounty%22_Transcript