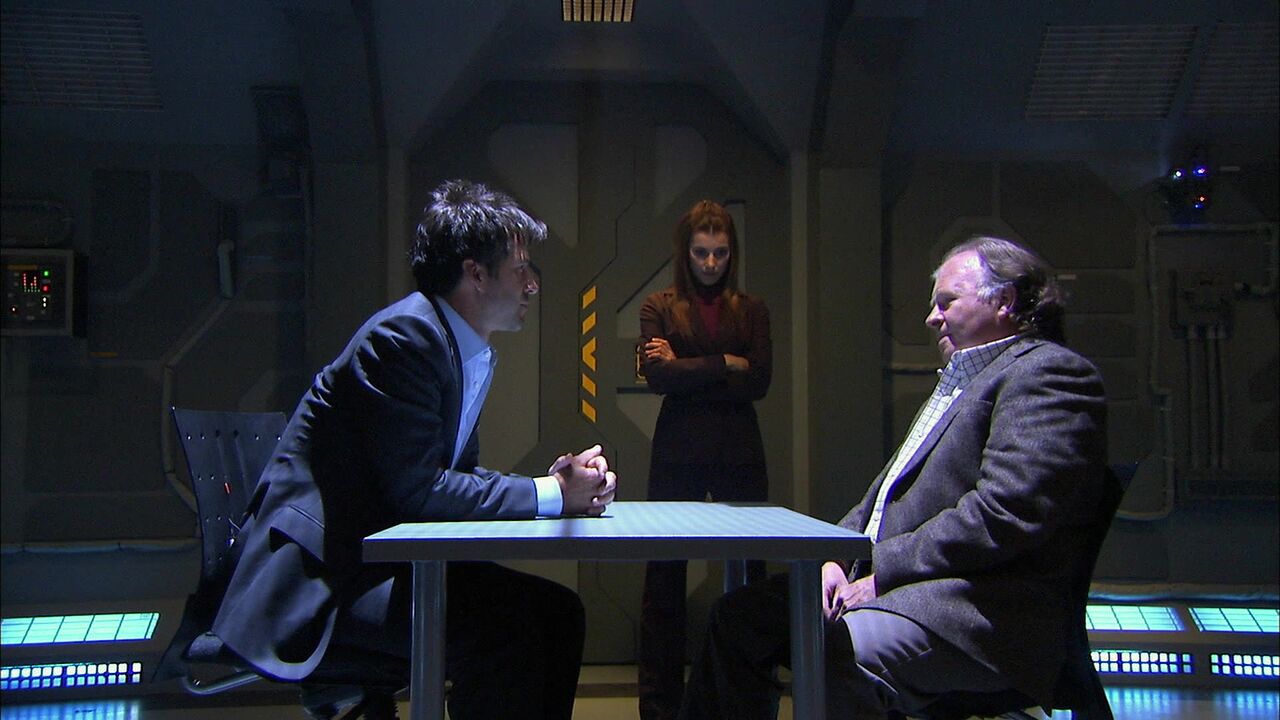 Transcript VO
PREVIOUSLY ON STARGATE ATLANTIS
[Scenes from 4.09 "Miller's Crossing are shown.]
END EXCERPTS
TEASER
INT-ATLANTIS CORRIDOR
[Sheppard and Ronon walk down a corridor.]
RONON
I watched it last night. There was hardly any fighting.
SHEPPARD
That's because it's not about fighting.
RONON
Then why's it called Blades of Glory?
SHEPPARD
Because it's about...skate blades.
RONON
(dubious)
And this is a real sport? Men and women dancing around on ice?
SHEPPARD
Unfortunately.
RONON
Your planet's weird.
SHEPPARD
Mm, you can say that again.
[They reach Sheppard's quarters. Just as Sheppard opens the door, Carter arrives.]
CARTER
Colonel...I was just coming to see you. Do you have a minute?
SHEPPARD
Yeah, sure.
[Carter glances from Ronon to Sheppard and licks her lips uncomfortably.]
CARTER
Well, I received a message from Stargate Command. I'm afraid I have some bad news.
SHEPPARD
Okay...
CARTER
Your father suffered a heart attack last night. I'm sorry, John, but he passed away.
[Sheppard looks stunned.]
EXT-STANTON RESEARCH LAB, EARTH, NIGHT
INT-STANTON RESEARCH LAB
[A young woman, Ava, searches the United States area for news, finding an obituary for Sheppard's father. The headline reads "Utilities Mogul Patrick Sheppard Dies at 69". She punches buttons on the computer, then walks over to the printer. On the table are several other articles, as well as surveillance photos of Ronon and Sheppard from when they arrived at the Miller home in Vancouver when Jeannie was kidnapped.]
END TEASER
OPENING CREDITS
EXT-ATLANTIS, DAY
INT-SHEPPARD'S QUARTERS
[Sheppard packs a duffle bag. The door opens.]
MCKAY
Hey...I, uh...heard what happened. I'm very...sorry.
SHEPPARD
(subdued)
Thanks.
[Sheppard finishes packing.]
MCKAY
You okay?
SHEPPARD
Yeah, I'm fine.
MCKAY
You know, I-I requested to go back with you, but the Ancient device on M7G-677 is malfunctioning.
SHEPPARD
Isn't that the planet with all the kids?
MCKAY
(unhappy)
Yeah.
SHEPPARD
That should be fun for you.
MCKAY
Oh, believe me, I would get out of it if I could, but, uh, without the EM field, they're an easy target for the Wraith. I guess it's just...bad timing.
SHEPPARD
Eh, don't worry about it.
[There is an awkward silence.]
MCKAY
You want to talk, or...
SHEPPARD
Rodney...I'm fine.
MCKAY
Right...
[After another awkward silence, McKay clears his throat and goes. Sheppard appears contemplative.]
INT-ATLANTIS GATE ROOM
[Sheppard stands waiting, holding his duffel, as the Stargate dials. Ronon comes up next to him, wearing a black t-shirt and grey khakis, and carrying his own duffel.]
SHEPPARD
Where are you going?
RONON
With you.
[When the Stargate activates, Ronon is the first through as Sheppard still processes this.]
EXT-SHEPPARD ESTATE, DAY
[Several cars arrive and park along the long driveway in front of the mansion. Beside it is a large horse paddock. Sheppard wears a suit and tie. Ronon wears a black button-down shirt and black pants; they step out of a car.]
RONON
A lot of people.
SHEPPARD
Yeah, well, my old man was pretty well connected.
[Sheppard spots his brother Dave approaching and fidgets nervously.]
DAVE
John.
SHEPPARD
Dave.
[They shake hands.]
DAVE
I wasn't sure you were going to make it. It's good to see you. I contacted your unit commander at Peterson, but, um, sometimes those messages don't seem to reach you.
SHEPPARD
Well, I came as soon as I heard.
[Dave looks to Ronon.]
SHEPPARD
This is, uh, Ronon. Ronon, this is Dave, my brother.
[Ronon's been watching this tense conversation with interest. He shakes hands with Dave.]
RONON
Yeah, nice to meet you.
[Dave takes in Ronon's wrinkled shirt and dreadlocks and looks from Ronon to Sheppard.]
DAVE
Pleasure (to Sheppard)
You two, uh...work together...in the Air Force?
SHEPPARD
He's a civilian contractor.
[Dave rolls his eyes.]
DAVE
Right. Anyway, John, I think we should probably talk.
SHEPPARD
Yeah.
DAVE
I'll catch up with you later.
[Dave walks away. From the nearby patio, Ava stands watching Sheppard and Ronon. She smiles.]
INT-ATRIUM, SHEPPARD ESTATE
[Mourners leave the room where Sheppard's father is laid out in a closed casket. Sheppard enters and pays his respects, staring down at the coffin. Ronon starts to enter the room, then notices what's inside; he steps back, giving Sheppard privacy.]
EXT-SHEPPARD ESTATE, DAY
[Ronon goes down the buffet line, piling as much food as he can onto his little plate. He looks up to see two mourners watching him with interest.]
RONON
This is free, right?
FEMALE MOURNER
(bemused)
Yes.
RONON
Thanks.
[He grabs some more, stuffing a final bite into his mouth as he walks away. He joins Sheppard near a fence where horses are paddocked, not far from the swimming pool. Sheppard is staring at them, fidgeting with a piece of grass.]
RONON
(mouth full)
Lots of food over there.
[Sheppard glances at Ronon's overfilled plate.]
SHEPPARD
I'm good.
RONON
This the house you were raised in?
SHEPPARD
(flatly)
One of them.
RONON
It's nice.
SHEPPARD
I couldn't wait to get out of here.
RONON
Yeah? Why?
SHEPPARD
My dad's idea of teenage rebellion was going to Stanford instead of Harvard.
(catching Ronon's blank expression)
Never mind. He just...he had everything planned out for me since I was about fourteen.
RONON
Well, so what do we do now?
SHEPPARD
Mostly people sit around, drink, eat...
(glances at Ronon's plate)
...some more than others. Mostly they talk. They don't know what to say, but they talk.
[Ronon looks around and sees Dave mingling easily with other people.]
RONON
Yeah, well, your brother seems to be handling it well.
SHEPPARD
That's what he does-he handles things.
RONON
How come you never mentioned him before?
SHEPPARD
It's complicated.
[Ronon raises his eyebrows, but doesn't say anything. Sheppard looks around and notices Nancy heading towards them. He does a double-take then hangs his head.]
SHEPPARD
I told you I had an ex-wife, right?
RONON
Yeah. Why?
SHEPPARD
Here she comes.
[He spins to greet her.]
NANCY
Hi, John.
SHEPPARD
Nancy...I didn't expect to see you here.
[Nancy steps forward and gives him an awkward hug.]
NANCY
I'm very sorry.
SHEPPARD
Uh...Nancy, Ronon. Ronon, Nancy.
[Ronon and Nancy shake hands.]
RONON
Hi.
NANCY
Pleased to meet you.
SHEPPARD
How long are you here?
NANCY
Just for today. I have to be in Washington tomorrow, so...
SHEPPARD
Still with Homeland Security?
NANCY
Yeah. I just got promoted. I'm a director now.
SHEPPARD
Congratulations. How's...how's Greg?
NANCY
(wincing)
Grant.
SHEPPARD
Grant.
[Ronon takes this as he cue to step back. He surreptitiously wanders closer to the fence .]
NANCY
Um...he-he would've come, but he's, uh, trying a case in Phoenix.
SHEPPARD
Oh. Sounds like he's doing well.
NANCY
Yeah, he is. He's uh...yeah, he's doing well.
[They exchange awkward expressions.]
NANCY
You know, your dad was always very good to me.
SHEPPARD
(clearing his throat)
Well, in his mind, marrying you was probably the best thing I ever did.
NANCY
(sighing uncomfortably)
Okay. Well, it's good to see you again, John. Take care of yourself.
(louder, to Ronon)
It's nice to meet you.
RONON
(turning and nodding)
Oh. Nice to meet you.
INT-SHEPPARD DEN
[Sheppard and Ronon step up to the bar. Ava approaches them.]
AVA
Lieutenant Colonel John Sheppard?
SHEPPARD
Yes.
AVA
My name is Ava Dixon. You must be Ronon.
[Sheppard and Ronon become more alert at her awareness of Ronon's identity.]
SHEPPARD
Do I know you?
AVA
No, we've never met, but you knew the man I used to work for-Henry Wallace?
SHEPPARD
Doesn't ring a bell.
AVA
Look, I realize you have to keep up appearances in public, but I don't have time to play games. Henry Wallace was the man who kidnapped your colleague, Doctor Rodney McKay, and forced him to work on a highly illegal research project involving alien tech-
SHEPPARD
(leaning in, sharply)
Who the hell are you?
AVA
We need to talk, but not here.
EXT-SHEPPARD ESTATE, DAY
[Sheppard, Ava, and Ronon head to the car. Dave and Sheppard spot each other. Sheppard tosses the keys to Ronon.]
SHEPPARD
Take her to the car.
[He hangs back. Dave walks over.]
DAVE
John, I was thinking that we should probably-
SHEPPARD
Uh, something came up, I gotta go.
DAVE
(upset)
It's Dad's wake.
SHEPPARD
I know, but this is work-related.
[Dave rolls his eyes and leans back.]
DAVE
Oh, oh. What is it, top secret? National security? That sort of thing?
SHEPPARD
Well, something like that.
DAVE
You know, this is so typical.
[He scoffs.]
SHEPPARD
You got something to say, just say it.
DAVE
Look, there's just one thing I want to know: what's your level of expectation here?
SHEPPARD
What are you talking about?
DAVE
I mean, are you going to challenge the will?
[Sheppard stares at him, stunned.]
DAVE
I have no idea what it says, of course, but I think I can guess.
SHEPPARD
(aghast)
That's what you want...to talk about? You want to talk about money?
DAVE
That's why you're here, isn't it? You've been gone a long time, John. It's not such a stretch.
SHEPPARD
(fuming, hurt)
You got nothing to worry about.
[He starts to stalk off.]
DAVE
Hey! If I've got the wrong impression of you, it's not my fault. You're the one who left, remember? I stayed; I looked after Dad; I ran the business while you're off doing...God-knows-what.
SHEPPARD
I'm assuming that's what Dad wanted.
DAVE
(sadly)
No. No, it's not, John. Dad regretted what happened between you two...right up 'till the end.
[Dave gives Sheppard an appraising look before rejoining the guests. Sheppard stays rooted for a moment, then joins Ronon and Ava.]
EXT-SUBURBAN STREET, NIGHT
INT-RESTAURANT
[Ava sits at a table with Ronon and Sheppard.]
AVA
I would've come to you sooner, but you're a hard man to find.
SHEPPARD
All right, you got our attention. What's this all about.
AVA
For the past three years, I've been working for a company called Stanton Research, a division of Devlin Medical Technologies. I was recruited out of college by a brilliant scientist named Doctor Richard Poole, and together we worked on a secret project code named "Archetype".
RONON
What kind of project?
AVA
We were experimenting with nanite programming, trying to increase the complexity of their interactions.
[Sheppard and Ronon exchange wary looks.]
AVA
Listen, I wasn't aware of what happened to Doctor McKay and his sister until much later. At the time, all I knew was that we'd been given a key piece of programming-something that allowed us to make a major breakthrough.
SHEPPARD
What are you talking about?
AVA
Well, it's one thing to inject nanites into a mechanical or a biological system for the purpose of affecting changes at a molecular level. But, it's quite another to use them as building blocks to create an entirely self-sustaining entity.
FLASHBACK
INT-STANTON RESEARCH LAB
AVA
(voiceover)
To be honest, I never thought I'd see it in my lifetime, but then all of a sudden, we began making incredible advancements, and the next thing I knew, there it was.
[Poole and Ava work in a lab. They approach a male human-form Replicator lying on the table. Obeying Poole's instructions on a tablet computer, its eyes open and the metallic milkiness fades away to human shaped irises.]
END FLASHBACK
RONON
You built a Replicator.
AVA
Technically, that term isn't accurate, because self-replicating isn't one of its primary directives, but...yes.
SHEPPARD
There's no way you had authorization to do this.
AVA
Richard told me the project was being funded at the highest levels.
SHEPPARD
And you believed him.
AVA
Maybe it sounds a little naive, but, well, Richard was like a father to me. My own parents died when I was very young. I trusted him.
FLASHBACK
AVA
(voiceover)
But then one day, he came back to the lab in a panic.
[Poole races into the lab in a panic. The Replicator looks up from where he lies on his bed. Ava rises from her computer station.]
AVA
What's happening?
[Pools begins to grab backup disks and shutting down systems.]
POOLE
There's been a security breach. We have to shut everything down.
AVA
I don't understand!
POOLE
Look, I don't have time to explain it to you right now. Just do it!
AVA
(voiceover)
I later found out what was really going on. The IOA's investigation of Devlin Medical was closing in, and Richard wanted to get rid of the evidence.
[Poole carries his tablet computer and approaches the male Replicator.]
POOLE
I'm sorry about this.
[The Replicator exchanges looks with Ava. He turns back and grabs Poole by the arm, throwing him across the room.]
AVA
Richard!
[She runs to him. Poole groans. Ava pushes the alarm as the Replicator pulls the door off its hinges and escapes. Meeting two guards in the hallway, he breaks their necks. Ava runs down the hall but finds no one but the dead guards.]
AVA
(voiceover)
He killed to escape. If he's threatened, he could kill again. I had to do something.
END FLASHBACK
SHEPPARD
You're telling me there's a Replicator loose on Earth?
AVA
That's right.
RONON
How long?
AVA
Well, he escaped three weeks ago. We've been working on a way to track him, but so far had no success. He could be anywhere by now.
[Sheppard and Ronon exchange looks.]
INT-STANTON RESEARCH LAB
[Sheppard, Ronon, and a military SWAT team swarm the lab, catching Poole off-guard.]
SWAT MEMBER
Show your hands! Get em up!
[Poole raises his hands. Ronon pulls them behind his back to handcuff him.]
SERGEANT
(to Sheppard)
Sir, the facility is secure. Looks like he was the only one here.
POOLE
(scornfully)
Colonel Sheppard...and Ronon, of course. How did you find me?
SHEPPARD
Well, we had a little help.
[Ave enters.]
POOLE
Ava...
AVA
I'm sorry, Richard.
POOLE
Ava, my God! Do you realize what you've done?
AVA
I didn't have a choice! I couldn't let this continue any longer.
POOLE
I had the situation under control!
SHEPPARD
Your little science project got two of your own men killed! And he's still on the loose! I don't think you have control of anything.
POOLE
He killed in self-defense! If he's not threatened again, he won't harm anyone.
SHEPPARD
No, that's because we're going to find him; and we're going to neutralize him; and you...are going to help.
[He takes a device from a SWAT member and places it in Poole's shirt pocket.]
SHEPPARD
Apollo, we're ready.
[Sheppard, Ava, Ronon, and Poole are beamed out.]
EXT-SPACE
[Apollo floats in orbit above Earth.]
INT-APOLLO INTERROGATION ROOM
[Sheppard and Poole sit across from each other at a small table. Ava stands near the door. Sheppard is still the suit from the funeral, although he no longer wears the tie.]
SHEPPARD
All right. Let's start with giving me the access code to the data files we recovered.
POOLE
I don't think so.
SHEPPARD
(leaning forward)
You do know we will crack it eventually.
POOLE
The entire directory is encrypted with a 448-bit key symmetric algorithm. Good luck.
SHEPPARD
(to Ava)
What about you?
POOLE
I never gave her the code. It was for her own protection. Look...I'll cooperate, as long as you guarantee that I get to bring him in.
SHEPPARD
Forget it.
POOLE
We are talking about an incredibly advanced and valuable piece of technology here.
SHEPPARD
You've had your chance. Now it's my turn. You gonna help us track this thing or not?
AVA
I'll help you, Colonel.
POOLE
Ava-
AVA
(interrupting)
Be realistic, Richard. He's out there alone. You know he's not programmed for ordinary social interaction. What happens if someone accidentally frightens him or corners him? We can't afford to wait any longer.
[Poole looks resigned.]
INT-APOLLO CORRIDOR
[Sheppard and Ronon walk down a hall. Bates, dressed in a civilian suit, comes out a different passage.]
BATES
Colonel Sheppard!
SHEPPARD
Bates!
RONON
You two know each other?
[Bates and Sheppard share a warm handshake.]
SHEPPARD
Yeah. Bates served on Atlantis when we first got there. Then he got into it with a Wraith and took a pretty good beating.
BATES
He got the drop on me, but I still managed to get in a few shots.
(to Ronon)
How ya doin'?
[He shakes hands with Ronon.]
RONON
Ronon.
SHEPPARD
You with NID?
BATES
IOA. After the Air Force gave me an honorable discharge due to my injuries, the IOA contacted me. They were starting up a new field division dealing specifically with operational threats on Earth, and it seemed like a good fit.
SHEPPARD
Well, it's good to see you back in action.
BATES
You too, sir.
SHEPPARD
(admonishing)
You don't have to call me that anymore.
BATES
I guess not. Old habits die hard. So how are our prisoners?
SHEPPARD
Girl's cooperating.
BATES
What about Doctor Poole?
SHEPPARD
Eh, not so much.
BATES
Can we track the Replicator without him?
SHEPPARD
Got a guy working on it.
INT-APOLLO LAB
[Bill Lee works with a crystal control panel. Sheppard, Bates, and Ronon watch. Lee is in a tropical shirt and is severely sunburned.]
LEE
(muttering)
Stupid emergency contact number. I never should've answered that damn phone.
SHEPPARD
Come on, Doc, it's not so bad.
LEE
That was my first vacation in three years! Two weeks, all-inclusive...nothing but surf, sun, and skimpy bikinis as far as the eye could see. And then, they beam me right out of the damned hotel room!
SHEPPARD
Looks like they did you a favor. Next time, use a little sunblock, all right?
[Lee looks over to where Ava sits at some terminals.]
LEE
(to Ava)
Give it another shot.
[She types a few commands.]
AVA
(surprised)
It's working! This sensor technology is incredible. Is it alien?
[Lee exchanges looks with Sheppard and company.]
AVA
Sorry, I forgot. I'm not supposed to know any of this.
[Lee looks at his own computer.]
LEE
Oh. Hey, I'm picking up a signal. Let me see if I can narrow in on this a bit. There. He should be in there.
[He puts up a display on the wall monitor of a close up satellite picture of the ground.]
RONON
How big of an area is that?
LEE
That's about, uh, five city blocks.
SHEPPARD
Seal it off. Get everyone out.
BATES
We'll call it a chemical spill. I'll get my people on it.
[He leaves.]
SHEPPARD
(to Ava)
I need to know what I'm up against. What kind of capabilities does this thing have?
AVA
Speed, strength, agility-all well beyond normal human levels.
SHEPPARD
What about tactics? Escape, evasion, does it have any military training?
AVA
(shaking her head in ignorance)
I wasn't responsible for that aspect of his programming.
INT-APOLLO INTERROGATION ROOM
[Sheppard paces near Poole, then leans over the table.]
SHEPPARD
See, I've had this really crappy few days, so I'm beginning to lose my...patience. So, whatever you can do to make this easier may work in your favor.
POOLE
(scornfully)
Where? At my trial? In front of a judge and jury of my peers? We both know that's not going to happen. They're going to put me in some deep, dark hole at Area 51, never to be heard from again. And nothing I say or do now is going to make any difference.
SHEPPARD
Well, maybe not for you. What about the girl?
[Poole looks up at Sheppard, startled. He hesitates.]
POOLE
She didn't know that this technology was obtained illegally. She's completely innocent.
SHEPPARD
Well like you said, there isn't going to be a trial.
POOLE
But she's helping you!
SHEPPARD
Not good enough. What's it going to be, Doc?
[Poole stares angrily at Sheppard.]
EXT-WAREHOUSE DISTRICT, DAY
[Ronon, wearing a kevlar vest over jeans and a long-sleeved tee shirt, jumps out of a SWAT truck. Poole, Sheppard, and Bates are already outside, staring at a blow up map of the area. Sheppard is in black BDU's now.]
RONON
All right, so where to do we start?
SHEPPARD
Well, Doc?
POOLE
He's in defensive mode. Basically, he's hiding. He'll be where he's least likely to encounter people.
[Bates uses a pointer to indicate a building on the map.]
BATES
That would be this warehouse here; it's been abandoned for months. The company went bankrupt.
[Poole points to an ARG held by the sergeant nearby.]
POOLE
And you won't need these. He's been specifically designed to be resistant to current anti-Replicator technology.
BATES
So, what do we hit him with?
POOLE
(sighing)
Well, without access to base materials, he has a limited ability to self-repair.
(sighing)
But if you insist on damaging him, conventional weapons ought to do the trick, although you'll need a fair amount of firepower.
SHEPPARD
Firepower we can do. What's he going to do when he sees us?
POOLE
He'll continue to evade as long as possible. He'll counter-attack only as a last resort.
SHEPPARD
(to everyone)
All right, listen up. Let's try to get this right the first time. We're going to operate in teams of two. Your objective is to find the target. Once you do that, you will not engage him. You will radio in his position. We'll coordinate, see if can't corral him into a corner. At which point, we will bring as much force to bear as we can and take him out. All right? Let's do this.
BATES
Doctor Poole, you're with me.
[The sergeant tries to give Ronon a shotgun. Ronon waves him off and flourishes his Wraith-killing gun.]
RONON
Oh, I'm good.
[Sheppard takes the shotgun the sergeant holds.]
RONON
(to Sheppard)
How're you doing?
[Sheppard shrugs.]
RONON
It's one helluva week.
SHEPPARD
(chuckling without humor)
Yeah.
[Everyone fans out, patrolling different sections of the warehouses. Bates and Poole head down an alleyway. AFter a while, Bates gestures Poole to stop.]
POOLE
What is it?
BATES
It's him.
(into radio)
Colonel Sheppard, come in.
SHEPPARD
(over radio)
Go ahead.
[Bates looks through binoculars. He sees the Replicator entering a building.]
BATES
(into radio)
We got a visual on the target. He's hiding out in a building about a hundred yards due east of my start position.
BATES
(over radio)
Looks like he's alone.
[From their alley, Sheppard and Ronon begin to run.]
SHEPPARD
(into radio)
Stay put! We'll be there in a minute.
BATES
(into radio)
Understood. Bates out.
[Poole cold cocks Bates with debris from the alley. Bates falls, unconscious.]
INT-WAREHOUSE
[Poole enters the warehouse.]
POOLE
(calling out)
Hello? It's okay...You can come out now...I'm here to help you.
[The Replicator comes out from where he's been hiding and warily approaches.]
POOLE
Good. Okay, listen to me. There are men out there who are looking for you. It's all right. They-they won't hurt you, as long as I can convince them that you're not a threat.
REPLICATOR
How did you find me?
[Poole slowly steps forward.]
POOLE
Your nanites give off an energy signature. We were able to track it. That's why you can't run anymore. You have to do as I say. You have to self-deactivate. You've done it before, in the lab, many times. I was always right there to help you get back online. This isn't any different. Now, you have to trust me. Everything is going to be all right.
[The Replicator studies Poole. Suddenly he reaches forward, grabbing Poole by the neck. Poole chokes and struggles.]
REPLICATOR
(emotional)
I'm sorry.
EXT-WAREHOUSE DISTRICT, ALLEY, DAY
[Sheppard and Ronon hurry to the unconscious Bates, Ronon watching for danger as Sheppard checks Bates's vital signs.]
SHEPPARD
(into radio)
Apollo, this is Sheppard. I need you to beam up Agent Bates immediately.
RONON
Where's Doctor Poole?
INT-WAREHOUSE
[Ronon and Sheppard enter and sweep the warehouse.]
RONON
(whispering)
Hey. Over here.
[They hurry over to Poole's body. Sheppard checks his vital signs.]
SHEPPARD
He's dead.
EXT-SPACE
[Apollo floats in orbit above Earth.]
INT-APOLLO LAB
[Lee studies computer screens. Ava works nearby.]
SHEPPARD
(over radio)
Lee, come in.
LEE
(into radio)
Uh, yeah. Go ahead.
SHEPPARD
(over radio)
We got a problem. Poole's dead. Are you still tracking the Replicator?
[Ava turns in shock and exchanges looks with Lee.]
LEE
(into radio)
Uh...yeah. Just, hang on. Okay, I've got him. He's on the move. He's heading south. He's right by-
[The screen disappears. A new message pops up flashing "Signal Lost".]
LEE
(into radio)
Whoa!
INT-WAREHOUSE
SHEPPARD
(into radio)
What?
LEE
(over radio)
I-I just lost the signal.
SHEPPARD
(into radio)
Crap.
LEE
(over radio)
It-it wasn't me. I mean, he just disappeared.
SHEPPARD
(into radio)
Well, get him back online. Ronon and I are going after him.
EXT-WAREHOUSE DISTRICT, DAY
[Sheppard and Ronon look around. In the distance, they hear a lot of gunfire. They race toward the noise. They find the sergeant, lying conscious but wounded. Another SWAT member lies nearby. Sheppard goes to the sergeant while Ronon checks the other man.]
SERGEANT
Oh, sorry, sir. I know we weren't supposed to engage, but he came from out of nowhere. He hit us before we knew what was happening.
SHEPPARD
All right. You'll be okay, Sarge. Sit tight.
[He looks to Ronon. Ronon shakes his head; the other man is dead. They stand, alert, when they hear footsteps coming, but it's just more of their group.]
SHEPPARD
(pointing to the sergeant)
Take care of him.
(half to himself)
All right, so much for evasion.
RONON
He's desperate. He knows we got him trapped.
SHEPPARD
(into radio)
This is Sheppard. Change of plans. Fall back, create a defensive perimeter. Ronon and I are going to flush him out.
RONON
Let's go.
[Ronon and Sheppard run ahead. They split up: Sheppard taking an upper floor, and Ronon staying at ground level. Sheppard sees the Replicator running. He shoots, hitting the Replicator in the thigh. Ronon hears the noise and doubles back. The Replicator pauses for a moment, letting his leg heal, before running again. Sheppard continues to fire shotgun blasts.]
SHEPPARD
(into radio)
Got him heading southeast, toward the water.
RONON
(into radio)
Copy that.
[Ronon spots the fleeing Replicator and also fires at him. The Replicator runs into a warehouse.]
INT-WAREHOUSE
[Once inside, the Replicator backs into the shadows. Ronon heads inside, looking around. The Replicator runs down a long corridor. Sheppard heads him off and shoots him in the head. The Replicator quickly heals.]
EXT-WAREHOUSE DOCKS, DAY
[The Replicator runs outside the warehouse onto the docks. He's met by fire from the military team. He runs onto a high loading platform. He's shot at by Sheppard and the other men. Ronon gives chase up a metal ladder and stair cases onto a high platform. Ronon gets close to him.]
SHEPPARD
Hold your fire!
[As Sheppard discharges a shotgun shell and aims again, the Replicator jumps at least 40 feet from the platform into the water below, disappearing from view. Ronon and Sheppard stare into the water from their different locations.]
EXT-WAREHOUSE DOCKS, DUSK
[A team in a boat drag the water by the docks.]
BATES
We've checked the whole area twice. No sign of him.
RONON
Which means he could be anywhere by now.
SHEPPARD
What about the tracking system?
BATES
Doctor Lee's working on it, but the sensors haven't picked up anything yet. He must have found a way to mask the signal.
SHEPPARD
Great. Back to square one then.
EXT-SPACE
[Apollo floats toward the dawn in orbit above Earth.]
INT-APOLLO LAB
[Bates, Sheppard and Ronon join Lee and Ava in the lab. Lee has changed into an Apollo jumpsuit.]
LEE
Sorry, guys. I've managed to boost the sensitivity two hundred percent, but I still can't pick anything up.
SHEPPARD
How's it going with those files from the lab?
LEE
Well, I'm running a decryption program, but it's slow going. I may have to make a few tweaks.
SHEPPARD
Focus on that for now.
LEE
We don't know there's anything in there that will help us track him.
SHEPPARD
Well, I know, but something's not right.
BATES
What do you mean?
SHEPPARD
Well...why'd Poole go in there? Why'd he risk his life?
RONON
He thought he could talk the Replicator in.
SHEPPARD
Even if that worked, even if we decided not to destroy that thing; that doesn't change the fact that Poole's going away forever.
BATES
Maybe he didn't want to see his life's work destroyed.
SHEPPARD
No, that's what he wanted us to think, but I'm not buying it. He's been spoon-fed half this technology, he stole the rest. No, he wanted to save the Replicator, because he thought it would do him some good. I'm thinking he's got a buyer, somebody who can get him out of this if he delivers the goods.
BATES
I know the type. Military, or ex-military. Probably a colonel, not a general-too high profile. Regular IOA channels won't help. These guys operate in the shadows with no official authorization.
SHEPPARD
That way, everyone's ass is covered.
RONON
So, where does this leave us?
[They stare at each other in frustration.]
EXT-WASHINGTON D.C, DAY
[Nancy approaches a park bench, where Sheppard sits, reading a paper.]
NANCY
Well, this is a surprise.
[She sits beside him.]
SHEPPARD
Why is that?
NANCY
Two John Sheppard encounters in two days? I hardly saw you that much when we were married. What can I do for you?
SHEPPARD
Uh...I need a favor. Er...I need as much information as possible about a project possibly code-named "Archetype".
NANCY
You want me to use my security clearance to get you classified information?
SHEPPARD
Well, I didn't say it was a small favor.
NANCY
Do you know how hard I've worked to get to where I am? If I get caught doing something like this, I could lose everything!
SHEPPARD
Well, I know! I-I wouldn't ask you if it wasn't important.
NANCY
(sighing)
All right, what's it about?
[Sheppard pauses, equivocating.]
SHEPPARD
I can't tell you.
NANCY
(scoffing)
Oh, that's typical.
SHEPPARD
What the hell's that supposed to mean?
NANCY
I haven't seen you in four years, and now you want me to put my job on the line; you won't even tell me why?
SHEPPARD
All right, well, when you put it that way, it sounds a little crappy.
NANCY
(sarcastic)
Well, I'm glad you noticed. It's too bad you didn't a little bit earlier...say, like when we were still together? When I think back to all those times that you would just take that call and leave-no apologies, no explanations...For all I knew, you were halfway around the world flying secret missions into Somalia!
SHEPPARD
(fidgeting)
That's ridiculous. I've never been to Somalia.
NANCY
North Korea, then.
SHEPPARD
There's a big difference.
[Nancy shoots Sheppard a piercing look. He shrugs.]
NANCY
I put up with your secrets then, John. I don't have to do it now.
SHEPPARD
(disappointed)
Right.
INT-STANTON RESEARCH LAB
[Sheppard enters. Ava is there packing things into a box. A security guard takes position outside.]
SHEPPARD
Hey.
AVA
Colonel. They said I could come, take some of his personal things.
SHEPPARD
I'm sorry about what happened.
AVA
Me, too. He died thinking I betrayed him.
SHEPPARD
Well, you don't know that.
AVA
That's nice of you to say, but this project meant everything to him.
SHEPPARD
Well, maybe you meant something to him, too. You never know what people are thinking.
AVA
Even those you're closest to?
SHEPPARD
Especially those.
[Sheppard sits, lost in his thoughts. Ava notices his distraction.]
AVA
Colonel?
[Sheppard blinks, coming back to the present.]
SHEPPARD
Look, I know this is not a good time, but I got to ask you something.
AVA
What is it?
SHEPPARD
Did anyone else know about this project?
AVA
No.
SHEPPARD
No one came to check on your progress?
AVA
Richard and I were the only ones who had access to the lab.
SHEPPARD
Was he in contact with anyone? Maybe from the military? Phone? E-mails?
AVA
Not that I know of.
SHEPPARD
Right.
[He stands and starts to leave.]
AVA
Colonel, how's it coming with the sensors?
SHEPPARD
It's not, but, uh, Doctor Lee says he's pretty close to breaking the encryption code.
AVA
I thought that was impossible.
SHEPPARD
Hm. Guess not.
[Sheppard leaves. Ava looks down at the box, looking uncomfortable.]
INT-APOLLO LAB
[Sheppard enters. Ronon and Lee are already there.]
SHEPPARD
Well, how's it going?
RONON
Hey, I was just about to call you.
LEE
I managed to open those files from the lab.
SHEPPARD
Nice work. Anything interesting?
[Lee pulls up a file on the monitor. It has a picture and information on Ava. The picture is of a different woman.]
LEE
You could say that. Stanton Research personnel records. That is Ava Dixon's file. She was in a car accident last December. Head-on collision. She's been dead for almost a year.
EXT-STANTON RESEARCH, DAY
INT-STANTON RESEARCH LAB
[Bates, Sheppard and Ronon burst into the lab, weapons drawn. They find the guard lying prone on the floor. Sheppard checks his vitals.]
RONON
Is he dead?
SHEPPARD
No. But he's going to have a helluva headache.
[Bates finds a note on the table. He brings it to Sheppard.]
BATES
Sheppard...
SHEPPARD
"Colonel Sheppard, I never meant for any of this to happen. I am very sorry. Ava."
[He crumples the note and throws it back on the table as they leave.
EXT-SPACE
[Apollo orbits Earth.]
INT-APOLLO LAB
[Ronon, Sheppard, Bates, and Lee are in the lab.]
RONON
So, she's a Replicator?
LEE
Yeah, it looks that way. We got two sets of blueprints-one male, one female.
SHEPPARD
What about the sensors?
LEE
Nah. We've got nothing. She's masking her energy signature, same way the other one did.
BATES
It doesn't make any sense. She came to us. Why didn't she just keep her mouth shut?
LEE
(thoughtful)
Why didn't she kill the guard?
SHEPPARD
Come on, a Replicator with a conscience?
LEE
Well, her programming is distinct from the other one. Er, he's a military model; she's designed for social interaction, uh, simulation of emotion, maybe even empathy. He built her to replace a dead woman from his past.
BATES
Does that mean she can't kill?
LEE
I-I'd say it's less likely, but not impossible.
SHEPPARD
Well, we need 'em both. Anything useful left in those files?
LEE
Well, not much so far.
TECHNICIAN
(over intercom)
Colonel Sheppard, come in.
SHEPPARD
Yeah. This is Sheppard, go ahead.
TECHNICIAN
(over intercom)
You've got an urgent message, sir-relayed through Peterson.
[Sheppard gets up.]
INT-CAR, WASHINGTON D.C., DAY
[Sheppard fidgets nervously in the driver's seat of a car. Nancy gets into the passenger seat.]
SHEPPARD
Well, you've really got the cloak-and-dagger thing down.
NANCY
I learned from the best.
[She offers him a flash drive.]
NANCY
It's everything I could find on "Archetype". It's not much, but...whatever it is, no one will touch it with a ten-foot pole.
SHEPPARD
Yeah. I owe you one.
NANCY
Damn right you do...You know, it's funny, when you and I were together, I couldn't stand it when you wouldn't be able to tell me where you were going or what you were doing. And now, every once in a while, I catch Grant looking at me the same way. When I was doing my snooping around, I took the liberty of asking a few questions about you, John.
SHEPPARD
That's probably not such a good idea.
NANCY
Yeah, I got that impression. I've seen walls go up quickly before, but never like this. And whatever you're into, it's obviously big, and my guess is, very dangerous.
[She reaches out and squeezes his arm.]
NANCY
I just want you to be careful.
SHEPPARD
Well, you know me.
[He shoots her a wry smile.]
NANCY
(quietly)
Yeah. That's the problem... Goodbye, John.
[She leaves. Sheppard sighs.]
INT-APOLLO LAB
[Bates, Ronon, and Sheppard stand around Lee as pulls up various files from the flash drive.]
LEE
Well, she wasn't kidding. So far, it's a whole lot of nothing: I-I...lab requisitions, non-disclosure agreements. Oh, here's an exciting one-an internal memo reminding employees not to use the south parking lot due to on-going re-paving.
(pulling up another form)
Hold on.
RONON
What is it?
LEE
(thoughtfully)
It's a shipping waybill with instructions to deliver a load of pre-assembled masonry panels to a warehouse in Reading.
SHEPPARD
So?
LEE
So? Uh..."pre-assembled masonry panels" -that was a code word we used a few months back to identify shipments of neutronium.
[Sheppard shrugs, ignorant.]
LEE
Neutronium-it's the-it's the base element from which nanites are made. You guys damaged him, right? So if he wants to fully repair, he's going to need this.
SHEPPARD
So, he's going to go for the warehouse.
LEE
Yeah, exactly.
BATES
Assuming he knows where it is.
LEE
Well, to be perfectly honest, we don't have anything else.
SHEPPARD
That's a good point.
BATES
All right. I'll set up a stake-out, and if he shows up, we'll know about it.
RONON
This could be our last shot at this guy. We've got to make sure he goes down for good this time.
LEE
That's not going to be easy. I mean, if this were the movies, we'd dip him into a vat of molten steel, or...a volcano.
[Lee chuckles. Ronon looks at him, puzzled; Sheppard looks at him, intrigued.]
LEE
You know, "the fires from whence he came."
RONON
What the hell is he talking about?
SHEPPARD
That's a really good idea.
RONON AND LEE
(both surprised)
Really?
[Sheppard takes off.]
EXT-STANTON RESEARCH WAREHOUSE, READING, PA, NIGHT
[Several personnel take positions hiding around the warehouse.]
TECHNICIAN
(over radio)
Sheppard, this is Apollo, we're all set.
SHEPPARD
(into radio)
Understood.
[Ronon and Sheppard hide behind large crates. Sheppard has a shotgun.]
RONON
Are you sure he's going to show up?
SHEPPARD
The IOA said they spotted him nearby.
RONON
And what if he spotted them?
SHEPPARD
(into radio)
Bates, see anything?
BATES
(over radio)
Negative. All quiet over here.
SHEPPARD
(into radio)
Be patient. He'll show up.
[Behind Ronon and Sheppard the Replicator drops from above, grabbing the two other soldiers, one in each hand and breaking their necks. Ronon spins and fires with his gun. The Replicator is able to approach before Ronon can shoot again, back-handing him. Ronon flies across the room, falling to the floor unconscious.]
[Sheppard fires his shotgun. The Replicator turns and attacks before Sheppard can reload. He kicks Sheppard, sending him flying into a crate. The Replicator continues his attack, grabbing Sheppard by the throat and choking him while pinning him against the crate.]
[Ava arrives and pulls the Replicator from Sheppard, throwing him across the room. Sheppard collapses in a heap on the floor. Ava glances at him, then goes to the Replicator. She tries to kick him, but he dodges her and counter-attacks. They fight hand-to-hand, trading martial arts moves at high speed. Sheppard groggily tries to get up, but finds it hard to move.]
[Ronon regains consciousness, hearing them fight. The male Replicator gains the advantage on Ava-knocking her to the ground and then striking her with a large gas canister.]
REPLICATOR
You should not have interfered.
[He throws Ava into a crate. The impact breaks it. Ronon tries to attack the Replicator from behind. He gets in a few blows before the Replicator turns back, pinning Ronon against a wall and choking him.]
[Sheppard stands up, unsheathing a knife attached to a red blinking device. He runs up and stabs the Replicator. The Replicator drops Ronon and turns to face this new threat.]
SHEPPARD
(into radio)
Now!
[The Replicator is beamed away. Ava stands up.]
AVA
What happened? Where did you send him?
SHEPPARD
(hoarsely)
Low Earth orbit. I know by experience, reentry's a bitch.
EXT-SPACE
[The Replicator floats above the atmosphere. Gravity pulls him towards Earth, the reentry breaking him apart into a fire-y disintegration.]
EXT-SPACE
[Apollo floats in space.]
INT-APOLLO LAB
[Bates, Ronon, Sheppard, and Lee watch a monitor showing Ava fidgeting while sitting at the table in the interrogation room.]
BATES
The IOA isn't just going to let her go.
RONON
If she'd stayed away, we never would've found her. The only reason she's here is because she chose to help us.
SHEPPARD
Yeah, I know.
BATES
She's a machine.
LEE
Well, we're all machines...just different kinds.
RONON
What about if we took her to a different planet? Somewhere with no people, where she can't do any harm.
SHEPPARD
I don't think that's much of a reward.
BATES
The IOA would never agree to let her leave Earth anyway.
LEE
She could work at Stargate Command! She would be a valuable asset.
BATES
She'd be a constant security threat.
LEE
We don't know that!
SHEPPARD
No, he's right. There's no escaping the fact she's still a Replicator.
RONON
So, what, then?
[Sheppard stares at Ava.]
EXT-PARK, DAY
[Sheppard and Ava walk on a path near a pond. Geese honk and others walk on the path.]
SHEPPARD
How are you settling into your new life?
AVA
It's a bit of an adjustment. One of the stipulations of my release is that I don't look for a job in any scientific field. To be honest, I'm not sure what I'm going to do.
SHEPPARD
Eh, I'm sure you'll figure something out.
AVA
I wanted to thank you, Colonel. I know they never would've agreed to let me go if you hadn't put in a word for me.
SHEPPARD
Well, you saved my life. Putting a word in is the least I can do.
AVA
I have to admit, I'm a little scared. I mean, I know these emotions are supposed to be artificial, but...they seem pretty real to me.
SHEPPARD
Well, what do you got to be scared about?
AVA
Well, I've never really been alone before. Richard was the closest thing I ever had to family. Anyway, uh...it was nice for you to check up on me. I guess we'll never see each other again.
SHEPPARD
Well, one thing I've learned about my business is...never say never.
AVA
Goodbye, Colonel.
[Ava walks away. Sheppard's image fades out of the park behind her.]
INT-SCIENCE LAB, STARGATE COMMAND
[Sheppard slides out of an Ancient virtual reality pod. Lee waits anxiously. Ronon sits at a table nearby.]
LEE
So? How was it in there?
SHEPPARD
Well, it was very nice work. Very convincing.
LEE
I 'm just able we were able to download her consciousness intact. Heh. Anyway, now she has a whole "virtual world" to explore.
SHEPPARD
Should keep her pretty busy for a while.
RONON
So, uh, what happened to the rest of her?
LEE
Oh, uh, they deactivated the bond between her nanites, effectively breaking her into base elements.
[Ronon turns his blank, puzzled look to Sheppard.]
SHEPPARD
They scrapped her.
[Ronon smiles.]
RONON
Yeah. So, we heading back?
SHEPPARD
Yeah. You, uh, go ahead. I got a few things to take care of.
[Sheppard leaves. Lee and Ronon watch him go with puzzled frowns.]
EXT-SHEPPARD ESTATE, DAY
[A cab pulls up. Sheppard exits, steeling himself before moving forward. He hesitates at the door, then knocks. Dave answers, looking surprised to see his brother. After a moment of staring at each other, Dave smiles and steps to one side.]
DAVE
Come in.
[Sheppard enters.]
FADE OUT
END CREDITS

Source : http://www.stargate-sg1-solutions.com/wiki/SGA_4.15_%22Outcast%22_Transcript