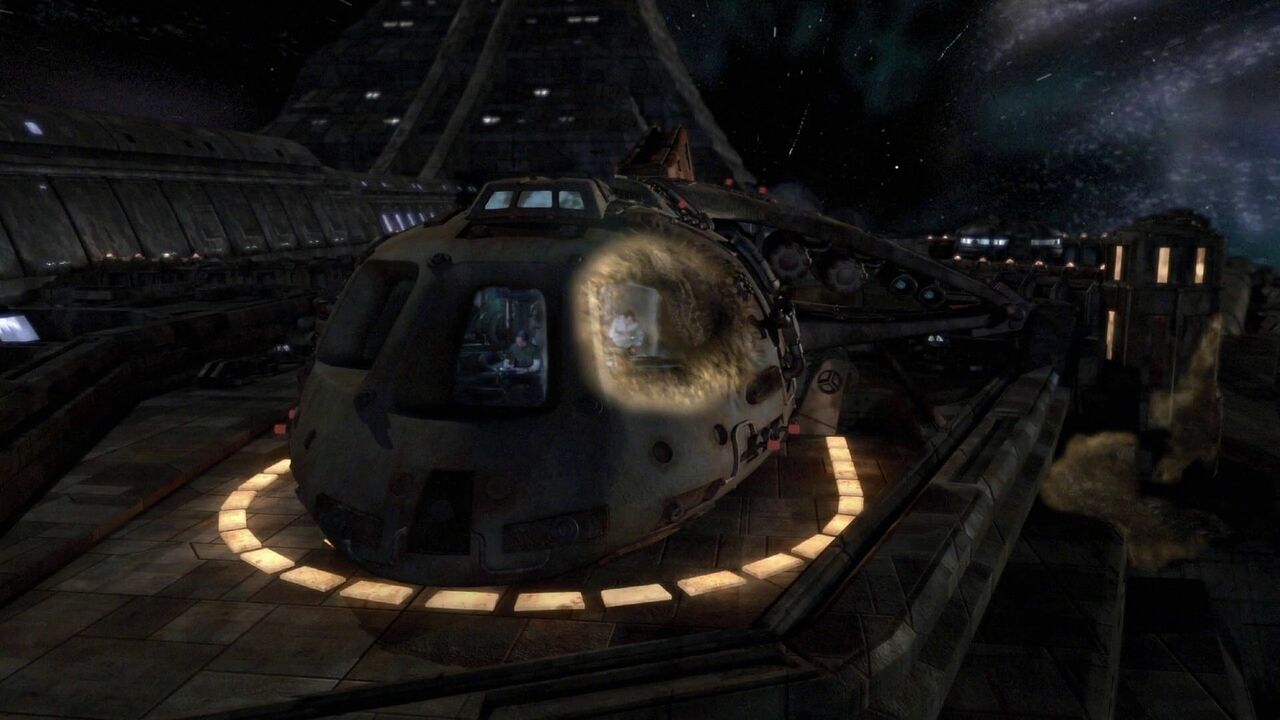 Transcript VO
TEASER
EXT-SPACE
[Destiny flies faster than light.]
INT-DESTINY GATE ROOM
[The refugees are starting to take stock of their supplies. Greer counts the weaponry. Scott arrives.]
SCOTT
Okay, listen up! Everybody who is able, we are going to search this ship. Top to bottom. Teams of three.
(low, to Greer)
Weapons?
GREER
(sotto voce)
Twenty-three, including handguns.
SCOTT
(low)
One per group?
GREER
Yeah.
[Rush discovers the case Young risked his life to bring through the Stargate.]
SCOTT
Flashlights. Radios-only when necessary. Once those batteries are dead, they are dead. Regular check-ins with Dr. Rush in the control room every ten minutes, and keep in mind as far as we know, this bucket is really freakin' old. There might be areas of damage where life support is unstable. Look, be smart, okay? Don't touch anything that looks like it might be dangerous.
BECKER
How are we supposed to know what's dangerous?
SCOTT
Becker, right?
BECKER
Yes, sir. I work in the mess...I mean, I did.
SCOTT
Well, don't touch, just look.
[Scott approaches James.]
SCOTT
You're, uh, you're James, right?
JAMES
(deadpan)
Yes, Lieutenant.
SCOTT
You and Riley are with me.
GREER
(snickering)
Subtle, man. Subtle.
SCOTT
(low, to Armstrong)
If it's okay with you, sir, it might be best, considering your obvious skills, for you to hang back here, help keep the rest of these people calm.
ARMSTRONG
(with false smile)
Don't patronize me, son.
SCOTT
(sharply)
No, sir.
[Scott heads off. Rush studies his broken glasses. When he notices the groups are gone, he heads off, taking Young's backpack. TJ, still by Young's side, notices him leave with the bag.]
END TEASER
OPENING CREDITS
INT-DESTINY CHAMBER
[Rush finds a small room where he can close the door. He pulls the case out of the duffle bag, opens it, and pulls out a lighted box. Also nestled inside are five communication stones. He picks up one.]
INT-SGC, BILL LEE'S LAB
[A guard stands outside as Lee studies a report while sitting at his desk. A stone sits on a matching pad to Rush's. Suddenly he blinks. While to the security monitor, it is still Lee's body, in truth, Rush's consciousness is now possessing Lee's body. He looks around, getting his bearings.]
INT-DESTINY CORRIDOR
[James and Riley walk with Scott. Riley is further back.]
SCOTT
Are you all right?
JAMES
I'm solid, Lieutenant. I'm trained for this.
SCOTT
Look, I-I didn't mean to...
JAMES
Look, not now.
[She rolls her eyes back towards Riley. Scott takes the hint, and they continue awkwardly.]
INT-CONTROL ROOM
[Eli along with others work in the control room.]
SCOTT
(over radio)
Rush, this is Scott, come in? Rush, this is Scott, come in.
[Eli looks around, then goes over to where the radio sits on top a bag and picks it up.]
ELI
(into radio)
Hello? This is Eli.
SCOTT
Where's Rush?
ELI
(into radio)
Uh, bathroom, if he found it.
INT-DESTINY CORRIDOR
[Scott, James, and Riley stand in front of a sealed door.]
[The conversation switches between Eli's and Scott's locations.]
SCOTT
Uh, I'm at what looks like a bulkhead door. It won't open. I was hoping Rush could open it from there.
ELI
Should I find him?
SCOTT
Uh, no.
[James holds the flashlight close as Scott tries to manually push the door open.]
SCOTT
(to Riley)
Give me a hand.
RILEY
What happened to being smart?
SCOTT
This could be the engine room for all we know. We gotta at least open a few doors.
RILEY
(sarcastic)
Do we? Do we really?
[Nevertheless, he and James both assist, putting their weight against the door.]
[In the control room, Eli spots a monitor blinking red and shifting.]
ELI
Hang on...
[They stop pushing at the door. From the control room, Eli watches the screen change again.]
ELI
(impatient)
No. Keep doing what you're doing...
[They go back to pushing.]
ELI
I think I found where you are. The door is flashing red.
SCOTT
Can you open it from there?
ELI
(sarcastic)
Red is usually bad, isn't it?
SCOTT
Maybe it means the door is stuck. Just try.
[Riley and Park exchange looks, shrugging.]
ELI
Okay. You should probably step back.
[He presses a button. The Ancient door releases and opens. Air starts rushing out into the newly opened chamber. The trio brace themselves while looking into the room.]
[From the control room, several lights start blinking red in front of Eli.]
ELI
Whoa, whoa, whoa! Not good! Not good! More red! Wha-Uh...
[Inside the room, a large hole has blasted through a window area. The shield flickers slightly around this area as Destiny flies faster than light.]
SCOTT
(desperate)
Close it! Close it now!
[Eli stops pushing buttons enough to key the radio.]
ELI
(annoyed)
I'm trying!
[He finally finds the right combination of buttons and the alarm ceases.]
[The door closes and Scott, James, and Riley heave sighs of relief.]
SCOTT
Yeah, okay, we established why that hatch was closed.
[Riley nods in an "I told you so gesture."]
ELI
Yeah, a lot of others are closed for the same reason. We're only occupying a fraction of the ship right now. It just goes on forever. But if there are damaged areas of the ship that aren't sealed, that could be our problem.
[Rush enters the control room and makes a beeline for Eli's radio.]
ELI
(to Rush)
Oh, hey. Good timing. We just found a...hey!
[Rush ignores Eli and goes to key the radio.]
ELI
Really?
RUSH
(into radio)
This is Dr. Rush. Meet me at the Gate Room immediately. Everyone.
INT-DESTINY GATE ROOM
[Everyone gathers in the room. Rush stands on the ramp, holding the case.]
SCOTT
What's going on?
RUSH
In this case are five Ancient communication stones. They work over vast distances in real time.
ARMSTRONG
We can talk to people on Earth.
RUSH
Yes.
[There are murmurs of excitement in the crowd.]
RUSH
You physically take control of an individual at the other end. I brought these with us in the event we ended up somewhere out of range of normal communication.
ARMSTRONG
So, let's use them.
MEMBERS OF CROWD
Yeah. Yeah!
RUSH
I already have.
MEMBERS OF CROWD
What? When? When?
PARK
Are they sending help?
RUSH
No.
MEMBERS OF CROWD
Why? Why aren't they sending help?
RUSH
The only means of dialing this 'gate from our galaxy was destroyed in the attack. We're cut off.
[Wray looks distraught.]
ARMSTRONG
I want to use one of those stones now.
RUSH
I have spoken with General O'Neill.
ARMSTRONG
I am a United States senator...
RUSH
I explained our situation clearly. In light of my knowledge and experience, he has placed me in charge.
ARMSTRONG
He did what?!
[There are similar incredulous murmurings.]
MAN IN CROWD
How do we know?
RUSH
I have faith in our ability to repair this ship and to work together. But if we're to survive this, we need leadership and a clear chain of command.
[Scott smirks at this speech.]
ELI
(scoffing)
We only have a few hours of air left.
MAN IN CROWD
Yeah!
ARMSTRONG
I want to the General myself.
RUSH
Senator, please...
SCOTT
Give it to him!
[There are angry shouts of agreement. Armstrong gasps in pain and collapses. Some men and Scott help him to the floor.]
CHLOE
Dad? Dad!
SCOTT
Whoa, whoa, whoa, whoa. TJ?
[TJ works her way through the crowd.]
TJ
Yeah. Excuse me, excuse me. Okay.
(checking vitals)
He's still breathing.
[She pulls up his shirt which shows dark bruising all up his right side.]
CHLOE
Oh my god!
TJ
I-I saw him taking some pills?
CHLOE
Warfarin, for his heart.
TJ
No. Blood thinner's the last thing he needs if he's bleeding internally. Um...
[She puts a hand to her head, overwhelmed.]
CHLOE
Please, do something!
TJ
Look, I told you, I'm just a medic!
RUSH
Everyone, please. There's no need for us all to congregate into one place. Ms. Johansen, please find adequate accommodation for the injured. And everyone else-
WRAY
No, I don't recognize your authority, Dr. Rush!
[Rush and Wray talk over each other.]
RUSH
We have found-
WRAY
And as an IOA representative-
RUSH
quarters nearby-
WRAY
I think you-
RUSH
...much more comfortable.
WRAY
I think you need to-
RUSH
Please go there and stay there until you are asked to do something useful.
BRODY
(insulted)
"Something useful"?!
[There are other confused and angry murmurs from the crowd.]
WRAY
We do not want to settle in! We want to get back, right!
MEMBERS OF CROWD
Yeah, yeah!
VOLKER
We should be working on getting home!
WRAY
Exactly!
RUSH
I'm not sure if that's even possible.
WRAY
What?! You haven't even tried!
SPENCER
Maybe you should actually do something instead of standing around talkin' about being in charge.
GORMAN
If that's even true.
[The crowd is quickly turning into a mob.]
SCOTT
(yelling, with authority)
Everybody! Everyone, calm down! Now, the fact is, Colonel Young put me in charge, and I expect all SG personnel to follow my orders. As for the rest of you, you get out of line, we will lock you down. Now, Dr. Rush is right about a couple things. First off, we all have to work together, and second of all, we don't all have to stay here. So let's, let's move out.
[They look at him, still petulant, but accepting. He meets Wray's eye.]
SCOTT
(kindly)
Come on, move. It's okay.
[The crowd disperses. Scott approaches Rush and speaks to him in a low voice.]
SCOTT
I think we need you, so I've got your back for now. But if I were you, I would find some way to dial that 'gate back to Earth.
EXT-SPACE
[Destiny flies faster than light.]
INT-GATE ROOM
[Some of the refugees start sorting through the supplies that came through the Stargate with them. They find MRE's, some medical supplies, a crate of toilet paper. Wray watches all of them work, more interested in the people than in the case she's sorting.]
RILEY
I've got some testing equipment over here!
(studies it)
Looks broken.
GREER
We'll get back to that.
[A blonde woman, Palmer, looks at the large crates that were already in the room.]
PALMER
What about all these Ancient crates?
GREER
If it's not ours, don't touch it.
RILEY
Did no one think of labeling anything?
VOLKER
Every case has a bar code.
RILEY
All right, anyone find a bar code reader?
SPENCER
Guess that got left behind along with the food and water.
GREER
Uh-uh. We got food.
PALMER
(unenthusiastic)
Yeah, protein bars, and this powdered stuff.
VOLKER
Look, everybody.
[He holds up a small package of seeds with his good arm.]
RILEY
Seeds? Volker, you gotta be kidding.
BRODY
I got a case of blank paper.
RILEY
Good. Maybe we should start a suggestion box.
[Greer notices Wray studying him in particular.]
GREER
What are you staring at?
WRAY
You were in detention.
[Everyone stops and stares.]
GREER
Yeah.
WRAY
For good reason.
GREER
(drily)
What did you want him to do? Leave me there?
WRAY
(with wry smile)
Of course not. I was just wondering what to do about it now.
GREER
That's not up to you.
WRAY
(challenging)
We'll see.
[They stare each other down, Greer stalking towards her. Riley steps between to intervene.]
RILEY
No, no, no. Don't do it, man.
SCOTT
(over radio)
Greer, I need you to check for any open bulkhead doors that lead to damaged parts of this ship. Rush will direct you.
GREER
(into radio)
Copy.
[With one last look at Wray, Greer leaves. Wray and the others get back to sorting. Spencer takes the opportunity to stash some of the power bars into his pockets.]
INT-CORRIDOR
[Scott moves alone through a corridor.]
RUSH
(over radio)
There should be an elevator directly ahead.
SCOTT
(into radio)
Copy that.
[Scott reaches it and opens the elevator. He enters and reaches for the controls but spots a small globe about the size of a softball moving along, and levitating about five feet into the air. He quickly raises his rifle and follows the small ball.]
RUSH
(over radio, impatient)
Are you there yet?
SCOTT
(into radio)
This is Scott. Radio silence, please.
INT-YOUNG'S CHAMBER
[TJ has moved Col. Young to a bed in a small room. She's looking through her equipment at a table nearby. He awakens and spots her.]
YOUNG
Hey.
TJ
(smiling in relief)
Hey.
YOUNG
What-what's going on?
[She walks over to his bed and sits on the edge.]
TJ
We almost lost you. You were thrown clear across the room.
YOUNG
Where are we?
[He tries to sit up, but grimaces in pain. TJ easily pushes him back.]
TJ
(admonishing)
Sir.
YOUNG
(weakly)
Where are-where are we?
TJ
We're on a ship. It's Ancient. Rush says it's thousands of years old, and we're...pretty far off into the universe.
YOUNG
What's he doing to get us home?
TJ
He says he's working on it, but...we have bigger problems. The life support system isn't working properly. If we can't get it fixed, there's not much time. You should also know that he used the communication stones to contact Earth, and he said General O'Neill put him in charge.
YOUNG
(angry)
I don't think so.
(tries to rise)
I don't think-oh! Oh!
[Breathless and in shock he lies back at TJ's urging.]
TJ
Sir, you shouldn't be trying to get up just yet, okay?
YOUNG
I don't think I have a choice, TJ. I can't feel my legs.
[She quickly masks her shock.]
INT-CORRIDOR
[Scott continues to follow the ball, then notices a person moving in his person in his peripheral vision. He quickly shifts his aim, only to see the person, Eli, spot him and the gun and quickly dive to the corner.]
ELI
Whoa!
SCOTT
Jeez!
[Scott lowers his weapon and Eli peeks back out.]
SCOTT
What is that thing?
ELI
C'mere. I'll show you.
[Scott joins Eli in the small side chamber. Eli types at a console and a monitor pops up. It shows an image of what the "globe" is seeing.]
SCOTT
It's a...it's a camera.
ELI
(excited)
It's a flying camera. I'm calling it a kino, you know, after the Russians-
SCOTT
(gesturing to get on with it)
Yeah...
ELI
Okay. Well, I figure maybe we can use it to check out the damaged areas of the ship.
SCOTT
That's good.
ELI
Yeah!
SCOTT
That's good. Where's it going now?
ELI
Oh, I don't...know. It's just doing its thing. But there's lots more of them.
[He reaches into a chamber that has several kinos, like at a bowling alley lane, all set up. He pulls one out and puts it at eye level, then lets go. It remains there. He chuckles and pushes it gently towards Scott. The camera records Scott's face, who self-consciously nods at the kino. Eli shows a remote monitor he has in his hand that shows the image.]
SCOTT
Yeah, it's cool.
ELI
Yeah! Do you want one?
SCOTT
It's not a gum-ball machine, Eli.
ELI
(chastised)
Okay.
[Scott continues to glare.]
ELI
(defensively)
Okay!
SCOTT
Okay, so you figured out where they keep the kinos. What else have you figured out?
[He starts to walk away. Eli follows, directing the kino to follow with his remote.]
ELI
Give me a break, man. This is my second spaceship, and my first was...yesterday.
SCOTT
I know. Icarus was my first SGC assignment after training. I haven't been at this much longer than you have.
ELI
Huh...did they beam you out of your house?
SCOTT
(chuckling)
No, you got me there.
ELI
Got any food on you?
SCOTT
No.
ELI
Tylenol?
SCOTT
Headache?
ELI
(barking a laugh)
Yeah.
SCOTT
Me too.
INT-YOUNG'S CHAMBER
[TJ settles Young under a blanket, finishing her exam.]
TJ
Neuropraxia is a temporary paralysis that can follow a concussive injury.
YOUNG
You don't know?
TJ
You'd need an MRI and a qualified doctor who knows how to read it to know for sure if there's spinal damage. We don't have either. Hopefully, it's just the nerves in shock. Best I can do is insist that you remain still.
YOUNG
Your tour was over two weeks ago. You should be in some classroom in San Diego.
TJ
Seattle. That's where my scholarship was.
YOUNG
I'm sorry.
TJ
(emotional)
That part's not your fault.
YOUNG
Tell Rush I want to see him.
TJ
Yes, sir.
[She leaves him.]
INT-CONTROL ROOM
[Eli and Scott join Rush in the room. He instantly spots the kino.]
RUSH
What's that?
ELI
Flying camera ball. I'm calling it a kino.
SCOTT
Don't ask.
[Eli directs it closer to Rush, who studies it with interest.]
RUSH
That's marvelous.
ELI
It comes with a remote. I thought we could use it to look around.
[Scott moves around to the console where Rush had been working.]
SCOTT
What do you have?
RUSH
(showing on console)
Uh, well, it's not so good, really. Um, these processing nodes are scrubbers, responsible for cleaning CO2 from the air. Here, here, and here. It's indicating malfunction. Others are failing.
SCOTT
(walking out, into radio)
Greer, this is Scott, I'm heading for the Gate Room. Meet me there.
INT-CORRIDOR
[Greer and Scott head down another corridor.]
GREER
...Look, I'm just saying that she better stay out of my face.
SCOTT
(drily)
I'll remind her of your personal space issues next chance I get.
INT-CONTROL ROOM
[TJ enters. Rush is at the controls. Eli still plays with his kino.]
TJ
Dr. Rush. Col. Young wants to see you right away.
[Rush waves her to silence and keys the radio.]
RUSH
(into radio)
There should be a kind of grate covering the node.
INT-CORRIDOR
[Scott and Greer reach the grate. Scott touches a button in the front and it opens. The node mechanically pulls out, covered in black sludge. Some of the excess slops to their feet.]
RUSH
(over radio)
What do you see?
SCOTT
A problem. We see a very big problem.
INT-ARMSTRONG ROOM
[Chloe sits at her father's bedside where he lies unconscious. There is a portable lantern nearby. He awakens and looks around, confused.]
ARMSTRONG
What happened?
CHLOE
You collapsed. We brought you here.
ARMSTRONG
What's going on?
CHLOE
I'm not sure. I've been here with you.
ARMSTRONG
You need to know what's happening, Chloe. This is important.
CHLOE
Dad, I was worried about you.
ARMSTRONG
Okay.
CHLOE
And I'm scared.
ARMSTRONG
One step at a time, honey. One step at a time.
[He feels tightness in his chest. He tries to reach for his pills, but they're too far away.]
ARMSTRONG
My pills.
CHLOE
No, Daddy, you can't take any more of those. Your ribs are badly bruised. You will bleed internally.
ARMSTRONG
If I don't take those pills, a bruise is going to be the least of my problems.
CHLOE
I know.
ARMSTRONG
Don't worry about me. Go. Find out what's going on out there.
CHLOE
No, I want to be here with you.
ARMSTRONG
And I want you here, but right now, I want to know what's going on. Just...a little bit more.
[Chloe sniffles, but nods.]
ARMSTRONG
Okay. I'll be here when you get back.
CHLOE
Okay.
ARMSTRONG
Okay.
[Chloe departs, pocketing his pills on her way out, to Armstrong's chagrin. As soon as she's gone, Armstrong clutches his chest. He was hiding most of his pain from his daughter.]
INT-CORRIDOR
[James steps out of a room that she and Franklin just explored to see Greer waiting for them. Franklin marks the door of the room they left with a white X.]
JAMES
(to Greer)
What's going on?
GREER
I don't know, man. The air filter's full of crap. C'mon. They want us to keep looking.
JAMES
Let's go.
FRANKLIN
(sighing)
All right, okay.
INT-CO2 FILTER AREA
[Chloe steps up just as Park finishes a chemical test. James, Scott, Eli, Rush, and TJ are all there.]
PARK
Alkaline.
TJ
Everyone's heart rates are elevated. People are reporting headaches. It has to be.
SCOTT
What?
PARK
The used up residue of whatever magic compound the Ancients used to scrub CO2 from the air.
SCOTT
So now we have two big problems relating to the life support.
RUSH
Our first priority must be to seal off any of the leaks. If we can manage that, then...we can maybe buy ourselves a day or so before the build up of CO2 kills us.
SCOTT
As it stands, how much time do we have?
RUSH
(wincing with a headache)
I don't know.
PARK
A couple of hours at most.
ELI
(sarcastic)
Huh! Awesome!
RUSH
Brody, there was, um, some medical-grade soda lime on the supply manifest?
BRODY
It never made it.
RUSH
That's a pity.
[He pulls a pencil out of his notepad and uses it to mess with the sludge.]
RUSH
Well, in a ship this old, there's bound to be systems past their designed life.
SCOTT
Okay, so let's say we find the leaks. Can you fix this?
RUSH
I doubt this stuff can be cooked off. Perhaps...if there were stores of this substance in a clean form, or something else capable of CO2 sequestration: calcium carbonate, lithium hydroxide. Then yes, "if."
SCOTT
(sternly)
Okay, well that's not going to matter because you're gonna get dialed back to Earth before this becomes an issue, Rush...
RUSH
(patronizing)
Lieutenant.
SCOTT
Right?
RUSH
That's the kind of thing you're taught to say in officer training, presumably for the benefit of those who don't know any better.
[Scott stalks towards Rush and glares down at him. Rush meets his gaze squarely. Scott glances over at Chloe, who averts her gaze.]
SCOTT
(quietly, pleading)
Please?
RUSH
What makes you think I won't try?
[Rush walks away.]
INT-CORRIDOR
[One of Eli's kinos moves through a corridor. It notices a vertical bulkhead door half open, leading through a second door into a small ship.]
INT-CONTROL ROOM
ELI
(into radio)
Greer. I found what looks like a shuttle.
RUSH
(studying own console)
Looks like there are two shuttles attached to individual docking sleeves.
INT-CORRIDOR
[Franklin, James, and Greer check out the corridor where the kino is.]
FRANKLIN
We're all going to die.
GREER
Shut up, Franklin.
FRANKLIN
I'm just saying what everyone's got to be thinking.
GREER
I said, shut up, or else you're going to be first.
[He spots the half-open door and the kino, looking at the camera.]
GREER
(into radio)
This the door?
INT-CONTROL ROOM
[The rest of the conversation switches between the two locations.]
ELI
Yeah, yeah that's it. Can you close it?
[Greer attempts it with no success. Franklin steps inside. James follows.]
GREER
It won't close.
[Eli looks to Rush, who tries their controls. Rush shakes his head negatively.]
ELI
We can't close it from here, either. There's something wrong with the mechanism.
INT-SHUTTLE
[The trio explore the shuttle, hearing wind. Franklin goes ahead of the others.]
FRANKLIN
I think I found the leak.
[The front windows of the shuttle are broken, and the force field covering it is operating sporadically.]
GREER
Now, there's another door on the back of the shuttle, but there's no control.
INT-CONTROL ROOM
RUSH
Then maybe we can close it off locally.
[He heads out, Eli following.]
EXT-DESTINY
[Still in FTL-space, the shuttle rests mid ship, port side, on the top. The shield flickers on its port front window.]
INT-SHUTTLE
[Rush and Eli have joined the others. Rush works the controls in the cockpit.]
FRANKLIN
The shield keeping the air inside is obviously not a hundred percent effective.
RUSH
It probably wasn't designed to compensate for the amount of damage the ship has sustained.
ELI
Is there a way of boosting it? At least in the areas we need it?
RUSH
We haven't found a way yet. It seems to be operating at maximum capability.
[Rush presses a button that lets the door close. The wind picks up as air is sucked through the lost window. Everyone starts coughing, struggling to breathe.]
ELI
Open the door!
[Rush gets the door back open. The wind dies down to a tolerable level.]
ELI
(coughing)
Well, that's not good.
INT-YOUNG'S CHAMBER
[As TJ watches, Young is able to twitch both his feet.]
TJ
That's very good, sir. A very good sign.
YOUNG
I-I don't have time for this, do I?
TJ
Two problems. We're venting atmosphere from a damaged shuttle. And even if we could seal it off, the life support system in this ship is past its expiration date. We'll build up CO2 to lethal levels within a day.
YOUNG
That explains the headache.
TJ
(primly)
You already had one.
INT-ARMSTRONG'S CHAMBER
[Armstrong talks to Chloe.]
ARMSTRONG
They'll find a way. That's what these people do.
CHLOE
Well, most of these people aren't even supposed to be here.
INT-YOUNG'S CHAMBER
YOUNG
How did the ship get damaged?
TJ
We don't know. It certainly looks like it's been through a battle-at least the parts we can access.
INT-ARMSTRONG'S CHAMBER
CHLOE
We're still cut off from most of the ship. It's huge.
INT-YOUNG'S CHAMBER
TJ
They, uh, tried jamming something into the shuttle doorway to keep it open long enough to let the person inside get out.
INT-ARMSTRONG'S CHAMBER
CHLOE
But it-it just opens again. Some sort of safety mechanism, like an elevator.
INT-YOUNG'S CHAMBER
TJ
Rush says he can't override it.
INT-ARMSTRONG'S CHAMBER
ARMSTRONG
How long do we have right now?
INT-YOUNG'S CHAMBER
TJ
As it stands...
INT-ARMSTRONG'S CHAMBER
CHLOE
Rush says if we don't get it closed we've got...
INT-YOUNG'S CHAMBER
TJ
just over an hour.
INT-SHUTTLE BAY
[Franklin looks incredulously at the inner workings of the outer door control, then back at Rush and Eli.]
ELI
Bad air's better than no air.
GREER
Guess a day's better than an hour.
RUSH
Someone's got to go in there and close this door.
EXT-SPACE
[Destiny flies faster than light.]
INT-CONTROL ROOM
[Chloe, TJ, Scott, Greer, and Rush are in the room. Eli is narrating to a kino.]
ELI
My head is pounding. Heart beat has accelerated. It's getting harder and harder to breathe.
(melodramatically)
As our very lives are being vented out into space.
SCOTT
That is going to get old very fast.
ELI
This needs to be documented.
SCOTT
No one's going to see that!
ELI
How do you know? We made it here. Someone else could, too. If we die, maybe this can help them to find out what happened to us.
RUSH
Yeah, well we're not dead yet.
[Eli glares at Rush, then turns back to the kino.]
ELI
(low, to kino)
I'm starting to have slightly blurred...
SCOTT
(scolding)
Eli!
ELI
(protesting innocently)
What?!
SCOTT
So how are we going to decide who?
[Eli sees if anyone's still paying attention to him, then remotely moves the kino towards the others.]
RUSH
(rhetorically)
I assume we're not going to get any volunteers.
CHLOE
What's another day going to buy us?
RUSH
Time...to find a way to survive.
(To TJ)
May I see the list?
[TJ hands him a list.]
TJ
I marked the names of anyone injured.
[Rush holds the paper some distance from him to read without glasses.]
RUSH
Right. We have to find out people's skills, background, experience-
SCOTT
(interrupting)
Doesn't take any special skills to die from asphyxiation!
RUSH
Look, what I'm saying is, it shouldn't be someone with potentially valuable knowledge, or abilities we might need to help us survive beyond this.
[Eli looks to the camera, sharing his own amazement at Rush's gall.]
CHLOE
Are you really suggesting what I think-
SCOTT
(to Rush)
Half the people on this ship already want to kill you.
RUSH
I don't care.
CHLOE
You can't ask someone to sacrifice themselves. Period!
RUSH
Politicians ask military personnel to sacrifice themselves for the good of others all the time. If someone doesn't go in there and close that door, we're all going to die. Period.
[No one can respond to that.]
INT-YOUNG'S CHAMBER
[Scott and TJ brief Young.]
SCOTT
Franklin is still working at the airlock controls locally, but it doesn't look good, sir.
TJ
Camile's explaining the situation to everyone on board.
YOUNG
I'll do it.
SCOTT
Sir?
YOUNG
This isn't the kind of thing I can ask somebody else to volunteer for.
SCOTT
If we're going to make it past this, we're going to need you, sir.
YOUNG
I don't know about that. You're doing a pretty good job without me, Lieutenant.
SCOTT
Yeah? Well, look at the mess we're in. If that's not proof that we need you, then-
TJ
Look, I'm not sure anyone should do it. I-I don't want someone sacrificing themselves for me. I say we figure this out together, while we still have time, or we all die trying.
[Young struggles to sit up, his legs moving stiffly.]
YOUNG
I want you to both to listen to me. It needs to be done, and I'm doing it.
[TJ and Scott exchange looks. Scott shakes his head and turns away.]
TJ
Look, sir, you can barely stand.
[She reaches to assist him.]
YOUNG
Help me.
TJ
Look, the paralysis is temporary. We know-
YOUNG
Help me.
TJ
(continuing)
...that now. You will recover.
[TJ alone cannot help Young stay on his feet.]
YOUNG
Lieutenant, I need your help.
SCOTT
No, sir.
YOUNG
I gave you an order.
[Young collapses back onto the bed.]
SCOTT
I know. You can have me court martialed when we get home, but I am not going to help you kill yourself.
[Chloe comes running in.]
CHLOE
My father's not in his room.
SCOTT
We'll find him.
(to TJ, pointing at Young)
He does not leave this room.
INT-CORRIDOR
[Scott and Chloe head down the corridor.]
SCOTT
He can't have gotten far.
CHLOE
I told him what was going on.
SCOTT
(into radio)
Greer, this is Scott, come in. Greer? Greer, do you read? Senator Armstrong is missing. He may be headed your way.
INT-SHUTTLE HATCH
GREER
(into radio)
He's here. He's got a gun.
[Armstrong holds both Greer and Franklin at gunpoint. He holds onto the wall to keep himself standing.]
GREER
(smiling inn friendly manner)
I don't want to shoot you. I don't think you want to shoot me.
ARMSTRONG
Get out of the way.
FRANKLIN
Just...give me a little more time. Let me try and fix this.
ARMSTRONG
I don't have much.
[He gestures for Franklin to continue.]
INT-CORRIDOR
[Scott and Chloe are now running through the hall.]
INT-SHUTTLE HATCH
[Armstrong moves closer, looking even more haggard, clutching his side.]
ELI
(over radio)
Guys, I'm not seeing any change. Whatever you just tried...
INT-CONTROL ROOM
ELI
(continuing into radio)
...it's not working!
RUSH
The problem's obviously mechanical.
INT-SHUTTLE HATCH
[Franklin sighs, defeated.]
GREER
You can't fix it.
[Franklin shakes his head.]
ARMSTRONG
(lowering his gun, wheezing)
Tell me what to do.
[Greer lowers his arms and nods.]
[By the time Chloe and Scott arrive, Armstrong is already in the pilot chair and Greer and Franklin are in the outer corridor, stoically and sadly watching. Armstrong pushes the button. Chloe runs to the door.]
CHLOE
Dad! No! Wait!
[She runs, but can't reach the door before it seals shut. The wind picks up inside the shuttle.]
CHLOE
(banging on door, panicked)
Dad! No! Nooo! No! Noo! Open the door! Please! Please, open the door!
FRANKLIN
I can't!
CHLOE
Please, open the door! No!
[Scott looks to Greer for an explanation. Greer stands firm.]
GREER
He was dead on his feet.
CHLOE
Dad! No! Please open the door!
[Inside the shuttle, Armstrong mouths "I love you".]
[Scott pulls Chloe away from the door. She grabs the radio on his vest.]
CHLOE
(into radio)
No! Eli! Not him!
INT-CONTROL ROOM
ELI
(into radio, voice breaking)
There's nothing I can do from here.
[Rush sits, listening to the cries.]
CHLOE
(over radio)
Help him! Open the door! Please!
INT-SHUTTLE AREA
[Armstrong dies.]
CHLOE
Please! No. No! NO!!
[She collapses to the floor in hysterical sobs, Scott by her side. Greer looks troubled. Scott holds her.]
CHLOE
No! He can't leave me!
[Suddenly, she breaks away from Scott's hold and runs down the corridor.]
SCOTT
Chloe? Chloe!
[He chases after her.]
INT-CONTROL ROOM
RUSH
(resigned)
Well, at least he bought us a day.
[Chloe flies into the room at full speed and tackles Rush, skidding him across the floor. She then begins to throw punches and kicks. Eli looks on. Scott arrives and pulls her back.]
CHLOE
(sobbing)
You! You did this! You killed him! You killed all of us!
SCOTT
Chloe, stop! Little help, here.
[TJ arrives.]
TJ
Hey, hey, relax. Hey, hey, Chloe.
CHLOE
Get away from me, all of you!
[She pushes them back. Rush warily gets to his feet.]
RUSH
M-Miss Armstrong. You're in shock. Believe me, I understand. Everyone deals with tragedy in different ways. You're looking for someone to blame.
CHLOE
I'm not looking.
[TJ holds her back again.]
TJ
Hey, hey!
RUSH
I'm sorry about your father. I truly am. He was a good man. And he certainly wouldn't have been my choice. But-but, you-you must realize, none of this was my fault. I didn't create the situation that forced us here. There was no other way.
[Eli looks helpless at Chloe's pain. TJ helps her to a bench. She bends over, crying. Rush kneels down in front her.]
RUSH
(sympathetically)
Miss Armstrong, I know you don't want to hear this just now, but...but this ship...this ship could be the most important discovery mankind has made since the Stargate itself. You know, the Icarus project was something your father truly believed in, enough to risk his career to support.
[TJ rolls her eyes in disgust.]
CHLOE
What difference does it make if we all die?
RUSH
A number of people died during the attack on the base. Some of them I knew very well.
CHLOE
(venomous)
I'm sure some had more value than others.
RUSH
As human beings, all of them were invaluable. Look, my point is, I promise you, I will do everything I can to make sure no one gave their life in vain. No one.
[Chloe looks away from him. He stands.]
RUSH
Please give me a chance.
[Chloe stands, glaring at Rush, then stiffly walks past him out of the room. Eli makes an aborted move towards her as she passes. Rush looks troubled.]
INT-GATE ROOM
[Young limps into the room using a cane. Greer is his escort. Wray immediately notices him.]
WRAY
(worried)
Colonel...
YOUNG
We've lost Senator Armstrong.
WRAY
Oh, my god.
YOUNG
He's, uh, bought us some time.
WRAY
To do what?
YOUNG
Well, we're working on it. First up is trying to dial the 'gate back home.
WRAY
Should you even be on your feet?
GREER
No.
YOUNG
Well, I am on my feet, and right now, we're trying to get home. Camile, I need your help. You know these people. I need you to spread the word. Try to keep things as positive as you can.
WRAY
I can do that.
YOUNG
(nodding)
Good.
EXT-OBSERVATION DECK
[Chloe sits on the floor in front of the bench. Scott sits down next to her.]
CHLOE
I can't believe my dad is gone. I watched him die, and I still just can't accept it.
SCOTT
Tell me about him.
CHLOE
Why?
SCOTT
Man died so I can live. I'd like to know a little more about him.
CHLOE
No matter how tired he was, or how long he'd worked, or what was going on in his life, he always had time to listen to me. I'd go on and on. He never preached. He never told me what to do, even though sometimes I wished he would. He would just listen. And then he would tell me that he loved me. The best part is if I had a fight with my mom, he never took sides.
SCOTT
(smiling in understanding)
Hmph.
CHLOE
Oh god! My mom! He was her whole life. She probably thinks we're both dead.
SCOTT
All I know is that he wanted you to go on.
CHLOE
I know.
SCOTT
(sighing)
I gotta get back to the search. You gonna be okay?
CHLOE
I don't know.
SCOTT
Fair enough.
[He leaves her to stare at the aurora effect of the shields.]
INT-CONTROL ROOM
[Eli lies on a bench, staring into space. Rush is at a console nearby. Park and Brody are working in the background.]
RUSH
Eli?
ELI
What?
RUSH
What are you doing?
ELI
(sitting up, upset)
I...just watched a man die. Okay?
[Rush looks at Eli for a moment, then leaving him be, turns back to work.]
ELI
Don't you even care?
RUSH
(intense, but soft)
Of course I do. But I'm also trying to learn as much as I can as quickly as I can, that is, in addition to running nine separate searches in the database in the hope of solving our life-support issues.
ELI
Right. Found anything?
RUSH
Destiny.
[Park and Brody look over at Rush.]
ELI
(coming over)
As in ours?
RUSH
The name of the ship, translated from Ancient. I've also discovered that they were never here.
ELI
I thought this was an Ancient ship?
RUSH
It is. But they sent it out unmanned, planning to use the 'gate to get here when it was far enough out into the universe.
(shrugging)
But...they probably learned to ascend before that time.
ELI
(blankly)
Learned to what?
RUSH
Ascension.
[Eli shrugs in incomprehension.]
RUSH
It's a process whereby consciousness converts to energy that no longer requires physical form.
ELI
That wasn't in the video.
RUSH
(with wry smile)
Well, there's more than one video. We should get back to work.
[Eli nods and starts to move away. He turns back.]
ELI
Sorry.
RUSH
(sighing)
Mmm.
INT-GATE ROOM
[Riley studies a console. Several people, including Young and Greer, wander the room.]
RILEY
Sir, I think I got it. It wasn't even that hard to find, it's right here in the dialing program.
YOUNG
You're sure?
RILEY
Yes, it's an eight-symbol address.
GREER
You mean you can dial this thing back to Earth?
RILEY
There's no point of origin indicated, but still, there's only thirty-six symbols on this 'gate. I'm assuming the ninth symbol represents some x-factor distance equation.
YOUNG
Well, I don't care. Start dialing.
RILEY
Sir, don't we want to bring Dr. Rush in on this?
YOUNG
Well, you said this wasn't that hard to find?
RILEY
No.
YOUNG
Well, then he probably already knows and didn't tell us.
INT-CONTROL ROOM
[A rapid pinging sounds.]
RUSH
Oh, no, no, no, no, no.
ELI
What?
RUSH
Someone's dialing the 'gate.
[He races out, Eli and the others trailing after him.]
INT-GATE ROOM
[The Stargate spins, locking chevrons. Rush and the others enter.]
RUSH
Colonel Young, you're up.
YOUNG
Nice to see you too, Rush. I did order you to report to me.
RUSH
(dismissively)
Yes. Wh-wh-what are you doing?
YOUNG
We're trying to dial Earth.
[Eli sets his kino up to record the scene.]
RUSH
That would be a mistake.
YOUNG
Riley thinks he's found the address for home.
RUSH
(scornfully)
His understanding of Ancient is marginal at best.
RILEY
With respect, Doctor, I know enough to recognize a reference to Earth.
YOUNG
He says the address wasn't that hard to find, Rush!
RUSH
No, no. This is a complete waste of power we may need.
SCOTT
We have the address back. All we need is the right point of origin.
YOUNG
And we've got thirty-six tries.
RUSH
We barely have enough power to operate the main systems! This ship simply doesn't have the capability to dial Earth.
YOUNG
You see, that's news to me.
ELI
He didn't tell me that either.
RUSH
Well, I've only just learned myself.
(accusingly pointing at Eli)
And you know what I've been doing.
YOUNG
Even if it doesn't work, the people aboard this ship need to see us at least try.
RUSH
So, what, you're going to drain what little power we have for the sake of morale? How ridiculous.
[There's a low humming news, and doppler effect of light around them, similar to when the ship jumped into FTL-space earlier. Young leans on his cane to keep his balance.]
SCOTT
What was that?
[The Stargate resets.]
YOUNG
(into radio)
Anyone near the observation deck?
EXT-OBSERVATION DECK
[The ship is now out of FTL travel. Chloe stands at the railing looking out at a large red nebula. TJ runs in, joining Chloe.]
TJ
(into radio)
Colonel, it looks like we've dropped out of FTL.
INT-GATE ROOM
ELI
Because we were draining power?
RUSH
No, no. If I'm right, the 'gate should begin to dial any moment.
[The Stargate lights up and begins to spin on its own.]
SCOTT
How did you know that?
RUSH
The ship detected a Stargate on a planet within range that may have what we need.
SCOTT
(incredulous)
What?
YOUNG
How the hell are there even Stargates out here?
RUSH
The Ancients sent out a number of unmanned ships ahead of this one. They're programmed to gather data, resources, to manufacture Stargates and deposit them in habitable worlds. Any relevant information is relayed back here to help plot the course.
YOUNG
You're telling me that this ship knows we're in trouble?
RUSH
(impatiently)
Yes, because I told it we were! Essentially, we're flying on auto-pilot. This ship may have stopped when it was within range of a Stargate regardless of our need, but I have reason to believe...
[The Stargate kawhooshes and a stable event horizon forms.]
YOUNG
So, what we need is on the other side of that wormhole.
RUSH
An educated guess, yes.
YOUNG
There's only one way to find out.
[He limps toward the Stargate.]
RILEY
Sir, you can't do that. We have no idea what's on the other side.
ELI
(excited)
We can use the kino to find out.
[He directs the kino towards the puddle.]
RUSH
I expect that's the purpose of this device.
[The kino enters the event horizon. Brody, at one of the consoles, notices something.]
BRODY
I'm getting readings over here.
YOUNG
What have we got?
BRODY
Temperature, gravity, atmosphere composition, barometric pressure...
[A video picture appears on her screen of a desert planet.]
RILEY
Oxygen, nitrogen, very little CO2, extremely low humidity. Habitable, but just barely.
RUSH
Good enough.
PARK
(from different console)
Looks like four other addresses came up here, too.
[Intrigued, Rush heads over to that console.]
PARK
They could be other planets within range. Maybe we should think about dialing them up and seeing-
RUSH
(abruptly)
No, no. They're locked out. The ship chose this one, the Stargate is open, all we have to do is step through.
YOUNG
(firmly)
What we have to do is put a team together.
[Park looks up at a panel above the door with Ancient numbers counting down.]
PARK
Dr. Rush.
[The others look up.]
RUSH
Looks like our time might be limited.
YOUNG
What is it?
RUSH
It's a countdown. Just over twelve hours left.
YOUNG
What happens then?
RUSH
I suspect we jump back into FTL.
EXT-SPACE
[Destiny floats in space near the nebula.]
INT-CONTROL ROOM
[Rush, Young, and several other scientists and military personnel are standing around. Eli takes pictures with his cell phone.]
RUSH
Palmer is a geologist. Obviously she should go. Franklin and Brody are the best of the rest of what we have.
FRANKLIN
(sarcastic)
Thanks for the ringing endorsement.
VOLKER
He didn't even mention me.
YOUNG
Franklin goes, the others stay. We're still going to need good people working on the problem from this end.
[Rush nods.]
ELI
I'd like to go.
YOUNG
Really?
ELI
I-if I can help, then-
RUSH
(scornfully)
Colonel Young, please.
ELI
What? You don't think I can handle it?
(pointing at Franklin)
H-he's going!
FRANKLIN
I've been off world before!
YOUNG
You have made a habit out of pulling our asses out of the fire. Eli, you want to go, you're going. The only one I am questioning right now is, uh, you, Dr. Rush.
RUSH
(scoffing)
Well, besides Palmer, I'm the only one who knows what we're looking for. We have twelve hours to find what we need and then get back on the ship.
YOUNG
You sure you can't stop it?
RUSH
No, we're just along for the ride for now.
YOUNG
Well, then we all may be better off on the planet.
RUSH
(with cold smile)
Well that's another reason why I should go. Someone to assess whether long-term survival there is even an option.
YOUNG
Right. Okay. I want everyone clear that Scott is in charge of this mission. Let's gear up, let's find whatever supplies we have, and move out.
[They file out. Scott stops by Young's side.]
SCOTT
Sir? About Eli-
YOUNG
He volunteered.
SCOTT
He's not trained for this.
YOUNG
Just like a lot of people we got on this ship. I'm going to need to know what they're made of.
SCOTT
He'll slow us down.
YOUNG
Well, if he does, you send him back to the 'gate. Listen, if we're going to make it, and I'm not just talking about the next few hours, we're going to need everyone on board to step up.
[Scott nods in acknowledgment and starts to leave. Young calls to him.]
YOUNG
Lieutenant...
[Scott turns back.]
YOUNG
Keep an eye on Rush.
[Scott nods and leaves.]
INT-GATE ROOM
[The away team is assembled, all carrying packs or over-the-shoulder duffle bags. All except Scott are dressed in desert camouflage Air Force gear, including the civilians. Scott still has on his black officer uniform. Young is also there.]
SCOTT
We'll be back, sir.
YOUNG
(nodding)
Good luck.
[Scott steps through the Stargate. Eli holds his breath, then follows. Greer, Palmer, Franklin, and another military member follow. Rush pauses by the event horizon and looks back at Young, who nods to him. Rush steps through the Stargate.]
FADE OUT
END CREDITS

Source : http://www.stargate-sg1-solutions.com/wiki/SGU_1.02_%22Air_Part_2%22_Transcript