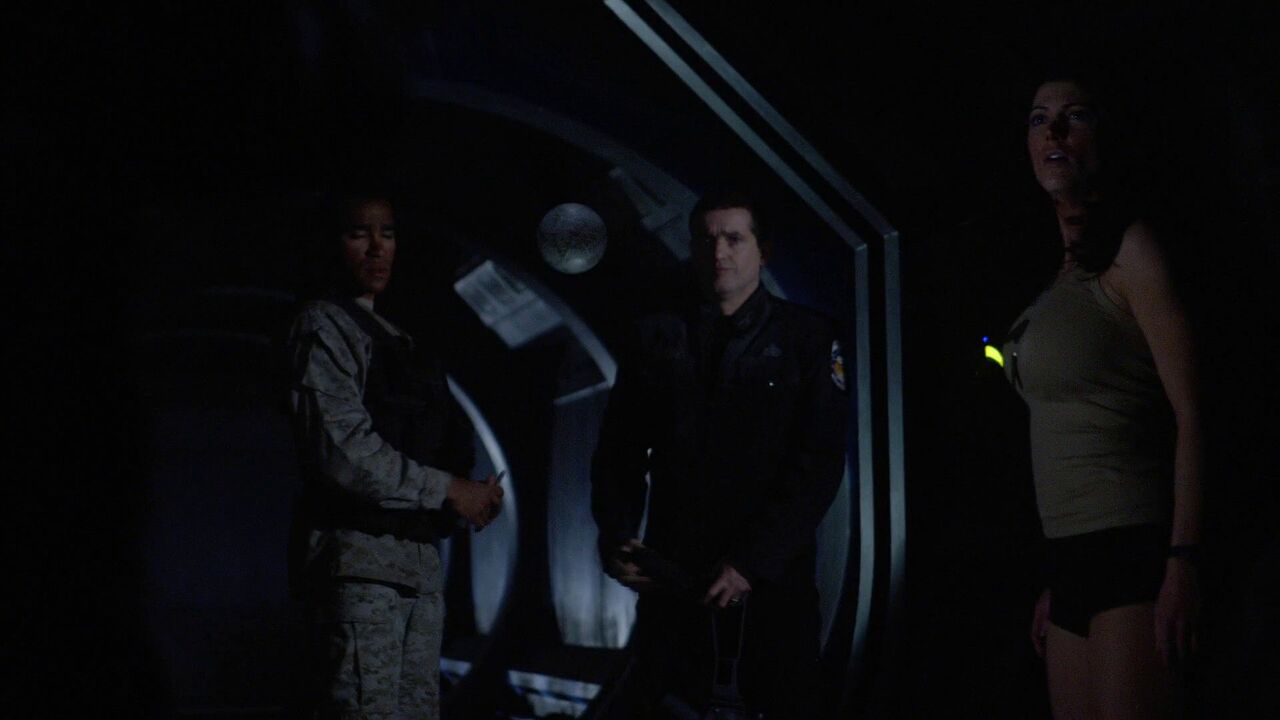 Transcript VO
TEASER
EXT-SPACE
[Destiny flies faster than light.]
INT-CONTROL ROOM
[Rush is alone in the room, trying to keep himself awake. He spots something on the monitors that upsets him, then throws down his leather notebook and storms out.]
INT-CORRIDOR
[Rush continues down the hall. Riley and another person are studying some panels. Riley spots Rush.]
RILEY
Dr. Rush. Dr. Rush, I was wondering if...
RUSH
Not now!
[Riley stops following Rush.]
INT-DESTINY LAB
[Park and others are studying equipment in a lab. Rush enters.]
RUSH
What are you doing?!
PARK
Morning! Col. Young asked us to figure out how-
RUSH
I turned these systems off for a reason. They need to stay off!
[Park and the others stare at Rush in surprise. Then she powers down the equipment. Rush stomps off.]
INT-DESTINY GALLEY
[Becker measures out a flour-like substance into tin cups, then adds water, also measured, and whisks the mixture. People are sitting around bench style tables. Chloe, Scott, Brody, and Eli are amongst them. Young and Wray are also there.]
BRODY
Don't know whether the ship has electrolyzed it to produce oxygen, but you can see there's not much left in there.
[Becker hands Young a tin of food.]
BRODY
We did some calculations based on our estimates of the water depth and tank dimensions.
YOUNG
And the winner is...?
BRODY
Just over 90,000 liters.
ELI
91,046....ish.
SCOTT
Go Math Boy.
[People chuckle.]
WRAY
Sounds like a lot.
YOUNG
It wouldn't fill a backyard swimming pool.
WRAY
Still, it's enough to loosen the rationing restrictions, isn't it?
YOUNG
Camile, I think I know where you're going with this, and believe me when I say that I-I too could use a shower.
[Everyone laughs.]
ELI
(chuckling)
I don't think the showers use water.
[Everyone stares at him, falling silent.]
ELI
They just spray a sort of mist, that you kinda stand in and it sorta beads up. There's one in a compartment off the crew quarters.
SCOTT
How do you know all that if you haven't tried it?
ELI
How do you know I haven't tried it?
SCOTT
(making a face)
Oh, we know.
[Everyone laughs.]
ELI
(insulted)
Thank you, Lt. Rosegarden.
CHLOE
No, he's right. You-you're worse than he is.
YOUNG
(feigning being impressed)
Wow, you can tell them apart.
BRODY
We also identified a recycling system for liquid waste, so...once we get that system up and running...
[Rush enters and takes a seat at the other end of Wray's table. Young sets his dish aside.]
YOUNG
Okay, folks. Let's have a better day than yesterday. Thank you.
[People go their separate ways, murmuring to each other. Wray remains. Becker sets a tin cup in front of Rush.]
BECKER
Your rations, sir.
RUSH
Thank you.
[He digs in. Young sits across from him.]
YOUNG
I ordered you here twenty minutes ago.
RUSH
I've been working. Throughout the night, actually. Trying to find out why our power reserves are so low. I'm quite concerned and so should you be.
YOUNG
Okay, well how bad is it?
RUSH
I haven't been able to access any of the main systems yet, so I don't know.
WRAY
You look exhausted. Maybe you should take a break.
YOUNG
We'll get the information we need and make some informed decisions and then report back...
[A power surge makes the area darken then brighten again. Rush drops his bowl in exasperation.]
RUSH
Could you please stop people running around activating every bloody system they can get their hands on?
YOUNG
I will.
[Rush sighs, unconvinced. He picks up and drops the empty bowl pointedly.]
RUSH
(to Becker, sarcastic)
That was delicious. Thank you very much.
[He storms away.]
YOUNG
That man is a lot of work. Let's bring in the next group, please?
[Wray nods and leaves.]
INT-CORRIDOR
[Rush heads back down the corridor. Riley intercepts him.]
RILEY
Doctor, I'm very sorry to bother you. I know you're busy, but I really need your help-
[Rush grabs Riley and slams him up against the bulkhead.]
RUSH
(enraged)
What did I say?!
[There is another flicker in the power. Rush looks around, then lets go of Riley and heads back to the control room. Riley stares after him, still in shock.]
END TEASER
OPENING TITLE
INT-DESTINY STORAGE ROOM
[Eli is in an area filled with the Icarus base's cases, talking into a kino camera. Someone else is apparently nearby, offscreen.]
ELI
C'mon! It doesn't have to be profound. Just, who you are and-and something you want to say, like "Hi! I'm Eli Wallace. I'm twenty-five years old, I'm currently unemployed, and uh, just for posterity's sake, I'd like to say: (imitating Charlton Heston)
'Take your stinkin paws off me, you damn dirty ape!'."
(After cut, to someone off camera)
I'm not really going to say that...just, Try! Say something!
EXT-SPACE
[Destiny flies faster than light.]
INT-GALLEY
[Young speaks to a new group of the refugees, Volker, TJ, and Greer amongst them. Becker hands out rations to them.]
YOUNG
Well, it could be that Rush is just starting a fire, so he can put it out. Or it could be that he's so far ahead of us he can see problems that none of us can see.
VOLKER
So, what do you want us to do?
WRAY
Help him.
VOLKER
(scoffing)
The man likes to work alone.
WRAY
Well, with the way he's been treated, you can hardly blame him.
GREER
I can blame him all day long.
TJ
It's pretty hard not to, considering.
WRAY
This isn't helpful.
GREER
Yeah, well it's the truth.
YOUNG
Well, we're stuck with Rush for now.
(to TJ and Greer)
Scott is checking out the other shuttle, seeing if it's operational. He asked that you two join him when we were done here. So, off you go. Dismissed.
[Everyone except Wray and Becker file out. Young approaches Wray.]
YOUNG
Please tell me that's everyone.
WRAY
We still have the question of what to do with the Senator's body.
YOUNG
Yeah, we'll get to him. He's not going anywhere. I'd appreciate a file on everyone by sometime tomorrow. Nothing fancy.
BECKER
And my assignment, sir?
YOUNG
Recipes, Becker. For the love of God, recipes.
INT-STORAGE ROOM
[James is in front of the kino camera.]
JAMES
Second Lieutenant Vanessa James. Twenty-six. Air Force Special Forces. All I have to say is...
(she makes sure she's alone)
I don't want to die out here.
[James starts to tear up. She turns off the kino.]
INT-CORRIDOR
[Wray heads down the corridor. Wray hurries to catch up.]
WRAY
Colonel.
YOUNG
I thought we done.
WRAY
There are still dozens of human resources issues we need to talk about.
YOUNG
Pick one.
WRAY
The matter of Lieutenant Johansen resigning her commission.
YOUNG
Consider her reactivated.
WRAY
Well, I don't know if that's up to-
YOUNG
(cutting her off)
Up to me? Yeah, it is. We need a medic.
WRAY
I don't even know why she resigned in the first place.
YOUNG
Well, that's none of my business.
[Wray stops and stares at Young with an inscrutable expression as he continues down the hall. He passes where Riley and two others are working.]
RILEY
Colonel, look what we've figured out. We're calling it a recharging plate.
[Riley holds up a flashlight that has a dimmed light.]
YOUNG
Uh-huh.
RILEY
We've tweaked it so it works with Earth technology.
[He sets the flashlight on the recharging plate.]
RILEY
For now, we have to be careful not to leave them on the plate for too long or it fries the battery, but...
[He flips on the flashlight and it's very bright.]
RILEY
Not bad. Huh?
YOUNG
It's great.
RILEY
(pleased)
Isn't it?
YOUNG
Turn it off.
RILEY
Why?
YOUNG
Well, Rush says we have power issues.
RILEY
(gesturing to items)
We've got all these things to recharge.
YOUNG
I know, but as soon as he gives the go-ahead, you kids can go crazy. For now, help me pass the word to stop pushing buttons.
INT-SHUTTLE
[Scott presses a button. Some upper consoles pneumatically lower. Scott makes a pencil etching of the button he pushed so its symbols appear and captions what it does in English. TJ and Greer hesitantly approach.]
SCOTT
It's cool, guys. This one's secure.
TJ
You think you can fly this thing, man?
SCOTT
I can fly an F-302.
GREER
(laughing)
Yeah, in a simulator. This is a real spaceship, man.
SCOTT
(sighing)
Yes, it is. So...pretty screwed up, huh?
TJ
Yeah. Yeah, pretty screwed up.
GREER
You think they're gonna work it out?
SCOTT
We're pretty friggin far from home, man. I don't know. Not today. You should have shipped out weeks ago, TJ. It's not right.
GREER
It ain't right at all.
TJ
(shrugging)
Yeah, well...I'm here, so what do you want us to do?
SCOTT
Help me figure out what kind of bird we've got here. I just radioed Brody to come down, help translate the controls. Took me half an hour just to find the on switch.
[TJ snerks.]
SCOTT
Maybe we can take a little joyride, huh?
TJ
(unenthusiastic)
Oh joy.
[Scott and Greer exchange looks. Both are still badly sunburned from their time on the desert planet.]
INT-CORRIDOR
[Chloe and Eli walk down a corridor.]
CHLOE
You don't have to follow me around.
ELI
What do you mean?
CHLOE
I mean that I'm okay.
ELI
(smirking)
Oh, thank god you said something, 'cause I thought you were following me around and it was about to get awkward.
[At the next fork he heads in the other direction from Chloe. She turns around and drags him with her.]
CHLOE
I don't mind the company. I just don't want to keep you from anything important.
ELI
Oh, I am done with "important". I'm taking the day off from "important".
CHLOE
You should.
ELI
So should you.
CHLOE
(scoffing)
Me? I don't even know what to do with myself, Eli. I'm the last person who should be here.
ELI
(scoffing)
I'm second to last.
CHLOE
You're underestimating yourself.
ELI
So are you.
CHLOE
(stopping)
Can you show me how to use that shower you were talking about.
ELI
(as if not believing his luck)
Yes. Yes, I can.
INT-CONTROL ROOM
[Young enters the room, still limping. Rush is alone working.]
YOUNG
Scott's checking out the shuttle, seeing if it's operational. Everyone else is holding the work until you give the green light.
RUSH
(nodding)
Thank you.
YOUNG
Look, I, uh, I want you to know that I am well aware that in the field of Ancient technology or pretty much any other subject I can think of, you're the-you're the best I've got.
[Rush scoffs.]
YOUNG
But we can't be working at cross-purposes.
RUSH
All I ask is that you check with me before issuing orders.
[He rubs at his face, tired.]
YOUNG
Check with you? No, no. See, you've got it backwards. If you're doing something, I want to know what it is. And this is not a request.
RUSH
(irked)
Done. Fine. I'll tell you everything.
YOUNG
If there is an issue that affects everybody on this ship, like we're running out of power...
RUSH
(exasperated sigh)
I think I already told you that.
YOUNG
I'm not here to snap you back or piss you off, but if we're gonna be on this ship for any length of time, we need to be on the same of page.
RUSH
I think...our length of time together on Destiny may be shorter than you think.
YOUNG
Okay.
RUSH
Uh-huh.
YOUNG
I get it. Who can I bring in to help?
RUSH
Honestly, it may take longer than we've got to bring someone else up to speed.
[Young slaps the console decidedly.]
YOUNG
Volker it is.
RUSH
(sarcastic)
Perfect. Terrific.
[Young starts to leave.]
YOUNG
You can tell him to sit on his hands if you want to.
INT-STORAGE ROOM
[Spencer talks into the kino.]
SPENCER
Spencer, Sergeant. I'm thirty-one. All I want to say is, I never asked for this. All I want is...to get off this ship.
[Upset, he turns off the kino.]
INT-SHOWER ROOM
[Chloe is behind the frosted glass doors, enjoying a shower. Eli stands against the wall near the door, back facing Chloe.]
ELI
What's it feel like?
CHLOE
What?
ELI
What's it feel like on your...bare skin?
CHLOE
It's really warm.
ELI
Yeah?
[James enters.]
JAMES
Eli.
ELI
(guiltily)
I'm just standing guard! Anybody could walk...in. I...what?
JAMES
(glancing at Chloe, distracted)
Eh, whatever. I need to talk to you.
(sultry)
Alone. It's important.
[Eli glances between the shower and James, who is pushed into his personal space with a sultry smile. He's trying not to directly look at either of them.]
ELI
Wow. I am so torn.
JAMES
Chloe, I'm gonna take Eli for a minute. Is that all right with you?
CHLOE
Okay.
ELI
I'll check back with you later, okay?
[There's no response.]
ELI
Okay.
[He follows James.]
INT-CONTROL ROOM
[The power flickers again as Volker joins Rush. Rush sighs in frustration.]
VOLKER
Hey, heard you could use a helper.
RUSH
Well, you heard wrong.
VOLKER
Yeah, Young said not to take "no" for an answer.
RUSH
If he wanted to be helpful, he would've sent Eli instead.
VOLKER
(drily)
Well, thank you for that. But, Eli's a kid, really, and I'm an astrophysicist.
RUSH
(interrupting)
Mr. Volker, I neither need nor want your help. All right?
VOLKER
Look, he's just going to drag me back in here and you know it. Come on.
RUSH
(sighing)
Right. I'm concerned that Destiny is on the verge of losing power. Look for yourself.
[Volker draws closer to Rush's console. Rush does not look away from the controls but points Volker towards another console on the far side of the room. Silently, Volker obeys.]
VOLKER
This ship's been flying around for the better part of a million years.
RUSH
I know.
VOLKER
So I don't understand why all of a sudden...
RUSH
(irked)
So, we showed up and started doing things, how about that?
VOLKER
Like what?
RUSH
Dialing back to Earth, for one!
VOLKER
Oh, come on, we had to try. Look out a window, man. We're-we're flying faster than the speed of light. How close to the end of our rope can we be?
RUSH
(dismissively)
You're obviously not capable of seeing the signs.
VOLKER
Okay. Well, speaking of signs, when was the last time you slept?
RUSH
Look, if you know what you're looking for, there are clear indications that power is being channeled into life support and away from-
VOLKER
(interrupting)
How can you know that?! We're still completely locked out of the core systems.
RUSH
(enraged)
Out!
VOLKER
Okay, I'll... Forget I said anything.
RUSH
Now!
VOLKER
No, I'll just work quietly.
RUSH
(unhinged)
Well, it's too bloody late for that, isn't it? I told him you'd be a waste of time. A waste of time that we can ill afford! If you can't see the signs, staring you in the face, then you're no good to me! Get out!
[Tamping down his own temper, Volker leaves. Rush puts his head in his hands.]
EXT-OBSERVATION DECK
[James leads Eli into the observation deck, where several others of the expedition are already standing, seemingly waiting for them. Eli pauses, feeling threatened.]
JAMES
Look...we just want to talk.
ELI
You said, "alone".
JAMES
(unrepentant)
Well, how else was I supposed to get you out of there?
SPENCER
What's going on, Eli?
ELI
You mean right now?
JAMES
Don't be an idiot.
ELI
(sarcastic)
Wow, you must be getting to know me, because I respond really well to that.
RILEY
We can't get a straight answer from anybody about whether or not we're going to make it back to Earth.
ELI
(guileless)
I don't think anybody knows.
JAMES
They don't know, or they won't tell us?
ELI
I'm pretty sure if they knew, they would tell you.
SPENCER
(smirking)
They'd tell you.
ELI
Me? Are you serious?!
SPENCER
Yeah, we are, Eli. You're on the inside. Rush needs you. The Colonel's looking out for you.
ELI
Okay. Tell you what. If they tell me, then I'll tell you.
RILEY
That's all we ask.
ELI
That's it?
[The crowd nods.]
ELI
(sarcastic)
Great. This has been good. I think as a group, we've bonded.
INT-YOUNG'S OFFICE
[Young has set up in a chamber with a couch, and a desk and chair. Volker enters.]
YOUNG
(chuckling)
You, uh, you've got to be kidding me.
VOLKER
Oh, no.
YOUNG
You were in there five minutes.
VOLKER
He kicked me out.
YOUNG
What? What's the matter with you? You're a-you're a grown man.
VOLKER
I know that, but he said "out".
YOUNG
Well, what the hell did you say to the man?
VOLKER
I didn't say anything. I was just trying to figure out what his problem was.
YOUNG
It's our problem, Volker! It's not just his. I need you to get your ass back in there.
VOLKER
I'm telling you he's gone crazy.
YOUNG
Yeah, we already knew that. Go.
VOLKER
This isn't the old crazy, this is a whole...new crazy.
YOUNG
Would you like me to hold your hand? Is that it? Is that-is that what you need me to do?
VOLKER
Colonel, I'm trying here...
[Volker stands and starts limping out.]
YOUNG
All right. Here we go. Let's do this. I'll take you there myself. And for god's sake, Volker, if you people can't stand up to the son of a bitch...
[The power flickers then completely shuts down.]
EXT-SPACE
[Destiny drops out of faster than light speed and drifts forward in subspace speeds.]
INT-SHOWER ROOM
[The power shuts down as Chloe finishes her shower.]
INT-OBSERVATION DECK
[The lights go off.]
INT-CORRIDOR
[Power shuts down.]
EXT-SPACE
[Power shuts down all over the ship.]
INT-CONTROL ROOM
[Lights in the control room are among the last to go out, just as the Young and Volker enter.]
YOUNG
Did you do that, Rush?
RUSH
Is that what you think? No. No, I didn't. But I have been standing here for the past few minutes watching systems fail all over the ship. And there's nothing that I can do to stop that. The FTL drive was amongst the last to go.
VOLKER
We could be in range of a Stargate.
[Rush chuckles manically and nods to Young, pointing at Volker.]
RUSH
You see what I mean? No, there's no countdown.
[They look to the timer in the room and see it too is black.]
YOUNG
There's got to be emergency reserves.
RUSH
I don't think you seem to understand what's going on here, Colonel. Our reserves are gone. All of our power...is gone!
INT-STORAGE ROOM
[Volker stands in the darkened corridor, speaking into the kino camera, which is still active.]
VOLKER
Uh, Dr. Dale Volker. I'm thirty-four years old. And, uh, despite what you may or may not have heard from...a certain Scottish person, I like to think that I'm a pretty fine astrophysicist. I mean, they don't send you to work on solving the mysteries of the universe on other planets if you're a hack, right? So...that's all I have to say. And we can't all be Mozarts, right? Some of us are...Salieris. Not that there's anything wrong with that. I...I like Salieri. I find his music, uh...it's uh...it's soothing. I'm not suggesting he's Mozart, either. Although, Mozart did go a little nuts, didn't he? All right, I'm done. He's maybe a Shubert at best. Or an Elgar?
(there's a cut)
I'm done, Eli.
INT-CORRIDOR
[Eli heads down the corridor amongst confused crowd.]
FRANKLIN
(spotting Eli)
Hey. The lights went off in my compartment.
ELI
Yeah, it's the same all over.
FRANKLIN
Well, why?
ELI
(exasperated)
Why does everybody think that I know everything?
CHLOE
(from shower room)
Eli! Eli! ELI!
INT-SHOWER ROOM
[Chloe struggles to put on clothes in the dark.]
CHLOE
Eli!
ELI
Chloe! Oop!
[Eli quickly dives back around the corner to give her privacy.]
CHLOE
(angry and frightened)
Not funny, Eli!
ELI
It wasn't me! We had a power failure or something! I was on my way to go-
CHLOE
Well, I'm freezing, and I can't see!
ELI
Here, let me help.
[Eli programs his cell phone with the application to be a flashlight, inadvertently glancing at her still naked body.]
ELI
Oh! Sorry! Sorry!
[Chloe sighs and gets dressed.]
CHLOE
Everything just...stopped and went pitch black. I completely freaked.
ELI
Yeah, we heard. How was the shower?
CHLOE
(stiffly)
Fine. Thanks for asking. Look, just...go find out what's going on. I'm okay.
ELI
(handing her the phone)
Here, here. It's...something, anyway. Don't make any long distance phone calls.
CHLOE
Thanks.
[Eli starts to walk away.]
CHLOE
(panicked)
Eli!
ELI
Yeah?!
CHLOE
Wait for me?
ELI
Sure.
CHLOE
(pointedly)
Turn around.
ELI
Sure!
INT-CORRIDOR
[Rush leads Young and Volker into the Gate Room.]
YOUNG
So it wasn't anything you did?
RUSH
Since I arrived, I have been unable to do access any of the core systems: power, navigation, or propulsion.
YOUNG
Why didn't you bring somebody else in on this?
RUSH
(extremely irritated)
Because I'm the only qualified person!
YOUNG
You see, this is what I'm talking about.
VOLKER
Maybe it's like a Lantian device. You need the Ancient gene to access...
RUSH
Destiny predates that technology.
YOUNG
You know that for a fact?
RUSH
(enraged)
Yes, Colonel! I know many many things for a fact! I know you asked Gorman to poke around in in the weapons systems, for a fact! I know you have ordered teams of people all over this ship to do things that they know nothing about! For a fact!
YOUNG
Right. You think all those things add up to this, Rush? Does that make sense to you?
INT-GATE ROOM
[Rush pokes uselessly at the dead controls on a console.]
RUSH
Look! Look! No, you're right. You are right. It was your reckless, pointless attempt to dial Earth that robbed me of the time I needed to solve this problem!
YOUNG
Well, maybe we're just missing something.
RUSH
YES! The opportunity of a lifetime! Because you wouldn't listen to me!
[Rush starts pacing the Gate Room, ranting. Young turns aside and picks up his radio.]
YOUNG
(into radio)
TJ, this is Young. We could use a medic in the Gate Room.
RUSH
(while Young is speaking)
I refuse to be held responsible for this situation!
YOUNG
Nobody's blaming you.
RUSH
I ran out of time.
YOUNG
We can fix this!
RUSH
(spitting and red faced)
Fix this?! What, you think just because you give the order that it's possible?! There is no more power! Destiny saved every last ounce of its reserves for life support! And I've seen it happening! I've seen it being...sequestered away from me! I tried to...I tried to stop it. I tried to stop it, but I couldn't.
YOUNG
(placating)
Rush...
[Rush grabs his head.]
RUSH
In a few days time, this...this ship will go dark. It will go dark and-and cold...
[Rush collapses, unconscious. Young kneels to help him.]
YOUNG
(sternly, into radio)
TJ, now!
INT-CORRIDOR
[Riley speaks to the kino.]
RILEY
Okay, uh...I'm uh, Sergeant Hunter Riley. I'm, um, one day short of my thirtieth birthday. Um...I grew up on a farm. I, uh, I have relatives who've never even left the state, and here I am halfway across the universe, so...no regrets.
EXT-SPACE
[Destiny flies toward a planet orbiting a large, reddish star.]
INT-GATE ROOM
[Eli joins Volker, Brody and Young in the room.]
YOUNG
So...
VOLKER
Rush was right. Everything but life support is dead.
YOUNG
Well why now? Why just when we showed up?
VOLKER
Because we just showed up.
BRODY
Well, there's the Stargate. It's a power hog, and we had it on all day yesterday.
VOLKER
There's still some power, and the shields are still working to some degree, but...
BRODY
Again, that's to keep us alive.
YOUNG
For how long?
BRODY
We're going have to wait for Rush to wake up for an answer to that one.
YOUNG
TJ says he's not going to be up for a while. So...where does that leave us?
[Volker and Brody exchange looks.]
BRODY
Dead.
VOLKER
Dead.
[Young looks to Eli.]
ELI
Not right away.
VOLKER
Yeah, we have days, maybe a lot of days, but if there's no Stargate in range...
ELI
And there's not.
BRODY
We don't have the power to dial out anyway.
VOLKER
So, it's a race between food, water, and life support.
YOUNG
I don't buy that.
VOLKER
We can't do anything without access to the ship's systems.
(punches dead controls)
Look. I mean, I could stand here all day.
YOUNG
Eli.
ELI
I...put a kino into search mode and sent it into un-pressurized areas of the ship looking for an active console, somewhere. Nothing yet. Also, I was looking into if there's any way we could integrate the shuttle's power with the ship's system...?
YOUNG
So, you're working the problem.
ELI
Yeah.
[Young turns back to Brody and Volker, who look irked they didn't think of those ideas first.]
YOUNG
Does the computer hacking drop-out have to save our asses?
ELI
(insulted)
The dropout is still here.
YOUNG
Or are you going to get your heads out of yours?
BRODY
The shuttle idea's pretty good.
VOLKER
Yeah, there might be a work around.
YOUNG
Well, let's do that.
[They leave.]
YOUNG
Thank you, Eli.
[He turns to go.]
ELI
By the way, it's.."MIT dropout".
YOUNG
You wanna-you want a gold star for that?
ELI
No, I just...
YOUNG
Do something. I'm gonna be gone for a few hours.
ELI
Gone?
YOUNG
To report this mess. If you need me, yank me back.
INT-CARGO AREA
[Scott keeps looking at El off-camera in between talking to the kino.]
SCOTT
(mumbled to Eli)
Oh, is it on now?
(into kino)
Lieutenant Matthew Scott. Ahem. I'm twenty-six years old. And...I'd like to say a prayer for all of us, if that's okay.
ELI
Sure. Yeah. Whatever you want.
SCOTT
"The Lord is my shepherd, I shall not want... He maketh me to lie down in green pastures, he leadeth me to still waters..."
EXT-PENTAGON, ALEXANDRIA, VA, DAY
INT-ANCIENT COMMUNICATION STONE LAB
[A man, Peter (DeLuise), sits at the table, reading a paper. Telford enters.]
TELFORD
I'll take it from here, Peter.
PETER
Again?
TELFORD
What can I say? I'm a glutton for punishment.
PETER
Okay.
[Peter hits a reset button on the console and leaves. Telford sits in the vacated chair, sipping coffee. He touches the stone for several seconds to set it to him.]
INT-DESTINY, YOUNG'S OFFICE
[Young sits down at his desk and places a stone on the activated console.]
[Telford looks around, getting his bearings while back in Young's body. He starts to move, and doubles over in pain from Young's still injured ribs. He notices a note on the table saying "Use the crutch" with an arrow pointed towards his makeshift crutch. He grabs it and limps out, seeing a sergeant approaching.]
TELFORD/YOUNG
What's going on, Sergeant?
RILEY
Actually, I was coming to ask you.
[Telford is taken aback, then glances down, remembering and realizing that he's actually appearing as Young to the sergeant.]
TELFORD/YOUNG
Colonel Young went back to report. I'm Colonel Telford. I'd like to speak with Dr. Rush immediately.
RILEY
Oh, uh, well, he's had a nervous breakdown, sir.
TELFORD/YOUNG
What?!
RILEY
But I can take you to Lieutenant Scott. He's in the shuttle.
INT-OUTSIDE O'NEILL'S OFFICES, PENTAGON
[Peterson waits outside the office. Young in Telford's body exits.]
PETERSON
Wow, that was quick.
YOUNG/TELFORD
It doesn't take very long to say we're screwed.
PETERSON
I'm sorry, sir. I wish there was something we could do.
[Young/Telford looks up as if thinking of something, then looks at his watch.]
YOUNG/TELFORD
There is.
EXT-SUBURBAN STREET, DAY
[Peterson parks an SUV in front of the address from 5812-5818. Young/Telford exits and stands outside as Peterson heads up the walk.]
PETERSON
I'll shout down when she's ready to see you.
[Young closes the door, staring at Telford's reflection in the window.]
INT-DESTINY CORRIDOR
[TJ is before the kino.]
TJ
Lieutenant Tamara Johansen. I'm a paramedic. I actually quit my job a few weeks ago. I shouldn't even be here. Huh. To think, I could've missed all of this.
[She shuts down the light, and the kino shuts down.]
EXT-SUBURBAN STREET, DAY
[Peterson and Young pass each other on the sidewalk. Young, in Telford's body approaches Emily, who stands at her door. He pauses. Emily sees Telford.]
YOUNG/TELFORD
Hey...Emily...
[He starts to draw closer.]
EMILY
No, don't. I said that you could come in, but that's all.
[He eases past her. She looks very disturbed.]
EXT-SPACE
[Destiny draws closer to the planet, a blue gas giant.]
INT-SHUTTLE
[TJ, Scott, Brody, Volker, and Greer work on the shuttle controls. Telford, in Young's body, enters, led by Riley.]
TELFORD/YOUNG
Scott? Johansen? A word, please?
[They come closer.]
TELFORD/YOUNG
There's no power except for the shuttle?
SCOTT
(confused)
Sir, you already know that.
TJ
(realizing)
Matt, this is Col. Telford.
TELFORD/YOUNG
(coldly)
That's right. Now would either of you two officers care to explain how Colonel Young managed to let things fall apart so fast?
SCOTT
There was no way of knowing this was going to happen...
TELFORD/YOUNG
You're saying Rush didn't see this coming?
[Neither meets his eyes and remain silent.]
TELFORD/YOUNG
That's what I thought. I want to know what's really going on aboard this ship.
INT-EMILY'S LIVING ROOM
EMILY
It's just-it's ridiculous.
YOUNG/TELFORD
It's true.
EMILY
Let's say that it is. Why? Why are you putting me through this?
YOUNG/TELFORD
Because I-I wanted to say...
[She looks at him expectantly. He looks down, unable to continue. Emily realizes he's giving a last goodbye and sighs heavily.]
YOUNG/TELFORD
I'm sorry. I didn't choose my job over you.
EMILY
It wasn't just about the job.
YOUNG/TELFORD
I know.
[He starts to leave, then turns back.]
YOUNG/TELFORD
I love you.
[He leaves.]
EXT-SUBURBAN STREET, DAY
[Young/Telford joins Peterson inside the SUV.]
PETERSON
I'm guessing that didn't go well.
[Peterson spots Emily coming out of her house and towards the car.]
PETERSON
(indicating Emily)
Sir...
[Young/Telford exits the car and joins Emily, who paces on the sidewalk.]
EMILY
How does this change anything?
YOUNG/TELFORD
What do you mean?
EMILY
Let's say that I believe all of this. I don't really, but even if I did, you did choose, and you chose to go...
YOUNG/TELFORD
I didn't choose this.
EMILY
You knew there was a chance you wouldn't be coming back.
YOUNG/TELFORD
I am coming back.
EMILY
No. You wouldn't be here like this to say goodbye if you really thought there was a chance!
YOUNG/TELFORD
Listen, I'm doing everything that I can. I'm going-I'm going...I'm going to do everything that I can. I want nothing more than to get back here to be with you. And I want nothing more than for you to be there for me when I do get home.
[He reaches for Emily but she pulls away.]
YOUNG
I'm just-I'm just saying I don't-I don't know when that will be. Please...
EMILY
(shaking her head)
You made your choice, Everett. And I made mine. Nothing's changed. And I really...I really do hope that you're going to be okay.
YOUNG/TELFORD
Hey.
[He reaches for her but she slips out of his grasp, looking very uncomfortable.]
EMILY
No.
YOUNG/TELFORD
Listen...
EMILY
Don't, please.
YOUNG/TELFORD
Emily, listen, please. Emily.
EMILY
Just let me go.
[She heads back to her house.]
INT-SHUTTLE
TELFORD/YOUNG
(angry)
I gave you a direct order, Lieutenant!
SCOTT
(upset)
Sir, I understand that you gave me a direct order, and I respectfully suggest it would be a complete waste of time! I am telling you, this ship came here for a reason!
[While Scott is speaking, TJ notices Young has returned to his own body and silently tries to get Scott's attention.]
SCOTT
Sir?
YOUNG
The ship came here for what reason?
SCOTT
(relieved)
Colonel Young?
YOUNG
Yeah, yeah. What the hell was Telford just ordering you to do?
SCOTT
Use the communication stones to report that you need to be replaced.
YOUNG
Well, he's probably right about that. So, the ship came here for what reason?
[Scott gestures for him to join them in the cockpit.]
INT-CORRIDOR
[Park is talking into the kino.]
PARK
The odds of coming out of FTL on the outer edge of a star system...are astronomical. Throw in the fact that there are three potentially habitable planets plus a gas giant to act as a comet catcher on the outside of the system? We're talking miraculous! So, there's a chance now that we're gonna live. Though our definition of habitable just means the surface temperature range allows for the presence of...liquid water. And since the primary's a red dwarf, the planets must have a relatively short orbital radius just to fall within that range, which means, there's a likelihood at least one or two of them will be tidally locked: meaning one side will always be facing the star, which increases the prospect of geological instability due to tidal stresses, and I can't stand earthquakes. I was in one when I was thirteen, and...I cut both my feet on broken glass.
(trying to sound optimistic)
But...it-it might be nice!
INT-RUSH'S CHAMBER
[Rush awakens to find himself lying on a bed, TJ sitting beside him.]
TJ
Hey. How are you?
RUSH
How did I get here?
TJ
You're not that heavy.
RUSH
Ooh.
TJ
You passed out for a little while.
RUSH
How long?
TJ
About ten hours. It's probably the first real sleep you've had since we arrived here.
RUSH
Has anything happened?
TJ
Not since we lost power, no. You haven't missed a thing. How do you feel?
RUSH
Embarrassed.
TJ
Don't be.
RUSH
(ruefully)
Oh, you weren't there.
TJ
Your head's pounding, right?
[Rush nods.]
TJ
How many cups of coffee do you normally drink a day? Four? Five?
[Rush gestures she go higher with her number.]
TJ
You're in caffeine withdrawal. So are about a dozen other people on board. It can make you pretty crazy. You should see the smokers.
RUSH
(shrugging)
You're looking at one.
TJ
Double whammy, huh? I was going to let you sleep it off, but the Colonel wants you to see something, so let's go.
INT-CARGO AREA
[Eli, off-camera, is cajoling Rush to speak into the kino. Rush is gathering items, trying to ignore the kino.]
ELI
(off camera)
If you don't do one, they're not going to know who the hell you are.
RUSH
Eli, I have nothing to say.
ELI
People are going to find this. They're going to want to know who we were. Look, I'll do your slate, okay? This is Dr. Nicholas Rush. He is the lead scientist of the Icarus Project. Now, just...say what you feel.
[Rush stares into the camera lens, saying nothing.]
INT-SHUTTLE
[TJ leads Rush into the shuttle, joining the others.]
YOUNG
Come on in.
[Rush sees they're approaching the gas giant.]
RUSH
Orbital insertion trajectory.
SCOTT
That was my first thought.
[Scott, TJ, and Young are smiling.]
GREER
No, your first thought was we were going to fly into the damn thing.
SCOTT
(ignoring Greer)
But no, sir. I'm guessing we'll get close enough to kiss, but not enough for capture.
RUSH
An aerobraking maneuver.
SCOTT
Well, the math's over my head, but yeah. Should come out of the slingshot somewhere in system.
RUSH
Where there are habitable planets.
[Young's smile falters and exchanges looks with TJ. She shrugs, looking innocently.]
TJ
I didn't tell him.
RUSH
No, but you're all smiling.
YOUNG
Well, we're still too far out to know if they're anything more than rocks, but we found three candidates before Big Bertha here filled up the sky.
RUSH
So this trajectory is no accident then.
YOUNG
Oh, the man's quick. We'll know once we're clear.
SCOTT
That'll be in uh...
(checks watch)
Six minutes.
[Rush picks at some stickers labeling the Ancient buttons, reading the language beneath.]
RUSH
Who translated this? You know it's completely backwards.
[He fixes the stickers. Young and Scott exchange looks.]
SCOTT
(indicating chair)
Well, pull up a chair, sir. This'll be a show you don't want to miss.
YOUNG
So we're clear, my definition of habitable includes a sandy beach, a tropical climate-
RUSH
There's going to be some severe turbulence when we contact the atmosphere.
YOUNG
(losing good humor)
I'll pass the word.
RUSH
Colonel, about our previous conversation...
YOUNG
Rush, no need to apologize.
RUSH
I wasn't about to. I'm trying to explain I was suffering from withdrawal symptoms.
YOUNG
Yeah, yeah, I know. I know all about it.
[He limps out with Greer as escort.]
YOUNG
(low, to Greer)
Lotta, lotta work.
INT-CORRIDOR
BRODY
Hello there. Adam Brody is my name...Can I start again?
(cut)
My name's Adam Brody, as I said earlier. Hello.
ELI
Cut.
BRODY
(smiling)
Adam Brody, engineer. I like football and-
[Eli starts snickering offscreen.]
BRODY
What?
ELI
(amused, offscreen)
Dude. This isn't for a dating service.
[Brody sighs and rubs his face nervously.]
BRODY
Yeah, I just-I don't know why that came out. I'm just-I don't know why I'm so nervous.
ELI
No, no. It's all good. It's all good. We-what do we got? We have...your name. We have your job. Uh, what else is there...? Oh! You're forty-something, so...
BRODY
(insulted)
Thirty-thirty six.
ELI
(abashed)
Okay.
(chuckles)
We got that now. We'll fix that in editing. All that's left is...what you want to say for posterity.
BRODY
I always knew I was going to die in space. From the moment I stepped through the Stargate, I, uh... I mean, I didn't expect this. But I knew something...awful was going to happen. I just knew it.
INT-CORRIDOR
[Young and Greer head down the corridor.]
YOUNG
This is Young. We are expecting some atmospheric turbulence in a few minutes. Find a secure place, and plunk your asses down.
[They spot a dark shape hovering nearby. Greer raises his sidearm. The shape is a kino.]
RILEY
(via kino)
Whoa! Don't shoot! It's me!
GREER
You can talk through that thing?
RILEY
(via kino)
Hey, I can talk through this thing.
[The kino camera spans past Greer's and Young's puzzled faces to where it was watching...a chamber where James was in her underwear. She comes out.]
ELI
(embarrassed)
Uh...Uh, R-Riley...Riley asked me how to...
RILEY
I asked him how the kino works.
ELI
(chuckling guiltily)
Yeah, yeah! We took a wrong turn.
[James looks from Greer and Young down to her small attire and glares at Eli and Riley.]
JAMES
I can and will kick your ass.
ELI
(pointing to Riley)
No.
YOUNG
Let's do that later. We're going to pass very close to a gas giant in a few minutes. It's going to be a bumpy ride. We're short on radios. Help me spread the word.
JAMES
Yes, sir.
[She casts one more threatening look at Eli and Riley, then stalks off.]
YOUNG
Wrong turn? Really? You're going to stick to that story?
[Riley and Eli nod weakly.]
YOUNG
Go. Help. Now.
[Eli grabs the remote from Riley and the kino from the air.]
EXT-SPACE
[The ship flies in the outer atmosphere of the gas giant.]
EXT-OBSERVATION DECK
[Several people are in the deck already, staring in wonder at the site of the blue planet before them. Brody and Volker enter.]
BRODY
Oh, my...
INT-SHUTTLE
[Scott is in the starboard seat, Rush the center. TJ the port.]
SCOTT
(into radio)
Ninety seconds to contact.
INT-CHLOE'S CHAMBER
[Eli waits impatiently while Chloe pulls on her shoes.]
ELI
C'mon, c'mon, c'mon!
CHLOE
(annoyed)
I'm coming!
ELI
Well, we don't have much time.
CHLOE
(rolling her eyes)
We've seen planets from space.
ELI
How could you let yourself get jaded to this stuff so fast?
CHLOE
I'm not jaded. I've just got other stuff on my mind.
ELI
(playfully)
Oh. Well, we're just passing through the atmosphere of a gas giant on the far side of the universe...in an Ancient spaceship. I'm sure there'll be other gas giants.
CHLOE
(holding out her arm limply)
Okay, okay, let's go.
[He drags her along to the corridor, laughing.]
INT-CORRIDOR
CHLOE
Eli...can we please slow down?
ELI
Trust me, it'll be worth it, okay?
EXT-OBSERVATION DECK
[Eli and Chloe enter, finding the crowd.]
CHLOE
(awed)
Oh.
ELI
(deflated)
I guess everybody had the same idea.
CHLOE
Eli...it's beautiful.
[They move closer to the railing and smile.]
INT-SHUTTLE
SCOTT
(into radio)
Thirty seconds to contact. Hang on.
[Rush and TJ strap themselves in using seat-belts.]
INT-CORRIDOR
[Young spots people in the corridor taking refuge against the bulkheads.]
YOUNG
No, no, no. I need everyone away from the walls. Away from the walls. The turbulence could break your back.
[People move into the center of the corridor.]
EXT-OBSERVATION DECK
[They all feel the floor shaking beneath them and start to lower themselves to keep their balance.]
ELI
Sit down.
INT-CORRIDORS
[Young loses his footing. Other people fall to the floor as the shaking increases.]
INT-SHUTTLE
[Rush's mug swirls around and they all shake, bracing themselves.]
EXT-SPACE, GAS GIANT
[Destiny flies through the atmosphere.]
EXT-OBSERVATION DECK
[The rumbling subsides. Eli chuckles in relief.]
EXT-SPACE
[The ship flies away from the planet's atmosphere.]
INT-SHUTTLE
SCOTT
Whoo! Hell of a ride, huh?
[TJ laughs.]
RUSH
Yes. Yes, it was. Now. Let's find these planets you were talking about.
SCOTT
(looking at a map on a ship monitor)
Here they are. Dead ahead.
[Young enters.]
RUSH
Yes, we should be able to analyze the atmosphere of the nearest planet within a few hours.
YOUNG
Are we clear?
SCOTT
(elated)
Yes, sir. Did you catch any of that?
YOUNG
No, I couldn't get back in time.
[Rush stares at the trajectory of the ship on his monitor.]
RUSH
This is unbelievable. Lieutenant, look at this.
[Scott and TJ are laughing with Young.]
RUSH
Please, everyone...
SCOTT
You sure missed a great show, sir.
RUSH
(louder)
Please, everyone be quiet! Our trajectory has changed.
SCOTT
Oh no.
TJ
Changed?
RUSH
The planet has altered Destiny's course more than we hoped.
YOUNG
What are you talking about, Rush?
[Scott stares at the screen in stunned horror.]
YOUNG
Lieutenant, what the hell's he talking about?
EXT-SPACE
[Destiny is headed directly towards the sun of the solar system.]
FADE OUT
END CREDITS

Source : http://www.stargate-sg1-solutions.com/wiki/SGU_1.04_%22Darkness%22_Transcript