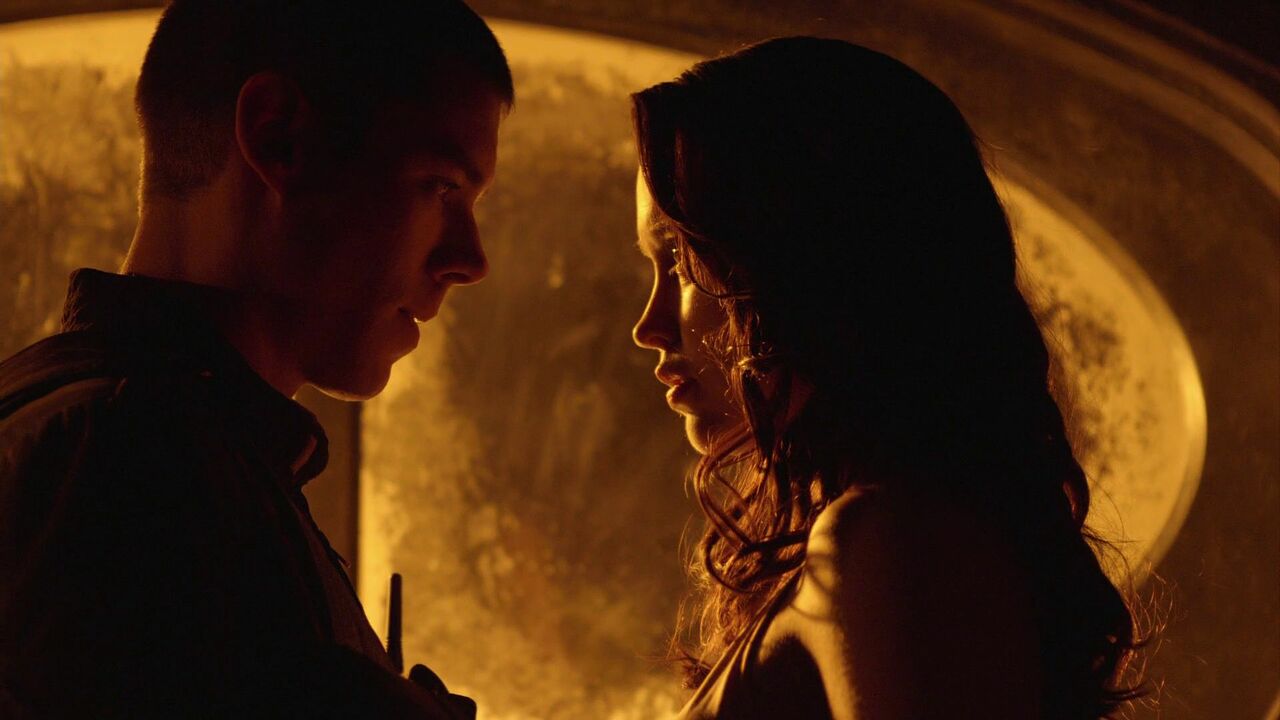 Transcript VO
PREVIOUSLY ON STARGATE UNIVERSE
[Excerpts of SGU 1.01 "Air Part 1" - SGU 1.04 "Darkness" are shown.]
TEASER
INT-CORRIDOR
[Greer speaks into the kino.]
GREER
Ronald Greer. I can't think of a better way to move on from...from this world into the next, or whatever comes...than to fly into the most powerful thing in all creation-a star.
[He chokes back tears, looking away from the camera.]
GREER
Out in a blaze of glory. I like that. That's beautiful.
END TEASER
OPENING CREDIT
EXT-SPACE
[Destiny approaches the red dwarf star.]
INT-GATE ROOM
[Everyone is gathered in the room, talking in small groups. At the top of the stairwell stand Greer and Scott, both armed with rifles. Young limps in.]
YOUNG
(to Scott)
Everyone here?
SCOTT
All here, sir.
[Young starts down the staircase.]
YOUNG
(loudly)
If I could have your attention?
[The murmuring dies down.]
YOUNG
You've all heard about our situation. It sucks. I'm going to repeat the facts, so that we are all clear. In just over a day, this ship will fly into a star. Now, we have no power to change its course. We have no idea how to steer the ship. Even if we did, we are having another...bad day. So here's what we're going to do. We have a working shuttle. We think there are three planets out there that might be habitable. Now, we think...we believe that it's no coincidence that Destiny dropped out of FTL in this solar system-to give us a chance. Now, once we know for sure that there is a planet out there for us, we are going to have a lottery.
PEOPLE IN CROWD
What?
YOUNG
We will draw the names of fifteen people...
PEOPLE IN CROWD
Fifteen?
BRODY
The shuttle can hold twice that many.
SCOTT
Not once it's been loaded up with supplies. Besides, there's only life support for seventeen, max.
WRAY
You said fifteen.
YOUNG
I will be choosing two of the people myself. Two people with the necessary skills to fly the shuttle and survive on the planet.
SPENCER
Yeah, I bet I can guess who they are.
PEOPLE IN CROWD
Yeah.
YOUNG
I'll be taking my name out of the lottery. Anyone who wants to join me...keep talking.
[The crowd is deathly silent. Spencer still looks mutinous.]
YOUNG
We're still several hours away from knowing if the first two are even habitable, so I suggest you all go back to your quarters and wait it out. That's all I have for now.
[The crowd disburses, muttering to each other. Wray makes a beeline to follow Young out of the room. Rush remains in the shadow by the Stargate, alone, before leaving. Eli searches for Chloe amongst the crowd. He passes James, who walks away. Eli sees Chloe down the hall in an amorous embrace with Scott. They walk hand-in-hand down the hall, not noticing Eli. Eli looks crestfallen.]
INT-STORAGE ROOM
[Greer coordinates removal of supplies to stock the shuttle.]
INT-SPENCER'S CHAMBER
[Spencer takes a prescription medication.]
INT-SCOTT'S CHAMBER
[Chloe and Scott start to undress. They move to the bed and make love.]
INT-YOUNG'S OFFICE
[Young is at his desk by the time Wray enters.]
YOUNG
What?
WRAY
You should pick everyone who goes on that shuttle. It's the responsible thing to do. And...you should include yourself. If they're going to survive, they'll need leadership.
YOUNG
And an...HR lady, I'm guessing.
WRAY
(rolling her eyes)
I am not above that. I would want you to consider me, yes. I would want you to consider everyone who could contribute to their survival. I think you should do your job and make the choices you need to make.
YOUNG
It wouldn't be very fair.
WRAY
It would be more unfair to send the wrong people-
YOUNG
We're all the wrong people. These are the wrong people.
WRAY
(insistent)
That's up to you.
YOUNG
Wow. Okay...okay, who goes? Other than you or me, I mean, um...or haven't you given it much thought?
WRAY
(sighing)
We can come up with a short list. Factor in skills and strengths to increase their chances of surviving. Take age and sex into consideration.
YOUNG
(flippant)
How 'bout just the people we like?
WRAY
That's not what I'm saying.
YOUNG
You need to leave.
WRAY
Handpicking just two of them is a cop-out, and you know it! The responsible thing to do is-
YOUNG
(speaking at same time)
And by that I mean, get out now, or I'm going to take your name out of the lottery. I may just anyway.
[He starts ruffling through the papers. She stays his hand.]
WRAY
(scared)
Please don't.
[She leaves, holding back tears. Young watches her go.]
INT-ELI'S BEDROOM
[Eli sleeps in his bed at home on Earth. His mother enters, picking up laundry.]
ELI'S MOTHER
Eli! God, you didn't even set your alarm.
[She shakes his foot.]
ELI'S MOTHER
Eli! I don't have time for this. I thought you had an interview today.
ELI
(groaning)
They canceled. I was up all night.
ELI'S MOTHER
Playing those stupid games.
[She tosses his clothes into the corner.]
ELI'S MOTHER
They canceled, or you canceled?
ELI
Seriously. Mom. It's not my skill set.
ELI'S MOTHER
(rueful)
Nothing is. I'm late. We'll take about it later.
[She slams the door.]
INT-ELI'S CHAMBER
[Eli awakens from his dream in his darkened room on Destiny, looking around at his surroundings.]
ELI
Dammit.
[He notices a kino by his shoe.]
INT-SCOTT'S CHAMBER
[Scott has risen from the bed, getting dressed. Chloe still lies in it.]
SCOTT
I'm just hoping to find a planet, grow some food. Not that I know a...damn thing about farming.
CHLOE
You sound pretty sure we're both going.
SCOTT
Yeah. Yeah, maybe I am.
CHLOE
Has he told you we're the two he's picked?
SCOTT
No, it's just obvious.
CHLOE
How?
SCOTT
There-there's only two qualified pilots on the ship: me and the Colonel. He took himself out, so...
CHLOE
Yeah, well that explains you. Why me?
SCOTT
Come on, Chloe. He has to pick you.
CHLOE
Why?
SCOTT
You're the daughter of a U.S. senator. He's probably been ordered to.
CHLOE
Being a senator's daughter isn't going to help anyone survive on that planet. And I think the Colonel's the kind of man who makes his own decisions.
[She gently braces against his arm.]
CHLOE
I'm not one of the two, Matt. At least, I shouldn't be. I don't even know if I want to be.
SCOTT
Don't say that.
CHLOE
There's still a chance that I'll get chosen in the lottery. But if I don't, I want you to know that...I have probably felt closer to you in these past few days than I have ever felt to anybody. So if this is goodbye...
SCOTT
It's not.
CHLOE
It might be.
[She strokes his face.]
CHLOE
I'm glad he's gonna pick you.
SCOTT
I want you there.
CHLOE
Yeah, well...what are the odds? One in five? One in six?
SCOTT
(sadly)
Something like that.
CHLOE
Well, we'll see.
INT-STORAGE ROOM
[Greer and others stand in front of the kino that Eli is holding.]
GREER
So how are you gonna get the thing off the ship?
ELI
With the remote, when the shuttle takes off. We might even get one last look at the Destiny from the outside before it gets out of range. So...
[Eli breaks off when he sees Scott and Chloe enter.]
ELI
(primly)
What are you guys doing here?
CHLOE
We heard about your message in a bottle.
ELI
It started out as a documentary, actually.
CHLOE
Well, um...we want to be part of it.
ELI
Figured you'd be busy.
SCOTT
Eli, you realize the odds of anybody finding a kino out here...
ELI
(sharply)
Probably nil. I know. Let's do it anyway. Let's do something. Let's leave something of ourselves behind.
[Greer sighs heavily.]
ELI
So, who's first?
INT-CORRIDOR
[Chloe speaks into the kino.]
CHLOE
So, I...okay. I'm Chloe Armstrong. I'm twenty-three, and um...I just want to say that my father gave his life so that all of us could survive another day, and we did.
(chuckles wryly)
Another day.
INT-SHUTTLE
[Young limps into the shuttle. Rush is sitting at the console, looking through his notes.]
YOUNG
Sorry, you radioed me?
RUSH
Uh, yes. Um...the first planet is too cold. Frozen methane. The second is too hot. The third...well, that happens to be behind the star at the moment. Too far away to determine habitability.
YOUNG
When will we know?
RUSH
It doesn't matter. We don't have any choice. We're going to have to launch the shuttle before we can get close enough. The odds...are good, though. Its orbit is in between the other two-the Goldilocks zone, they call it.
YOUNG
Not too hot and not too cold.
RUSH
Yes. Just right.
YOUNG
What if we used the engines from the shuttle to push the Destiny off course?
RUSH
That's a good thought, but, um...I'm afraid I've already run the numbers, and...without getting into Delta-V and thrust to weight ratios, then...
YOUNG
(nodding)
Not a chance.
RUSH
No.
YOUNG
Well, when do we launch the shuttle?
RUSH
We could wait a few more hours, but the extra time...I don't think it's going to give us any more information than we already have.
YOUNG
When the shuttle's loaded, then.
[Young starts to leave. Rush hesitates, then speaks.]
RUSH
Colonel Young...
[Young stops.]
RUSH
If, by chance, you were thinking of choosing me as one of the two, please don't.
YOUNG
Why?
RUSH
This ship...coming here, was my destiny. My life's work was to be here, not trying to survive on some rock with a bunch of strangers. In fact, you can take my name off the lottery altogether.
YOUNG
Look, Rush, I, uh, realize I should've listened to you sooner.
RUSH
No, no. I-I wasn't myself.
YOUNG
Still, you were right.
RUSH
It really wouldn't have made any difference.
[Young snorts and starts to leave.]
RUSH
Do you mind if I ask you who you are going to choose?
YOUNG
Lieutenants Scott and Johansen.
RUSH
(considering)
I would've thought Scott and Greer. Yesterday's heroes.
YOUNG
I've got my fingers crossed for Greer.
RUSH
Well, you could easily arrange that.
YOUNG
You mean, fix the lottery.
RUSH
Yes.
YOUNG
No.
RUSH
There'll be those who think you did, anyway.
[Young leaves.]
EXT-SPACE
[The darkened Destiny floats closer to the star.]
INT-CORRIDOR
[Wray speaks into the kino.]
WRAY
My name is Camile Wray. My age is...none of your business, Eli.
(smiles half-heartedly)
If, um...if anyone finds this within the next...I don't know, forty years. Tell Sharon...my last thoughts were of her.
INT-GATE ROOM
[Everyone is gathered, except for Rush, Scott, and TJ. Young holds a case filled with papers. Greer stands next to him, holding a rifle. James and another military member guard the staircase.]
YOUNG
The names of every person in this room are written down on one of these pieces of paper. Dr. Rush and I have chosen to exclude ourselves. If anyone else feels the same way, now would be the time to speak up.
[People look around, but no one responds.]
YOUNG
If your name is chosen, you are to go directly up these stairs to the shuttle, where you will be met by the two people that I have already chosen.
INT-SHUTTLE
[Scott arms his pistol. TJ straightens her tac vest.]
INT-GATE ROOM
YOUNG
Lt. Scott has pilot training. TJ's skills as a medic will be essential on the planet. If your name is not chosen, you are to remain here until I receive word the fifteen are aboard and the shuttle's rear hatch is secure. Does anyone have anything to say?
[No one speaks, but all look scared and nervous. Young closes the case and shakes it around solemnly before setting it down and opening it to pull out one paper.]
YOUNG
Airman Becker.
[Becker looks shocked.]
YOUNG
Go.
[Becker heads up the steps.]
YOUNG
David Walters.
[Walters, wearing a suit, quickly moves to the stairs.]
YOUNG
Camile Wray.
[Wray starts, then heads up the stairs, looking back worriedly at those who remain. Spencer nods, his jaw clenched.]
YOUNG
Lieutenant James.
[From her position on the stairwell, she looks down, shocked. Young nods up to her, and she leaves her post, heading to the shuttle.]
YOUNG
Dr. Park.
[Park smiles sadly and nods to people as she makes her way up.]
INT-SHUTTLE
[Becker enters the shuttle. Scott is already there with a lot of equipment and supplies. Scott points to a bench along the side of the shuttle.]
SCOTT
Take a seat. Strap in.
[Walters and Wray jog in, also taking seats. Wray breaks down in sobs. James enters, and Scott points for her to man the door.]
INT-GATE ROOM
[People continue to file up the stairwell towards the shuttle bay as Young reads names.]
YOUNG
Mister Brody.
[Brody taps Eli on the shoulder as he passes. Volker pats Brody.]
YOUNG
Sergeant Riley.
[Eli hands Riley a kino. He solemnly takes it.]
INT-SHUTTLE
[James watches as the others file in and take their seats.]
INT-GATE ROOM
YOUNG
And Doctor Boone.
[The crowd sighs and gasps in disappointment.]
YOUNG
That's fifteen. We're done here.
SPENCER
You can fit more people on that thing.
YOUNG
Spencer, I need you to shut up.
SPENCER
Come on, people, if we don't do something right now, we're done!
MAN IN CROWD
He's right. We gotta do something.
[The crowd is quickly turning into a mob. Greer hits Spencer in the head with his rifle butt, knocking Spencer to the floor, unconscious.]
GREER
Now, I don't want to have to do that to anybody else...but I will.
[The crowd is silent, cowed.]
INT-SHUTTLE
[Riley sets the kino up to hover in the pressurization chamber between Destiny and the shuttle, then enters the shuttle and takes his seat.]
JAMES
That's it.
TJ
Full count.
[Scott closes the hatch with a sigh. James and Scott takes their seats.]
SCOTT
(into radio)
This is Scott. Everyone's aboard. Rear hatch is secure.
INT-GATE ROOM
YOUNG
(into radio)
Give yourself a sixty second countdown, Lieutenant. Some of us would like to see you off.
SCOTT
(over radio)
Copy that.
[The crowd files out, leaving Spencer unconscious on the floor of the Gate Room.]
EXT-SHUTTLE
SCOTT
We're releasing the docking clamps.
EXT-SPACE
[The docking clamps retract from the shuttle.]
INT-SHUTTLE
[The chosen group look sad and lost.]
[The shuttle drifts away from Destiny. The kino floats after it.]
EXT-OBSERVATION DECK
[Young, Greer, Eli, Chloe, enter to watch the shuttle lift off. Rush is already there.]
ELI
The kino's sending back pictures.
[The conversation switches between the shuttle and observation deck.]
SCOTT
This is Scott. We're away.
YOUNG
You're looking good, Lieutenant.
SCOTT
I expect we'll be out of radio range by the time we fire up the main drive, so...we'll be thinking of you guys.
GREER
You too, brother. You too.
YOUNG
Matthew, TJ, take good care of those people.
[The shuttle passengers are grief-stricken.]
[The shuttle flies off.]
[Eli holds up his remote monitor screen, showing the kino's picture of the ship.]
ELI
There it is.
CHLOE
That's the Destiny?
[Greer and Rush move closer to also see this external view of Destiny before it's obscured by the bright sunlight.]
RUSH
(pleased)
Thank you, Eli. I never thought I'd get a chance to see the ship from the outside.
[Eli nods.]
YOUNG
You know what, I think I'm going to go for a walk. How's that sound, Sergeant?
GREER
Sounds like a plan, sir.
RUSH
I shall be in my quarters for the duration. I have a hundred pages of a truly mediocre book to finish.
[Young reaches out his hand to shake Rush's. Rush blinks at it for a moment, then shakes it. Young smiles at them all, then leaves.]
RUSH
Eli, I-uh, I'm sorry I got you involved in this.
ELI
Actually...I'm not. Yet.
(chuckling)
I'll probably be sorry at the end of the day, but...
[Rush looks away.]
ELI
(sobering)
We don't have that long, do we?
RUSH
(shaking his head)
No.
CHLOE
How will it happen?
RUSH
Well, there will be, uh, turbulence from the solar wind, far worse than what we previously experienced. Heat, obviously, and intense G-forces. I suspect the ship will be torn apart long before we reach the star.
[He looks at her frightened expression and tries to smile comfortingly.]
RUSH
Hopefully it will be quick.
[He nods to Eli and leaves. Eli stands at the railing. Chloe rests her head on his shoulder. He watches her sadly, then looks out at the ever closer sun.]
EXT-SPACE
[Destiny is now extremely close to the star, its features of swirling gas clearly visible.]
INT-CORRIDOR
[Young and Greer walk together.]
YOUNG
...and while I don't condone behavior of that kind in any way, shape, or form, I gotta say, the look on Telford's face when you put him down was priceless: complete and total shock.
GREER
He was surprised. Yes, sir.
[They both laughed.]
YOUNG
I guess you can say you even got away with it.
GREER
Just, uh...sorry I...that I disappointed you, sir.
YOUNG
You're a good man, Sergeant, I know that. Besides, the, uh, bastard had it coming.
[They laugh again.]
GREER
Yes, sir. He did.
YOUNG
So long.
[Greer instantly sobers and salutes Young.]
YOUNG
At ease, Ronald.
[Greer notices Young has his hand out to shake and they clasp hands, clutching each other a moment in camaraderie before parting ways.]
INT-YOUNG'S OFFICE
[The sun is bright in the window as the kino starts running. Eli is off camera.]
ELI
Okay, Colonel, just go whenever you're ready.
YOUNG
Yeah, no, no, I got it, I just...uh, if you could just wait outside, Eli. Thanks.
[Eli's shadow can be seen leaving the room. Young waits for Eli to leave.]
YOUNG
Hi, Emily. I just...um...I just wanted to say, um, well...you know...
[Young winces and shuts down the kino.]
INT-GATE ROOM
[Spencer comes to, rubbing his sore jaw. He looks around to find the room empty. Standing, he heads out.]
INT-MESS HALL
[Spencer enters, finding a group of people playing cards.]
SPENCER
Where is everybody?
VOLKER
(shrugging)
All the fun people are here.
[Spencer leaves.]
INT-PANORAMIC WINDOW AREA
[In another corner of the ship, a group of people stand together in prayer.]
CROWD IN UNISON
Our Father, who art in heaven, hallowed be thy name. Thy kingdom come; thy will be done on Earth as it is in heaven. Give us this day our daily bread. And forgive us our trespasses, as we forgive those who trespass against us. And lead us not into temptation...
INT-RUSH'S CHAMBER
[Classical music plays as Rush uses his broken glasses to read his book.]
EXT-OBSERVATION DECK
[Eli and Chloe sit on the bench, hold hands and smile.]
INT-YOUNG'S CHAMBER
[Young takes off his wedding band, sitting on the bed.]
INT-GREER'S CHAMBER
[Greer undresses, sitting on his bed and facing his window.]
EXT-SPACE
[The shuttle flies through space.]
INT-SHUTTLE
[Riley starts suddenly.]
JAMES
What?
RILEY
Oh, nothing. I just...I realized it was past midnight.
PARK
(softly)
Does that mean they've gone into the sun?
RILEY
(embarrassed)
No...No, no, no. No, nothing like that.
WRAY
(with sad smile)
It's his birthday. That's all he means.
JAMES
Oh...Happy Birthday.
RILEY
Thanks.
[Scott's console beeps.]
SCOTT
Mr. Brody, would you come up here for a second? I need you to confirm a spectrographic analysis for me.
BRODY
Oxygen, nitrogen, liquid water.
(expression falters)
Only trace levels of CO2.
TJ
What?
BRODY
It means there won't be much vegetation. Also means the thermometer won't be spending much time above zero, either.
SCOTT
But we can survive, right?
BRODY
(flatly)
Yeah. It'll be great.
EXT-SPACE
[Destiny's shields fight the radiation of the star as the ship draws closer.]
INT-YOUNG'S CHAMBER
[Young lies on his bed.]
INT-RUSH'S CHAMBER
[Rush tosses away his paperback. He checks his watch with a puzzled expression, then gets out of bed.]
INT-CONTROL ROOM
[Rush enters, studying the central control. He laughs, then jogs out.]
EXT-OBSERVATION DECK
[Rush enters, staring out at the flares rising above them in the distance, then laughs.]
RUSH
(elated)
Yes!
ELI
Uh, what are we so happy about?
RUSH
We're going to live, Eli.
[Eli and Chloe stand, surprised.]
ELI
What about the...turbulence and the heat and the death?
RUSH
No. No. All of that would have happened by now. The shield is protecting us.
CHLOE
But you said we ran out of power.
RUSH
I was absolutely certain of that, and I've never been more pleased to be wrong in all my life.
[He leaves. Eli and Chloe share shocked expressions, then Eli follows Rush.]
EXT-SPACE
[Solar scoops lower at the bottom of the ship, and Destiny sinks into the star itself.]
INT-YOUNG'S CHAMBER
[Young opens his eyes when he hears the power come on. He sees the lights are on.]
INT-GREER'S CHAMBER
[Greer's lights also power up, surprising him.]
INT-CORRIDOR
[Young heads down the corridor, as lights continue to brighten. Several people come out of their rooms.]
FRANKLIN
The lights just came back in my room. What's going on?
YOUNG
Stand by.
FRANKLIN
Colonel...
[Young doesn't stop.]
INT-CONTROL ROOM
[Young joins Rush and Eli in the room.]
ELI
You're right. The systems are coming back on line all over the ship.
YOUNG
There's a rumor spreading we're still here.
[Lights come on.]
RUSH
We are. Destiny needed all its power reserves to protect itself and us.
ELI
Uh, guys? We're in the star.
[Eli points to the center of the room where he sets up a holographic display.]
YOUNG
That can't be right. We're talking thousands of degrees.
RUSH
Well, we've just flown through the corona, which is even hotter. To say nothing of magnetic fields, gravitational stresses... This is what Destiny intended from the moment it entered the star system.
YOUNG
You're telling me it flew into the sun on purpose?
RUSH
Yes.
YOUNG
Why?
RUSH
To replenish its reserves.
YOUNG
You're telling me this ship...
RUSH
(interrupting)
The ship is powered by the stars themselves. Solar powered, quite literally. There is no other explanation.
EXT-SUN SURFACE
[Destiny flies through the other side of the star. It floats above the surface, then its stern engines alight.]
INT-CONTROL ROOM
ELI
The engine just came back on. We're pulling out of it.
[Young notices the countdown clock is lit up and counting down in Ancient.]
YOUNG
The shuttle! We've got to call them back.
ELI
Uh, we haven't accessed communications yet.
RUSH
I'm working on it.
YOUNG
Well, you know, if you don't figure it out before we go into FTL...
RUSH
Plenty of time.
YOUNG
We can't strand those people here.
RUSH
(sarcastic)
Well, this would be an excellent time for you to trust me to solve this problem.
EXT-SPACE
[The shuttle approaches a planet.]
INT-SHUTTLE
SCOTT
Okay, I'm going to put us in a high orbit, spend a little time looking around for the best spot before we put down.
[Scott presses his fingers to his eyes, rubbing them tiredly.]
TJ
(softly)
They're gone. You know I can't help but think maybe they're the lucky ones.
SCOTT
Don't, TJ.
TJ
The planet is a rock.
SCOTT
(stern)
I said, stop it!
(to everyone)
All right, here we go.
[He starts to fly the shuttle.]
YOUNG
(over radio)
This is Young, come in.
[They frantically attempt to find the communication controls and speaker.]
BRODY
Right there. Right there!
[Brody hits a button midship.]
SCOTT
(into radio)
Th-this is Scott. Sir. How the hell...?
INT-DESTINY CONTROL ROOM
YOUNG
We're just as surprised as you are, Lieutenant. I'll explain later. You need to get your ass back aboard this ship.
INT-SHUTTLE
[Everyone lets out cries of relief and elation.]
TJ
(pointing out window)
Look, there it is!
SCOTT
Will do. Scott out.
(to crowd)
Everybody hear that?
SHUTTLE PASSENGERS
(cheering and applauding)
Yes!
SCOTT
We have a visual of you Destiny. Plotting an intercept course now.
[The console beeps a warning. Scott tries to input the course again with the same results.]
SCOTT
Uh, Colonel, stand by.
(to Brody)
Brody, come here.
[Brody approaches.]
BRODY
What is it?
SCOTT
I don't know yet. Am I reading this right?
[They watch as a red blinking light shows as Destiny schematic flies past the trajectory plotting point with no joy.]
BRODY
Oh, you've got to be kidding me. We're so close. You-you can almost touch it! It's right there!
WRAY
What's going on, Lieutenant?
[Scott keeps trying to enter the intercept course.]
SCOTT
The Destiny is accelerating away from us. We can't match it.
(into radio)
Colonel, we have a problem here.
[The conversation switches from the shuttle to the control room.]
YOUNG
What is it?
SCOTT
We can see you, but the shuttle's computer cannot come up with an intercept solution. Destiny is accelerating too fast. I'm trying to put something in manually here, but...
(fails again)
There's no way to cross the "T", sir. We're going to fall short.
RUSH
You're on full power, yes?
SCOTT
I put the throttle up right away. It's-it's just not going to be enough.
ELI
You must have afterburners or something-
SCOTT
(sharply)
It's not an F-16, Eli. It's a-it's a spaceship.
YOUNG
Is there anything we can do from this end?
TJ
Is there any way to slow the Destiny down?
SCOTT
That-that would do it.
[Young looks to Rush, who shakes his head.]
YOUNG
Negative.
[The shuttle passengers exchange helpless looks.]
SCOTT
Uh, we're out of ideas, here.
YOUNG
(encouraging Rush and Eli)
Come on, guys. Come on.
RUSH
(inspired)
Lieutenant. I want you to turn and directly towards the planet. We'll send you an exact course in a moment.
SCOTT
No, no, no, no, no. The planet is a rock. We'd rather take our chances with-
RUSH
(insistent)
Do as I say, Lieutenant. We don't have much time.
EXT-SPACE
[The shuttle heads toward the planet.]
INT-CONTROL ROOM
[Eli concentrates on solving the formula.]
RUSH
In order to reach the star, Destiny used an aerobraking maneuver to slow down. I'm suggesting Lt. Scott perform a slingshot maneuver around the planet to do exactly the opposite.
YOUNG
(nodding)
A gravity boost to speed up.
INT-SHUTTLE
RUSH
(over radio)
It should put Destiny directly in their path.
SCOTT
We're all aboard with that idea, Doctor. Just give me the course and speed. This planet's getting pretty big in the windows here.
INT-CONTROL ROOM
RUSH
One moment.
ELI
I got it.
RUSH
Whoa, whoa, whoa, Eli. There's many variables here. Are you sure about this?
ELI
(confidently)
Math Boy. Send it.
RUSH
Okay, Math Boy. Sending the new course now.
YOUNG
Is this going to work?
RUSH
It's going to be close.
EXT-SPACE
[The shuttle gets in close orbit to the planet.]
INT-SHUTTLE
SCOTT
Got it. All right, everybody, hang on again.
[Everyone braces themselves. Scott buckles into the chair. The shuttle shakes as it comes around the planet.]
INT-CONTROL ROOM
[Young, Eli, and Rush wait worriedly.]
EXT-SPACE
[The shuttle continues to fly around coming out the other side.]
INT-CONTROL ROOM
ELI
That's them.
[He pulls up a new display, pointing to it.]
ELI
Why am I watching this on tv?
[He leaves, heading to the observation deck.]
INT-SHUTTLE
SCOTT
Okay, we're only going to get one shot at this.
(low, to TJ)
Wish it wasn't the first time I tried it.
EXT-OBSERVATION DECK
[Eli joins Chloe at the railing, watching the shuttle back towards the deck at a fast speed.]
ELI
(pointing)
There they are.
INT-CONTROL ROOM
YOUNG
You've got us lined up. You're doing fine.
RUSH
No, he isn't. We're coming up on them too fast.
EXT-SPACE
[The shuttle and Destiny draw closer to each other.]
INT-SHUTTLE
RUSH
Lieutenant, our relative velocity is too great. Unless you can match our speed, you're going to crash into the ship.
SCOTT
Uh, this is all we got.
[Some people are looking out the rear windows of the shuttle.]
WALTERS
Uh, it's coming up pretty fast on us.
SCOT
I know, I know, I know.
BRODY
We have to go left!
RILEY
A little this way, Lieutenant.
SCOTT
What we need is more speed.
INT-CONTROL ROOM
YOUNG
Fire maneuvering thrusters. That might just make the difference.
INT-SHUTTLE
SCOTT
All right.
[He does so.]
EXT-SPACE
[The shuttle thrusters adjust the trajectory and slow the relative backward motion.]
EXT-OBSERVATION DECK
[Eli and Chloe watch as the shuttle draws near.]
INT-SHUTTLE
SCOTT
Main engines off.
EXT-SPACE
[The shuttle lands on Destiny's deck, sliding and scraping along backward it until it hits the docking bay.]
INT-SHUTTLE
[There is a rumbling crash.]
INT-CONTROL ROOM
[Young and Rush wait for word.]
INT-SHUTTLE
SCOTT
(elated)
Uh, thrusters off! Docking clamps engaged. We're still in one piece!
INT-CONTROL ROOM
YOUNG
Well done! Well done! We're on our way down.
[Young slaps Rush on the back as he goes by. Rush cringes at the unexpected gesture.]
EXT-OBSERVATION DECK
[Chloe embraces Eli in relief then runs to the shuttle. Eli watches her go, then smiles ruefully.]
INT-MESS HALL
[Crew laughs and chats merrily. Becker brings Young some rations. Eli, Greer, Young, Chloe and Scott are amongst those at the table.]
YOUNG
I don't care what you say, but I'm dead serious about it. That was the worst shuttle docking I have ever seen in my life.
SCOTT
What are you talking about? I barely even dented it.
TJ
(laughing)
What was that grinding noise?
YOUNG
At the very least, there is a giant scrape along the bottom. I'm going to make you put on a spacesuit, go out there, fix it right now.
(to Greer)
Sergeant we're going to need some of that high, high temperature spaceship paint for uh, Scott here.
GREER
(spooning his rations)
Yes, sir. I believe I have...found some.
[Everyone laughs. Rush enters.]
YOUNG
Dr. Rush, have a seat. These two have even showered.
[Becker prepares rations for Rush.]
RUSH
No, thanks.
YOUNG
Aw, come on, we should celebrate.
RUSH
Celebrate what? That we're back where we started?
[Young dips his head in frustration.]
SCOTT
Aw, come on, have a seat, Rush.
RUSH
Some other time.
YOUNG
All right, well Becker, give him a double ration. He deserves it.
RUSH
(startled)
Why's that, then?
YOUNG
I'm in a good mood.
RUSH
We're to be rewarded at your whim, then?
[Young stands and approaches.]
YOUNG
No, no. Just stop. What, you want some reasons? I'll give you three. You were right about the power situation.
[Rush stands and eats his rations.]
RUSH
Not really.
YOUNG
You figured out the subspace communications, how to call the shuttle.
RUSH
We needed to get those supplies back.
YOUNG
You took your name out of the lottery.
RUSH
So did you.
YOUNG
I was injured. You actually made a sacrifice.
[Rush shakes his head slightly then stares flatly at Young.]
YOUNG
(suddenly suspicious)
...Unless you knew...that the Destiny was going to make it all along.
[Rush blinks then grimaces slightly.]
RUSH
Cheers, everyone.
[Rush leaves the suddenly quiet and somber room.]
GREER
Aw, let it go, sir.
[He chuckles half-heartedly.]
SCOTT
He didn't know. I-I saw his face.
SCOTT
There's no way.
ELI
No.
YOUNG
What if he did?
TJ
He's right, sir. Let it go.
[Young continues to stare after Rush.]
YOUNG
A lot of work.
FADE OUT
END CREDITS

Source : http://www.stargate-sg1-solutions.com/wiki/SGU_1.05_%22Light%22_Transcript