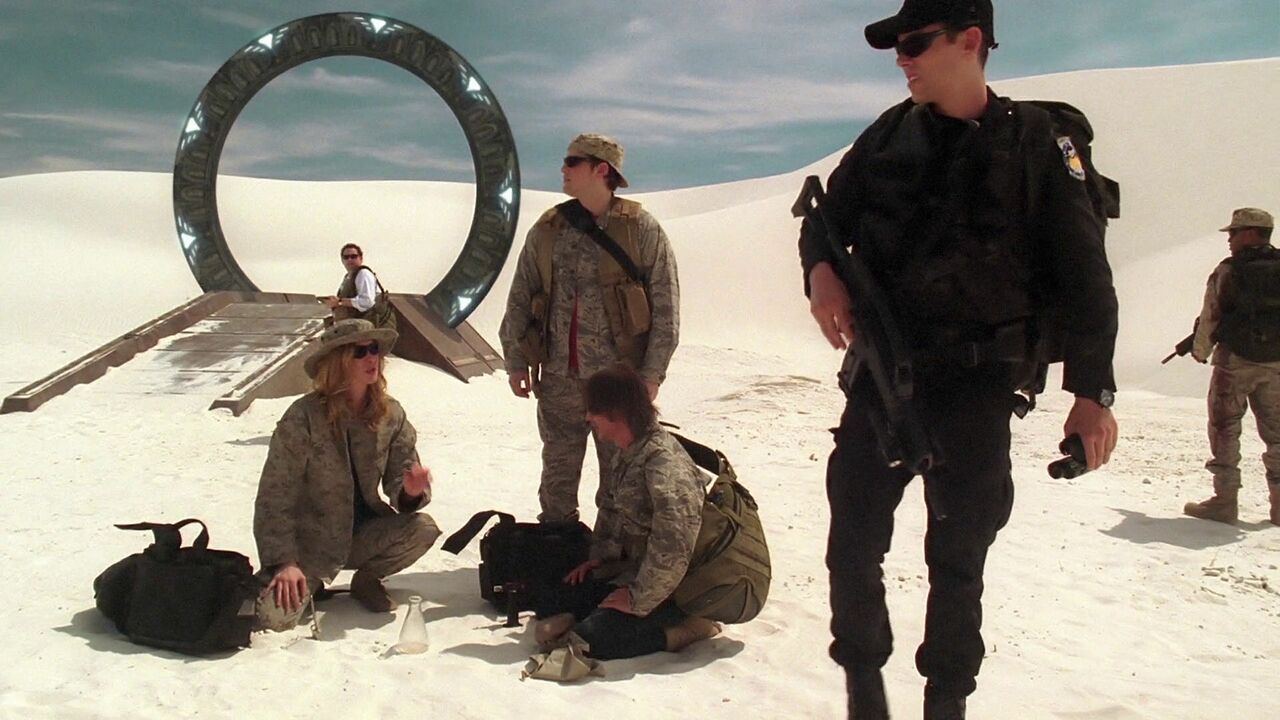 Transcript VO
TEASER
EXT-DESERT PLANET
[The kino drifts over a dune, heading back towards the Stargate. The away team consisting of Scott, Eli, Greer, Palmer, Franklin, and Curtis step through.]
SCOTT
Hot.
ELI
(excited)
Cool!
[Rush steps through, and the Stargate closes.]
SCOTT
Make sure we can dial back to the ship.
FRANKLIN
Already on it.
[Franklin walks back toward the gate. Palmer and Rush are already studying the sand. Palmer runs it through her hand as Rush pulls testing equipment out of a pack.]
PALMER
Looks like gypsum.
RUSH
That would be good.
SCOTT
Why?
PALMER
We're looking for calcium carbonate.
RUSH
Calcite.
PALMER
Gypsum is calcium sulfate, which is 36% calcium carbonate.
[She pours some sand into a beaker with some water and swirls it around.]
PALMER
(pleased)
Huh, it dissolves.
SCOTT
You saying we can use this sand to fix the scrubbers?
ELI
That would be convenient.
PALMER
No.
RUSH
Well, it's a fair indication the components may exist nearby.
PALMER
For the sake of portability and efficiency, I'm hoping to find high concentration granular limestone. We are looking for the dried lake bed or salt-water body all this sand came from.
ELI
It's a desert.
PALMER
Lime is formed mostly from the remains of marine organisms.
SCOTT
Are you saying there was life here?
RUSH
Not likely anything we've seen before.
[Franklin uses the kino remote controller to dial the Stargate. There is no DHD.]
PALMER
Yeah, the water may be gone now, but this desert was formed by H2O evaporating on a playa floor, causing gypsum to be deposited in a fine crystalline form called selenite-
[While she's talking, Scott starts walking up the dune edge.]
ELI
Where you going?
SCOTT
Higher ground.
[Palmer continues her tests by dropping a red liquid into the beaker.]
ELI
What's supposed to happen?
PALMER
If this sand is high enough in calcite concentration, the solution would absorb the acid.
ELI
(shrugging blankly)
Right.
RUSH
The liquid would turn clear.
[Eli looks at the still red liquid.]
ELI
It's not.
[The Stargate activates.]
FRANKLIN
We're good.
SCOTT
(into radio)
This is Scott. Unfortunately, there's nothing useful in the immediate vicinity of the 'gate.
YOUNG
(over radio)
You have twelve hours, Lieutenant. Make 'em count.
SCOTT
Copy that.
[The Stargate shuts down.]
SCOTT
We're moving out!
[The group begins to move up the dune.]
SCOTT
(to Greer)
Too bad we can't just use the sand. There certainly is enough of it.
[They follow the others.]
END TEASER
OPENING CREDITS
EXT-SPACE
[Destiny floats in space.]
INT-CHLOE'S QUARTERS
[Chloe turns as she hears Young, still limping with a cane, approach. He sits next to her.]
CHLOE
I'm fine.
YOUNG
No, you're not. And neither am I, but we're...uh...we're still alive because of what he did.
CHLOE
For what it's worth...
YOUNG
Oh, it's worth a lot. You know, as long as we're still here I-I promise you-
CHLOE
(interrupting)
Colonel, I've edited enough of my father's speeches to know what you're going to say-
YOUNG
You don't have a clue what I was going to say, because I don't.
[There is a silent awkward pause.]
YOUNG
We, uh...we brought along, um, an Ancient device-communication stones. They, uh, allow us to-
CHLOE
(uninterested)
Yeah, I know what they are.
YOUNG
Good. Well, I'm about to use one to report to my superiors on Earth, tell them our situation.
CHLOE
(sadly)
I want to tell her myself.
EXT-PENTAGON, DAY
INT-COMMUNICATION STONE LAB
[Telford sits in meditation next to an active stone. A woman, Dr. Mehta, enters.]
MEHTA
You've been sitting here since Rush made contact. Let somebody else take a shift.
[Telford sighs and stretches cramped muscles.]
TELFORD
I'm not leaving this chair. I've been on this project for the last six months, and I'll be damned if I...
[His voice trails off as he gets dizzy.]
MEHTA
Colonel?
YOUNG/TELFORD
This is strange...
[Young looks at the video monitor to see Telford's body is the one truly sitting in the chair.]
MEHTA
Dr. Rush, is that you?
YOUNG/TELFORD
No, it's Col. Young. I need you to put me in a room with Gen. O'Neill.
(he gets up woozily)
And, I'm going to need you, too.
INT-YOUNG'S QUARTERS
[Telford lies face first on the floor.]
TJ
Sir, I-I told you not to get up.
TELFORD/YOUNG
What did he do to himself?
[Two stones are active on a nearby table. TJ works to help Telford/Young. Chloe's body stands nearby.]
TJ
He's got cracked ribs, more bruises than I can count, and a concussion that resulted in neuropraxia.
TELFORD/YOUNG
Well, that's just great.
TJ
Chloe?
MEHTA/CHLOE
Dr. Mehta.
TJ
Can you help me please?
[The two women help him to his feet.]
INT-PENTAGON, O'NEILL'S OFFICE
[Young/Telford and Chloe/Mehta stand in front of O'Neill's desk. He comes around it to greet Chloe. Major Greene stands nearby.]
O'NEILL
(charming)
You know, I had some of my favorite arguments with your father.
CHLOE/MEHTA
Are you saying you won some?
O'NEILL
Depends on who you ask. (pausing with a smile)
Listen, uh, Major Green'll be escorting you to see your mother. Please...give her my condolences.
CHLOE/MEHTA
Thank you.
[She nods to Young/Telford and departs, Greene follows. O'Neill closes the door behind them.]
O'NEILL
(all business)
So how is it going out there? Really?
YOUNG/TELFORD
Well, I don't know what Rush has told you. We may not have much time left. The ship's very old. It's falling apart.
O'NEILL
(shuffling papers)
Fix it.
YOUNG/TELFORD
We're trying. Even if we can get the life support working, we don't have much food and water.
O'NEILL
Then go get some.
YOUNG/TELFORD
We're not supposed to be there, sir. These are the wrong people...in the wrong place. And as a group, they're just not qualified.
O'NEILL
Oh please, I wasn't qualified to lead that first team through the Stargate...
YOUNG/TELFORD
I understand that, sir.
O'NEILL
In the past dozen years or so, we-we've sent hundreds of teams through that thing...
(sighs)
and I think the bottom line is...none of us are qualified.
YOUNG/TELFORD
I just think we're going to get to a point very soon where everyone on board should get a chance to say goodbye.
O'NEILL
(nodding, somber)
Understood.
EXT-DESERT PLANET
[The team keeps walking. Franklin guzzles some water.]
GREER
Save it.
FRANKLIN
That's not very smart. Temperatures like these, the human body needs at least-
GREER
(cutting in)
Walk, don't talk.
ELI
Just, FYI, he's right about the whole human body and water connection...
SCOTT
(admonishing)
Eli!
ELI
Walk, don't...right.
[The reach the top of a ridge and look out to desert as far as they can see.]
ELI
(false surprise)
Oh! Look! More sand!
FRANKLIN
This is pointless. We should go back.
PALMER
We just got here.
FRANKLIN
I still think we should be checkin' out the other planets in range of the ship.
RUSH
I still think you're wrong. The solution's here.
[Rush drinks some water. Scott leads them on. Eli whimpers. They continue to trudge through the sand.]
ELI
I know, it was a mirage, but when we were walking over that last dune, I thought I saw the Statue of Liberty sticking half out of the sand. Just for a second there. I was all...
(imitating Charlton Heston)
"Damn you! Damn you all to hell!"
[The others remain silent.]
ELI
Oh come on, that was funny.
RUSH
Was it?
ELI
Because...it would mean we were really on Earth but in the future, and the apes had taken over...and then buried the Statue of Liberty for some reason.
RUSH
(irritated)
Eli, have a drink.
SCOTT
(calling ahead)
Greer, hold up. Hold up!
[Greer stops.]
SCOTT
This isn't going to work.
GREER
Not if we keep stopping.
SCOTT
I'm saying we need to split up.
GREER
Fine with me.
RUSH
I agree. Franklin you should come with me.
SCOTT
Nah, no-no-no. You're with me and Greer. Suns' been, uh, moving that way. We'll call it west. Uh, Eli, Franklin, Palmer, and Curtis, you head that way.
PALMER
We'll test every twenty minutes or so.
SCOTT
After two hours, you head south-east, that should take you back in the direction of the 'gate.
ELI
(chuckling drily)
Whooooaaa, wait a second. Do we really think that splitting up is the best idea?
FRANKLIN
I say we head straight back.
RUSH
There's no point in crossing over the same territory we've just crossed.
ELI
Or...we could just stick together.
[Scott walks over and looks sternly at Eli.]
ELI
Look, Matt...I'm sorry, I just...have this really...really sick feeling that you're gonna go that way, and we're gonna go this way.
SCOTT
Eli, I need someone that I can trust to lead the second team, okay? That is you. Curtis is a good soldier. He's a tough guy. He's not gonna let anything happen to you.
ELI
Truth is, I'm slowin' you down, and you want to get rid of me.
SCOTT
I'm doing what I think will best accomplish this mission. You asked to come. I'm telling you how you can help me. Now, suck it up.
ELI
(contrite)
Yeah, okay.
[Scott taps him reassuringly on the shoulder as Eli approaches his group.]
ELI
Okay, guys, we're going this way. Move out.
SCOTT
Uh, radio if you find the lake bed. We'll double back.
ELI
When you see the Statue of Liberty, you know what to say, right? Right?
[They split off.]
SCOTT
Now we can make some time.
EXT-ARMSTRONG HOUSE, DAY
[Maj. Green drives Chloe/Mehta up to the house. She stays in the car while he gets out.]
INT-ARMSTRONG HOME
MRS. ARMSTRONG
She's here? Right now?!
GREENE
Yes, ma'am, but as I've explained...
MRS. ARMSTRONG
Chloe?!
[She does not wait to listen, but tears down the hall and flings open the door.]
EXT-ARMSTRONG HOME, DAY
[She stops short at seeing Mehta, in body at least, on her front sidewalk.]
CHLOE/MEHTA
I know I look different, and I sound different...but it's me.
[Her mother stares.]
INT-ARMSTRONG LIVING ROOM
[Mrs. Armstrong pours an alcoholic drink from a decanter on a sidebar.]
CHLOE/MEHTA
Mom, please. I have something to tell you. Mom...
[Her mother shakily gulps down her drink.]
CHLOE/MEHTA
Stop!
[Mrs. Armstrong almost chokes on the drink. She puts down her glass.]
MRS. ARMSTRONG
I'm sorry. It's just...the thought that you're actually on some ship....so far away I can't even imagine.
CHLOE/MEHTA
(heartbreaking)
Mom...
MRS. ARMSTRONG
Just tell me you're coming home.
CHLOE/MEHTA
I don't know.
[Mrs. Armstrong shakily takes a breath, then starts gulping down her drink again.]
CHLOE/MEHTA
Mom, please!
[Mrs. Armstrong puts down her drink again, but avoids looking directly at her daughter in this other body. There are family pictures with the senator and Chloe all around them.]
CHLOE/MEHTA
The ship is old and damaged. We were losing air, and somebody had to...
[Her mother walks out of the room, clutching the door frame.]
MRS. ARMSTRONG
(holding back tears)
He's dead. He's dead, isn't he?
[She starts sobbing and slides down against the door. Chloe/Mehta comes over and embraces.]
EXT-SPACE
[Destiny floats in space.]
INT-DESTINY CORRIDOR
[TJ escorts Mehta/Chloe and Telford/Young down the corridor.]
MEHTA/CHLOE
Where is everyone?
TJ
Able bodies are searching the ship for anything that may have CO2 sequestration properties, and the rest are in crew quarters.
INT-DESTINY GATE ROOM
[They enter the gate room just as the Stargate deactivates. Park spots who he believes is Col. Young and addresses him.]
PARK
Colonel, we were able to dial out to the planet again.
[Telford/Young leans against the console for support.]
TJ
Col. Young and Chloe are using the communication stones. This is Col. Telford, Dr. Mehta.
PARK
(nonplussed)
Uh...o...r-right. Okay.
TELFORD/YOUNG
(breathless with pain)
Did you make radio contact with the off-world team?
PARK
Uh, yes, nothing to report yet. They've split up.
MEHTA/CHLOE
(glancing at countdown clock)
How much time before the ship jumps back to FTL?
BRODY
Roughly nine hours.
TELFORD/YOUNG
(checking watch)
Dial out every twenty minutes. Maintain regular contact.
BRODY
We do have power issues to be aware of. Dialing the 'gate is a significant drain on what seems to be limited resources at this point.
TELFORD/YOUNG
The away mission is priority one right now.
[He winces, clutching his side.]
TJ
(noticing)
Sir.
TELFORD/YOUNG
I'm fine.
MEHTA/CHLOE
I understand that there are other Stargates in range.
PARK
Four other addresses came up in the system, but we seem to be locked out from here.
MEHTA/CHLOE
Well, have you tried working around it?
BRODY
Dr. Rush didn't think that was a good idea.
TELFORD/YOUNG
I think it makes sense to know what our options are. So, do what you can.
PARK
(snapping)
There has to be a good reason why these addresses are being disqualified.
TELFORD/YOUNG
(stern)
If I wasn't being clear, I was giving you an order. If there are good reasons, find out exactly what they are.
(to TJ)
Let's keep moving. I want to see more.
TJ
You should rest.
TELFORD/YOUNG
(warning)
Lieutenant.
TJ
Sir, Col. Young's body needs time to recover.
TELFORD/YOUNG
Give me something for the pain.
TJ
The body feels pain for a reason. I would rather not mask it.
TELFORD/YOUNG
Just do it, Lieutenant. From the sound of things, you need my help here.
[They leave.]
EXT-DESERT PLANET, DAY
[Rush, Greer, and Scott are stopped while Rush tests some of the sand. It remains red. Rush dumps it out and starts drinking prodigiously from his canteen.]
SCOTT
All right, come on. Let's go. You better save some of that.
RUSH
(gasping)
We need to slow down.
SCOTT
We need to cover more ground.
RUSH
It's going to be impossible to maintain this pace on the way back.
GREER
(snidely)
Maybe for you.
RUSH
(sarcastic)
How tedious. Little boys "playing soldier". Well, I'm sorry. I've no interest in playing your game.
[He takes another drink.]
SCOTT
I'm not playing anything. I'm trying to save the lives of everyone aboard that ship.
RUSH
If we continue this pace, we're going to die out here.
SCOTT
(muttering to himself)
Yeah, maybe we will.
[Scott is distracted by a whirlwind of sand that seems to move independently of any breeze. He's not paying attention to Greer or Rush.]
RUSH
(continuing bitterly)
Light years away from the admiring eyes of your father...or your drill sergeant, or whoever's approval it is you so desperately seek.
[Greer comes up behind Rush and kicks him hard in the back. Rush scrambles to his feet.]
RUSH
(outraged)
How dare you!
GREER
(ominously)
Get up and move.
SCOTT
Hey, did you see that?
[Greer moves up to Scott.]
GREER
What?
[He looks where Scott is looking, but the desert sands are calm.]
SCOTT
(shaking his head as if to clear it)
I don't know. Nothing. Let's move.
[He starts moving out.]
RUSH
One hour. One hour, and then start circling back.
SCOTT
(put-upon)
All right, fine.
[Greer keeps looking for a few more moments, then follows. Rush gathers his things and trudges along as well. Behind them, the whirlwind picks up again, behind the dune before settling on the spot where Rush had dumped out the red acid solution. It appears to absorb the red sand, which swirls upward and disappears.]
INT-YOUNG'S QUARTERS
[TJ injects Telford/Young's arm, then has him bend his forearm back. Mehta/Chloe stands nearby.]
TJ
Just hold that there.
TELFORD
(sighing in relief)
Thank you.
[He starts to get up, then gets dizzy. He shakes his head, trying to clear it. TJ watches him with a sly smile.]
TELFORD
What did you g...
[He collapses on the bed, unconscious. TJ starts packing her bag and puts his feet up on the bed.]
MEHTA/CHLOE
That was supposed to be for the pain. What did you give to him?
TJ
A strong sedative, which we are desperately short on and I should not have had to use just so that Col. Young can return to a body in working condition.
MEHTA/CHLOE
(outraged)
You are out of line, Lieutenant.
TJ
Disregarding the health of another human being is out of line. I am well within my rights as ranking medical officer. He'll be out an hour or two.
MEHTA/CHLOE
Well, what am I supposed to do?
TJ
I don't care. I have other patients to attend to.
[She leaves, closing the door behind her.]
EXT-DESERT PLANET, DAY
[The pace Scott's team is going has slowed, mainly because Rush is starting to stagger. Scott, bringing up the rear, keeps looking back the other direction. Rush notices.]
RUSH
Something wrong?
[Greer also turns back.]
SCOTT
No, I'm fine.
RUSH
Good a place as any to stop and test.
[He crumples to his knees and drags out his equipment.]
EXT-DESERT PLANET, ELI'S TEAM, DAY
[Palmer just completes a test, still showing the water as red.]
ELI
I take it that's not good?
PALMER
No.
[A small distance away, Franklin and Curtis study the kino remote.]
FRANKLIN
(muttering)
I don't know. I think that...
[He punches some buttons on the keypad. El heads over.]
ELI
Hey, guys? Another negative over here.
[Franklin quickly packs the kino remote.]
ELI
I'll radio Scott and tell him we're moving on.
FRANKLIN
Uh, yeah, but...that's not what's going down.
ELI
It's not?
FRANKLIN
No. There are four other viable addresses in this thing. I think I found an override that'll allow us to dial from here.
ELI
Yeah, but-
CURTIS
Look around! This planet is a dead zone.
ELI
But...
FRANKLIN
We should've been trying to dial these other planets from the start.
ELI
Rush said...
CURTIS
We don't care what Rush said.
FRANKLIN
We don't trust him.
ELI
Rush doesn't want us all to die.
PALMER
That doesn't mean we trust him to make the right decisions.
ELI
You, too? What about the lake bed?
PALMER
It could be hundreds of miles from here. We could be blowing our only chance at finding a decent place to evac.
FRANKLIN
Maybe the ship did bring us here because there's lime on this planet. For all we know, the Ancients had a way of locating it that we don't.
CURTIS
For that matter, I'm sure they could've stopped the ship for longer than twelve hours to find it and recover it with the proper tools.
FRANKLIN
The fact is, the Ancients wouldn't have let the life-support system get that screwed up in the first place. Rush is set on fixing the ship. He's deaf to any other logic. We need to find a planet we can survive on. This might be our last chance.
[Eli shakes his head.]
EXT-DESERT PLANET, SCOTT'S TEAM, DAY
[Rush finishes his test, which once again failed.]
SCOTT
(impatient)
Gotta keep goin'.
[Rush slowly takes a long drink then closes his canteen, handing to Scott.]
RUSH
Here. Take it.
SCOTT
I have my own.
RUSH
No, no. I can't go on. I'm never gonna make it back. I know it's here. You have to find it. Take it.
[He throws the canteen into the sand. Scott picks it and the pack up.]
GREER
We're going to leave him here?
RUSH
I'll make my way back to the 'gate.
SCOTT
(to Greer)
Go with him.
GREER
I'm not leaving you here alone.
SCOTT
Make sure he gets back alive.
GREER
What difference does it make?
SCOTT
Because if I don't find what we need, he's gonna be the one to find some other way to save his own ass and yours along with it.
[Concerned, Greer reaches out and grabs Scott's arm, arresting him from packing the rest of the equipment.]
GREER
You're losing it.
SCOTT
I'll be okay.
[Greer gives him a supportive smack on the arm as he rises.]
ELI
(over radio, in hushed tones)
Scott, this is Eli. If you can hear me, please respond.
SCOTT
This is Scott. What's up?
[The conversation switches between Scott's location and where Eli is trailing a short distance behind the rest of his team.]
ELI
We have a problem. Franklin, Curtis and Palmer have given up and are headed back to the 'gate to try dialing the other addresses in the remote. They also have the kino. They don't think we're going to find the lime here. They want to look for another planet that will support life.
RUSH
They're going to get themselves killed.
GREER
Don't we need the remote to get back to the ship?
RUSH
That's not the point. A few hours is nowhere near enough time to determine whether a planet is even safe, let alone viable for sustaining life. The ship...the ship's our only real hope of ever getting home.
[Scott finishes gathering the gear.]
SCOTT
Stop them if you can. I'll turn back when I have to.
GREER
Yes, sir.
SCOTT
(moving off)
Go!
GREER
(to Rush)
You lead.
INT-ARMSTRONG LIVING ROOM
[Green knocks delicately on the door frame.]
GREEN
I'm sorry, excuse me. Miss, uh...Armstrong, we'd better get going soon.
MRS. ARMSTRONG
You get my daughter home.
GREEN
Everyone is doing the best they can, I assure you.
MRS. ARMSTRONG
That's not good enough.
CHLOE/MEHTA
Mom, it's not his fault.
MRS. ARMSTRONG
(shakily)
I am a personal friend of the President, and of the First Lady.
[Chloe/Mehta looks away, embarrassed.]
GREEN
Yes, ma'am.
MRS. ARMSTRONG
You tell your superiors, if anything happens to her, I will go public with what I know.
CHLOE/MEHTA
Mom.
(to Green)
I'm sorry, she's...upset.
MRS. ARMSTRONG
My husband gave his life for my daughter. You get her back to me. Or the whole world is going to know what has really been going on these past years.
EXT-DESERT PLANET, SCOTT, DAY
[Scott keeps moving alone through the desert. He pauses to take a drink and sees the whirlwind again. Slowly, he moves to the spot where it's hovering. He pours some water in the sand near it. The whirlwind moves toward him and takes the water, then moves back again. Scott studies the spot where it had been. The sand falls away, revealing the head of a man, a priest's collar tucked under his chin. Scott stumbles back in horror. When he warily looks again, the mirage is gone. The whirlwind continues to move away.]
EXT-DESERT PLANET, GREER AND RUSH, DAY
RUSH
I need water.
GREER
We're almost there.
RUSH
I thought since I gave Scott my canteen, we'd share.
GREER
And you were wrong about that.
RUSH
Ah, I should've known.
GREER
Yeah? You think you know me pretty well, don't you?
RUSH
I helped choose the personnel for Icarus Base. I read your file. And neither you nor Captain Marvel back there were on my list, I can tell you.
GREER
(taunting)
Ooh-hoo-hoo. You think I care?
[Rush turns and puts his arm out insistently.]
RUSH
Give me some water!
[Greer slaps his hand away, making Rush stumble.]
GREER
Keep walking.
RUSH
(sneering)
You think just because you were born poor, that gives you the right to be angry at the world. How pathetic.
GREER
Oh, yeah. You think that's why I'm angry?
RUSH
If it wasn't for the Army, you'd be in jail...or worse.
GREER
(laughing)
Aw, that's what all you rich people think.
RUSH
Rich?! My father worked in the shipyards in Glasgow. I earned a scholarship to Oxford while I was working two jobs. I have earned the right to make decisions without explaining myself to you, or anyone else. You give me some of that water!
GREER
Keep walkin'.
[Rush tries to forcefully grab Greer's canteen.]
RUSH
You give me some of that water!
[Greer easily deflects his attack, knocking Rush down.]
GREER
Don't you ever touch me.
[Enraged, Rush tackles Greer. They both roll down the side of a dune, landing at the bottom. Greer gets to his feet first and pulls out his pistol, pointing it at Rush.]
GREER
And you do that again, and I'm gonna put a bullet in your face.
RUSH
(sneering)
Oh really?
[Greer primes the automatic pistol's chamber.]
RUSH
I don't think so. You need me. Otherwise, you'd have gladly done it by now.
[Frustrated, Greer holsters his gun and starts heading toward the Stargate again.]
GREER
Right now, I pray to the God above that dehydration will shut you the hell up. Walk! Or die here! It's your choice, Mr. Decision Maker.
[He laughs again and walks away.]
EXT-DESERT PLANET, STARGATE AREA, DAY
[A wormhole is active and Curtis, Franklin, and Palmer are by it. Franklin studies the kino display.]
FRANKLIN
Looks like it's worth a shot to me.
CURTIS
Let's do it.
ELI
Wait! Stop!
[Eli crests the last rise, waving his arms to try and stop them, and wheezing for breath as he tries to run. Franklin goes to meet him.]
FRANKLIN
Look, it's not perfect, but it's better than here. Vegetation, water, air. It's not too late for you to come with us.
ELI
Don't go.
FRANKLIN
We'll dial back when we know it's safe to evacuate everyone.
ELI
You'll never get back home.
FRANKLIN
You don't know that. Maybe there's a way we can use the 'Gate system to connect the dots.
ELI
There has to be a reason the ship locked out those...
[Curtis steps through.]
ELI
...addresses. Don't. Please.
[Palmer follows him. Eli looks pleadingly to Franklin, who shrugs and heads up the ramp. A bullet hits the ramp between them, startling them both. Eli dives for cover. Franklin looks around, spotting Greer and Rush on the rise, Greer aiming his rifle towards them. Franklin starts to run to the event horizon.]
RUSH
Shoot him.
[Greer aims carefully and shoots Franklin in the shoulder before he can step through. Franklin falls on the ramp.]
ELI
Why did you do that?
GREER
He told me to.
[Franklin groans. Greer and Rush have run up to the Stargate. Greer starts checking Franklin's vital signs.]
RUSH
I saved his life.
ELI
(skeptical)
By shooting him?
GREER
He'll live.
ELI
You just stranded Curtis and Palmer.
GREER
We'll send them another remote. I wasn't taking any chances.
ELI
Where's Scott?
RUSH
Still looking for limestone.
[Eli picks up the kino remote.]
ELI
It's almost half-time. We only have six hours before the ship leaves.
GREER
(into radio)
Lieutenant, this is Greer, come in.
ELI
I hope he's turned back by now.
GREER
(into radio)
Lieutenant! Come in.
[They exchange worried looks.]
EXT-DESERT PLANET, DAY
[Scott continues walking, growing more tired. Eventually he looks back, noticing the priest is now following him. The whirlwind is in front of him, and he uses it as a guide. Scott stops, and the priest passes him, then turns back.]
PRIEST
You must keep going, my boy. You don't give up.
SCOTT
I don't need you to tell me that.
[He takes a drink from his canteen. The priest pulls out a flask and toasts Scott before drinking from it with a chuckle.]
SCOTT
I'm not going to let anyone else down the way I let you down. You really don't have to follow me around to remind me.
[Scott walks past the priest.]
PRIEST
He has His plan, for all of us.
[Scott clenches his jaw, but keeps moving.]
EXT-DESERT PLANET, STARGATE AREA, DAY
RUSH
He's either out of radio range, or he's lying face down in the sand, dead, or soon to be.
GREER
I'm going back for him.
RUSH
Oh, that's great. Suicide.
GREER
I'm not leaving him out here.
[Greer pulls out a bandanna to cover his face.]
ELI
I'll go with you.
GREER
No, no, you're just gonna slow me down.
RUSH
Look, this man has to get back to the ship. He needs medical attention.
GREER
(to Eli)
Dial. He can take Franklin back. You wait here for me.
[Eli starts working the kino remote.]
ELI
You have five hours to find him and get back here.
[Rush scoffs at the time frame.]
RUSH
Well, it has not been a pleasure knowing you.
[Greer glares at Rush, then pointedly hands Eli his sidearm. Eli takes it delicately.]
ELI
What do I need that for?
GREER
Just in case.
ELI
In case what?
[Greer heads off.]
ELI
Hey, I don't even know how to fire this thing.
[Greer heads back, clears the chamber, and then hands the gun back to Eli.]
GREER
You'd better be here.
[Eli nods and takes back the gun.]
ELI
I will.
[Greer pats Eli reassuringly on the chest, then leaves at double-time pace. Eli experimentally aims the pistol into the desert, adopting a movie pose.]
ELI
I have a gun.
[Rush shakes his head in disbelief.]
EXT-SPACE
[Destiny floats in space.]
INT-YOUNG'S QUARTERS
YOUNG
Why do I feel like I've been drugged?
TJ
(sighing in relief)
Good to have you back, sir.
YOUNG
Son of a...
(groaning and stiff)
What the hell was Telford doing?
[TJ helps Young to his feet, handing him his cane.]
TJ
You're going to need this.
YOUNG
Okay.
[They slowly make their way out of the room.]
INT-DESTINY GATE ROOM
[Military personnel stand ready at the active Stargate as Rush and Franklin stumble through.]
RILEY
There they are.
[They immediately notice something's wrong and rush to them.]
RUSH
Hurry up. Hurry up. C'mon, help him. Help him!
RILEY
What happened?
RUSH
(breathless)
Greer...Greer shot him. Water! Water.
[Riley hands Rush a canteen, staring at Franklin. Rush drinks it greedily. TJ hurries over. Rush hands the now empty canteen back to Riley.]
RILEY
That was my ration for the day.
YOUNG
What's going on?
[The Stargate shuts down. Rush takes off his sunglasses. He is badly sunburnt on his face and hands, having a raccoon appearance where the sunglasses protected his eyes.]
RUSH
(sarcastic)
Oh, we've had a lovely day at the beach. How 'bout you?
EXT-DESERT PLANET, DAY
[Scott is barely shuffling in his steps. He drops his pack, then his gun, barely crawling forward now. He looks up to find a crucifix statue of Jesus Christ stuck in the sand in front of him.]
FLASHBACK
INT-CHURCH
[Scott kneels in a church pew, weeping and praying. The crucifix from his mirage is behind the altar. A priest walks up to him and puts a hand on his shoulder.]
SCOTT
I have sinned, Father. I've failed you. I've failed Him. I've failed myself.
PRIEST
We have redemption through His blood.
END FLASHBACK
EXT-DESERT, DAY
[Scott stares at the crucifix mirage before collapsing, prone in the sand. The sand in front of Scott is darker, richer than the rest of the area.]
EXT-DESERT, STARGATE AREA, DAY
[The Stargate is active. Eli paces in front of it.]
ELI
(into radio)
Curtis? Palmer? This is Eli. If you can hear me, please come in. Curtis. Palmer. Please respond.
[The Stargate shuts down.]
FLASHBACK
INT-CHURCH
PRIEST
Do you love her?
SCOTT
She's not going to have it.
PRIEST
You're certain.
SCOTT
She's sixteen. We barely even know each other.
PRIEST
What are you going to do?
SCOTT
I don't know...about anything. I thought He was my calling. But now...
PRIEST
I am sorry.
SCOTT
Why? I'm the one who's weak. It's my fault.
PRIEST
No, it isn't.
SCOTT
It's not yours.
[The priest transforms into the dust whirlwind, and the memory fades.]
END FLASHBACK
EXT-DESERT PLANET, DAY
[The whirlwind whips around Scott's body, settling in front of him before dissipating. The sand where it stops starts to bubble and then shift as water breaks through the surface. The wetness on Scott's face startles him to alertness. He looks at the wet sand, then goes back and drags his equipment over. He tests the sand and is ecstatic as he watches the red liquid turn to clear.]
SCOTT
This is Scott, come in! I found it! I found the lake bed! I've got the lime!
(He checks his watch)
Oh my God. If y-you can hear me, wait. Just wait, I'm coming!
[He grabs his pack and the small shovel hanging from it and starts digging the lime "sand" up and throwing it into the pack.]
EXT-DESERT PLANET, STARGATE AREA, DAY
[James and two other military personnel walk through the Stargate.]
JAMES
Eli. Which way?
[She hands him a new kino ball. Eli points distractedly in the direction Greer went as he tries to set up the new kino ball.]
JAMES
(to others)
Let's move out.
EXT-DESERT PLANET, DAY
[Scott drags the pack along the sad, struggling to get back. From the other direction, Greer is walking to find him. He pauses when he thinks he's spotted a trail.]
INT-DESTINY
[Staff hurriedly move around. The CO2 filter has been cleared of the muck. Rush looks at various consoles, shaking his head negatively. In one area, Chloe helps TJ treat Franklin's gunshot wound.]
EXT-DESERT PLANET, DAY
[Scott stumbles in the sand. Greer runs down a dune.]
INT-DESTINY
[People are collapsed now in areas around the ship, trying to resist the effects of the CO2. All they can do is wait. Young stares at the Stargate. Wray sits on some crates, holding her head in her hands.]
EXT-DESERT PLANET, DAY
[Scott finally can go no further. He collapses in the sand. Greer is close enough he can follow the steps and sees Scott's form.]
GREER
Scott...
[He drops his own pack and rushes to Scott's side, unhooking a canteen and pouring it into Scott's mouth.]
GREER
Drink. Come on...come on. Come on, man, come on. Drink.
[Scott stirs. Greer grabs him and tries to help him.]
SCOTT
Take the bag. There's no time. You have to take it!
GREER
Yes, you can!
[He tries to get Scott standing, but Scott falls back to the sand.]
SCOTT
No, I can't make it!
GREER
(roaring desperately)
Get the hell up! Come on!
SCOTT
I can't make it.
[Greer tries to pick up the pack, but it's almost too heavy to lift; the effort knocks Greer to the ground.]
GREER
Oh. I can't carry you and this! Get your weak ass up! Come on! Come on, soldier.
[He keeps encouraging Scott as he drags the bag. Scott lethargically keeps moving.]
INT-DESTINY GATE ROOM
[Park, Riley, Rush, Young, and others watch the Stargate. Riley and Park are at a console.]
RUSH
Less than three minutes before the ship jumps again.
RILEY
Incoming!
[The Stargate spins.]
EXT-DESERT PLANET, DAY
[Eli watches the wormhole he dialed form as James and the other two return. She shakes her head.]
JAMES
I'll stay.
ELI
It's okay.
JAMES
No.
ELI
(waving them up the ramp)
I got it.
[They trudge back through.]
INT-DESTINY GATE ROOM
[The team comes through.]
JAMES
Sorry, sir.
YOUNG
You did your best.
EXT-DESERT PLANET, STARGATE AREA, DAY
[Eli looks to the distance and the time display on the kino, and shakes his head.]
INT-DESTINY GATE ROOM
RUSH
Less than one minute.
EXT-DESERT PLANET, STARGATE AREA, DAY
[Using the kino, Eli spots Scott and Greer topping a nearby rise.]
ELI
I see them.
(into radio)
I see them. They're carrying something!
[Eli heads up to the top of the ramp, next to the puddle. Greer and Scott crest the last rise, dragging the bag between them.]
GREER
We've got it! Don't go! We've got it!
ELI
They've got the lime! ...And they're not going to make it!
INT-DESTINY GATE ROOM
RILEY
Forty seconds.
RUSH
Give me the radio.
[James hands Rush her radio.]
RUSH
(into radio)
Eli, I want you to stick your arm into the event horizon of the puddle.
EXT-DESERT PLANET, STARGATE AREA, DAY
ELI
(incredulous)
Seriously?
INT-DESTINY GATE ROOM
YOUNG
You sure?
RUSH
No. But I'm betting there's some kind of safety protocol, prevents someone getting cut off en route.
YOUNG
But what if there isn't.
[Rush stares at Young.]
RILEY
Twenty seconds.
RUSH
(into radio)
Eli, do it now.
EXT-DESERT PLANET, STARGATE AREA, DAY
[Eli hesitantly holds out his arm, then slowly pushes his hand through, wincing. He then smiles a little at the strange sensation, looking back to check on Greer and Scott's progress.]
GREER
Come on, man.
ELI
(yelling)
Come on!
INT-DESTINY GATE ROOM
RILEY
Five...four...three...two...one!
[The alarm pings, but the Stargate stays active even as the ship engines start to rumble. Greer and Scott tumble through with the bag. Eli follows soon after. All collapse from dehydration and exhaustion.]
RUSH
Eli, drink it.
[Rush hands Eli some water.]
YOUNG
Scott, look at me. Lieutenant, look at me. Look at me.
[People go to Scott, who is coughing and weak. Someone hands Greer water.]
RUSH
Well done, Eli. Well done.
[The ships engines whine to life.]
EXT-SPACE
[The ship jumps into FTL speed.]
INT-DESTINY CORRIDOR
[Riley and another person load the limestone, infused in liquid, into the container with Rush's supervision and put it back in the vent.]
INT-DESTINY CONTROL ROOM
[Eli, looking badly sunburnt, watches a display.]
ELI
Park...
[Park and Brody come over. They see something to make them look relieved.]
INT- DESTINY CORRIDOR
[Throughout the ship, the refugees, like Wray, can immediately sense the air flowing through the vents and sigh in relief. Young stands in the corridor and takes a deep breath.]
INT-SCOTT'S QUARTERS
[Scott lies on a bed watching the aurora effect outside his window. His face and hands are badly sunburnt. A silver cross necklace lies outside his shirt. Chloe enters.]
CHLOE
I brought you some water.
SCOTT
I still have some.
[She sits on the bed beside him.]
CHLOE
You really need to drink it.
SCOTT
I'm fine.
CHLOE
Everyone appreciates what you did.
SCOTT
Rush say how long it'll last?
CHLOE
He's not sure.
SCOTT
How are you?
[Chloe shakes her head.]
SCOTT
My parents died in a car crash when I was four years old.
CHLOE
(stricken)
I'm sorry.
SCOTT
The priest who raised me...he pretty much drank himself to death when I was sixteen.
CHLOE
My god.
SCOTT
No, I'm sorry. I'm not trying to...diminish what you're going through.
CHLOE
I...I know.
SCOTT
I think my point is, there's just some things you never get over. That's just the way it is.
[They clasp hands.]
SCOTT
You go on through...best as you can.
EXT-SPACE
[As Destiny flies faster than light, a small ship lifts off away from the hull and flies away.]
FADE OUT
END CREDITS

Source : http://www.stargate-sg1-solutions.com/wiki/SGU_1.03_%22Air_Part_3%22_Transcript